For dividend aristocrats to grow their dividends year after year, they need to grow their earnings at the same rate to compound the growth. Many dividend aristocrats were smaller companies decades ago – micro caps, small caps, mid-caps.
Here's a big question all of us have probably asked: how could we have known to buy stocks like JNJ and MMM when they were starting to build their track record? Here's a filter I've designed to help find these gems.
Intuitive filter criteria:
Market cap under $10B, but over $200M. We want small, but not too small.
Debt/Equity ratio under 100%. We want businesses with little debt.
At least 3% annual EPS and revenue growth for 10 years. We want minimally demonstrated compound growth.

5Yr Average ROA over 5%, but the higher the better.

Don't filter based on dividend yield. A low dividend yield is acceptable given potential compound growth.
Unintuitive filter criteria:
P/E ratio between 15x and 40x.
15x is the historical average P/E ratio for the total stock market and is a good candidate for a lower bound for the filter.
40x screens out "excessively hot" stocks. Peter Lynch's rule of thumb for valuing growth stocks suggests that a 40x P/E needs to be supported by 40%/year earnings growth, which is unsustainable in the long run.
The fact that individual investors generally know much less than the market implies a simplifying assumption for us: businesses with better growth prospects tend to be valued more richly.
What if a great company is having a bad year right now? If they get back on track next year, the filter will find them next year. If they keep having bad years, we'll never know they existed.
A business that is growing quickly should have a valuation that is dominated by the present value of future earnings and therefore trade significantly above book value.
Keep this Buffett quote in mind:
The ideal business is one that earns very high returns on capital and that keeps using lots of capital at those high returns." - 2003 Berkshire Hathaway (NYSE:BRK.A) (NYSE:BRK.B) Annual Meeting
What does this look like on Google Finance?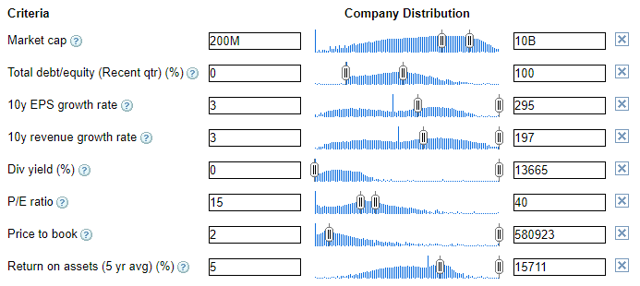 An example of filtering at work:
As of July 2017, the top 20 tickers sorted by decreasing market cap were:
SQM, DOX, VAR, FDO, WLK, AKAM, TW, INGR, AYI, IEX, LULU, IPGP, SNA, GOLD, WES, WAB, PETM, JKHY, FFIV, TTNDY
Exclude Particular Industries
Some industries have a reputation for instability & unpredictability:
Commodity businesses: they depend on commodity prices and macro factors that require a lot of work to understand.
Cyclical consumer product companies such as restaurants, nutrition products, cosmetics: they depend on the whims of the public.
Asset management companies: they grow by attracting investors, not by compounding earnings.
Google finance also lists defunct & acquired companies - these should be eliminated too. These tickers were removed by doing a simple Google search:
SQM, FDO, WLK, LULU, GOLD, WES, PETM, TTNDY
Our list is therefore narrowed down to:
DOX, VAR, AKAM, TW, INGR, AYI, IEX, IPGP, SNA, WAB, JKHY, FFIV
Exclude businesses with unbalanced revenue & EPS growth
A business with a "timeless" brand and/or operating model that doesn't need to change, that also has a (relatively) limitless market to expand into, will grow both its revenue and profits at the same rate. This results in a stable profit margin.
Anything else is undesirable from the compound growth perspective:
If revenue grows more quickly than EPS, then either profit margins are falling, or shareholders are being diluted – both are bad.
If EPS grows more quickly than revenue, then either profit margins are expanding (hard capped at 100%), or share buybacks are occurring. These are signs of healthy businesses that are maturing or slowing down.
We can also exclude the businesses with the lowest 5-Yr ROA and the highest amount of debt to further narrow down our list.
Final Five Candidates
I chose these five for possessing some combination of reasonable debt, balanced revenue & EPS growth, and high ROA.
| | | | | |
| --- | --- | --- | --- | --- |
| TICKER | Total Debt/Total Equity Ratio (%, recent quarter) | 10-Yr EPS Growth (%/year) | 10-Yr Revenue Growth (%/year) | 5Yr Avg ROA (%) |
| FFIV | 0.00 | 21.07 | 17.61 | 15.08 |
| JKHY | 4.94 | 12.41 | 8.65 | 11.41 |
| AKAM | 19.82 | 18.07 | 18.50 | 8.59 |
| IPGP | 2.40 | 33.39 | 21.52 | 17.30 |
| VAR | 42.41 | 8.83 | 7.25 | 12.67 |
Do the total return graphs vindicate this filtering method?
This graph shows the value of $10,000 in each of FFIV (blue), JKHY (red), and AKAM (yellow). This graph starts in June 2007 and extends until June 2017.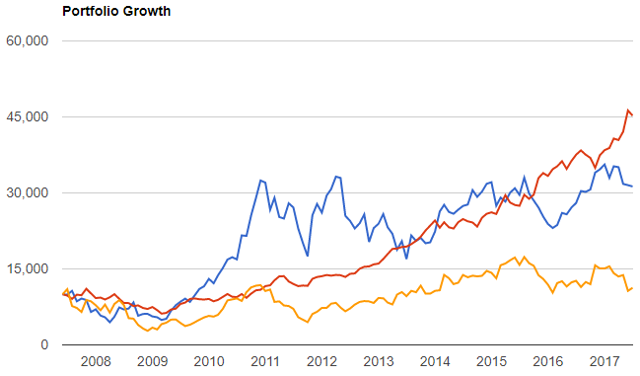 AKAM's total return line is lower than FFIV and JKHY, attributable to AKAM's lower return on assets.
Here's a graph of total returns for IPGP (blue) and VAR (red):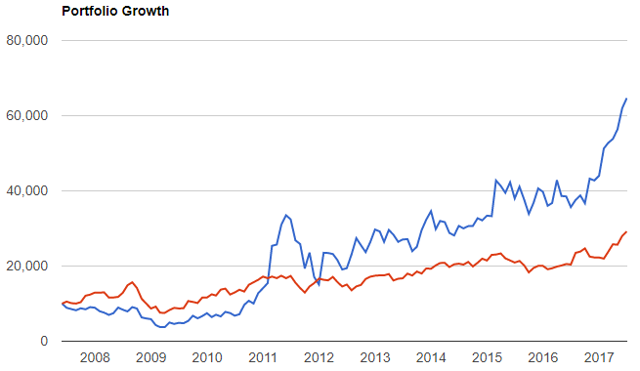 The result here isn't so surprising either – IPGP had much more rapid revenue & earnings growth than VAR.
What next?
This filter only finds past history - what about future returns? There are two ways for dealing with this.
Active picking. This filter would provide me with ample exposure to businesses that I wouldn't imagine examining, just because they're small. Given my relative inexperience, concentrating my holdings based on my personal research is not a good idea.
Quasi-indexing. I could build my own index fund of ~50 stocks with a numerical record of compound growth, and not do any individualized research at all. This requires a leap of faith - but then regular indexing is a leap of faith too.
Disclosure: I/we have no positions in any stocks mentioned, and no plans to initiate any positions within the next 72 hours.
I wrote this article myself, and it expresses my own opinions. I am not receiving compensation for it (other than from Seeking Alpha). I have no business relationship with any company whose stock is mentioned in this article.