Hopefully, this article will help you grow your assets.
Allegheny Technologies Inc. (NYSE:ATI) produces and sells specialty materials and components worldwide. Its two segments are High-Performance Materials and Components and Flat Rolled Products. Like most of the US steel and other industrial metals, makers ATI has been having problems making profits in a down commodities market. ATI showed a net loss of -$641 million (-$5.97/share) for FY2016. However, it has completed some restructuring; and it is in the process of more restructuring. Further, it is entering new ventures and new long term contracts that give it a much better outlook for the future.
The net income for both Q1 2017 at +$17 million (or $0.16/share) and Q2 2017 at +$10 million (or $0.09/share) seems to lend credibility to the turnaround story. Sales are running higher in 2017 than in 2016 too at $1.746B for 1H 2017 (doubled about $3.5B) compared to $3.1B for FY2016. Over 50% of sales were due to aerospace and defense in FY2016. With both of these industries expected to grow nicely in FY2017, it is reasonable to think that ATI's sales and profits should grow in FY2017 on that basis alone.
Specifically, Deloitte's outlook for global Aerospace & Defense is:
Global Aerospace & Defense sector revenue growth is likely to be around +2.0%.

Operating earnings for the commercial aerospace subsector are expected to grow +20.6%.

The Defense subsector's operating earnings will likely rise +7.0%.
The positive overall revenue growth Aerospace & Defense and the great earnings growth of both commercial aerospace and defense should allow for price gains in 2017. In fact, ATI is forecasting +10% YoY revenue growth for its High-Performance Materials & Components segment in FY2017.
The tables below show the approximate breakout of ATI's revenues.

Approximately, 48% of the sales revenues were from direct international sales in Q2 2017.
The chart below shows how ATI is widening its economic moat with new products. The alloys listed on the left are the new ones, while the one on the right is the aging one. Happily, for investors, there are a lot of new alloys.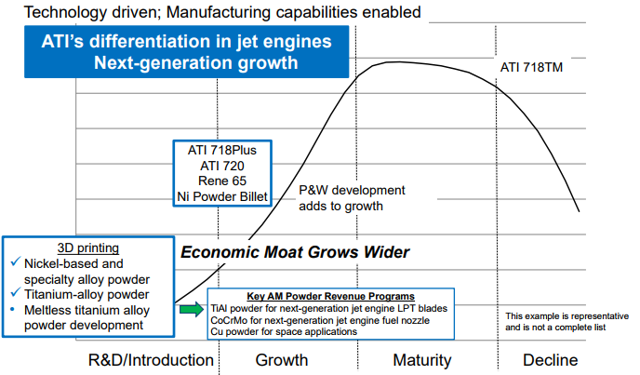 In addition, ATI is adding new business and partners. On July 5, 2017, ATI announced a joint venture with General Electric Aviation (NYSE:GE) for the development of a new meltless titanium alloy powder manufacturing technology. This will be 51% owned by ATI and 49% owned by GE Aviation. It will include a new R&D pilot production facility on ATI land. This will be in operation in 2019. The titanium alloy powders are being developed for use in additive manufacturing applications, including 3D printing.
On July 25, 2017, ATI announced it had signed a new Long-Term Purchase Agreement with Pratt & Whitney, a subsidiary of United Technologies Corporation (NYSE:UTX), to supply isothermal forgings and nickel-based powder alloys for next-generation jet engines. The LTPA builds upon the Master Terms Agreement that ATI entered into with UTX in 2016. The LPTA begins in 2017 and continues for the life of the engine programs. For the period of 2017 - 2030, the LTPA is expected to generate revenues in excess of $1 billion. That is nearly $100 million per year in additional revenues.
In addition to the above two new agreements, ATI has 5 other new projects in the trial/evaluation stage. Plus it is in a discussion about others. These include both domestic and international opportunities. This pipeline of future opportunities should provide ATI with good growth in the near future. That future was already looking rosy with just its current opportunities. ATI has also managed continuous improvement in its Flat Rolled Products processes.
In addition Bob Wetherbee said on the Q2 2017 conference call that "ATI has spent the last 12, 18, 24 months getting qualified on a broader customer base, both in South America and Europe and we're still well positioned to capture a greater share of that growth in our flexible flow lines and some of those offshore feeder systems as we go into 2018. We're actually starting to see that in the back half of half of '17 where the order patterns are a little bit stronger than they have previously predicted. And we expect to see that materializing in 2018." The is again rosy news for the forward outlook.
In sum with all of the new opportunities, the outlook for ATI for the future is much rosier than it has been. The company is still in a cyclical business (one that will go up and down with the economic conditions), but it has been adding some more secular growth areas. These are bound to help it in the future regardless of economic conditions.
Metals manufacturers typically see their stock prices go up in the fall. We are getting closer to the fall each day. There are a lot of possible gotchas on the horizon. However, a return to profitability by ATI in FY2017 seems likely. By itself, that should boost the stock price. When you consider all of the positives for the years after that, ATI may be a stock you may want to own, especially if you believe Donald Trump's initiatives such as Tax Reform may eventually stoke the US economy. ATI is also a relative bargain with a Price/Book of 1.48 compared to 1.85 for US Steel (NYSE:X) and 2.25 for Nucor (NYSE:NUE).
The two-year chart of ATI provides some technical direction for a trade/investment.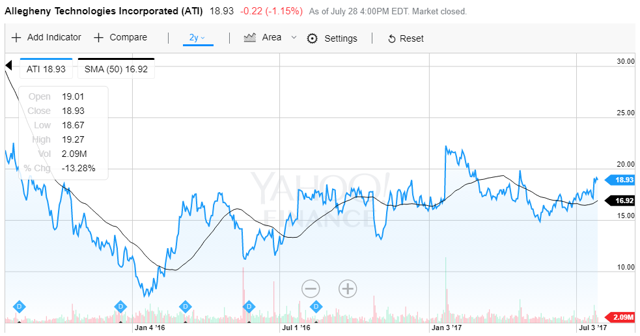 ATI appears to have bottomed in January 2016. Since then, it has maintained a weak uptrend of higher lows. With estimating season for metals manufacturers coming up in the fall, ATI should benefit. Metals manufacturing stock prices generally go up during the estimating season. The fact that ATI beat on earnings in Q2 2017 at $0.09/share (by +0.02/share) and on sales at $880 million (by $3.88 million) should help the stock keep going up. The health of the Aerospace & Defense industries should help ATI's stock keep going up. The many new positives (see above) for ATI should help its stock keep going up.
Investors still have to worry about the overall overpriced market. They still have to worry about the US and world economies. In this vein, investors may wish to pay attention to whether the ECB cuts its bond buying in September 2017 and to what the US Fed does. Those who want to be careful may wish to wait to see what the ECB does cut at its September meeting. Remember 48% of revenues were from international sources in Q2 2017. Those who really want to be careful may want to wait to see if we get a 10%+ pullback due to the overpriced market. The forward 12-month P/E for the S&P 500 is 17.7. The 5-year average is 15.4. That implies an approximately -13% fall to normalize things. Remember too that ATI has a Beta of 2.77. That said, ATI may be a low BUY at this time. It has a tremendous amount of positives that are lacking in many other stocks.
NOTE: Some of the fundamental fiscal data above is from Yahoo Finance.
Good Luck Trading/Investing.
Disclosure: I/we have no positions in any stocks mentioned, but may initiate a long position in ATI over the next 72 hours.
I wrote this article myself, and it expresses my own opinions. I am not receiving compensation for it (other than from Seeking Alpha). I have no business relationship with any company whose stock is mentioned in this article.