PartnerRe Ltd. (PRE) 5.875% Series I Non-Cumulative Redeemable Preferred Shares (PRE-I) caught my attention because it is a deletion from the S&P US preferred stock index. I have always liked the stock, but here, there is a chance to buy it from a technical seller who just does not care how good this stock is compared with others.
A little story behind the preferred stock
PRE-I is a preferred stock of PartnerRe Ltd. What is interesting behind this one is not how safe it is, and I am not going to analyze its credit strength. What I found really interesting is that PRE, the mother company, got merged with Pillar Ltd., a subsidiary of Exor N.V. (OTCPK:EXXRF) while having three preferred stocks outstanding at the time. The buyer of the company was kind enough to add a clause that benefited preferred stockholders, and this was the first time in my trading career that I saw anything like this. The call dates for all of the preferred stocks were extended, and there was a large capital gain to be made by preferred stockholders. Before the deal, the higher yielding ones were pinned to par, because of a most likely redemption, and after the merger, there was almost a 20% capital gain to be made on the news wherein you can receive the same preferred stock, but with a five-year extension of the call date, by participating in an exchange offer.
Being the best preferred stock and getting deleted
PRE-I is the best BBB-rated preferred stock currently. It has current yield of 5.7% and YTC of 5%. Its dividends are qualified, which makes these yields comparable to 6.89% and 6% (YTC) from a REIT preferred stock. The only stocks that match these yields and are investment grade qualified preferred stocks are Validus Holdings (VR), 5.80% Dep Shares Non-Cumulative Preference Shares Series B (VR-B), and the 5.88% (VR-A), but they have a slightly lower credit rating.
Here are the basic metrics of PRE-I vs. VR-B:

It is probably strange for many readers that 5.7% is bold enough to make this the best preferred stock, but getting investment grade qualified preferred stock with 5.7% yield and no call risk is a bargain today. I challenge any reader to find a preferred stock with the following parameters:
BBB rating
qualified dividends
5.7% current yield
5% Yield to call
Trading the yield curve

These are all the investment grade preferreds with their yield to call vs. years to call. PRE-I has recently deviated from the yield curve, and this is not supposed to last long. But even if it lasts, it is still the best one out there.
On the next chart, you can see all the BBB-rated qualified preferred stocks that are a match to PRE-I.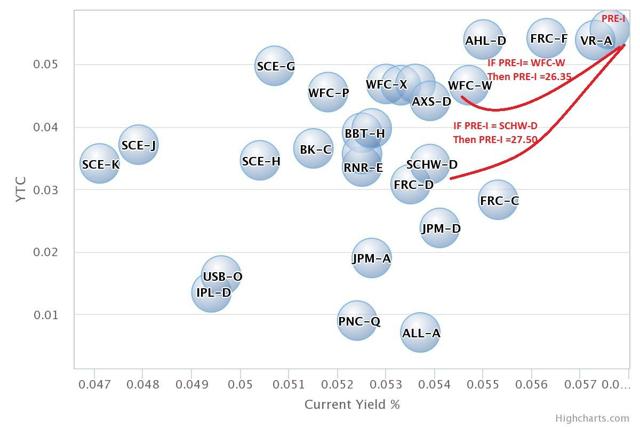 The more to the right you are, the bigger your current yield and yield to call are. PRE-I is the highest and the "rightest". Safety should not be an issue for these preferred stocks, so we can concentrate on yield metrics. For PRE-I to have similar current yield and YTC as Wells Fargo & Co. (WFC), 5.70% Dep Shares Non-Cumulative Class A Preferred Stock Series W (WFC-W), for example, it has to trade at $26.35. For it to be similar to Charles Schwab Corp. (SCHW), 5.95% Dep Shares Non-Cumulative Perpetual Preferred Stock Series D (SCHW-D), it has to trade at 27.50.
On this picture, you can see the deviation with WFC-W after it was announced PRE-I is a deletion from the preferred stock index.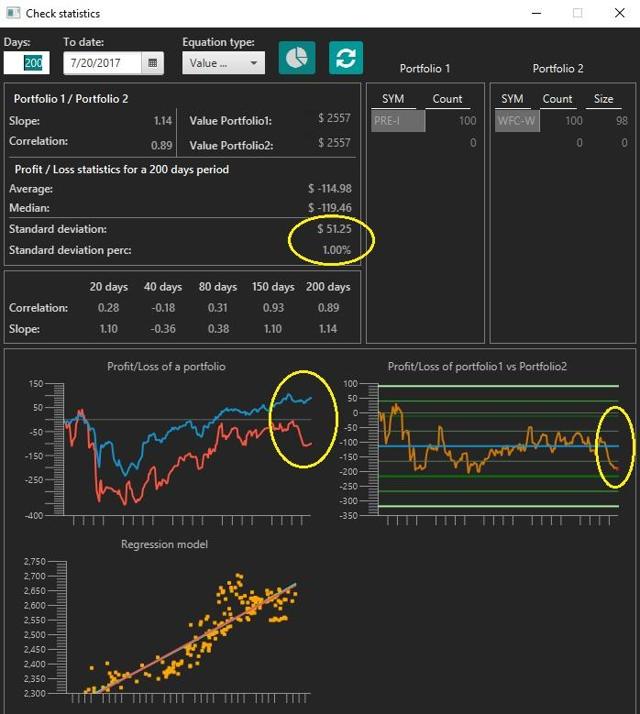 Is it a coincidence that the deviation is exactly around 80 cents? This was the fundamental arbitrage as well. This shows that before the deletion news, the market valued PRE-I and WFC-W equally. This is what I call trading the yield curve arbitrage.
Yield to hold
The 5.7% may not sound so tasty for the investor, but it is the yield to hold that matters here. On top of the 5.7% current yield ($1.47 in dividends yearly), financial logic guarantees you an additional $0.5 to $1 capital gain. Even if it takes one year for this to work out, the yield to hold will be in excess of 8.5%. Usually, it should not take more than three months.
Is it risk free?
Of course not. A shift in the yield curve can move all the stocks shown above to higher yields. Here, we are also one step ahead. PRE-I will lose the least based on the fundamental and statistical arbitrage it has. For an investor who is willing to hedge, a reaction should be found in the lowest yielding ones.
Taking out a technical seller
Seaspan Corp. (SSW) 8.20% Series G Cumulative Redeemable Perpetual Preferred Shares (SSW-G) is the last example of a technical seller. The idea of the trade was very similar to this one, but here, you are not dealing with high yield, so you can sleep well at night. The S&P US Preferred Stock Index has very strange criteria. It has no problem adding a negative yielder to the index while dropping the best preferred stock on a relative basis. The retail investor can only benefit from this. So, thank you, S&P.
Author's note
The idea was first presented to subscribers of Trade with Beta on 7/20/2017. The valuation has changed since then, but still, there is no preferred stock that is better (on the primary exchanges).
Conclusion
5.7% is in fact the best BBB-rated preferred stock. Its yield to call is just 5% in five years. Do you still think the market expects higher yields in the future?
Disclosure: I/we have no positions in any stocks mentioned, and no plans to initiate any positions within the next 72 hours.
I wrote this article myself, and it expresses my own opinions. I am not receiving compensation for it (other than from Seeking Alpha). I have no business relationship with any company whose stock is mentioned in this article.
Additional disclosure: I am long PRE-I