The Marijuana Industry has raised a lot of eyebrows in the last few years as investors see the potential profits associated with the ending of prohibition. This has led to a massive run-up in Canadian marijuana stocks fueled by speculation and hope for a massive consumer demand. The sector is highly risky due to so many unknowns; however, with the possibility of higher rewards, it makes it a difficult industry to pass up. For the investor with a higher risk tolerance (like a millennial investor with a long future ahead), a small portion of the portfolio is definitely worth the risk, although for many companies, the valuations are simply too high already. Investors really have to do their homework and pick a company whose strategy they admire best and think it is the smartest way to set the company up for legalization in 2018. Since there are so many unknowns in the industry, it is imperative that investors know what their company plans on doing, how they are spending their cash, and how they react to new changes in legislation. Our article looks to highlight the four major Canadian marijuana companies and give a background on each of their strategies so far, so investors can see where their ideas align and decide if the risk to reward is worth it for them based on their circumstances.
Canada looks to be a global player by being one of the first major countries to legalize marijuana from a Federal level. Canada's medical marijuana legislation created a lot of speculation regarding the government's process moving forward when implementing full-scale legalization. The status of medical marijuana has given Canadian companies the ability to build factories and spend on research and development in Canada, obtaining a small market segment of what is currently available for retail. The development of the medical sector has created an unknown variable in the future of policy and presents many different ideologies into how legalization will occur and the logistics of distribution to market. It has been really unclear if this will be monopolistic because of the close connection to legislation that will accommodate producers differently. Leaving asymmetric information to forecast opinions/speculate what segment of the market producers will have access to. The whole scenario around this future sector leaves people with the capability to invest into different companies that have the framework already in place for the medical market and companies that seek to enter the legal market. Although the lack of policy information speculates the more developed companies being at the top of the market legislation, politicians face difficulties with this decision.
Challenges moving forward for legislation in weed legalization:
Distribution: Market distribution, supply chain, and product pricing. Economically the product pricing is important because in order to diminish the black market, the commodity cannot be priced too high. If the commodity is priced too high, it will not eliminate non-regulated sales because the price is not beneficial to the consumer.
Enforcement/health and safety: Consumption of the product and the operation of motor vehicles, and the appropriate age for legal consumption/purchasing.
When business and politics share a close relationship that dictates the future market structure in an industry, it may favor the production from larger producers more. You will frequently hear Canada's politicians talking about how they will provide public access to the legal market (determined provincially), but this information should be used wisely and not speculated upon. The government knows there are challenges towards legalization and should be considered by investors further. The investment space for Canada's market has equities with high valuations, based heavily off of future valuation and potential market position/structure. Although you could create an investment thesis regarding future market structure and profitability for prospective companies that look to become competitors in the space, nothing has been finalized except the challenges for legalization and its promise. With the government looking to maximize tax revenues off of legalizing cannabis, as it has with tobacco and alcohol, the government would most likely seek to regulate it somehow. Making it important to know the implications and limitations that policy will have. It's not that companies will not be successful and succeed in this market, but an investor who seeks value does not speculate when the market becomes speculative and how the market may be economically once legalized.
Economically it is significant to further understand how the effects of supply and demand in the short and long run will work. There could be two potential scenarios that would arise:
Supply would be higher than demand due to overproduction and anticipation to legislation (supply glut), driving prices down in the short-run since the price elasticity of demand for a differentiated product like marijuana would be very elastic. This, in turn, would crowd out higher-cost producers, and bring the profits down of all the other companies, until the market stabilized and supply was back in tact with demand.
If demand is higher than the market expectations, demand would be higher than supply, meaning in the short-run, there would be a shortage driving prices higher. The lack of production would bring more companies (or possibly criminal organizations) to market and increase production for existing companies. The sector would eventually become more consolidated in the long-term as the companies with the best economies of scale would either crowd out smaller producers or acquire them.
The economic situation that the market will be in once legalized is unknown since it will be based on demand and the potential market forces should be considered before investing, it is important to understand what other risks could arise.
Industry Players in Canada's Marijuana Market
This article does not seek to make any prospective investments, but determine each company's strategies for growth and show how they have positioned themselves in anticipation to changing legislation. Particularly, this may help determine if the market space is becoming over-saturated or these newly listed entities actually have the capacity to be major market figures. As more companies enter the market space as publicly listed, this allows investors to buy into businesses that look to have a market presence once legal but also creates speculation based off of assumptions. First off, that the market will exceedingly boom once legalized, and secondly, all these producers will be penciled into legislation. It is important to understand the risks in the sector and not to speculate on rich valuations. We are not trying to make predictions ourselves to the future market, but we understand that valuations have increased largely in the past year and it is because of future potential earnings, attempts to determine the market orientation and anticipation of high demand.
The companies below show how they have developed their business in anticipation to the changing policy.
Canopy Growth Corp. (OTCPK:TWMJF) has taken an aggressive approach ever since inception. Back in 2015 when Tweed merged with Bedrocan to form Canopy Growth Corporation. This merger and resulting new company name set the stage for Canopy's growth, especially through acquisition. Since then, Canopy has bought Mettrum, and invested in foreign companies located in large economies such as Germany, Brasil, and Australia (Company MD&A). Canopy has also been an industry leader in Canada being one of the first companies to begin selling marijuana oils and now rolling out a new product in soft gels to continue to provide customers and patients with new ways to medicate. In addition, Canopy has spent a lot of time and money rolling out its shopping platform on its website, which is extremely organized and convenient for shoppers. It has also focused on branding in trying to build it as the most recognizable brand in the space. This has been done by partnering with the likes of Snoop Dogg, popular growers, and cultivators and by selling merchandise with their branding. The ticker WEED doesn't hurt either. This aggressive approach has led Canopy to run deficits and turn over negative earnings, however, its main goal right now is gaining market share and growing brand recognition, which is reflected in its massive revenue growth.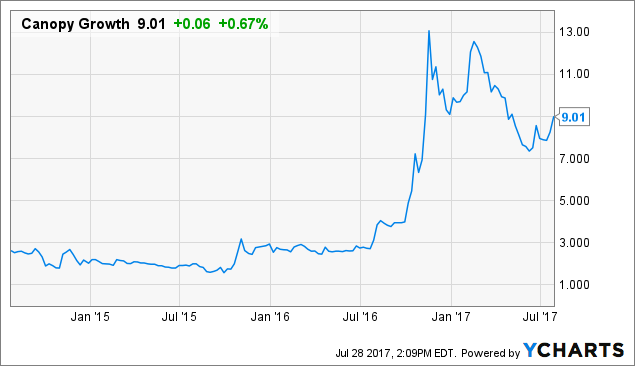 Aphria (OTCQB:APHQF) has taken a much different approach than Canopy. Aphria has taken a conservative approach to an otherwise non-conservative sector. As it has invested in capital spending and preparing for legalization like others, it has also focused on profitability while the company is still young. This conservative approach will strengthen Aphria's market position if the market becomes saturated. The companies that will survive are going to be the ones with the cheapest cost to grow as all others will eventually be crowded out. This is the main goal on Aphria's agenda. It has a production facility that has been planned out, fully funded and built in different stages to better plan capital allocation. Aphria currently has the cheapest aggregate costs to grow its marijuana, and the plan is to have costs below $1 when all four stages of its production facility are complete and it is producing at full capacity (Aphria Investor Deck). Although this strategy is more conservative, it may pay off huge if there is a large surplus in marijuana when it first becomes legal. The economics of the sector will take some time to play out, but as the sector evolves, the companies that will be the best off are those that can produce for the cheapest (i.e. lowest marginal cost) and have the highest market share in order to crush smaller players. The conservative approach has led Aphria to be the first public company to produce positive cash flow from operations as well as positive earnings in consecutive quarters. As companies prepare and focus solely on the large revenue that is expected to come from the recreational market, Aphria has shown that even with small sales from the medical market, it can make money.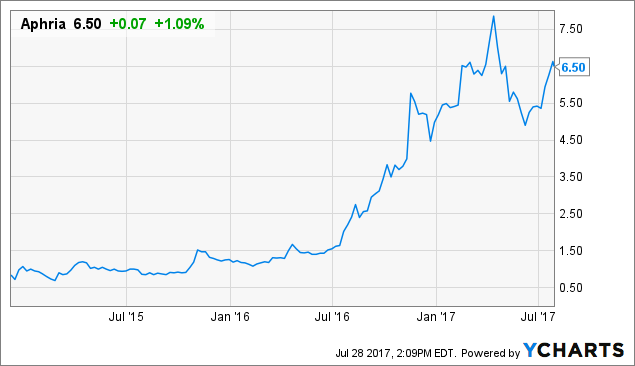 APH data by YCharts
Aurora Cannabis (OTCQX:ACBFF) has taken an approach that combines Aphria's low-cost approach and Canopy's high customer growth approach. Much like Canopy, Aurora has been trying to gain as many customers as possible while building up its core brand. This has been especially important since Aurora had a disadvantage when it first was issued a license as a lot of companies had already been operating for some time. Aurora, however, has also focused on decreasing costs in order to grow for the lowest cost per gram, especially through its advantageous location in Alberta. Its rural location gives Aurora lower operating costs (free mountain water used in production and cheaper power rates than the rest of the country) and a lower corporate tax rate (Aurora Financials). This gives Aurora the potential to grab a large share of the recreational market when it's legalized while also being able to compete with lower prices from competitors.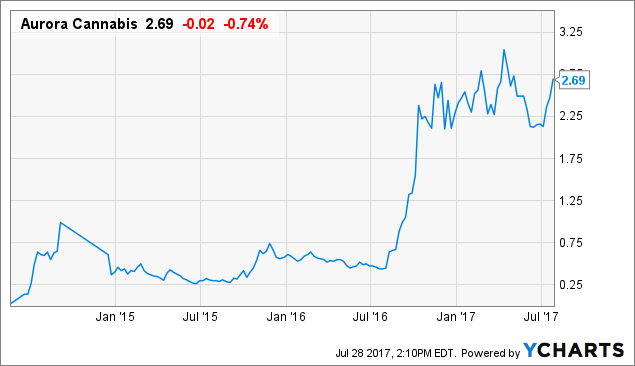 ACB data by YCharts
Organigram (OTCQB:OGRMF) is a much smaller company by market cap; however, it is the largest licensed producer and only one of two LPs east of Quebec. It has one of the cheapest (relative to other LPs) valuations of all the big companies, mostly due to the major hit its stock price took in late 2016 when it was found to have pesticides in some of its products. The company has taken major steps to make sure this doesn't happen again; however, the damage has been done. Since the company currently only competes with one other LP in the Maritimes, and the low-cost of production (1.85 a gram) gives it an advantage over LPs in other provinces (Organigram Investor Deck), this gives Organigram the advantage it needs to grow its consumer base. Couple that with Organigram's partnership with the infamous Trailer Park Boys, Organigram is poised for a solid position in the Canadian recreational market.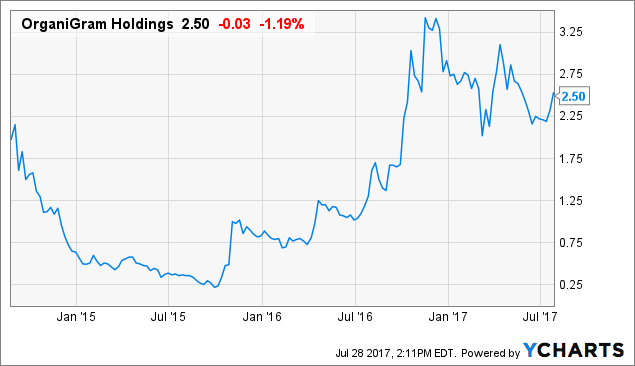 OGI data by YCharts
Our article is not to present the information of what may be a good investment until legislation comes into effect but how companies have positioned themselves. It is important to understand that the entire industry is speculative and potential investments should be thought of as that. It is impossible to get an accurate value for any of these companies using any sort of metric, as it is too difficult to predict what the marketplace will look like when it is legal. Investors who decide to get into the sector are advised to only do so if they have a large risk tolerance and are allocating a small portion of their portfolio as the sector is extremely volatile.
Disclosure: I am/we are long APH.TO, WEED, OGI.TO.
I wrote this article myself, and it expresses my own opinions. I am not receiving compensation for it (other than from Seeking Alpha). I have no business relationship with any company whose stock is mentioned in this article.
Additional disclosure: Positions were executed at the following prices in 2016, (CGC/WEED@$2.65) (OGI.TO @$1.74) (APH.TO @$2.43). The investments were made early and the disclosure of this data is to ensure we are not contradictory in our article/analysis.
Editor's Note: This article discusses one or more securities that do not trade on a major U.S. exchange. Please be aware of the risks associated with these stocks.