AMD (AMD) stakeholders, gamers, and content creators rejoice! AMD's newest GPU architecture Vega is here, and many more flavors of the architecture are soon to come! Unfortunately, Vega has kept up with the hype, and shows just how far behind AMD is relative to Nvidia (NVDA) in the GPU space. AMD continues their jog as Nvidia and Intel (INTC) sprint ahead. While AMD's recent results show strength in GPUs, I believe this will fade in coming quarters and leave AMD with the smallest GPU market share in their history, along with a product stack that is not ready to take on Nvidia.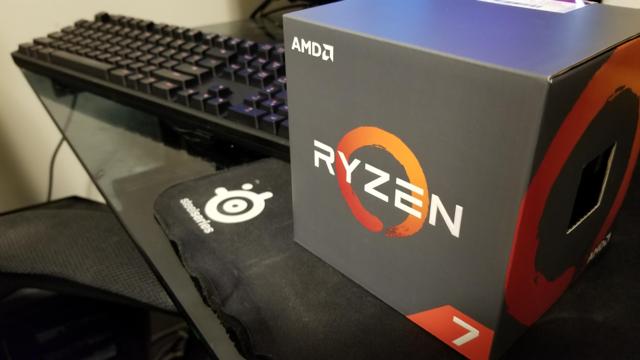 A sneak-peak into Bank On Insight's workstation and AMD Ryzen CPU
AMD's GPU bubble will hurt market share in the long run
AMD has been aggressively pricing their products in the CPU and GPU space to claw back market share they have lost over the years. It has been working to some degree, but for other reasons than you might expect. AMD reported a knock-out quarter, largely on growth in GPU sales. This is entirely because of the Ethereum price boom. Without making this too technical, AMD GPUs are better at GPU mining than those by Nvidia. Let's take a look on Amazon.ca (AMZN) when we search RX 580 (AMD's flagship GPU of the Polaris generation).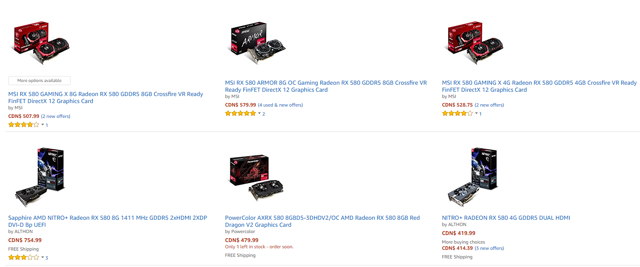 The GPUs are either near double their historical sale price or sold out entirely. It is fairly simple to figure out why. The RX 580's MSRP is $200. As of right now, the GPU will mine about 4 ETH per year (worth about $800 as of writing, July 26/2017). Even after subtracting power costs of about $90 (factoring $.10 KWh electricity), the GPU's promise a phenomenal return on investment.
Before you get on Amazon and try to buy one of AMD's GPUs, keep in mind ETH gets more difficult to mine by the day and will eventually not be profitable whatsoever to mine. When this happens, there will be a flood of miners selling these GPUs into the market. Prices will collapse and gamers will rejoice. This is not good news for AMD though.
What's more important to look at is AMD's market share in the gaming space. Crypto-currency mining is highly cyclic and I've seen the fluctuations first hand. The most accurate way to get a pulse on AMD's PC gaming market share is via the Steam hardware survey, which collects gamers hardware specs.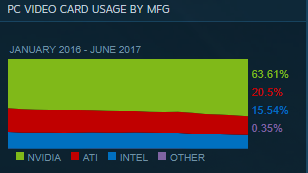 Note: ATI is AMD. AMD acquired ATI in the mid 2000s and is now AMD's GPU arm...
AMD's GPU market share amongst gamers is at an all time low. For reference, here is that same survey in 2012.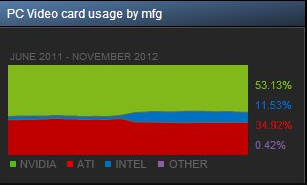 Here's the problem. AMD, Intel and Nvidia's customers are very sticky to their brand of choice. AMD users tend to buy new AMD parts and so on. When AMD's recurring revenue customers (gamers) are not able to purchase AMD GPU's they go to Nvidia. Once they're with Nvidia, they probably won't go back.

Source: Parsec
Notice, AMD users tend to stick to AMD products. Once AMD loses GPU customers they may begin losing customers in their CPU division as well... The mining boom is a net negative to AMD in my eyes.
Let's talk about Vega
Just as I wrapped up writing this article, AMD has announced pricing and performance of their consumer Vega lineup. To say things appear a little underwhelming would be an understatement.
Mining
Let's start with mining, since that is what has been driving AMD's GPU sales. I'll be citing Ethereum mining performance as it is the main crypto currency being mined right now. Since Vega consumer GPUs are not available yet, but we know their performance metrics, I'll be citing Vega FE performance numbers (which is equivalent in raw performance to the new GPUs). AMD's Vega FE edition mines a measly 33MH/s. That in of itself is not a bad number. But AMD's R9 290, a GPU released for $400 in 2013 (they sell for much less today) mines about 30MH/s. Claymore, the developer behind the most commonly used Ethereum miner, says Vega posts good results, but draws far too much power and produces too much heat to be viable. This has been the prevailing sentiment among the mining community.
Gaming
This is where I believe AMD will need to pin their hopes on Vega, as mining performance appears to be middling.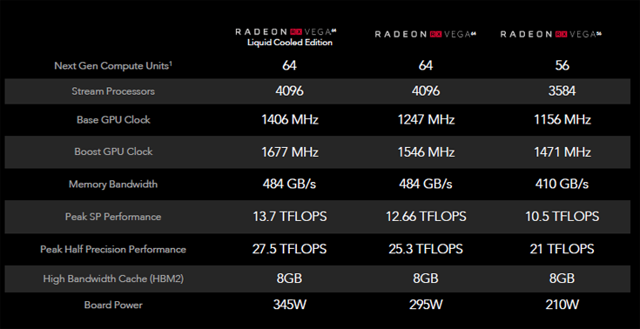 Source: AMD
Let's work from right to left on AMD's lineup. The Vega 56 GPU is intended to compete with Nvidia's 16-month-old GTX 1070. The good news? AMD claims a slight performance victory on the 1070. Of note, AMD does not include in-game framerates (the industry standard) in their published performance metrics for Vega, instead they use minimum framerates. AMD set MSRP to $400, $20 more than the 1070's MSRP (the GTX 1070 sells closer to $300 today). The problem? These new Vega GPUs are massively power hungry. Take it from the PC review site, hardwarecanucks.com:

Then there's the power consumption numbers which are a concern to say the very least. It is more than obvious it was a struggle for AMD to get to this point since Vega 64 can consume a whopping 345W of power. For those of you keeping track at home, that's 100W more than a GP102-based GTX 1080 Ti coupled with framerate performance that should trend just above a GTX 1080. Even the vanilla RX Vega 64 gobbles down nearly 300W compared to a GTX 1080's frugal 180W.

Moving slightly down-market and there's the RX Vega 56 which, as its name implies, has 56 instead of 64 Compute Units, totaling 3584 SPs. It also 8GB of memory which runs at a slower speed so expect about 410 GB/s. AMD expects this to compete directly against Nvidia's GTX 1070 but with a 210W power envelope that might be a challenge give the GeForce card sucks down about 150W.
It's the same story for Vega 64, AMD's answer to the GTX 1080. It is not any cheaper (more expensive in fact considering the markdowns consumers can find on the older Nvidia GPUs), and it uses much more power than the Nvidia silicon.
Also disappointing, even AMD's pricey ($599), 345W consuming liquid cooled variant of Vega 64 cannot compete with Nvidia's high-end GPUs, like the GTX 1080ti. AMD's brand new architecture is well behind Nvidia Pascal in terms of power efficiency, performance (at least on the high-end) and not all that competitive on pricing. This is while AMD is competing with a 16-month-old architecture (nearing end of life). Nvidia's answer to Vega will be out in Q1 2018, which will only add ground for Nvidia.
AMD's fired their BB gun in the CPU market... Now Intel is hopping in their tank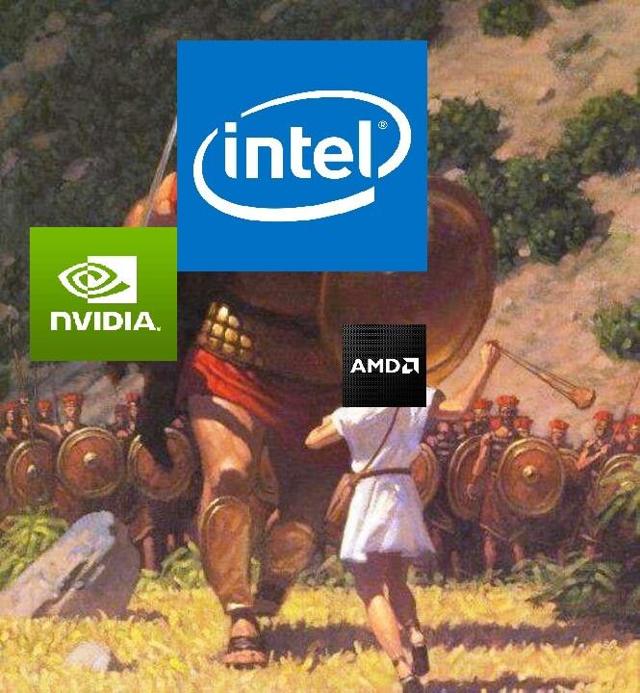 Source: Bank On Insight's masterpiece; AMD vs. Goliath(s)
One must feel some sympathy for AMD's R&D teams. AMD competing with Intel and Nvidia is like David competing with Goliath, and Goliath again...
In Q1, AMD launched its Ryzen, its first overhaul of its CPU architecture since Bulldozer (which came out in 2011). As a relief to AMD investors, it has all around been a smooth and impressive launch. AMD's previous Bulldozer architecture was well behind Intel in 2011 in terms of raw performance and especially IPC. By 2017 its best CPUs were trading blows with Intel's Core i3s (sub $100 processors). Ryzen was sorely needed.
The problem? I don't know where Ryzen is supposed to fit in the CPU market. Intel's CPUs dominate laptops (I cannot locate a single AMD Ryzen powered machine) due to better power efficiency. For gamers, Ryzen is not a competitive product offering. While AMD's new CPUs are comparable in power, their IPC (single core performance which many games depend on) is lower than Intel's. Let's look at the two major use cases for AMD CPU's on the desktop.
Gaming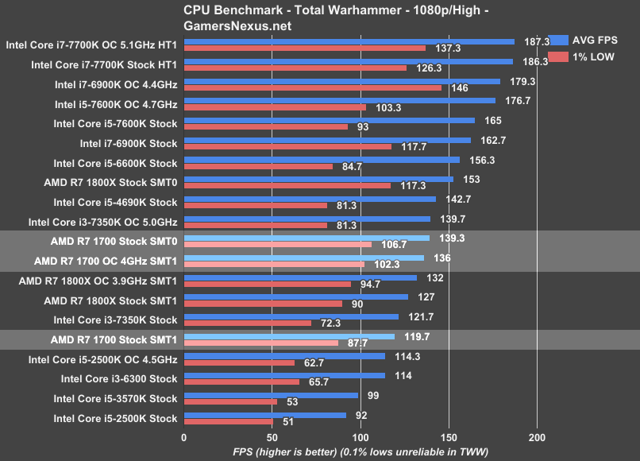 Source: Gamer's Nexus
AMD's new architecture often lags multi-generation old Intel mid-range CPUs in gaming. Think of it this way, AMD is offering 16 weak (relative to Intel) cylinders, but in games they can only run 4. Intel offers chips with eight cylinders, but each one is 25% faster. The AMD chip is more powerful as a whole, but can't be utilized... This has been an issue plaguing AMD for about a decade. What's more concerning is this: Once AMD launches an architecture they tend to keep it for a very long time (likely due to R&D limitations). Ryzen is behind Intel in IPC already, and it will continue to worsen in the coming years.
High-end
AMD's product stack targets the mid-high end range. What is somewhat baffling to me is this: AMD made processors that can compete with Intel's HEDT platform, but exclude necessary features to truly beat it. The platform lacks the PCI lanes and memory channel support to attract pro-sumers.
In terms of raw performance, these chips are excellent. But AMD has nerfed the capability of the platform where it could actually attract customers away from Intel.
Why did I buy one?
As you may have seen at the top of my article, I recently bought one... Why? AMD has been very promotional in their Ryzen pricing. The recent R7 1700 I purchased (near the top of AMD's line) cost significantly less than Intel's generation old mid-level i7-6700k. That's great for the consumer, and we'd expect AMD to be gaining ground and making back lost margins via increased volumes... We'll get to that!
Bottom line
These chips are not winning back significant market share for AMD. Let's look at gamers - back to the Steam hardware survey!

AMD's user base among gamers is not only lower in the GPU space, but for the first time I can remember it is below 20% market share. This is with the recent launch of Ryzen and price slashing on their Bulldozer based chips. This is only going to get worse once Intel fires back with new chips that widen the IPC dividend between AMD and Intel platforms.
What about AMD's CPU market-share in the desktop space?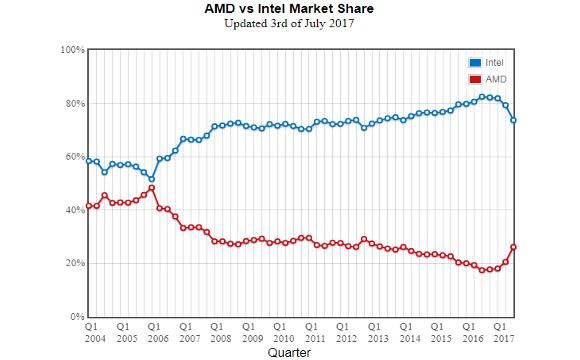 Source:Passmark
There has definitely been a trend reversal. What is important to remember is:
AMD has been very promotional and aggressive with Ryzen. My recently acquired R7 1700 was priced well below mainstream Intel i7s.
AMD's market share had declined massively with an outdated product lineup. Many loyal AMD users had been waiting for years to upgrade and will stay with their Ryzen CPUs for 5-plus years. AMD is still well below historical norms in their market share.
Before AMD or its investors get excited about AMD's market share gains, it'd be wise to wait a few quarters until Intel's pricing and roadmap to battle Ryzen are implemented and hype around AMD's new CPUs subside.
Nvidia is far ahead in deep learning, AI and autonomous drive
Essentially every OEM is using Nvidia's Drive PX2 system in the autonomous vehicle. In essence, this is a lot of GPU power. I cannot find a single project a car company or OEM that is powered by AMD hardware. There is no reason AMD cannot compete in this space. Unfortunately though, Nvidia already has inked a lot of closer partnerships and ties as AMD was late to the party.
In deep learning, AMD still does not have a product competing in the space. They hope to remedy this with the launch of Radeon Instinct GPUs in Q3 '17, but again, developers have already begun acclimatizing to Nvidia's deep learning paradigm. Continuing a long-standing trend, AMD is keeping their drivers open-source for deep-learning and is late to the party once again. This is reminiscent of G-Sync v. Mantle, GameWorks v. GPU Open, Mantle v DirectX (DirectX is made by Microsoft (MSFT) but heavily backed by Nvidia) and so on. Nvidia makes a locked down product that AMD can't use, they garner more market share and developers and leave AMD out in the cold. Is AMD a more consumer friendly company than Nvidia? Of course, but they have to be, considering their limited market share relative to Nvidia.
The money in trading AMD has been made, time to move on...
AMD was my best trade throughout 2015 and 2016. It simply made sense leading up to the Polaris and Ryzen launch to own the stock. But the market has gone from thinking bankruptcy is imminent for AMD to forgetting the pressure they continue to face from both Nvidia and Intel. AMD does not lead in a single product category, whether you look at performance, or market-share, or mind-share. Nvidia is pummeling AMD in the GPU space, and while AMD's sales are inflated by GPU mining, they will be left with their smallest market share in the space in ATI's history, along with the weakest product stack. While Ryzen is a great product, it was not properly positioned in my eyes. With Intel already beating AMD at the high-end, and gamers flocking to Intel processors for higher IPC, I don't know who Ryzen is targeting. Nothing has really changed at AMD, except for market sentiment.
Thank you for reading. If you enjoyed the article, please scroll up and click the "follow" button next to my name to receive future articles.
Disclosure: I am/we are long INTC.
I wrote this article myself, and it expresses my own opinions. I am not receiving compensation for it (other than from Seeking Alpha). I have no business relationship with any company whose stock is mentioned in this article.