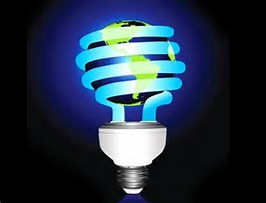 Source
This is the second installment of a four-part series. The series discusses research for my investment club on three companies from the Industrial sector - Emerson Electric, Eaton and McGrath RentCorp.
Emerson Electric (EMR), a solutions provider to the global energy market, wafted through my investment club's GRAVY ("GR"owth "A"bility, "V"aluation and "Y"ield) filter this summer. It was joined by McGrath RentCorp (MGRC) and Eaton Corporation (ETN) from the industrial sector. Based on initial filtering and modeling, it was difficult to determine which of the three to favor for investment. Such a horse race called for further analysis. This is the second installment in the series
Emerson Electric is a Dividend King, a company that has increased dividends for over 50 years. Emerson's dividend has grown at a double-digit CAGR (compound annual growth rate) since 1956. Its track record is actually sixty years. For investors focused on DGI, dividend growth investing, Emerson Electric is hard to ignore.
Many argue past performance is a significant indicator of future performance. But, relying only on past performance is hardly diligence. And, Emerson Electric is a model example of why investors should take a closer look.
The company of the past sixty years will not be the same in the next sixty. Emerson's roots are in electric motors and fans. The company is in the midst of a fundamental restructuring effort. This restructuring is narrowing business to the global energy market. Business operations have been streamlined to two segments – Automation Solutions and Commercial & Residential Solutions. Automation solutions generates the majority of revenue and provides products and services to assist businesses in measuring, controlling, optimizing and powering their operations. The commercial & residential solutions segment produces environmental products focused on efficiency and reliability.
Emerson completed divestitures in 2016 of its non-core businesses, Network Power and Motors & Drives/Power Generation. It has one small segment left that it intends to divest by year-end 2017, the ClosetMaid storage business.
The next phase - rebuilding core business positions - is already well underway. Still, due to the divestiture of non-core businesses, annual revenue has dropped approximately 20% from the high of $17.9 billion in 2013. Decreased sales in 2015 and 2016 did pressure the free cash flow available for dividend increases. Despite its historical track record of double-digit dividend growth, Emerson's last increase was just 1.1%.
Ironically, the sudden drop in the dividend growth rate does actually reflect progress – but it's the progress made in Emerson's restructuring plans. Divesting non-core businesses was just the first step. Proceeds from the divestitures will be used to reinvest in acquisitions. Emerson is focused on rebuilding revenue to $20 billion and extending its dividend growth track record to sixty-five years.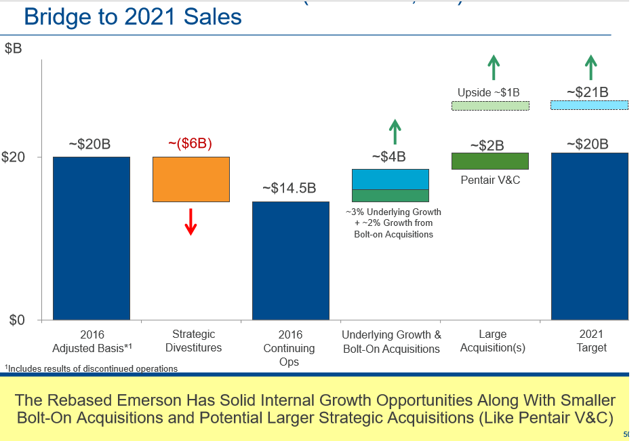 A major acquisition has already occurred. In April, 2017, Emerson closed its $3.15 billion acquisition of Pentair's (PNR) valves and control (V&C) business. Pentair's V&C business peaked in 2014 at $2.4 billion. But, its expected contribution to Pentair's revenue in 2016 was just $1.7 billion. Pentair's CEO had noted the V&C business unit was a laggard in cash generation.
Still, Emerson touted Pentair's V&C business as a "right" fit.
"We know the industry, we know the products, we know the channel, we know the customers."
Emerson saw significant potential for penetration with Pentair's product lines into its primary accounts.
"Of our $1.3 billion sales in key strategic accounts, approximately 40% are in accounts in which Pentair Valves & Controls has $0 sales."
Emerson is now actively integrating the business. The impact in 2017 will be cash-flow accretive but will be dilutive to earnings due to expense and amortization. Initially, the integration will focus on cost-cutting. By year five (2021), Emerson expects this acquisition to add sales of $2 billion (including synergies). It projects the combined business will be delivering $4.5 billion in sales and an 18% operating margin.
But, everyone did not buy into this particular acquisition. There were naysayers immediately. Analysts cautioned Emerson was adding more risk to a struggling business. Indeed, Emerson, does peg its expectations for this integrated Final Controls business on recovery in the global process automation market. In the 2017 second quarter earnings call, Emerson noted there had been some improvement but spending remained at low levels.
In fact, overall, Emerson credits a "challenging global economy" as the catalyst for its restructuring. Solidifying its position as a key player in the global energy market means Emerson must endure the pressures from the energy industry. In 2016, the Automation Solutions segment contributed 62% of revenue ($9 billion of the $14.5 billion) and the energy industry (refining, midstream oil and gas, upstream oil and gas) generated 42% of that revenue. While Emerson readies for "recovery" in the global energy market, it has already faced the need to reset. In a one-year time frame, from February 2016 to February 2017, Emerson Electric had to lower its 2019 EPS expectations.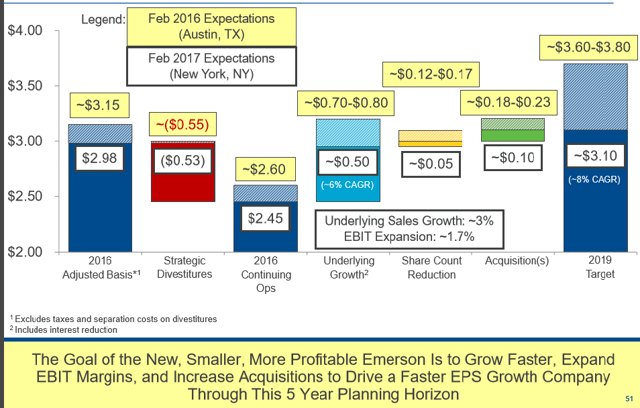 "Recovery" in the energy industry is a hot topic. Many have projected oil prices will remain "lower for longer". Some industry experts anticipate the next battle over oil prices will strike in 2018 when U.S. shale production is projected to fill the gap from OPEC production cuts. Contrarily, there are arguments oil supply will fall before oil demand and drive prices higher.
Emerson Electric is projecting the energy market "should see a positive inflection point in 2017 or early 2018 with spending starting with MRO and brownfield projects, and slowly migrating into previously delayed greenfield projects".
There's little doubt Emerson is in the midst of change. But, its commitment to shareholders remains. The company's sixty-year history of healthy dividend growth is imposing. But, its plans for future growth do revolve around imposing and major "ifs" - if markets recover and if sales grow both organically and through acquisition. Emerson is relying heavily on the acquisition of bolt-on companies as well as strategic market-expanding companies similar to Pentair's V&C. Further, assuming such acquisitions occur, future outperformance depends on if it can successfully and efficiently integrate the businesses and find synergies.
Political "ifs" also riddle Emerson's targets. The company is hopeful either corporate tax reform or a repatriation holiday will allow it to repatriate $900 million of divestiture cash. This cash is integral in its acquisition plans.
As the number of "ifs" mount and the risks associated with the "ifs" intensify, Emerson's future as a Dividend King growing its dividend by double-digits appears to become less and less bankable.
By 2021, Emerson is targeting its dividend obligation will be 40% to 50% of free cash flow. In 2017, it expects to pay out $1.2 billion of its $2 billion in free cash flow for a ratio of at least 60%. To reach the 2021 targets and register a sixty-five year track record of dividend growth, free cash flow must increase and its outstanding share count must decrease.
Emerson does have an active share repurchase program. It expects to expend approximately $250 million in 2017. With that expenditure, at recent share prices, Emerson can buy back approximately 4 million shares or less than 1% of the shares outstanding. From 2014 to 2016, Emerson did manage to decrease its outstanding share count by just over 8% from 704 million to 647 million. Based on free cash flow projections through 2021, share repurchases will be the key driver to dividend growth.
Revenue is projected to grow 38% from $14.5 billion in 2017 to $20 billion by 2021. Emerson is projecting free cash flow will grow just 31.7% from $2.05 billion in 2016 (from continuing operations) to $2.7 billion by 2021.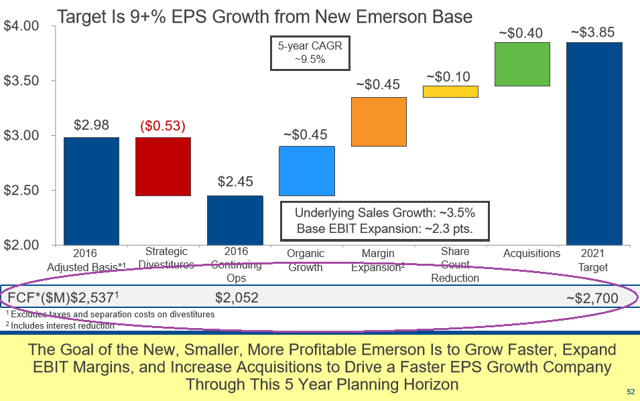 At a dividend payout of approximately 47% of free cash flow in 2021, Emerson would disburse approximately $1.27 billion to shareholders. With a stable share count, this equates to total five-year growth of just 5.8%. But, if Emerson can decrease its outstanding share count by an approximate 10% in the next five years, a $1.27 billion payout equates to five-year growth of as much as 13%.
| | | | | | | |
| --- | --- | --- | --- | --- | --- | --- |
| | Stable Outstanding Share Count | Dividend Rate | Total Payout | Decreased Outstanding Share Count | Dividend Rate | Total Payout |
| 2017 | 645 million | $1.92 per share | $1.24 billion | | | |
| 2021 | 645 million | $1.97 per share | $1.27 billion | 581 million | $2.18 per share | $1.27 billion |
In either case, Emerson is not likely to resume its historic double-digit annual dividend growth. Rather, if Emerson can decrease its share count by 10% in five years, the dividend growth rate, based on a projected payout of $1.27 billion, narrows to just over 3% per annum. If Emerson cannot decrease its share count, investors will likely see a minimal bump to the dividend rate of only $0.01 per share per year.
For DGI advocates, new investors may not find the prospects in this scenario compelling. Established DGI investors with a plump yield on cost may be comfortable sticking with Emerson through the restructuring phases.
I predict my investment club will, once again, pass on Emerson Electric. I'll surmise the "ifs" will be perceived as too hefty and the growth prospects too slim.
Rather than bailing on the industrial sector altogether, check out the inquiries into GRAVY possibilities, Eaton Corporation and McGrath RentCorp. These alternatives are presented in installments 3 and 4 of this series.
Disclosure: I/we have no positions in any stocks mentioned, and no plans to initiate any positions within the next 72 hours.
I wrote this article myself, and it expresses my own opinions. I am not receiving compensation for it (other than from Seeking Alpha). I have no business relationship with any company whose stock is mentioned in this article.