Freeport-McMoRan (NYSE: FCX) is a mining company headquartered in Phoenix, Arizona with a market cap of more than $20 billion. The company saw its stock price accumulate by double-digits today on the back of incredibly strong earnings. However, as we will see in this article, the company's impressive assets and strong finances, combined with a broader market recovery, still make the company an incredibly strong investment at the present time.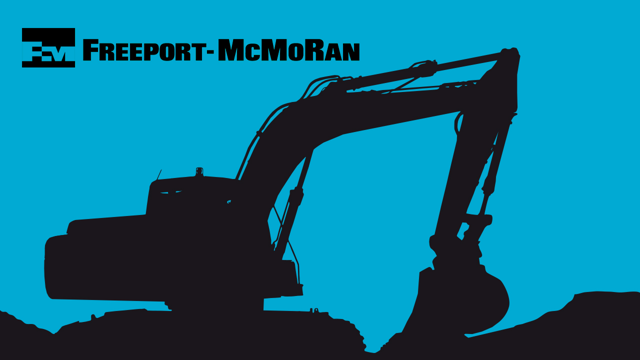 Freeport-McMoRan - Value Stock Invest
Freeport-McMoRan Second Quarter 2017 Results
Before we get into the details of this thesis, let's begin by discussing the second quarter results of the company that helped the company's stock price accumulate by double digits.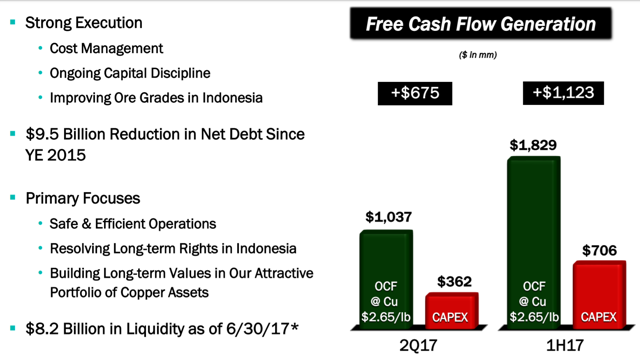 Freeport-McMoRan Cash Flow Generation - Freeport-McMoRan Investor Presentation
If I had to use a term to discuss Freeport-McMoRan's actions over the past few years that would be strong execution. The company landed itself in hot waters in January 2016, as the commodity market crashed, and has fought hard since then to improve both its financial position and long-term profits. These efforts, as can be seen by both the company's performance this past quarter and the significant increase in the company's stock price since January 2016, have paid off well. These efforts, in my opinion, are not fully reflected into the company's stock price.
Freeport-McMoRan's strong execution plan has been focused on cost management, ongoing capital discipline, and improving ore grades in Indonesia to increase long-term profits. The company generated more than $1 billion in operating cash flow in 2Q 2017 with copper prices at $2.65 / pound. That, compared to $362 million in capex spending, means the company generated significant cash flow after expenses. This increase resulted in the company's OCF more than doubling over the past year, a significant reward for shareholders.
Overall, over the past year and a half Freeport-McMoRan has managed to reduce its debt by an astounding $9.5 billion. Not only does this help the company's long-term financial picture in terms of debt maturities but it also saves the company many hundreds of millions in annual interest expenses. On top of that, the company continues to focus on efficient operations, and has $8.2 billion in liquidity. That liquidity should allow the company to continue its operations for many years to come.
Copper Market Discussion
Now that we have discussed Freeport-McMoRan's 2Q 2017 results that greatly helped its stock price, let's continue to the thesis by discussing the broader market recovery.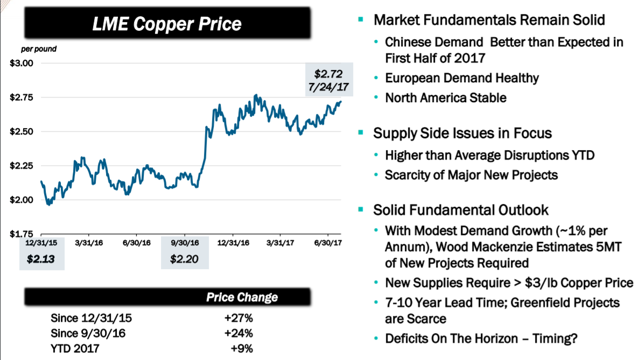 Freeport-McMoRan Copper Prices - Freeport-McMoRan Investor Presentation
Freeport-McMoRan is the largest publicly traded copper miner in the world and the company has benefited greatly from a rapid recovery in copper prices. The company's initial difficulties were caused by a peak in copper prices at almost $4 per pound in 2012. However, as copper prices fell to less than $2 per barrel, the company struggled to make a profit dealing with massive amounts of debt and inefficiency in its operations. However, the company has focused on improving its efficiencies and is benefiting from a recent recovery in copper prices to more than $2.7 per pound.
The fundamentals outlook for Freeport-McMoRan remains incredibly strong. Modest demand growth of 1% per annum is anticipated with Wood Mackenzie estimating 5 million tons of new projects are required. New supplies require copper prices of more than $3 per pound and a lead time on the horizon. That means, even with a solid recovery in copper prices, deficits are on the horizon. This year there has also been a higher than average number of disruptions. This number of disruptions, should it continue, will also have a significant impact on supply.
And near term factors will likely continue to support copper prices even further. On July 26, copper prices hit a two-year high after announcements that China could move to ban an import of scrap metals by the end of next year. Currently, a significant amount of copper usage in the world, especially China, comes from copper scrap. Refining this scrap produces massive amounts of waste which China has been averse too. Banning this scrap will significantly increase demand for refined copper and will provide a strong boost to copper prices.
This shows the broader market recovery in copper that will significantly support Freeport-McMoRan's profits going forward.
Freeport-McMoRan Assets
Even after selling a significant portion of its assets to decrease its debt, Freeport-McMoRan still has significant assets that will provide the company with significant long-term cash flow.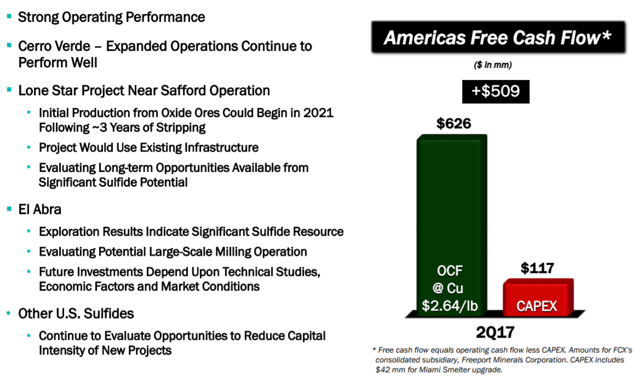 Freeport-McMoRan Americas Cash Flow - Freeport-McMoRan Investor Presentation
Freeport-McMoRan's free cash flow from its American assets have increased significantly. The company earned $626 million in the 2Q 2017 at copper prices of $2.64 / pound which is below present copper prices. The company has continued to expand operations in Cerro Verde. The company has its Lone Star Project with initial production from oxide ores anticipated to begin in 2021 after 3 years of work with existing infrastructure. The region has significant sulfide potential which should support long-term profits.
In the company's El Abra project, exploration results also indicate significant sulfide resources. The company is looking into future investments to increase both profits and earnings. As a result, we can expect that the company's American free cash flow should continue to increase. Overall, according to its investor presentation, Freeport-McMoRan has 137 billion pounds of copper sulfide in its present resources at $2.20 / pound copper, noticeably below present prices. That means billions of pounds of copper to be mined, worth billions in profits.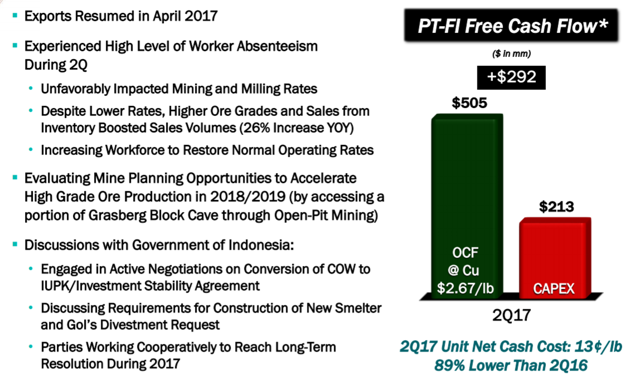 Freeport-McMoRan Indonesia Mine - Freeport-McMoRan Investor Presentation
In Freeport-McMoRan's Grasberg Mine in Indonesia, the company managed to resume exports in April 2017. The company experienced high levels of worker absenteeism during the 2Q, a strong drag on its operations, but still managed to earn $292 million in free cash flow at $2.67/pound copper, significantly above last year. The company is evaluating opportunities to accelerate high grade ore production and come to a long-term agreement to maintain profits.
The company has managed incredibly low costs per pound as a result of the valuable gold byproducts from the mine - the mine is also one of the largest gold mines in the world. The company's 2Q 2017 unit net cash costs were $0.13 per pound, an astounding 89% lower than 2Q 2016. The company anticipates production will continue, with Deep MLZ production (at the bottom of the mine) ramping up to 80 kilotons/day by 2021. That should help profits from this mine continue to remain high.
This shows how Freeport-McMoRan has high production and low costs. Given the significant reserves in these regions and the expansion of the company's mining operations in the Indonesian Grasberg mine, the company's production should continue for many years to come.
Freeport-McMoRan Financials
Copper markets have appreciated significantly and are anticipated to continue increasing. The company has impressive assets with low cash costs and high continued production. And through this all, and for the future, Freeport-McMoRan has had a strongly improving financial position.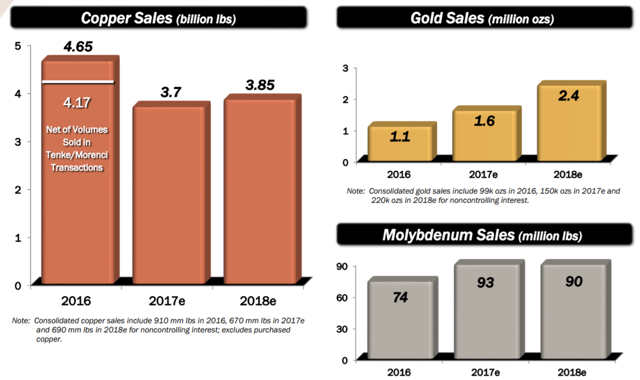 Freeport-McMoRan Long Term Production - Freeport-McMoRan Investor Presentation
Freeport-McMoRan had 2016 copper sales of 4.65 billion pounds, down to 4.17 billion pounds when you count the Tenke/Morenci asset sales. The company anticipates 3.7 billion pounds of sales in 2017 up to 3.85 billion by 2018. This should continue increase, which along with increasing copper prices, should support long-term profits. China's recent announcement that it will slow down the acceptance of scrap metal should help boost copper prices even further.
At the same time, while copper sales are taking a slight hit, the copper anticipates gold sales more than doubling by 2018. This increase in gold sales should make up for most of the lost revenue from falling copper production. Any amount not made up by increasing gold production should be made up by a modest increase in Freeport-McMoRan's molybdenum sales. That means that we can expect Freeport-McMoRan's revenue to stay fairly consistent.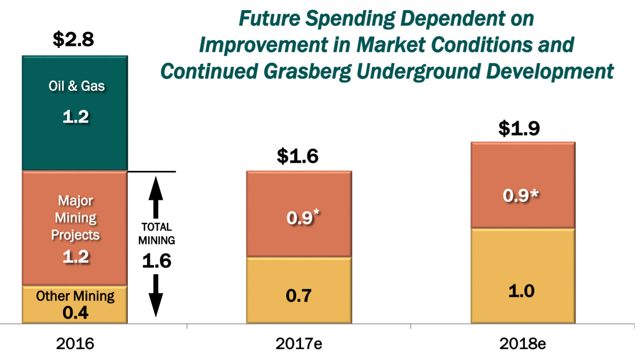 Freeport-McMoRan Capex - Freeport-McMoRan Investor Presentation
From an expenses point of view, Freeport-McMoRan's capex spending dropped rapidly from 2016 to 2017, as the company sold its oil and gas assets. However, the company remains committed to increasing production and developing its assets, and the company's mining budget is anticipated to continue increasing. The company's 2018 spending is estimated at $1.9 billion, and that should be enough to keep the company's assets in good shape while allowing the company to increase its production.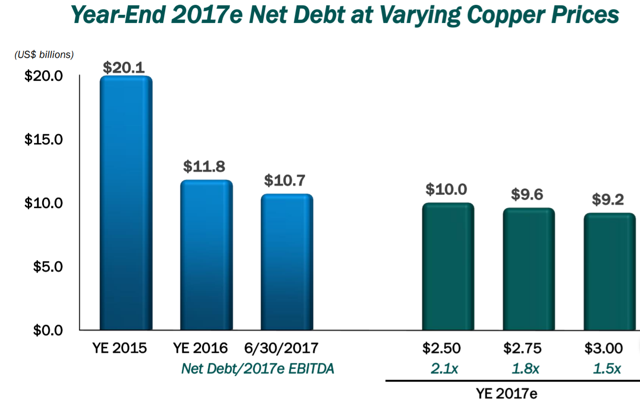 Freeport-McMoRan Debt - Freeport-McMoRan Investor Presentation
Looking at Freeport-McMoRan's net debt, we see that the company ended 2015 with an astounding $20.1 billion of debt. The company managed to reduce this to $11.8 billion by year end 2016 as it undertook major asset sales and aggressively paid back debt. With present copper prices at roughly $2.75 per pound, Freeport-McMoRan anticipates that it'll be able to reduce its debt to $9.6 billion by year end 2017.
At this point, the company has more than halved its interest expenses. The company's net debt/2017 EBITDA ratio should drop to just 1.8x. At this point, the company should be able to increase its credit rating and hold on to this minor amount of debt at the low interest rate where it isn't harmful. However, going forward, the company should still have the cash flow to reduce its debt further, should that be what it decides.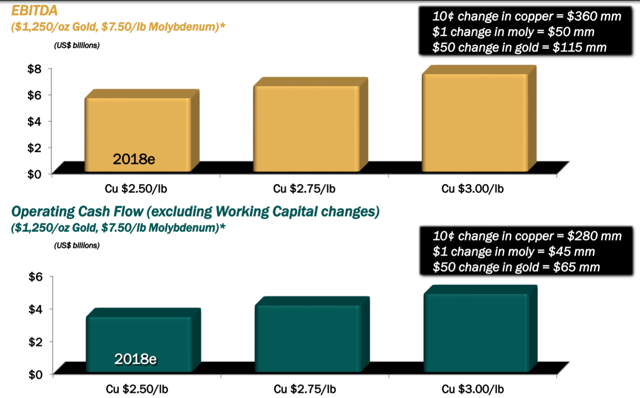 Freeport-McMoRan EBITDA - Freeport-McMoRan Investor Presentation
Freeport-McMoRan anticipates 2018 EBITDA of roughly $7 billion at present copper prices of roughly $2.75 per pound. From this, the company plans to extract operating cash flow of just over $4 billion excluding work capital changes. As we saw above, the company's mining expenses should cost it roughly $2 billion. That should leave the company with $2 billion to do what it wants.
With $2 billion, Freeport-McMoRan can get a lot done. In just 4-5 years, it could pay off the remainder of its entire debt. Or it could initiate a dividend that with its presents share price would be almost a double digit yield. Or it could go back to growth, however, this time be more careful about it. There are plenty of possibilities, but they all end with this cash flow benefiting shareholders. And the amount of viable cash flow Freeport-McMoRan has going forward is in my opinion, one of the reasons the company's stock has done so well recently.
Conclusion
Freeport-McMoRan had an incredibly difficult time from the start of the oil crash in mid-2014 to early-2016 when commodity prices peaked. The company's major entry into the capital intensive oil and gas markets not long before prices began to drop did nothing to help its situation. This resulted in the company's stock price bottoming out at roughly $4 per share in early-2016. However, since then, the company has been taking enormous steps to improve its positions.
By year-end 2017, the company will have cut its debt in more than half from year-end 2015. This has significantly cut the company's interest expenses from where they were and improved the company's credit rating. The company has also cut its expenses and sold assets that it has not needed while focusing on lowering costs and increasing production. As a result, the company should have $2 billion in additional cash flow by 2018 which it can use for a variety of things. That's a lot of extra cash for a company with a market cap of just over $20 billion.
As a result of these things, Freeport-McMoRan is a strong investment at the present time.
Disclosure: I am/we are long FCX.
I wrote this article myself, and it expresses my own opinions. I am not receiving compensation for it (other than from Seeking Alpha). I have no business relationship with any company whose stock is mentioned in this article.