Quick Take
Clementia Pharmaceuticals (CMTA) aims to sell 7.15 million shares of common stock at a midpoint price of $14.00 per share to raise $100 million in an IPO.
Clementia is a mid-stage biopharmaceutical company developing RARy-based treatments for abnormal growth and maintenance of human cartilage and tissue.
The company has a promising pipeline of treatments with potentially broad applications, but the lack of statistically significant results in trial to date leads me to suggest investors AVOID the IPO and watch the company for its 2019 initial Phase 3 results.
Company and Technology
Montreal, Canada-based Clementia was founded in 2011 to develop treatments for bone diseases such as Fibrodysplasia Ossificans Progressiva [FOP] using retinoic acid receptor gamma agonists.
Management is headed by founder and CEO Clarissa Desjardins, Ph.D., who was previously CEO at the Centre d'excellence en medicine personnalisee (CEPMED), a personalized medicine non-profit and, before that, founded Advanced Bioconcept.
Below is a brief overview video of Clementia's lead candidate Palovarotene:
(Source: Clementia Pharmaceuticals)
The company is also developing a potential treatment for multiple osteochondromas [MO], which is the formation of benign tumors that are covered by cartilage, typically on the growing end of long bones such as arms, legs, and digits.
Management has developed a pipeline of Palovarotene-focused treatments for FOP and MO, as follows,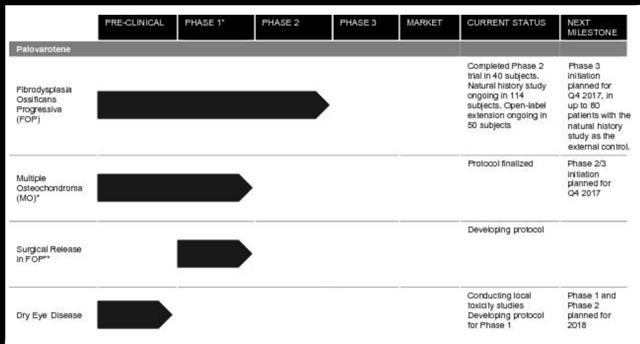 (Source: Clementia Pharma F-1/A)
Clementia's program uses retinoic acid receptors [RARs] that 'are involved in the growth, shape and maintenance of tissues.'
Market and Competition
FOP is an extremely rare disease which the company estimates as having a current prevalence of 9,000 globally.
While the market size is small, management believes that RARy agonists may affect a larger group of other indications, including fibrosis and scarring (dry eye disease).
Competitive vendors that are involved in therapeutic development include:
AstraZeneca (AZN)
Blueprint Medicines (BPMC)
Daiichi Sankyo Company (OTCPK:DSNKY)
La Jolla Pharmaceutical (LJPC)
Oncodesign (ALONC.PA)
Pfizer (PFE)
Regeneron Pharmaceuticals (REGN)
Financials and Commentary
Clementia's recent financial results are typical of development stage biopharmaceutical firms and are characterized by no revenues to date and significant R&D and G&A expenses associated with its clinical research pipeline efforts.
Below are the company's operational results for the past three and ¼ years (Audited IFRS):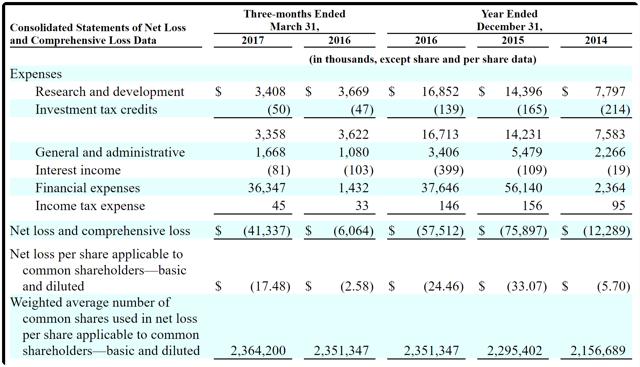 (Source: Clementia Pharma F-1/A)
As of March 31, 2017, the company had $43.7 million in cash and short-term investments and $236.6 million in total liabilities of which $231.9 million were preferred shares and embedded derivative.
Clementia intends to raise $100 million in gross proceeds from an IPO of its common stock and says it will use the net proceeds from the IPO as follows:
Approximately $65.0 million to fund expenses incurred in pursuing the registration of palovarotene in FOP, including conducting the Phase 3 MOVE clinical trial and additional clinical trials of palovarotene for the treatment of FOP;

Approximately $25.0 million to fund expenses incurred in conducting the Phase 2/3 clinical trial of palovarotene for the treatment of MO;

Approximately $10.0 million to fund expenses incurred in conducting the Phase 1 and Phase 2 clinical trials of palovarotene for the treatment of dry eye disease; and

The remainder for working capital, general and administrative expenses, pre-commercial activities, research and development expenses, and other general corporate purposes
Listed managers of the IPO are Morgan Stanley, Leerink Partners, Wedbush PacGrow, and BTIG.
Commentary
Clementia wants to raise $100 million in its IPO and proposes a post-IPO valuation of $430 million for its pipeline of osteo- and tissue-focused treatments.
Existing investors OrbiMed, New Enterprise Associates, BDC, FTQ, and RA Capital have 'indicated an interest in purchasing up to an aggregate of $30.0 million in common shares,' which is a significant signal of support for the IPO.
OrbiMed in particular has a successful track record of developing life science companies that go on to have success in the marketplace, and other investors are highly skilled at allocating capital toward valuable enterprises.
Clementia says its lead palovarotene trial results to date have 'reduced the incidence of new HO [heterotopic ossification] by approximately 50% as determined by CT scan at 12 weeks. In those subjects who formed new HO, the mean volumes of new HO were reduced by approximately 70% as compared to the placebo-treated subjects. Palovarotene was well-tolerated in this study and no patient discontinued drug or dose de-escalated.'
However, management goes on to say that trial results also 'have not demonstrated statistically significant results.' The phrase 'statistically significant' means that the results have a 5% or less chance of being random.
So, management is saying that the trial results to date have a greater than 5% (one in twenty) chance of being random and not related to their compounds.
This statement is important to investors considering participating in the IPO.
In my view, although the company will likely go public due to the promising results of post-treatment incidence reduction and the support of existing investors, my suggestion is for investors to wait until management can demonstrate results in a 'statistically significant' manner, likely by further Phase 3 trial results that will not be available until 2019.
My opinion the IPO is to AVOID it and watch the company until the initial Phase 3 trial results read out in 2019.
I write about M&A deals, public company investments in technology startups, insider activity, and IPOs. Click the Follow button next to my name at the top or bottom of this article if you want to receive future articles automatically.
Disclosure: I/we have no positions in any stocks mentioned, and no plans to initiate any positions within the next 72 hours.
I wrote this article myself, and it expresses my own opinions. I am not receiving compensation for it (other than from Seeking Alpha). I have no business relationship with any company whose stock is mentioned in this article.