Oil prices have rallied back since the end of summer, the WTI just shy of $50. This rally is the result of many pieces working together. Lower inventories than expected in the U.S. coupled with OPEC pledging to make more cuts saw a dramatic rally over the past week of almost 10%. Looking on the demand side, global growth is showing signs of slowing down, which will bring back downward pressure on oil if production doesn't react.
These potential headwinds don't make a good case to buy into energy, but the case for buying a diversified holdings of oil majors, as with the Energy Select Sector SPDR ETF (XLE), is attractive. Through better management of their balance sheets, more restrained frackers, and a less combative OPEC, the headwinds are still favorable to buy into oil majors.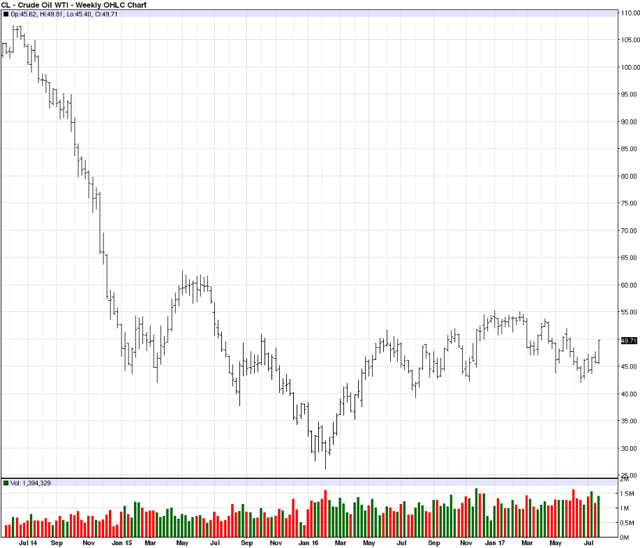 Source: Oilprices.com
A lot of the oil majors were caught off guard by the drop in oil going into 2016, where they were pushing money into projects to not only keep up with the current rates of production, but to increase market share. This was despite demand slowing down and fracking taking on more capacity at lower prices. Since then, oil companies have been more cautious on how they grow their inventory and focusing on projects that requires the least amount of risk premium to be profitable. The capex drop we saw last year will help oil companies maintain stronger balance sheets and stabilize the longer-term outlook for oil prices.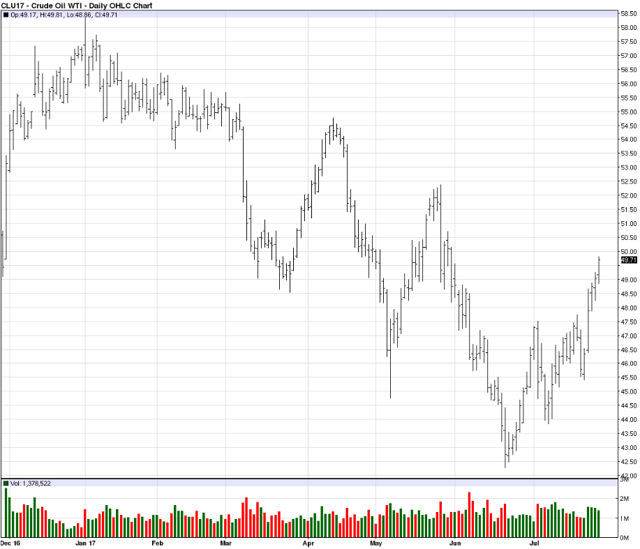 Source: Oilprices.com
U.S. shale took a lot other oil producers by surprise in the past couple years. Their resilience in a low price environment due to technological advances lowering break even prices surprised many, including OPEC. The small frackers also took advantage of the demand for higher yielding assets and were able to borrow during the price war with OPEC countries. In the future this may change. Rising yields in the U.S. and tightening looking like a prospect across the globe, high yield assets will be less attractive. This will start to eat into the cost savings that was achieved through technology. The lessons from the past will make many reluctant to lend in any other sustained downturn. A stable balance sheet and strong track record will be required for the lowest borrowing costs in the future.
The cartel tried to reclaim its swing producer status from frackers but now it looks like they are taking a different approach. OPEC has coordinated with other oil producers to stabilize oil output and put a floor on prices. This is a turn away from the past approach to squeeze out frackers. This makes the case that OPEC is now looking for unity among major producing countries and not attempting to muscle out the "free oil" producers.
XLE - YTD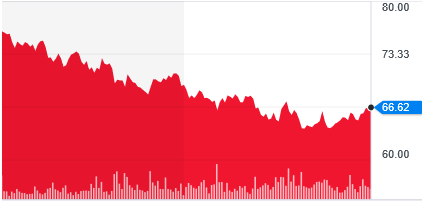 Source: Yahoo Finance
Choosing an individual company to invest in is more difficult because many companies are starting to vary in their approach to the future. Some are investing into fracking as a way to build their own swing capacity during price volatility. Others are reopening and repurposing news wells.
On average, the oil sector -- which we can get exposure to through XLE -- is going to be more cautious going forward. Many of the companies are very strict about their dividends and will do a lot (including taking on more debt) to sustain them in the short term. With a yield of 2.59% attached to an inflation-resistant sector, XLE provides a great yield regardless of the Fed and subsequent inflation changes.
Disclosure: I/we have no positions in any stocks mentioned, and no plans to initiate any positions within the next 72 hours.
I wrote this article myself, and it expresses my own opinions. I am not receiving compensation for it (other than from Seeking Alpha). I have no business relationship with any company whose stock is mentioned in this article.