Match Group, Inc.
Match Group (OTC:MTCH) is the world's leading provider of dating products. Targeting different demographics, Match operates a portfolio of over 45 brands, including Match, OkCupid, Tinder, Meetic, Twoo, OurTime and FriendScout24. The company offers dating products in 38 languages and in more than 190 countries. Match has roughly 59 million monthly active users (MAUs) and 4.7 million paid members. The shares trade under the symbol MTCH.
The company's growth strategy is to drive product development, innovation and differentiation across its product portfolio. Over the next 12 months, Match expects to deepen its offerings in terms of location-based technology, video, game dynamics and artificial intelligence, among other factors.
Digital Dating Has A Long History
Digital dating dates back to the late-1950s and 1960s. It began primarily at academic institutions such as Stanford and Harvard, which respectively developed the Happy Families Planning Service in 1959 and Operation Match in 1965. The first paid-computer-dating service to launch commercially was Project TACT (Technical Automated Compatibility Testing) in 1965, according to the New Yorker magazine.
Some 30 years later, Match.com went live in 1995. Today, the company operates the largest group of online dating sites in the world, as noted. It is also a consolidator of a fragmented industry of online dating sites. For example, OkCupid was purchased in 2011 and POF.com (Plenty of Fish) was acquired in 2015.
Through Match and OkCupid, Match, and in turn its corporate parent IAC/InterActiveCorp (IAC), is "the largest player in the online dating market." In 2014, InterActiveCorp announced that it would consolidate its dating sites, including Match and OkCupid, into one division, the Match Group. As a result, Match now operates more than 45 brands, as noted. It represents roughly 25% of IAC/InterActiveCorp's consolidated revenues. Match achieved a 19% CAGR in PMC (paid member count) from 3Q13 to 3Q16, reflecting 15% and 28% respective domestic and international CAGRs.
Growth Remains Strong
MTCH shares trade at a discount to the Nasdaq 100, despite the company's and the industry's growth. The sector has achieved 3.5% per annum growth since 2008. It now represents roughly $3 billion in annual revenue, as online dating has become increasingly mainstream and destigmatized. In fact, attitudes toward digital dating are much more positive today than ever before.
Pew Research reports that about 15% of U.S. adults have used online dating sites or mobile dating apps and nearly 50% know someone who has used online dating. The New York Times quotes a Pew Research analyst as saying that, "People don't see the sort of stigma attached to [digital dating] the way they did 10 years ago. They're seeing their friends and family members use it."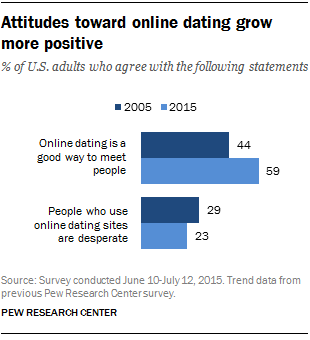 More than a third of 19,000 couples married between 2005 and 2012 met through an online dating site, according to a study in Proceedings of the National Academy of Sciences. More than 10% of American adults visit dating sites, according to Nielsen. At the same time, 47% of the population is single, compared to 28% in 1970, according to the Census Bureau.
Also, people spend more time online and rely on the internet and mobile for a growing number of services. 70% of American adults have broadband access, up from 42% in 2006. As a result of a growing user base, there are roughly 3,900 companies offering dating sites, according to IBISWorld.
Competition
The positive industry dynamics noted above has attracted many players to the sector. Reflecting relatively few barriers to entry, Match faces substantial competition in the online dating sector. The company competes with online dating websites such as JDate, Christianmingle.com, eHarmony.com, to name a few. Below we highlight some of the players in the space.
Spark Networks (LOV)
Spark Networks is merging with another online dating service, Germany-based Elite Singles, to attain greater scale. Brands the combined group will operate include JDate, Christian Mingle, Elite Singles and eDarling, among others. The company's shares trade under the symbol LOV.
Dr. Neil Clark Warren, a clinical psychologist with 35 years of experience counseling married couples, launched privately-held online dating service eHarmony in 2000. The site focuses on matching couples with a view to sustaining long-term relationships and potentially marriage. The service uses a 150-question questionnaire to assist in the matching process. eHarmony introduced Compatible Partners in 2009. eHarmony.com claims that it is responsible for nearly 4% of domestic marriages each year.
The Meet Group (MEET)
The Meet Group operates a growing portfolio of mobile apps that connect people to interact and chat with one another. The company has a brand portfolio strategy in order to offer a broad array of products that will appeal to a wide group of consumers. The company is also a consolidator of a fragmented mobile meeting sector and is leveraging acquisitions to fuel growth. The shares trade under the symbol MEET.
Likely Overhangs on MTCH Shares
Concerns about rising competition and potentially slowing growth constrain the shares, we believe. With relatively few barriers to entry, there has been a proliferation of new online dating sites over the years. There are more than 1,500 dating sites, according to market research firm MarketResearch.com. The extremely fragmented nature of the digital dating industry may be an overhang on Match shares, although it creates a growth opportunity for Match as a consolidator in the sector.
Moreover, the two largest players, Match and eHarmony, control a combined roughly 40% share of the market. Concerns that growth will slow likely also overhang Match shares, we believe. Some research indicates that digital dating revenue growth could begin to slow because the market is extremely saturated, at least in the U.S.
Growth Opportunities
Rising Focus On Mobile
Not surprisingly, mobile is the focus of growth for many dating services. Like others, Match is undergoing a significant shift from desktop to mobile. Specifically, Match registered 68% of new users via mobile channels in the first half of 2015, up from only 27% during the first half of 2013. We believe this shift creates opportunities for Match, both in terms of its offering to users and the potential to generate location-based advertising revenue.
By 2018, more than 80% of the population will own a smart device, up from 46% in 2012, according to IBISWorld. Mobile technology penetration has grown dramatically over the past decade. Adoption rates of mobile devices such as smartphones and tablets are tracking significantly ahead of other technology platforms such as PCs or broadband. There were 1.2 billion smartphones and tablets shipped in 2013 according to IDC, with 218 million designated for business use.
Smartphone penetration reached 65.2% of the U.S. mobile subscriber market during the fourth quarter of 2013, according to comScore, up more than 11% from the same time frame a year earlier. Smartphones took only 8 years to reach 20+% penetration globally. The growth in mobile devices has surpassed device adoption of other prior electronic devices.
Global Device Penetration Per Capita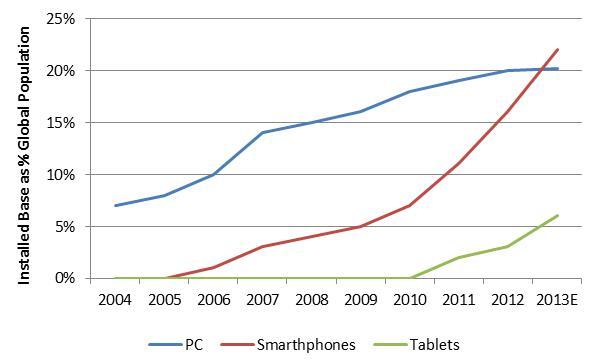 Source: BI Intelligence, Gartner, IDC, Strategy Analytics, World Bank 2013
Data from comScore indicates that social networking and entertainment including the use of Facebook (FB) account for a combined roughly 32% of total time spent on smartphones.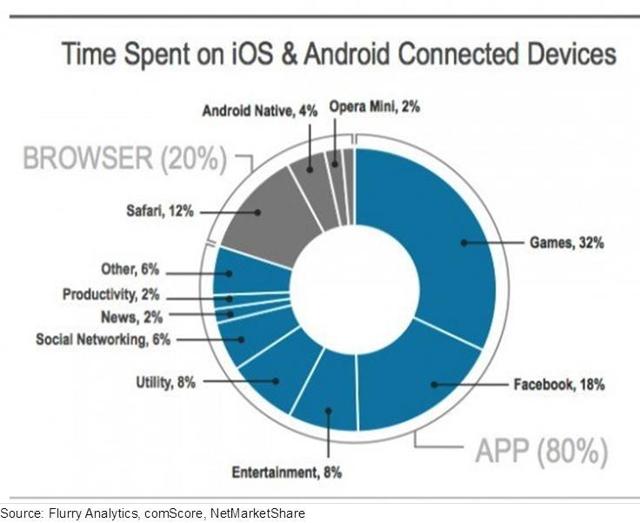 Integrating video within its dating sites is another differentiating factor, we believe. Today's teenagers - potential future users of dating sites - are increasingly using video as an online app. A 2015 Pew Research study indicates that 57% of teens use video chatting to some extent, up from 37% cited in a 2012 Pew study. Girls are more likely to video chat than boys, according to the study. Social media users are much more likely to engage in live video chatting than people who do not use social media.
Match: Competitive Advantages, Initiatives Likely To Bolster Growth
Despite the competitive nature of this business, Match has several competitive advantages, we believe, including its scale, brand recognition, early mover integrating live video across its product portfolio and leading position in the space. The company is not standing still and relying on its leading market position to help maintain its momentum; Match continues to update its product portfolio. Moreover, using different brands to target different demographics enables the company to attain economies of scale and leverage its technology and experience across its product portfolio.
For example, Match recently launched a new dating brand in Europe that targets singles over the age of 50. In France, the service operates under the brand DisonsDemain and in the UK, the service is Ourtime. The company intends to leverage its experience with its domestic business also called Ourtime, which it launched in the U.S. in 2011. The European version of the service allows singles to meet through online connections, but also at in-person events.
People aged 50 or older are among the fastest growing users of digital dating technologies, according to IBISWorld. This is because Internet and mobile usage within this demographic is expanding and people in this age group are more likely to be single than in the past. According to data from the U.S. Census, more than a third of U.S. adults 50 and older are unmarried. Digital dating among adults in their 50s and early 60s has increased dramatically, according to the Pew Research Center.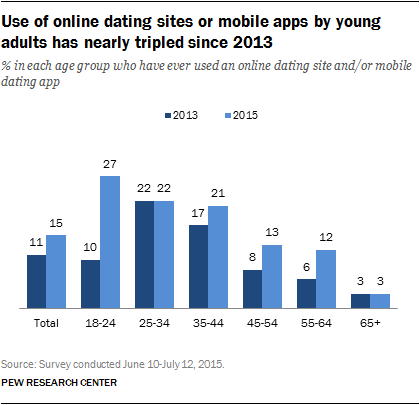 Adopting a multi-brand approach to offering applications within the same genre enables the company to lower customer acquisition costs by providing dating products that appeal to a broader spectrum of users. The new product launch also underscores Match's ability to target high-growth demographic groups by leveraging its IP, as well as the importance of international, which maintains double-digit growth for the company.
Moreover, as noted, Match's growth strategy relies on product development innovation and differentiation. The company intends to deepen its offerings in terms of location-based technology, video, game dynamics and artificial intelligence, among other factors. We believe video could be a way to inject renewed momentum into digital dating and create another competitive edge, as noted earlier. The ability to interact with the other person via live video before scheduling a date could be extremely appealing to users, in our view.
According to the Pew Research Center, roughly 33% of those who have used digital dating have never taken it to the next step and actually scheduled a date with someone they met online. Having a 'virtual date' through live video interaction could be an attractive first date option, we believe. Match expects to integrate video across its product portfolio.
Shares Trade At Discount To The Market
Digital dating companies The Meet Group, Match and Spark Networks trade at P/Revenue multiples ranging from 1.2x 2017E revenue for Spark Networks to 3.8x for Match. However, it would seem that Match's product portfolio overall has achieved higher brand awareness than those of the other companies. Thus, given Match's leading market position, size and scale, it does not surprise us to see MTCH shares enjoy a substantial premium to the group. However, on a P/E basis, MTCH shares also trade at a discount to the Nasdaq 100, which commands a 25.8x multiple, according to the WSJ.

IAC retains an 82.5% economic interest in Match shares and 97.9% voting control, making Match essentially a controlled company. In our view, this could be another overhang on the shares. Nevertheless, MTCH shares became public in November of 2015 at $12 per share and subsequently have delivered 54.8% appreciation compared to 24.9% for the Nasdaq over the same period.
Given Match's growth initiatives, dominant market position and new product development and innovation, we remain optimistic about the company's outlook and in turn, the outlook for the shares, the combination of anticipated revenue growth combined with some slight multiple expansion.
Editor's Note: This article covers one or more microcap stocks. Please be aware of the risks associated with these stocks.