It has been some time since I wrote last time about my portfolio performance. I feel that it is imperative for an investor once in a while to compare how his or her portfolio has performed against the markets. This is because active stock picking and portfolio monitoring takes a lot of time. Since investing in passive index ETFs requires only a minimum amount of effort and time, an active investor needs to get some type of compensation for his or hers efforts.
I have currently two portfolios due to historical reasons and you can see them both below. Portfolio 1 is the biggest one with which constitutes around 70% of my total portfolio value. Portfolio 2 constitutes the remaining 30%.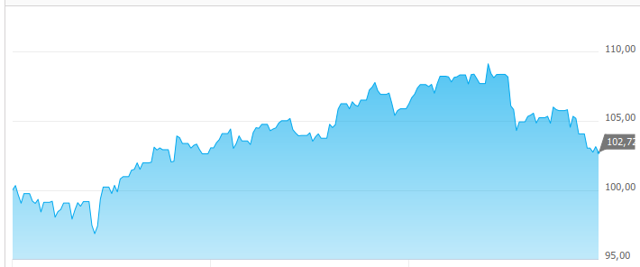 (Portfolio 1)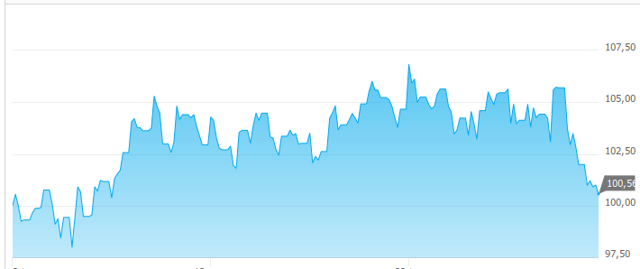 (Portfolio 2)
My portfolio strategy has stayed relatively the same since the beginning of the year. In short, I try to pick only companies that have been able to grow their revenues for more than a decade. In addition, I am looking for strong cash flow generation in the form of high RoA, RoE and RoS. If capex requirements are low and cash from operating activities are stable, I consider that as a huge plus. And of course, since I am inclining towards dividend growth investing, I am looking for companies that have grown their dividends in the long term. I do not necessarily require a dividend aristocrat status as long as the dividend is reaching a new high every third year.
When I last time wrote about my portfolio performance, the focus was more on gaining a certain value for my portfolio than actual dividend income. Recently, however, I have started thinking that in order to retire using your portfolio, it is much more safe to rely on dividends than on selling a portion of your portfolio. Selling a portfolio of your portfolio is subject to market pricing risk, while dividends are much more stable in the short term. Therefore, I have decided to make minor changes in my portfolio. From now on my intention is to at some point in time (hopefully sooner than later) be able to retire and use the dividends my portfolio is generating to cover my everyday mandatory expenses. As I consider investing to be more like a marathon, I try to hold my shares as long as possible. This way I can as well postpone capital gain taxes.
In order to align with my new portfolio strategy, I have sold my position in Varian Medical Systems (NYSE:VAR) in July and used the proceeds to initiate a full position in Johnson & Johnson (JNJ). As Varian has not historically paid any dividends and most likely will not in the near future due to debt covenants, I decided to start a position in a company that has a strong historical track record of paying dividends. Hence, Johnson & Johnson was one of the best stocks I could find. As a result, my portfolio now yields around 2.5%.
This year I have continued normally with my monthly purchases in selected companies, which have been Brown-Forman (NYSE:BF.B), Novo Nordisk (NVO) and Canadian National Railway (CNI). My plan for the rest of the year is to continue increasing my positions in Amphenol (APH), Brown-Forman and Canadian National Railway. At the end of the year, I should have full positions in those three stocks.
So far this year my portfolio has grown around 2.3% on an indexed basis. Q1 performance this year was pretty solid, but Q2 has been rather dismal. As you can clearly see from the above graphs, especially the last two months have been very devastating for my portfolio. This is due to the weak dollar, which has weakened more than 10% since the end of Q1. I would estimate this has decreased my returns around 3.5% since the start of the year. The other culprit for the bad results is H&M (OTCPK:HNNMY). This stock is the only one in my portfolio that is down for the year (-16%). I would estimate that if it weren't for this stock, my results would have been better by 1% so far this year. H&M's bad performance has continued from 2016 and 2015. The reason why I have not sold my position is due to the fact that I do not believe in market timing. The company is still making money, which is the main thing.
If a weak dollar and H&M have been the definitive lowlights this year, the highlights have been Varian Medical Systems' strong performance since its split mid-February this year. Clearly splitting a company in half does create additional value to shareholders as markets can price the two companies more efficiently. The second best highlight has been the performance of Atlas Copco (OTCPK:ATLKY). The recent up-tick in global industrial demand has clearly benefited its top and bottom line. The company's top line is expected to grow this year by 15% and EPS by more than 40%. The third best highlight has been SAP's (SAP) roll-out of its S/4HANA which is gaining market share. I recommend reading SAP's recent earning call transcripts where the CEO and CFO sound more optimistic than ever.
Below you can see a full snapshot of my stock portfolio with holdings' current weights. The rest is cash.
| | |
| --- | --- |
| Amphenol | 8.9% |
| Brown Forman | 6.8% |
| Canadian National Railway | 7.8% |
| Hershey (HSY) | 9.4% |
| Johnson & Johnson | 10.5% |
| Atlas Copco | 10.2% |
| H&M | 6.3% |
| Svenska Handelsbanken (OTCPK:SVNLF) | 8.9% |
| Novo Nordisk | 7.8% |
| SAP | 11% |
| Nokian Tyres (OTCPK:NKRKY) | 11.8% |
What am I looking for in the near term when it comes to my holdings? H&M's CMD is something I will be looking very closely as their dividend is far from safe. The second company that is under observation is Hershey. I am a bit worried about their ability to continue their historical dividend growth. I have expressed my concerns in this article. The third thing I will be focusing on is how my biggest holding, Nokian Tyres, has been able to pass on increased costs to its end products during Q2. Since the Q1 report, the shares have dropped by more than 10% due to market fears that margins will start decreasing. However, I consider those worries overblown due to the sheer fact that Nokian Tyres has exceptional brand and pricing power. The reason why I feel like this is explained in this article, this article and this article. I simply consider Nokian Tyres as a Finnish equivalent of Coca Cola. The near-term dividend growth should be more than secured for the rest of my companies as their current payout ratios are so low when compared to current free cash flow generation. As long as they can at least sustain their current profitability, I should be able to reach my dividend goals. If the dividend becomes under threat, I will seriously consider selling my position.
In short, on an absolute basis I am not pleased with the current performance. 2.3% during seven months is not enough to cover the risks associated with owning stocks. However on a relative basis, I am still ahead of my benchmark index which is up only around 1.5% so far this year. During times like these I try to remind myself that investing is not a sprint but rather a marathon. All of my companies have tremendous potential for increasing their dividends in the long term (for instance Amphenol just raised its dividend by 19% and Hershey 6%).
Disclosure: I am/we are long APH, SAP, ATLKY, HNNMY, SVNLF, CNI, BF.B.
I wrote this article myself, and it expresses my own opinions. I am not receiving compensation for it (other than from Seeking Alpha). I have no business relationship with any company whose stock is mentioned in this article.
Additional disclosure: I am long all of the above stocks except VAR.
Editor's Note: This article discusses one or more securities that do not trade on a major U.S. exchange. Please be aware of the risks associated with these stocks.