Note: This article was originally published July 18th on Value Investor's Edge, a Seeking Alpha subscription service.
Overview
Matching up supply and demand isn't always as easy as it sounds, especially on a global playing field like maritime trade which has many participants. Often, the ups and downs in this industry can be traced to supply side imbalances.
Recently, several segments have been experiencing a bit of trouble brought on by an oversupply of vessels with many more still set to hit the water. This oversupply has been a main culprit behind the disequilibrium in shipping markets lately and, therefore, low charter rates.
Product Tankers
Product Tankers provide the marine transportation of the refined products such as bitumen, fuel oil, cycle oils, edible oils, diesel/gasoil, kerosene, gasoline, clean condensates, and naphtha, among other substances.
They have coated tanks, typically epoxy, making them easy to clean and preventing cargo contamination and hull corrosion, though they must be cleaned as different cargoes are introduced.
Here, we will be discussing three main segments in the product tanker trade, which will be grouped in the following way MR (25k-55k DWT), LR1 (55k-85k DWT), and LR2 (85k DWT and above).
Companies engaged in this sector include, but are not limited to, Scorpio Tankers (NYSE:STNG), Teekay Tankers (NYSE:TNK), Tsakos Energy Navigation (NYSE:TNP), Ardmore Shipping (NYSE:ASC), Navios Maritime Acquisition (NYSE:NNA), Pyxis Tankers (PXS), and Capital Product Partners (CPLP).
Background
As noted in my Product Tanker Macro Update: April 2017, the demand side for product tankers has remained fairly healthy. But rates have seen a precipitous decline since 2015 and remained low.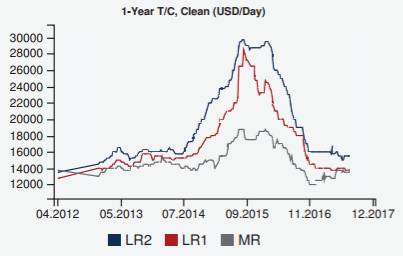 Source: Fearnley's Week 28, 2017, Report
This low rate environment can be traced to large amounts of new tonnage hitting the water resulting in a supply-side-driven market disequilibrium.
Therefore, the key to a market recovery rests in rebalancing of the supply side. This can occur either through the scrapping of older tonnage thereby thinning out the global fleet, or for new orders hitting the water to slow which would allow the demand side to catch up.
Important Reading
The recently released Crude Tanker Supply Side Update: July 2017 has some key concepts that apply here. In order to get the most out of this particular article, I would recommend reviewing the sections entitled Cycles, Demolition Theory, and X-factors.
Additionally, if you are new to shipping and unsure as to why the supply side is so crucial in this industry, please review Trading And Investing In Shipping Part II: Focus On Supply Side.
Product Tankers And Their Trade Routes
Since this is a supply side focused article, I thought it might be important to review exactly how these different vessels are utilized.
This might be a bit of a tangent, but it hasn't been addressed before in any of my previous articles, and I thought that readers might benefit from this information.
Knowing key trade routes for these vessels is important for determining how ever-changing trading patterns will impact each segment and how vessel supply will be absorbed by various market shifts.
So, in the future, when you see an article about increasing flows out of the US Gulf, for example, you'll know exactly what segment of the product tanker fleet this shift impacts.
The LR2 (Long Range) segment is designed for medium to long haul voyages such as trips from the Middle East to East Asia or Europe. One of the major shifts in global refining has been the emergence of export oriented mega-refineries. This shift away from small-scale, demand-centered refining to large-scale refining hubs has been a major boon to the LR2 segment. Many of these export-oriented mega refineries have been developed in the Middle East where domestic feedstock is abundant and ports are able to accommodate large vessels such as the LR2.
Geographically, LR2's tend to serve the Middle East, Red Sea and/or West Coast India to Far East - Middle East, Red Sea and/or West Coast India to Continental Europe and the Mediterranean Sea - Europe to Far East - Trade Inter-Europe - and Trade Inter-Asia
Some of the more popular LR2 routes are listed here:
Arab Gulf-Japan
Arab Gulf-Med
Arab Gulf-Singapore
Arab Gulf-South Korea
Arab Gulf-UKC
Arab Gulf-USAC/GC
WC India-UKC
Med-Japan
Med-South Korea
The LR1 vessels are also utilized for medium to long haul voyages. West Africa has become a major destination. In West Africa, the LR1 size is the largest that can be used in many of the ports due to draft limitations. Refinery capacity in West Africa has not kept pace with the economic development, which has resulted in increasing import volumes. The vast majority of these requirements, primarily gasoline, has been supplied by Europe. Over the past few years, the region has also seen strong growth in cargoes coming from the Americas, the Middle East, and recently long-haul cargoes from the East. The West African markets have absorbed a substantial portion of gasoline volumes previously shipped from Europe to the U.S.
Geographically, LR1 routes include Europe to West Africa - Europe to U.S. - U.S. to South America - Middle East, Red Sea and/or West Coast India to Southeast Asia - and the Middle East, Red Sea and/or West Coast India to Far East.
Some of the more popular routes for LR1s are as follows:
Arab Gulf-India
Arab Gulf-Japan
Arab Gulf-Med
Arab Gulf-Singapore
Arab Gulf-South Korea
Arab Gulf-UKC
Arab Gulf-USAC/GC
Arab Gulf-USWC
Red Sea-Japan
Red Sea-Med
Red Sea-Singapore
Red Sea-South Korea
Red Sea-UKC
Singapore-Hong Kong
Singapore-India
Singapore-Japan
Singapore-South Korea
UKC-WAF
WC India-UKC
The MR (Medium Range) segment is the real workhorse of the product carrier fleet. They are found all over the world. These flexible vessels are able to call on almost any port in product tanker trade. Often, port size restrictions play a role in why LRs are not chartered in key regions. MRs are typically involved in short to medium-haul routes. They also often cater to smaller markets where chartering a larger LR vessel might seem excessive for local needs.
The Asian market has been especially vital for MR tankers that are able to take multiple cargoes on multiple legs, known as triangulation trading, thus increasing vessel earnings and avoiding empty return voyages. One example of a triangulation trade may start in S. Korea with a cargo of gasoil destined for Hong Kong. That same vessel may then travel from Hong Kong to Singapore with a load of diesel or gasoline. Naphtha may then be loaded at Singapore destined for the Japanese market. Once discharged that same vessel may return to S. Korea, which is just a short distance away, to begin that same voyage again.
Some of the more popular MR routes include the Middle East, Red Sea and/or West Coast India to Far East - Middle East, Red Sea and/or West Coast India to Continental Europe and the Mediterranean Sea - Europe to Far East - Trade Inter-Europe - Trade Inter-Asia - US Gulf to Latin America - and the Caribbean.
This summary will have to do for now instead of listing specific routes since there are dozens upon dozens of highly popular trading routes for MRs.
The chart below shows some of the most popular routes for the product tanker market.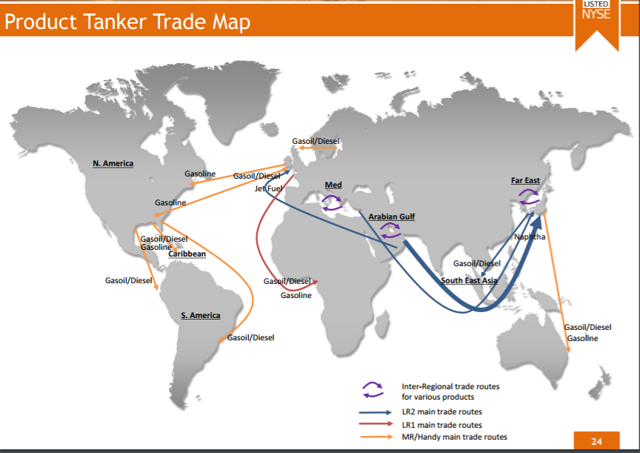 Source: Scorpio Tankers
Here are a few examples of how trade routes have shifted. Refining capacity in Asia, the Middle East, the United States, Russia, and even India has evolved tremendously over the past decade. Meanwhile, refinery closures in Australia, Europe, and Japan caused refining capacity to shrink significantly leading to greater imports.
Let's take a quick look at a couple charts that tell how these trends impacted trade flows.
First, we see how refinery closures in Australia have altered the market creating the need for more exports.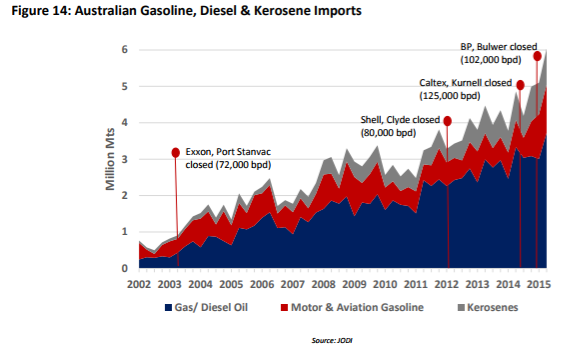 Source: Fearnley
Next, we see how Europe has addressed the issue of declining domestic refinery capacity as imports from various regions compensated for refinery closures.

Source: IEA
This sort of shift not only has an impact on the tankers being utilized but also on ton mile demand, which will be discussed later on in the article.
Finally, let's take a look at refinery growth in a couple key geographic regions.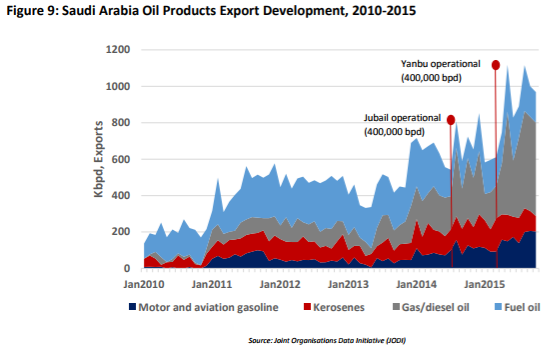 Source: Fearnley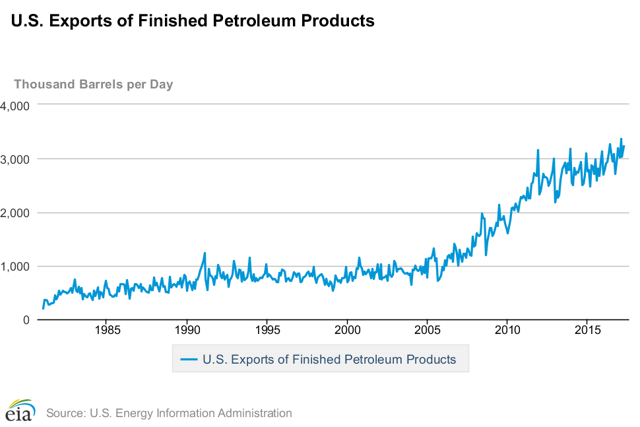 Source: EIA
The point here is that shifts in trade will impact the product tanker market, and knowing which vessels serve which routes where the shift is taking place will be key to understanding which segment stands to benefit.
Furthermore, knowing the fleet profile of a specific company will provide a better understanding of how that company will be impacted due to these shifts. For example, if the MR segment is benefiting from a significant shift in flows, as it did with increasing US exports, companies with large MR exposure would probably see some of that benefit.
These trade flow shifts have been discussed in previous product tanker macro outlooks and will be updated again in an upcoming article, so let's get back on track here and return to vessel supply.
Product Tanker Supply Side
The product tanker trade has more than quadrupled over the past 30 years, and with that growth came a massive expansion in vessels catering to this trade.
The current global product tanker fleet is represented below.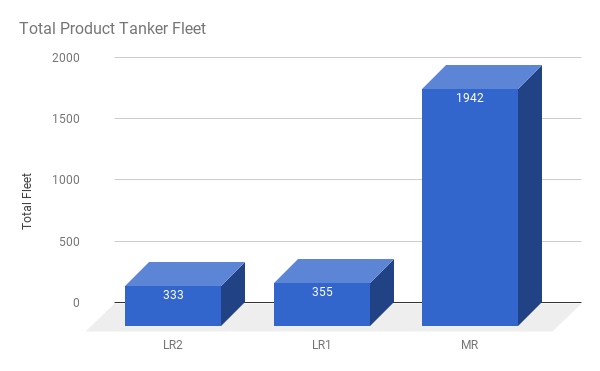 Source: Data From Clarkson Research-Chart by James Catlin
As noted earlier, there are two ways for the market to re-balance, so let's take a closer look at the potential for demolitions across all segments by examining the age of the fleet.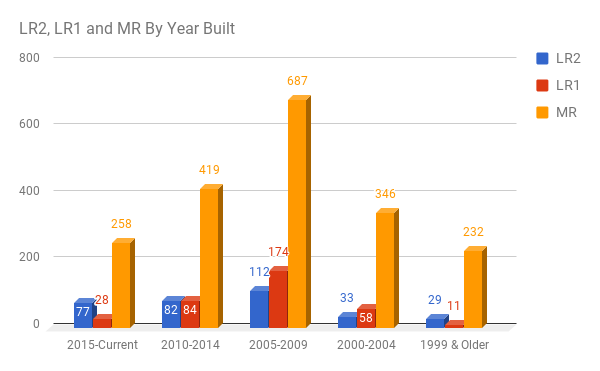 Source: Data From Clarkson Research-Chart By James Catlin
1999 was chosen as a cutoff year for a key set of reasons. Vessels will be required to undergo a 20-year special survey which is quite expensive. After 20 years, those surveys come at 2.5-year intervals instead of five years.
Additionally, 2019 is the beginning of the implementation of the BWMC followed by the 2020 Global Sulfur Limit. Together, these items will require a significant investment (or greater operating costs) for vessels that wish to continue sailing. Many owners may feel that additional investment may not be justified and therefore could opt to scrap these vessels. Therefore, this could be the beginning of a hastened re-balancing effort.
Special surveys and the two IMO mandates were discussed previously in the Crude Tanker Supply Side Update: July 2017, so if you're unfamiliar with these issues, please refer back to that article.
Notice the MR segment has a significant number of vessels that were built in 1999 or before representing approximately 12% of the total fleet. The LR1 comes in at just 3% while the LR2 segment clocks in at nearly 9%.
The point here is that the natural life cycle of these vessels may be altered, and if a high rate of demolitions begins to materialize based on the aforementioned survey and policies being implemented, the MR segment stands to shed quite a bit of tonnage followed by the LR2s.
Now, let's turn our attention to the orderbook.
Before we start, let me just give a big thank you to Vessels Value, the premier site for vessel valuations, and J Mintzmyer, founder of Value Investor's Edge, for providing the following detail on the MR orderbook which I found very helpful.
While we have seen quite a few orders materialize lately in the crude tanker and dry bulk segments, the product tanker segment looks very favorable.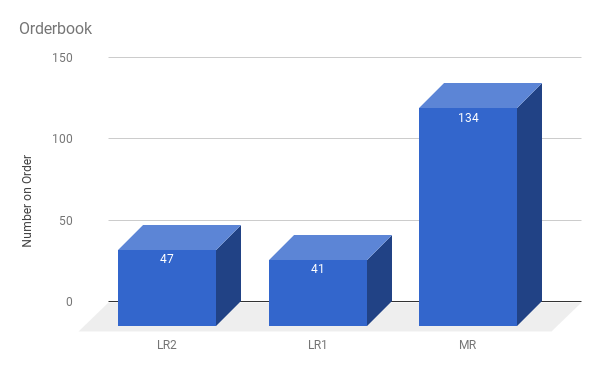 Source: Data From Clarkson Research-Chart By James Catlin
Anything above 15% typically raises some red flags when it comes to the orderbook. Anything under 10% usually signals a tightening of the fleet due to the natural life cycle of vessels. However, as noted earlier, that cycle may be altered resulting in some early scrapping.
Currently, the LR2 orderbook stands at 14%, which isn't anything to get really excited about. The LR1 orderbook is a bit better coming in at 11.5%. However, the MR orderbook is downright bullish coming in at a thin 6.9% which is the thinnest is has been in over 25 years.
Recall that the MR segment also has the highest number/percentage of vessels built in 1999 or earlier at 232 or 12% of the total fleet.
Let's take a look at a couple MR charts that tell a very bullish story.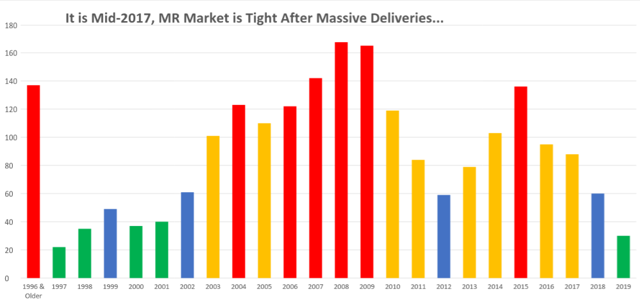 Source: Data From Vessels Value-Chart by J Mintzmyer
As J correctly notes in the chart heading, the MR market has absorbed a very high influx of vessels over the past years in a much better manner than many would have anticipated.
Given a perfect market, typically larger vessels command higher rates. But the MR segment as of late has actually kept up with its larger counterparts. The most recent weekly spot averages cited by Charles R. Weber have the LR2 segment at $10,866, the LR1 at $10,270, and the MR at $10,037. But the week before the MR segment was actually commanding almost $2,500 more than the LR2s and over $3,000 more than the LR1s, thanks to heavy fixture activity in the US Gulf and the Latin America region.
Finally, let's take a look at how future deliveries stack up for the MR segment.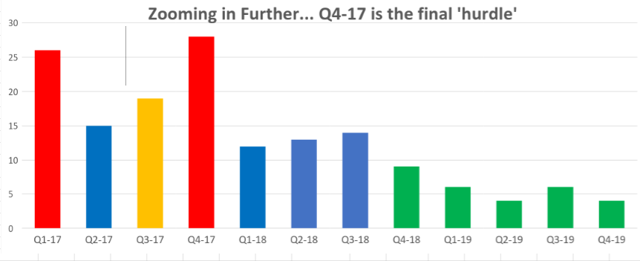 Source: Data From Vessels Value-Chart by J Mintzmyer
As J notes, new tonnage hitting the water in the MR segment drops off significantly after Q4 of 2017.
Once the market digests the Q4 influx, things will begin to tighten up, and 2019 is looking downright skimpy when it comes to newbuilds hitting the water.
In fact, if we were to look at one company's calculations regarding the required supply side growth to keep pace with a key expanding market, a vessel shortage in the near future may not be out of the question.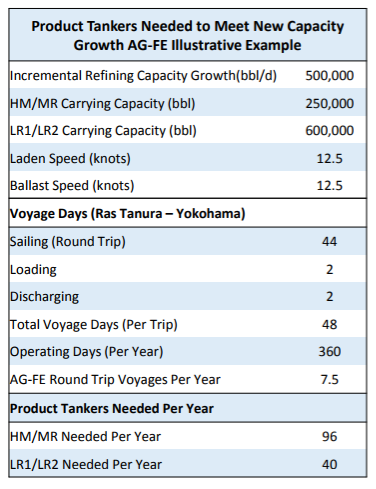 Source: Scorpio Tankers
Notice that just this one route (Arabian Gulf - Far East) will require a substantial amount of new tonnage to service the projected growth. Let's not forget that several other regions are expected to see some impressive demand growth as well such as West Africa and Latin America.
Could a vessel shortage materialize in the coming years? Potentially, yes. But demand would need to remain robust, and the orderbook would need to stay subdued. Nevertheless, the possibility does exist, which is very exciting for owners and investors.
Trade Shifts And Ton Miles
After the release of the Crude Tanker Supply Side Update on Value Investor's Edge, many subscribers inquired about the potential for ton mile growth. So, let's take a quick minute to focus on that.
At this point, many might be tempted to believe that it's all about the MRs going forward. To a large degree, that would be correct. MRs are absolutely the winner when it comes to the supply side. But it is important to note a shift that is taking place with regard to product flows that will impact the entire market, and that comes in the form of ton mile demand.
Ton mile demand is just a fancy way of saying how far a ship must travel to deliver a specific cargo. The longer a ship is out to sea for a given cargo, the longer it is removed from the supply side, thus reducing available supply and creating a tailwind for rates. In short, less supply given a constant demand will produce higher prices (charter rates).
Increasing long haul routes have been contributing to robust ton mile demand in the product tanker segment. Between 2000 and 2016, ton miles have increased an average of 4.4% CAGR per year.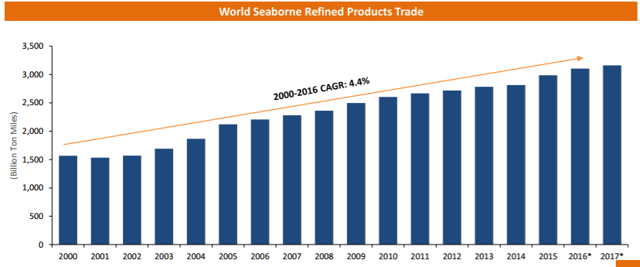 Source: Scorpio Tankers
As noted earlier, the emergence of mega refining hubs at the expense of smaller localized refining operations should continue to contribute to robust ton mile demand.
This will be complemented by growing consumption in Latin America, Africa, and Asia and lack of refining capacity growth that will fail to keep pace with demand over the coming five years.
Overall, the trend spells out widening refinery dislocation, which means the product tanker market will continue to become less intra-regional and more long haul-focused.
The nature of this shift has favored the LR2 segment more than anything. McQuilling Services LLC showed ton mile demand growth from 2014 through 2016 for the LR1 and LR2 segment is far better than the MR at approximately 7% and 21% vs. 5%, respectively.
Conclusion
The product tanker market was put under pressure by a large influx of vessels. That pressure is still there with a high amount of deliveries scheduled for 2017 from a robust 2015 ordering binge across all segments.
In fact, things may get slightly worse before they get better. The pace of deliveries is expected to pick up in the second half, bringing the net fleet growth for 2017 to 3-4%. Around 30% of expected LR2 newbuild deliveries, 25% of expected LR1 newbuild deliveries, and 46% of expected MR newbuild deliveries this year have taken place so far. However, after that, it looks as though the pace of deliveries will ease.
Yes, 2015 was a heavy year for orders, but since the start of 2016, the LR2 segment only saw 24 orders placed, the LR1 saw only 7, and the MR only had 43. So, the pace of deliveries for all segments, but especially the LR1 and MR, will drop off considerably in 2018 and 2019.
Additionally, both methods of remedying this disequilibrium look to be at work which could create a shift in the market very shortly.
There is a significant amount of aging tonnage which might be destined for the scrapyard sooner than the traditional life cycle due to two major IMO mandates that will require a significant investment. Again, this comes at a time when a large portion of the fleet, especially in the MR segment, will be facing 20-year special surveys and beyond.
Going forward, MRs are going to be the obvious winner. There is a slim orderbook, the demolition potential is greater here than any other segment, and when comparing rates, the MR market has actually held up pretty well given a large amount of tonnage hitting the water lately.
Of course, there is still time to place an order for a MR tanker to be delivered in 2019 which is why watching orders for this segment will be important going forward to ensure this potentially bullish scenario isn't dampened by aggressive owners wishing to capitalize on a promising market.
But if owners can continue to exercise discipline with regard to ordering, this market may see a substantial shift happening over the course of the next two years.
Thank you for reading, and I welcome all questions/comments.
If you would like to stay up to date on my latest analysis, I invite you to follow me on Seeking Alpha (click the "Follow" button next to my profile picture at the top) as I continue to cover all aspects of maritime trade.
Value Investor's Edge
Value Investor's Edge is a top-rated Seeking Alpha research service, which focuses primarily on the volatile, and therefore potentially very profitable, shipping industry. Members receive a two-week lead time on all reports by James Catlin, alongside exclusive content by J. Mintzmyer, a top-tier deep value analyst. This platform offers actionable trades and strategic income opportunities through Mr. Catlin's data-driven macro analysis, which often complements Mr. Mintzmyer's company-specific analysis. This winning team has developed a dedicated following of highly knowledgeable investors and industry professionals who also share their own thoughts and ideas on Value Investor's Edge.
Editor's Note: This article covers one or more microcap stocks. Please be aware of the risks associated with these stocks.