In this article, we'll compare and analyze the financial ratios of Citizens Financial Group (CFG) following their earnings reports for Q2.
We'll also compare CFG to their peers including U.S. Bancorp (USB), SunTrust Banks, Inc. (STI), Huntington Bancshares Incorporated (HBAN), BB&T Corporation (BBT), M&T Bank (MTB), PNC Financial Services Group Inc. (PNC), Regions Financial Corporation (RF), and Fifth Third Bancorp (FITB).
Highlights from the earnings report:
Citizens Financial: Q2 EPS of $0.63 beats by $0.04.
Revenue of $1.4B (+9.4% Y/Y) in line.
Here are the press release highlights:
Net income of $318 million, up 31% from $243 million in the second quarter 2016.
Includes a $26-million impact related to impairments on aircraft lease assets which, in addition to provision expense of $70 million, resulted in total credit-related costs of $96 million.
Net interest income growth of 2%, strength in mortgage banking fees, service charges and fees and capital markets fees.
Net interest margin expansion to 2.97% and an efficiency ratio of 61.9%.
Total revenue of $1.4 billion increased 1%.
$9-million decrease in noninterest income, driven by $11 million of finance lease impairments recorded in other income.
Average deposits increased $836 million or 1%.
Average interest-earning assets increased $1.2 billion or 1%, driven by 1% loan growth.
Declared a third quarter cash dividend of $0.18 per common share, an increase of $0.04 per share, or 29%. The dividend is payable on August 16, 2017, to shareholders of record at the close of business on August 2, 2017.
We believe we are turning the corner and emerging from our turnaround phase, having made strong strides in growing our balance sheet and customer base and building out our capabilities in both Consumer and Commercial." - CEO Bruce Van Saun via press release.
When we see earnings reports like the ones above, it can be rather difficult to determine whether the quarterly results were a clear winner since each bank highlights different numbers to make their quarter look good.
Below we'll dig deeper into the financials to determine where the earnings came from and how those earnings compare to CFG's peers.
Of course, this is not a comprehensive analysis, but it should give investors a good sense of how the two banks are performing.
P/E Ratio Analysis:
The P/E ratio measures the current stock price to past quarterly earnings. The forward P/E ratio measures the current stock price to expected future earnings.
A higher P/E means that the price is higher relative to the earnings and may indicate a stock is overvalued.
The below chart shows a P/E ratio of 14.93 for CFG as of Q2.
The forward P/E is currently 13.91 for the bank.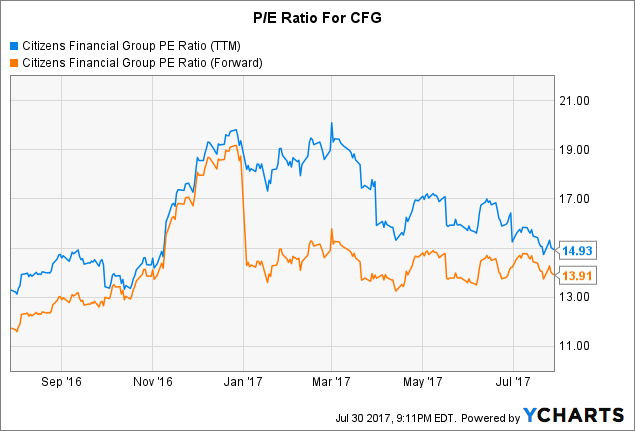 CFG P/E Ratio (TTM) data by YCharts
P/E ratio compared to banks in the peer group:
Currently, CFG has the second lowest P/E ratio as compared to their peers.
The average P/E ratio for the bank peer group is 16.19 as of the end of Q2.
Given the bank's low P/E and forward P/E, the bank is fairly undervalued from strictly a P/E standpoint.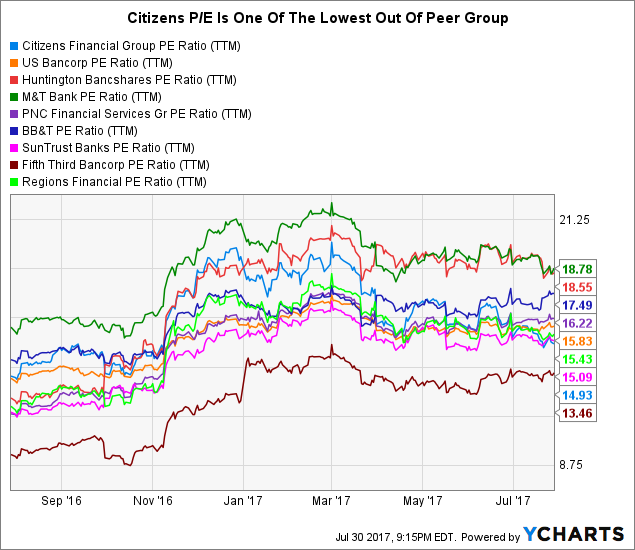 CFG P/E Ratio (TTM) data by YCharts
Book value comparison:
Book value is considered the value of a company's assets that investors would receive if the assets of the company were liquidated.
If a company's stock trades at less than 1 price to book value, it's considered below book value or undervalued. If a stock is trading over 2 price to book value, the stock is considered overvalued.
The below chart shows the book value of 0.8920 for CFG.
For regional banks, a book value under 1.5 is considered good. Very few banks have a book value under 1 at this point in the economic cycle.
The average book value for the bank peer group is 1.3787 for the quarter.
A word of caution with book value: Companies in turn-around mode like CFG typically have lower book values than their peers.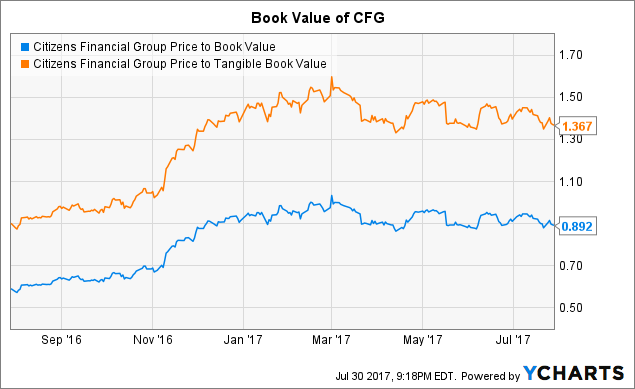 CFG Price to Book Value data by YCharts
Return on Equity or ROE is a measure of how well the management uses investments to generate earnings growth.
Typically a company with an ROE of 10 or higher is considered well run. An ROE of below 10 is considered less than favorable by the market and is an indicator that improvement is needed.
The below chart shows the ROE for CFG over the past three years.
The bank's ROE came in at 6.16% as of the end of Q2.
The ROE has increased from roughly 4% from a few years ago. However, the bank's ROE is still very low and well below the industry as seen in the next chart.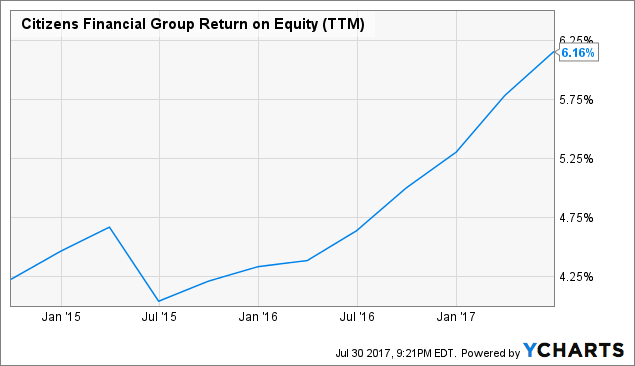 CFG Return on Equity (TTM) data by YCharts
ROE Industry Comparison:
The average ROE for the commercial banking industry, according to the FDIC, stands at 9.32%.
When compared with the industry, CFG's ROE is markedly below the average of 9.32%, according to the figures from the FDIC.
The average ROE for the bank peer group is 9.29, and as a result, CFG is well below their peers from the standpoint of management effectiveness.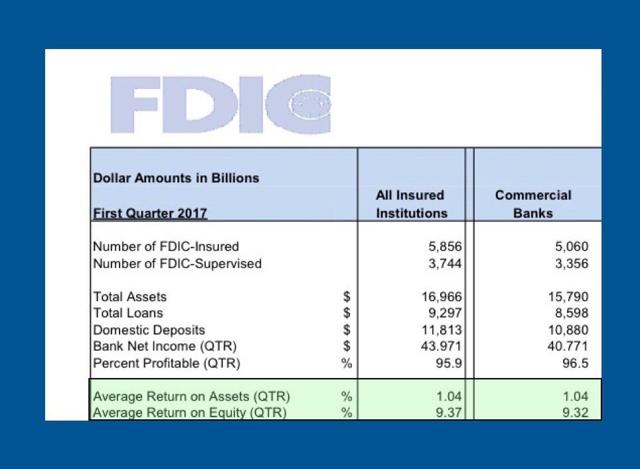 Net interest income:
Net interest income measures the profit made from lending (revenue) vs. what the bank pays depositors in interest (expense).
The below chart shows the net interest income for CFG was $1.026B for Q2.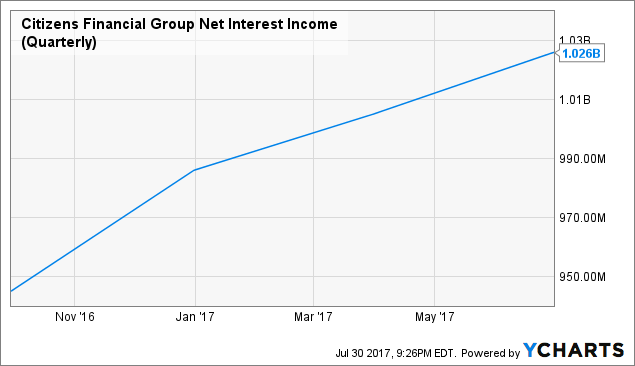 CFG Net Interest Income (Quarterly) data by YCharts
Net interest income percentage gains:
NII has increased by 8.57% since July of last year.
CFG's growth rate is second only to M&T's for banks of comparable size in CFG's peer group.
I didn't include Huntington because they had an acquisition last summer that increased their loan book and NII which skews their numbers.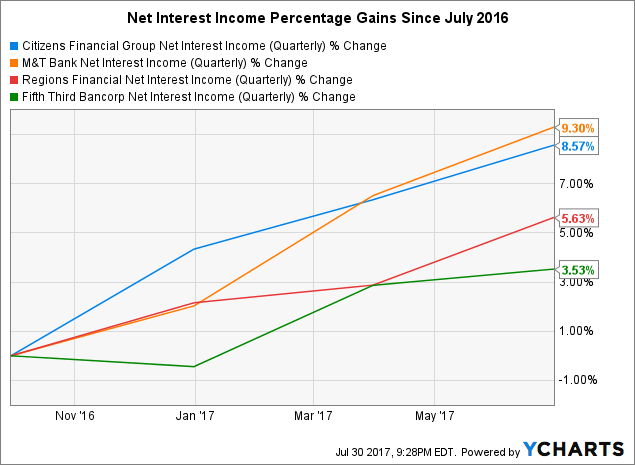 CFG Net Interest Income (Quarterly) data by YCharts
Net interest income compared with peer banks:
The net interest income for the quarter was better than most of CFG's peers as we can see in the graph below.
Only Sun Trust, BB&T, and U.S. Bancorp were markedly higher in net interest income than CFG for the quarter. Of course, not all the banks are the same size.
The NII number for CFG is a positive sign given yields have been so low this year. For a bank that has taken some hits, it is a very solid number.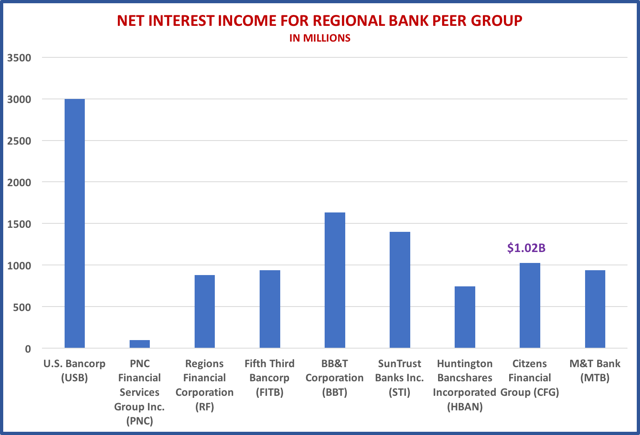 The yield curve was challenging in Q2:
As we can see below, the 10-year yield struggled to get over 2.4% while the two-year yield remains unimpressive despite the Fed hiking rates both in March and June.
Typically, the two-year yield moves as a result of Fed action, while the 10-year trades off long-term inflation and growth expectations.
Given the challenging yield environment in Q2, the fact that CFG posted a 2% increase in Q2 NII is a good sign.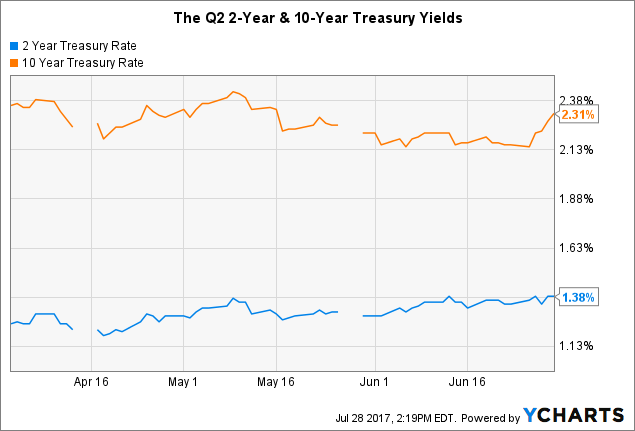 2-Year Treasury Rate data by YCharts
Key Takeaways:
While there are many more financial ratios and numbers to analyze, I hope the above analysis provides investors with a clearer picture of Citizens Financial Group following their Q2 earnings report.
CFG posted 2% growth in both net interest income and improved their net interest margin to 2.97%. The industry average is around 3% for NIM.
Loan growth was not great at 1%, and deposit growth was only 1%.
As a result, the book value of CFG is below 1, and the ROE is terrible at 6.16%, but in fairness, the losses they incurred should be short-term in nature.
Also, CFG's P/E of 14.93 is one of the lowest in the group.
As a result, CFG may be considered by investors as undervalued for a regional bank. However, with a loss from the leases, their non interest income took a hit and hurt their quarter.
From a risk management standpoint, please monitor the ROE, loan and deposit growth in the coming months.
As the bank strives to improve their performance, the company may be susceptible to pullbacks, but might be a good buy once they get the losses off their books and can concentrate on organic growth. CFG may be a bank to keep on your radar but might have more issues to work out in the coming months.
As a result, we may see traders selling into future rallies, especially if Treasury yields remain low and economic growth hovers near 2%.
Of course, much of the outcome depends on how well the U.S. economy performs in the next few quarters.
We will likely need to see improved U.S. economic growth, improved industry-wide loan demand, and as a result, higher yields.
The Fed will also likely impact yields, but at this stage of the economic cycle, it's all about growth and fundamentals.
Good luck out there.
Author's note: If you like this article and would like to receive email alerts to stay up to date on Bank of America, banks, equities, and commodities, please click my profile page, and click the "Follow" button next to my name, and check "Get email alerts" to receive these articles sent via email to your inbox.
You can also find the "Follow" button at the top of this article next to my name. And of course, feel free to comment below if you have any questions, or send me a private message by clicking the "send a message" link on my profile page.
Disclosure: I/we have no positions in any stocks mentioned, and no plans to initiate any positions within the next 72 hours.
I wrote this article myself, and it expresses my own opinions. I am not receiving compensation for it (other than from Seeking Alpha). I have no business relationship with any company whose stock is mentioned in this article.