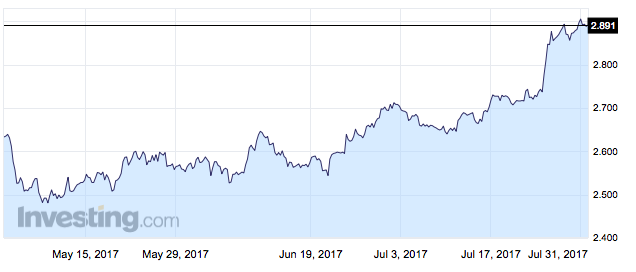 Copper Futures Prices Over Last Three Months- Investing.com
Investment Thesis
In a year where copper has been on the rise as a result of major production halts, copper prices will continue to rise due to major macro factors such as depreciating U.S currency, rising oil prices and rising demand from China.
US Weakening Dollar vs. Global Copper Producers
The three largest copper producers in the world are Chile, China and Peru. The first indicator that I would like to look at to prove that copper prices are likely to rise is the value of the U.S dollar versus the currencies of these three countries.
U.S Dollar vs. Chilean Peso (Source: Bloomberg Markets)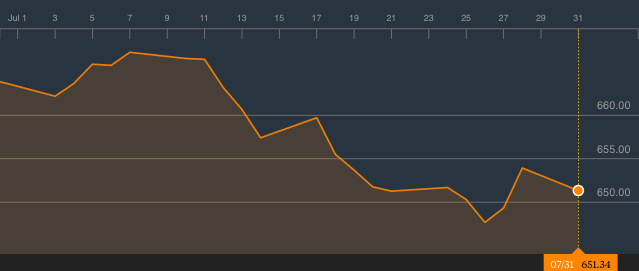 U.S Dollar vs. Chinese Yuan (Source: Bloomberg Markets)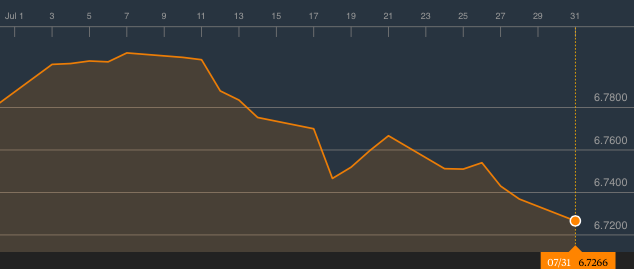 U.S Dollar vs. Peruvian Sol (Source: Bloomberg Markets)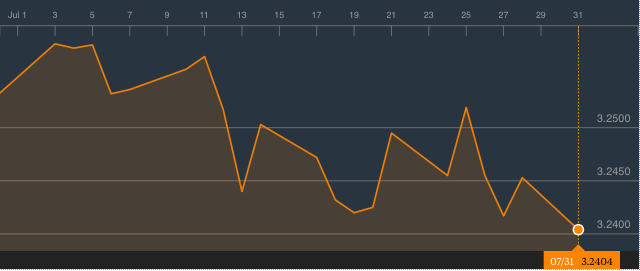 In the past three months, the U.S Dollar has depreciated against the Peruvian Sol, Chinese Yuan and the Chilean Peso. A depreciated dollar is a strong factor in leading to rising copper prices because a depreciated dollar leads to a higher demand for copper from these producers, which will lead to higher prices for copper from these producers. In addition, a depreciated dollar will also lead to a decrease in the supply of copper output from these countries because producers will see higher opportunity cost to produce more copper. Investors should recognize that if the U.S dollar continues to depreciate versus major copper producers, it will lead to higher copper prices globally.
Global Supply/Demand of Copper
According to the International Copper Study Group, as a result of major disruption in Q1 2017, global copper production is expected to decline 1%. This decline in the supply of copper globally is expected to continue to push prices up as the demand for refined copper from major emerging industrial economies continues to go up. The demand for copper is expected to grow by 3.5% in 2017 in China alone.
Projections According to ICSG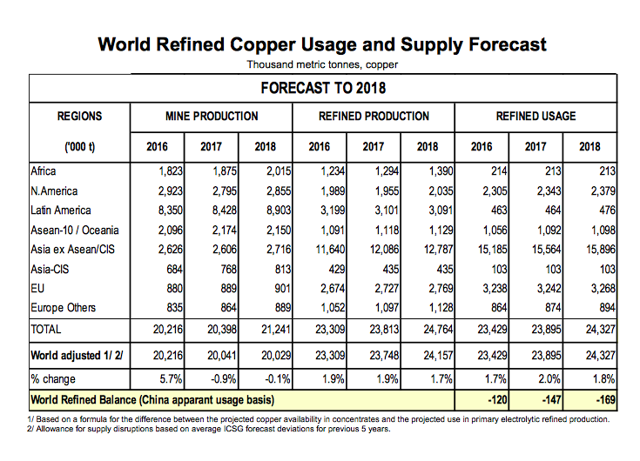 (Source: ICSG)

Global Mine Production Over Last 27 Years (Source: WorldBank)
Oil Prices Have Been Rising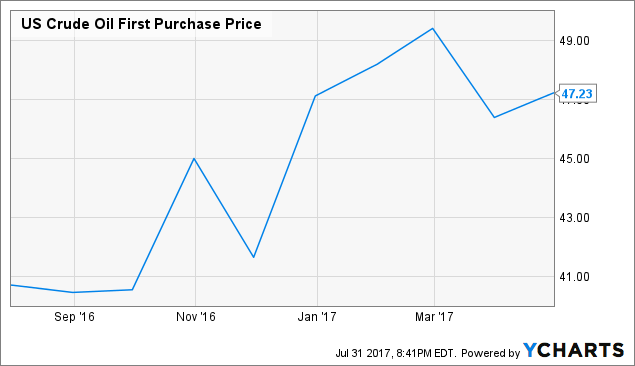 There is a strong positive correlation between oil and copper prices, as oil is an important expense in copper production. While oil prices have no affect on the demand for copper, oil does have a strong affect on the cost of producing copper. With rising oil prices in the past year, this is a strong indication that copper prices are likely to continue to go up as long as oil prices continue to also go up. There is caution that volatility in oil prices are important for traders because this volatility could make copper prices volatile.