Introduction:
This article summarizes some of the key events, with regards to oil production, transpiring in Libya over the last decade; the story behind the madness is unveiled in a concise fashion. Furthermore, an outlook for Libyan oil production is provided. The graph below is a visual depiction of the events in this article and the NOC's (National Oil Corporation) outlook for Libyan production through the end of 2018.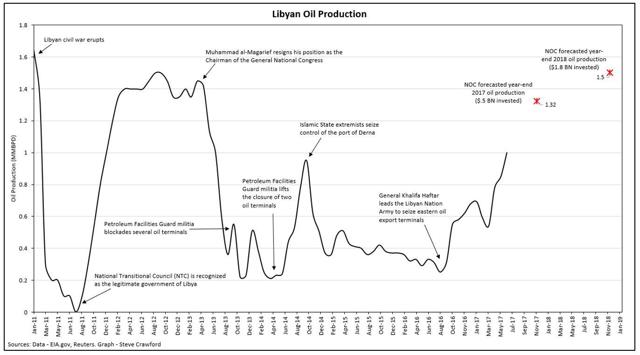 Civil War Erupts:
During February of 2011, civil war broke out in Libya between forces seeking to oust Muammar Gaddafi, whom is pictured below, and those loyal to him. By August of 2011, Col Gaddafi had gone into hiding. Amid this time, oil production in the country plunged from around 1.6 MMBPD to nearly zero.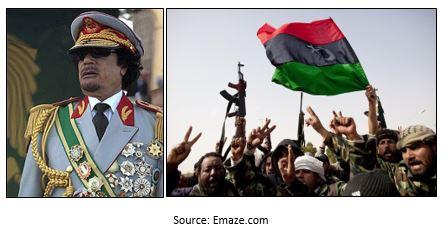 Let's Rebuild the Country:
By September of 2011, more than sixty countries had recognized the National Transitional Council (NTC) as the legitimate government of Libya. Mustafa Abdel Jalil, who is pictured below with former President Obama, headed the council. The security situation in the country began to stabilize, accordingly production roared back under the NTC leadership; by March of 2012, production had returned to 1.4 MMBPD.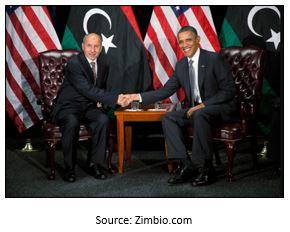 Peace Won't Be So Simple:
During 2012, there was a power shift from the NTC to the GNC (General National Congress). The congress was tasked with transitioning Libya to a permanent democratic constitution. Mohammed al-Magariaf, who is pictured below, served as the President of the GNC. During this transitionary period, oil production in Libya remained relatively stable around 1.4 MMBPD. It wasn't until Mr. al-Magariaf departed that oil production sank again. In May of 2013, he resigned to comply with a new law that banned Gaddafi-era officials from holding public office.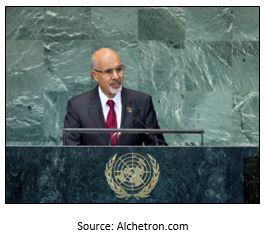 The GNC's Parastatal Militia Arrives:
Between May and November of 2013, oil production sank from 1.4 MMBPD to .2 MMBPD. Extremist and rebel attacks were on the rise; furthermore, the Petroleum Facilities Guard, led by Ibrahim Jathran, whom is pictured below, began blockading oil terminals which further strangled oil production in the country. Finally, in April of 2014, the PFG lifted its closure of several oil terminals, which paved the way for a production recovery; by October of 2014, despite heavy fighting, production rose back to nearly 1 MMBPD.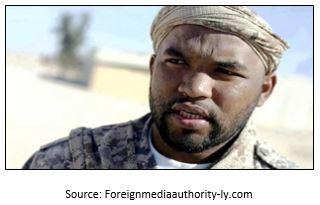 The Sky Turns Black:
In July of 2014, the Ansar al-Sharia militia group, which advocated the implementation of Sharia Law across Libya, seized control of most of Benghazi. Moreover, the Islamic State's presence in Libya was growing quickly, so the security situation in the country had begun rapidly deteriorating. In October of 2014, an Islamic State militia seized control of the port of Derna. Shortly after, during March of 2015, the Libyan Army mounted an offensive to retake Derna, but the army failed to dislodge the extremists. In January of 2016, The Islamic State attacked the Ras Lanuf oil terminal. The period between 2014 and 2016 saw heavy fighting between various militant groups, which pummeled production from roughly 1 MMBPD to under 300 KBPD, another incredible drop.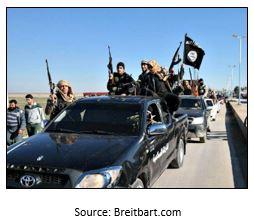 In Marches the General:
In September of 2016, General Khalifa Haftar, who is pictured below, seized Libya's key eastern oil export terminals. This marked a significant turning point in both the country's battle with the Islamic State and its drive to increase oil production. By December of 2016, only a few months later, Islamic State militants had been driven out of the town of Sirte. In the latest development, after several years of fighting, Islamic State fighters were forced out from Benghazi this past month (July 2017).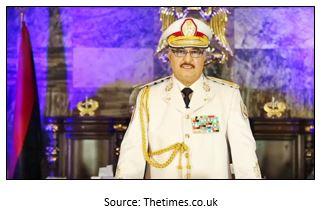 Outlook
Due to the security situation in Libya, oil production in the country has been through an incredibly wild ride. Production has risen and fallen between a trickle and over 1 MMBPD multiple times. This past month, Libyan oil production reportedly broke 1 MMBPD. Mustafa Sanalla, Libya's National Oil Corporation Chairman, believes that increasing Libya's oil production is a key piece to restoring the nation's economy and security.
The NOC has claimed that $.55B of investment is needed in 2017 to reach a production rate of 1.32 MMBPD by the end of the year. Furthermore, the company has said that $1.8B is required in 2018 to achieve 1.5 MMBPD of daily production by year-end 2018 and $18B for 2.2 MMBPD by 2023. According to the projection given by NOC, the average annual production growth rate will fall significantly over the coming years: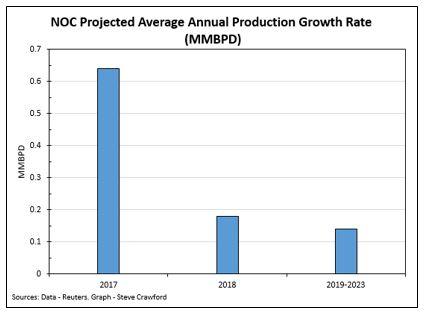 Furthermore, required investments in Libyan oil infrastructure will skyrocket. Thus, investment efficiency (in terms of the MMBPD of production growth per $BN invested) will plummet: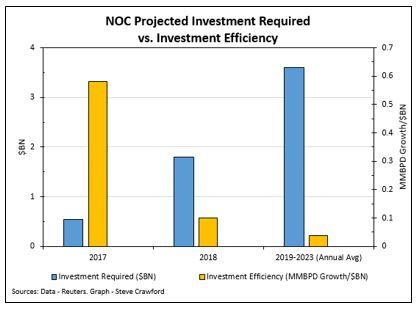 The decrease in efficiency is likely due to a combination of factors. Principally, the rapid increase in Libyan production has been due to the revival of existing oil producing assets. As the pool for such inactive assets dwindles, Libya will be forced to drive production through existing facilities expansion and new development projects; increasing production in this manner will require considerably more expertise, money, and time than the nation has been accustomed to recently.
The security situation in Libya remains cloudy. Recent news reports suggest that the Islamic State is setting up Libya as a point of resurgence. This past week, fighters aligned with Khalifa Haftar, attacked the headquarters of the constitutional drafting assembly in Bayda, Libya. If things remain relatively stable amid the recent and developing chaos, Libya may be able to increase production by another 300 KBPD by year-end. Starting in 2018, rapid production expansion will likely begin to be much more difficult for the country to sustain.
Disclosure: I/we have no positions in any stocks mentioned, and no plans to initiate any positions within the next 72 hours.
I wrote this article myself, and it expresses my own opinions. I am not receiving compensation for it (other than from Seeking Alpha). I have no business relationship with any company whose stock is mentioned in this article.