Welcome to another edition of "Elroy's Elliott Wave Weekly." The aim of this series of articles is to review possible scenarios in various markets using Elliott Wave, fractals, and other technical analysis.
This article focuses on equities, as there is a lot to say now we have reached an inflection point at 2484. The S&P 500 (SPY) could easily go 100 points up or 100 points over the next month. Which direction is the next big move?
Later in the week, I will update on other markets.
Equities
Now the S&P 500 has hit the wave 3 target, it is probably a good idea to lighten up some positions as the chances of a wave 4 pullback have increased. However, just because a target has been met doesn't mean there should automatically be a reversal.
An example of this comes from my original view that the rally from 2016 lows would target 2370-2400. This was helpful at the 1800 lows, but the way price reached the target in March 2017 strongly suggested my target was too conservative and thankfully I adapted my view. The same applies now.
This change in outlook is partly inspired by my work on FAANG stocks over on Matrixtrade. They do not look like correcting significantly, and this is reflected in the Nasdaq (QQQ), which actually looks to have already completed wave 4 and is currently in a blow off wave 5.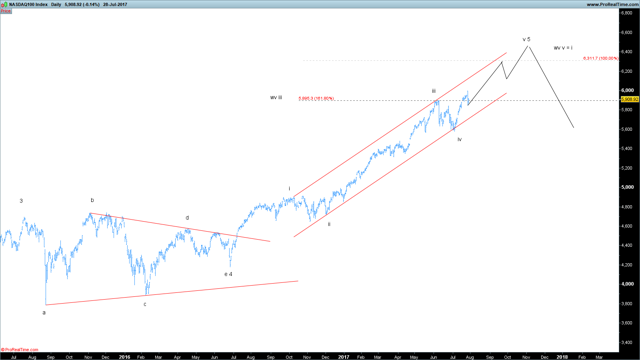 The structure is comparable to the 1999-2000 blow off, which makes sense given the context of some of the moves and valuations in tech stocks.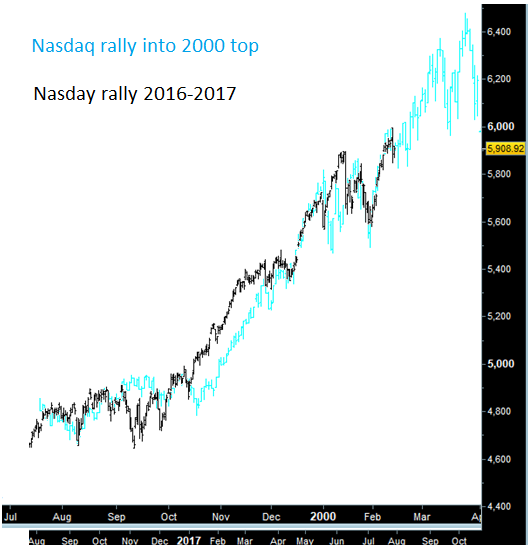 Much depends on Apple's (AAPL) earnings on Tuesday, but based on patterns going into Q2 earnings last year, there's a decent chance there is a positive reaction.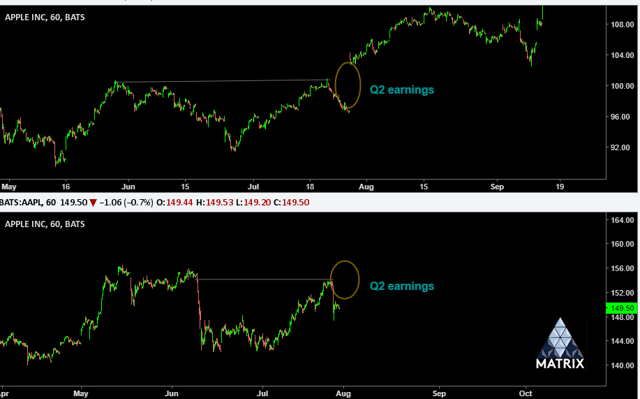 There is also an inverse head and shoulders pattern targeting $166.
Looking back at the S&P 500, there is a repeating pattern, which suggests the current rally can continue higher in line with the Nasdaq.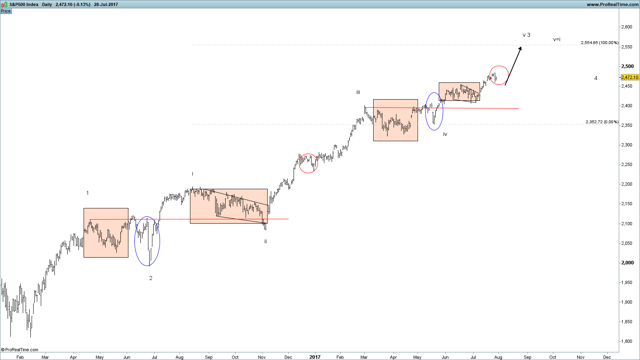 Here is another view of the comparison.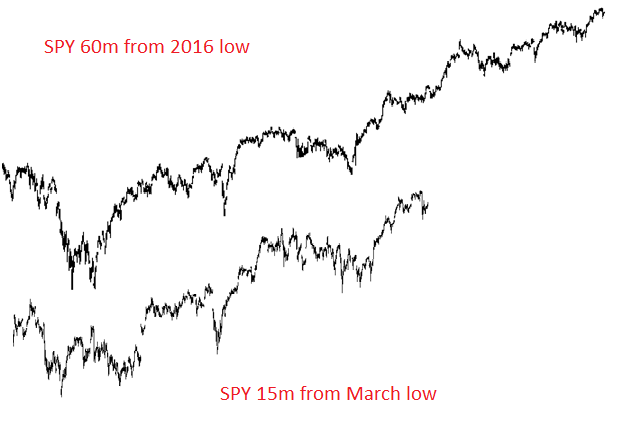 This would target 2550-80 and this is my primary view at the moment.
But where am I wrong?
A break of the short-term channel at 2440ish would tip the odds firmly in favor of a larger wave 4 pullback.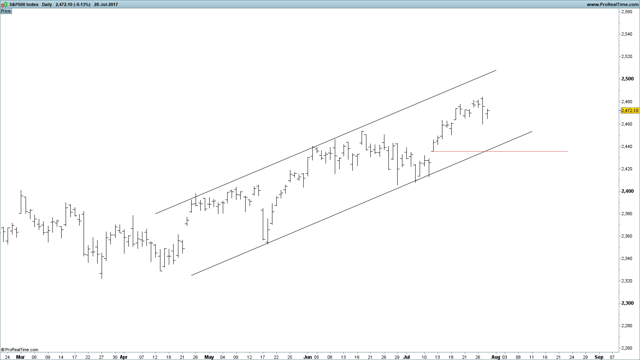 This correction would target the 23.6% retrace at 2370.
Bizarrely enough, the channel above and the scenario I am describing is exactly the same as the one I just wrote about in my six month review from January 2017. Back in January, I thought we may pull back from the top of the channel, but price went straight through. Given the evidence, it appears it may do the same again.
Divergence
Divergences among instruments and indices are one of the ingredients for a major top. Just look at 2000; the Dow Jones (DIA) topped in January 2000, but the S&P 500 made a new high and topped in late in March.
The counts I am proposing for the Nasdaq and S&P 500 are slightly different; Nasdaq is in wave 5 and the S&P 500 in wave 3. This may seem a bit odd, but they don't have to reconcile as long as the moves are at least comparable. I would never propose for one to rally 10% and the other to fall 20%, but one index can certainly make a new high while the other has topped.
This is what I propose for the Nasdaq and S&P 500 over the longer term: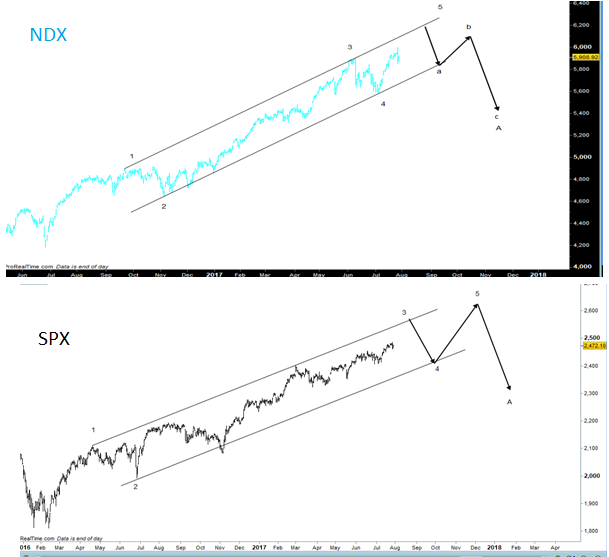 In other words, the Nasdaq may top before the S&P 500. This is also true of the Dow Jones, which I have counted to be in a wave 5 blow off targeting 23,000.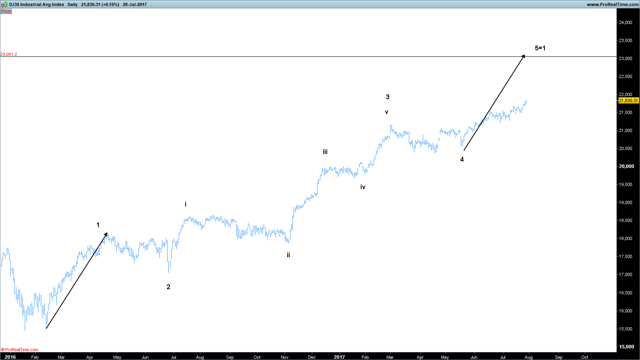 The slight differences in the counts may seem confusing, but they can actually give us an additional edge. Without them I would almost certainly be looking for a 100 point drop in the S&P 500 instead of a 100-point rally.
Trading Strategy
Let's say there is a 60-70% chance of a 100-point rally. I want to be involved in it, but it's not a prospect I would jump at with my entire net worth. The rally from the 2009 lows is mature to say the least.
My strategy is to continue to look for long set-ups in the indices and leading stocks as long as 2440 holds. These are mostly swing trades with a 2-4 week horizon and fairly tight stops.
If 2440 breaks, I would not lose too much and I would look at long trades again closer to 2370.
Conclusions
Based on what has happened during previous blow-off tops (the rallies in 1987 and 2000), and what his happening currently (price repeating the earlier stage of the S&P 500 rally), we can make an educated guess on what is likely to happen.
There is a good chance the current rally continues above 2550. Blow-off tops always push the imagination to the limits and timing shorts is a very difficult task. As long as 2440 holds, I am looking higher.
Disclosure: I/we have no positions in any stocks mentioned, but may initiate a long position in QQQ over the next 72 hours. I wrote this article myself, and it expresses my own opinions. I am not receiving compensation for it (other than from Seeking Alpha). I have no business relationship with any company whose stock is mentioned in this article.
Additional disclosure: I am long various stocks