As NRG Energy (NYSE:NRG) has grown over the years, the company has become much more complex. Its earnings presentations typically contained a slide like Exhibit 1 to explain how all the pieces fit together.
Exhibit 1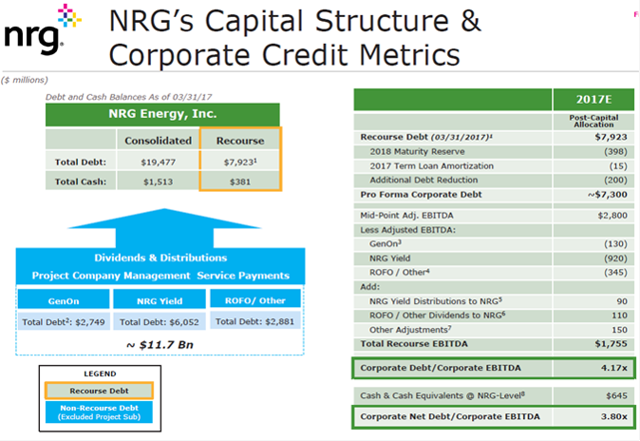 (Source: NRG Q1 2017 Earnings Presentation)
Analysts can get big headaches figuring out which of the consolidated items in NRG's financial statements need special treatment. The portfolio optimization portion of its July 12 transformation plan will eliminate many of these issues and simplify analysis of the company. This article takes an in-depth look at the portfolio optimization part of the plan to see if it is really achievable.
Debt Reduction
Exhibit 2 shows all of the non-recourse debt that is consolidated on the company's balance sheet.
(Source: Note 8 of NRG's 2017 Q1 10-Q)
NRG's transformation plan presentation shows the elimination of $2.624 billion of debt from the current GenOn subsidiary bankruptcy and $8.713 billion from asset sales. By selling off its majority interest in NRG Yield (NYSE:NYLD), NRG will no longer be forced to consolidate NYLD's debt on its balance sheet, eliminating over $6 billion in debt. Selling off the assets associated with the remaining non-recourse debt would eliminate almost $2.9 billion more of debt. The NRG Yield debt and the other non-recourse debt total to $8.93 billion, which is a little higher than NRG's plan. However, if you assume NRG wants to keep its Midwest Generation assets and take the $213 million of associated debt out of the above calculation, you are left with $8.707 billion of debt, which is pretty darn close to NRG's announced number.
Recent investments by NRG into the Midwest Generation portfolio provide reasons to think it wants to keep these assets. The company just spent over $200 million to convert the 1,326MW Joliet coal plant to burn natural gas (see article here). Also, the Midwest Generation obligation was only created in 2016 and is a little complicated (see p. 186 of NRG's 2016 10-K). NRG does not actually have to pay any cash to meet this obligation - it just has to make sure the plants run properly. This arrangement would likely make disposing of these plants difficult, so assuming they are retained seems like a good bet.
NRG's Yield and Renewable Sales
In order to eliminate this non-recourse debt, the company needs to sell a significant amount of assets. The July 12th announcement has it selling 50-100% of the NRG Yield position and 50-100% of its renewables portfolio. NRG currently owns about 85.5 million shares of NYLD, and assuming a share price of $18, these are worth approximately $1.5 billion. The company has estimated cash proceeds from all sales (including conventional generation) of $2.5-4.0 billion. According to the footnote on slide 10 of NRG's transformation plan presentation, the range of proceeds is primarily based on the 50-100% decision with NYLD and the renewables portfolio. Since the anticipated proceeds from NYLD sales have a $750 million range, the remaining $750 million must be split between the renewables portfolio and the conventional capacity. For the sake of this analysis, it is assumed that $500 million of the remaining range comes from the decision to keep up to 50% of the renewables portfolio, leaving some potential variance for the conventional asset sales. Based on the above, the estimated cash generation from different sources is broken out in Exhibit 3.
(Source: Garnet Research estimates)
A $500 million range for the renewables means NRG feels it could get up to $1 billion of cash from them. Now $1 billion is a lot of money, but as shown below in Exhibit 4, this portfolio has over 1,100MW of generation capacity, so the money is spread over a lot of assets.
(Source: NRG website download on 7/19/17)
Exhibit 2 shows at least $2.2 billion of debt associated with the renewables portfolio on the balance sheet (Ivanpah, Agua Caliente, and Cedro Hill debt). However, this is the consolidated number that represents all of the debt at these projects, even though NRG only owns a portion of them. If these debt numbers are adjusted for NRG's ownership stake, its share comes out to about $930 million, as shown in Exhibit 5.
(Source: Exhibits 2 and 4 and Garnet Research estimates)
So it appears that NRG needs to get about $1.9 billion in proceeds to reach its $1 billion cash target. Investors are willing to pay a lot of money for renewable assets like NRG's, and this target seems achievable. Earlier this year, renewable energy producer Terraform Power (NASDAQ:TERP) reached a deal where Brookfield acquired a 51% stake that implied a $6.6 billion enterprise value for TERP. (See slide 6 of TERP's 3/7/17 presentation.) The midpoint of TERP's 2017 guidance is $470 million of EBITDA (see slide 10 of the company's 12/15/16 presentation), implying an EV/EBITDA multiple of 14x. NRG's renewable assets generated $187 million of EBITDA in 2016. (See slide 49 of its Q4 2016 earnings presentation). Assuming a 14x multiple here would give $2.6 billion in value for the company's renewables assets, providing a large margin of safety to hit its proceeds target.
Conventional Asset Sales
As calculated in Exhibit 3, NRG expects to receive $1.25-1.50 billion from the 6,000MW of conventional asset sales. In the company's "reset" conference call in 2015 (see here for more on that call), it announced an asset disposition program that was completed in 2016. It ended up selling 2,200MW of generation for $540 million. This $245,000/MW is right in the ballpark of what NRG needs to meet its cash target in the latest plan. The fact that the company has just gone through a sales process should mean it knows the current market for its assets and that this is a realistic target.
NRG has one of the largest generating fleets in the country, even with the asset sales and GenOn restructuring. This fleet is spread from coast to coast, with primary pockets in the Northeast, around Chicago, along the Texas/Louisiana coast, and in southern California. Its remaining plants are shown in red in Exhibit 7.
(Source: Company documents, SNL, and Garnet Research estimates. An interactive version of this map can be found here.)
Exhibit 8 shows the number of plants and installed capacity in each state.
Exhibit 8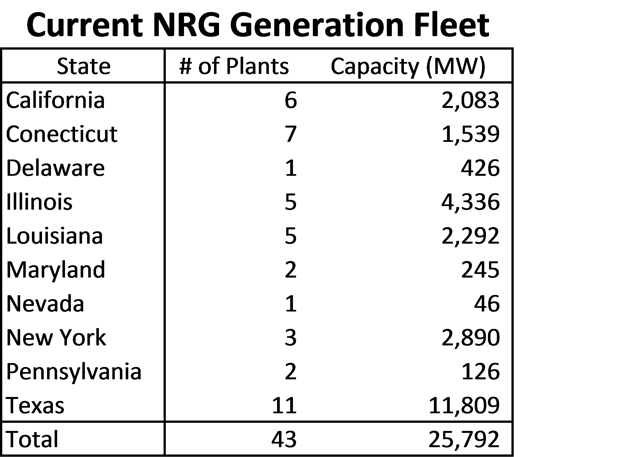 (Source: Company documents, SNL, and Garnet Research estimates)
As mentioned earlier, it looks like NRG plans to keep its Midwest Generation assets, so that would take the company's Illinois plants off the table for a potential sale. During the July 12th conference call, management said that Texas was "the most attractive market" and that they were "comfortable with the balance that we have between generation and retail" in Texas. The CEO also said that the wholesale/retail model the company created when it brought NRG and Reliant together (in Texas) in 2009 is "core" to the company going forward. Based on these comments, potential Texas asset sales would seem to be limited, though not impossible.
Illinois and Texas represent over 60% of the company's capacity. Of the remaining states where NRG owns generation, it doesn't offer retail service in California, Louisiana, and Nevada. If NRG is really focused on wholesale/retail model, plants from those three states could be a large percentage of the eventual dispositions.
The company's remaining plants are all located in the northeast. During the conference call, NRG's CEO said, "... I have said in the past that our generation business was multiples of our retail business in the northeast." As you can see in Exhibit 6, the majority of the GenOn portfolio was in the northeast, so its elimination should take care of a large amount of the retail imbalance in the region, though it still might not be where NRG wants it. NRG had 52.6 million MWh of retail sales in Texas in 2016, and only 8.1 million MWh of retail sales in all of their other regions (Source: p.77 of 2016 10-K). Based on the generation capacity in Texas and the remaining capacity in the northeast, more northeastern plant sales are needed to get the capacity/retail sales ratio closer to the level in Texas.
M&A Opportunities?
Investors should pay attention, as these asset sales take place in case there are clues to NRG's plans after the portfolio optimization plan is complete. The company expects to have $6.3 billion in excess cash after it is done, and it has not committed to any plans for this cash. One possibility is that it could be interested in an acquisition. Dynegy Inc. (NYSE:DYN) is a power producer that has been mentioned as a target for industry consolidation recently. At that time, NRG was not in the running for DYN because there was too much overlap in their assets, making a merger difficult for market power reasons. Now that NRG is eliminating its GenOn assets, these market power issues greatly decrease, opening up merger possibilities. DYN's market cap is currently only $1.1 billion, so the $6.3 billion of cash NRG anticipates would give plenty of money to do a deal. Exhibit 9 shows how the DYN and NRG portfolios would look together.
Exhibit 9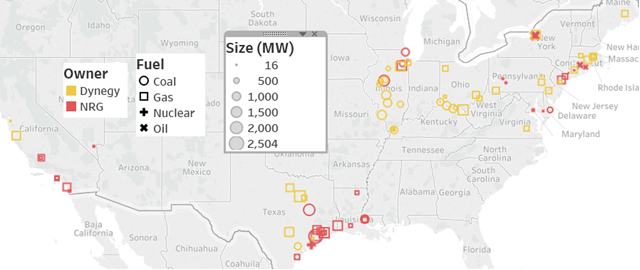 (Source: Company documents, SNL, and Garnet Research estimates)
One potential NRG disposition that could signal a desire to go after DYN would be the sale of its Oswego plant in northern New York. NRG offers retail sales to customers throughout New York, so it makes sense that it would want a plant in that region to serve that load. But, as you can see from Exhibit 10, that plant is almost on top of DYN's large Independence plant, which would create market power issues if the two companies combined.
Exhibit 10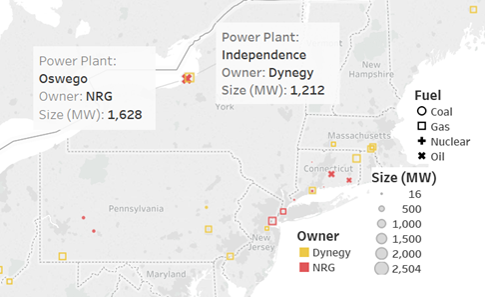 (Source: Company documents, SNL, and Garnet Research estimates)
Another NRG asset sale that could signal future Dynegy plans would involve its Limestone plant in Texas. Exhibit 11 shows that the plant is NRG's most northern Texas plant, and it is the one closest to DYN's biggest Texas assets. At almost 1,700MW, it is very large and would likely do a lot to mitigate any market power concerns from regulators.
Exhibit 11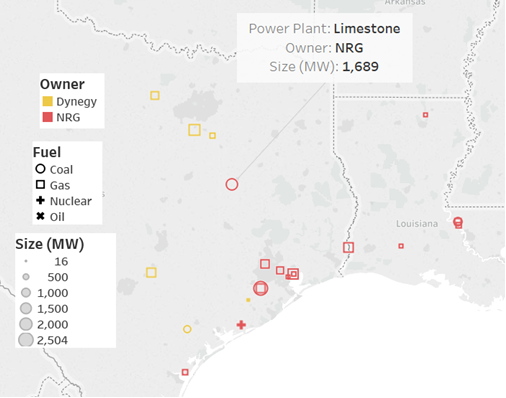 (Source: Company documents, SNL, and Garnet Research estimates)
Conclusion
The portfolio optimization part of NRG's transformation plan looks to be achievable. Based on clues from the conference call and the presentation, it appears that most of the conventional sales will come from the west and the northeast. The changes underway at NRG and its large future cash position open up the possibility of M&A in the future. Dynegy could be a potential target. The plants that NRG decides to sell could give clues to M&A plans.
The company's Q2 conference call is scheduled for August 3. Expect more information about the plans at that time.
Disclosure: I am/we are long NRG AND DYN.
I wrote this article myself, and it expresses my own opinions. I am not receiving compensation for it (other than from Seeking Alpha). I have no business relationship with any company whose stock is mentioned in this article.