By Gary Alexander
The official Atlantic Ocean hurricane season runs for six months, from June 1 to November 30, but 80% of all historic (between 1851 and 2015) Atlantic hurricanes happened between August 1 and October 31, according to data compiled by the National Oceanic & Atmospheric Administration (NOAA). There is a long-term (165-year) bell curve of Atlantic hurricanes, peaking around September 10 (see chart, below).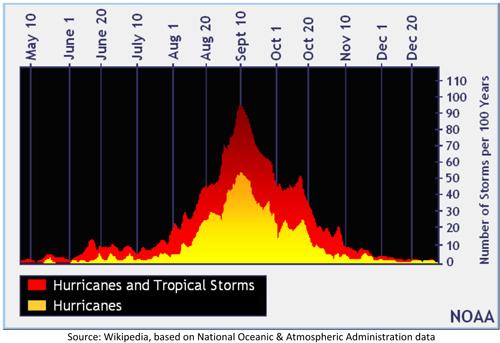 The same goes for market storms. August is the worst market month over the last 20 years, according to Bespoke Investment Group, while September is the worst month over the last 50 years and 100 years.
Last week, I talked about two severe "flash crashes" in recent Augusts – 2011 and 2015. But going back 20 years, August has been hurricane-ridden, starting in 1997 and 1998 during the Asian currency crisis.
In August of 1997, the DJIA fell by a then-record 600 points (-7.3%), from 8222 to 7622, and then:
In August of 1998, the DJIA fell by a much bigger record 1,344 points (-15.1%) from 8883 to 7539.
Before that, August in 1966 and 1981 fell 7%, while August in 1974 and 1990 collapsed by 10% or more.
Market historian and strategist Jeff Hirsch says that "August is the worst DJIA and S&P 500 month since 1987 with average declines of 1.3% and 1.0% respectively. August is also the worst month for NASDAQ (-0.3%) and Russell 2000 (-0.7%) over the same time period," making August the worst market month: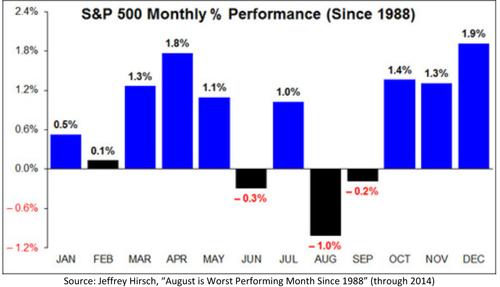 Graphs are for illustrative and discussion purposes only. Please read important disclosures at the end of this commentary.
The last few Augusts in the S&P 500 and Dow Industrials have fallen 2+% (average) in a bull market!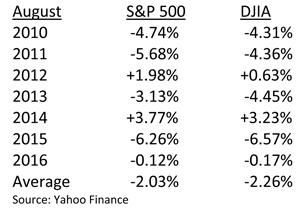 But let us pause to praise Augusts of long ago. August was up in 80% of the years prior to 1950. It was the #1 month in the first half of the 20th Century. The archaic reason for that anomaly is that America was primarily a farming nation before 1940, so the money flows from harvesting made August a great market month. Now that fewer than 2% of Americans farm, August has become a fear-of-October selling month.
The best August was in 1932 (+34.8%). The next August (1933) was up 12.8%. In modern times, the birth of the biggest bull market of the 20th Century began in August 1982, rising 11.5%, with a booster shot in August 1984, up another 10%. Two major market bottoms happened exactly 50 years apart in August. The net result was a pair of double-digit August gains in both 1932-33, and August of 1982-84: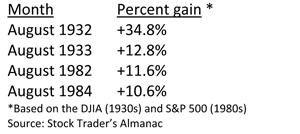 August 1982 was great by the end of the month, but it started out with a major hurricane: Eight straight down days, August 3-12, as Fed Chairman Paul Volcker's tight money policies threatened to fuel a new deflation: 1982 was our worst postwar recession, with 11% unemployment and a GDP going down 1.8%. But markets tend to look forward and most traders realized that we were near a major market low in 1982.
Now, let's turn to the entertaining arena of the political "storms" emanating lately from the DC swamp.
Some Perspective on Today's Political Circus in Washington
Sometimes we get so focused on the passing parade of nonsense in the daily news – exacerbated by over-stated headlines, embarrassing tweets, and photo-shopped outrages – that we forget the world was in much worse shape in previous decades and centuries, when there was no real-time news of that era's outrages.
Here are just a few snapshots from this week (August 1-4) in history, as it touches on today's madness:
525 years ago, Spain erected a "border wall" against immigrants, Muslims, and minorities, while at the same time launching an imperialistic surge westward, run by a renegade Italian consultant. In January of 1492, the Spanish army defeated Muslim forces in Granada and then proceeded to expel all Jews on July 30. On August 3, 1492, King Ferdinand and Queen Isabella sent Christopher Columbus sailing into the unknown with three ships and a crew of 90 in search of new trade routes.
The war between the press and politicians raged in pre-Revolutionary America, resulting in the First Amendment. That freedom was solidified on August 4, 1735, when John Peter Zenger, publisher of the New York Weekly Journal, was cleared of libel charges brought by Royal Governor William Crosby, who had tried to censor Zenger's attacks on the policies of the faraway British crown.
Speaking of the British, August 2, 1776 marked the formal signing date (let's call it "John Hancock Day") for the Declaration of Independence, passed exactly a month earlier and proclaimed on July 4. For a month, that document was unsigned. By signing it, 56 early patriots risked death for treason.
On August 3, 1914, no stock markets in Europe or America were open. It wasn't a holiday. It was the day Germany declared war on France and invaded Belgium. That day, Britain's foreign secretary Sir Edward Grey said, "The lamps are going out all over Europe; we shall not see them lit again in our lifetime." He was right – darkness continued through a Great Depression, World War II, then a long Soviet threat. On the brighter side, the first ship went through the Panama Canal the same day.
On August 2, 1923, a controversial Republican President, Warren G. Harding, died of an embolism at age 58, in the Palace Hotel in San Francisco, six days after he had suffered a heat stroke in Fairbanks, Alaska (it was 94 degrees that day), complicated by ptomaine poisoning and pneumonia. (Who said we don't need poison tasters at the White House?) Late that night (11:43 pm, or 2:43 a.m. on August 3 in the East), Calvin Coolidge was sworn in by his father, a notary public, in Plymouth, Vermont.
Learning of the President's death on August 3, the Dow fell a single point – on the death of a President!
Instead of focusing on the drama coming out of today's political swamp, I recommend reading history…
Disclosure: *Navellier may hold securities in one or more investment strategies offered to its clients.
Disclaimer: Please click here for important disclosures located in the "About" section of the Navellier & Associates profile that accompany this article.