Given the transparency of the U.S. land drilling sector afforded by real-time rig surveys and relatively simple fundamental structure of the market, surprises in quarterly reports by leading drilling contractors are rare. This quarter is no exception in this regard.
Helmerich & Payne (HP) posted a predictably solid quarter and shared a generally positive outlook for its business. The company expects spot dayrates for premium equipment in U.S. Land to remain on an upward (albeit gradual) trend during the next quarter. H&P also believes it will continue to take market share by offering super-spec rigs to customers.
However, the stock underperformed peers by almost 7% during the two trading sessions following the release.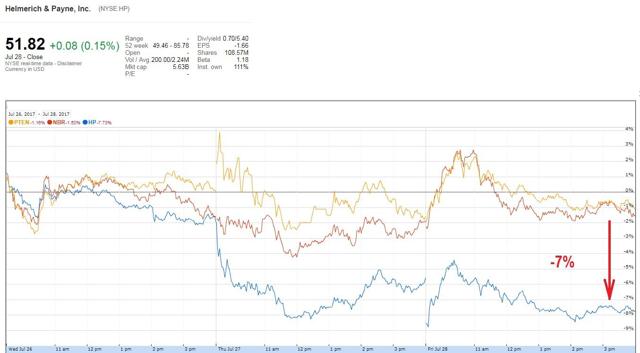 Two factors likely contributed to this underperformance.
First, H&P commented that its dividend is contingent on the company's balance sheet remaining strong and hinted that the dividend is secondary to the objective of maintaining the company's rig fleet competitive. At the moment, H&P pays a high quarterly dividend of $0.70 per share, which is equal to a ~5.6% yield (using the price of $50.45 at the time of this writing). The rich dividend yield, which is naturally perceived to be a reflection of the business's competitive strength and earnings power, has differentiated H&P's stock within the North America Oil and Gas universe where high dividend payouts are generally rare.
As the company's comments may have been perceived as a cloud of doubt over the dividend's sustainability, a large category of investors likely interpreted this as a negative development and increased risk on the stock price.
Second, investors are also likely coming to appreciate that the company's cash flow from operations is likely to stagnate in the next several quarters, as legacy contracts continue to roll over to spot rates, creating a headwind for the company's average dayrate realization. Given the industry's significant spare capacity, it is difficult to expect a major improvement in the dayrate environment without a major improvement in oil price. As a result, investors may be increasingly recognizing that the stock does not have a visible catalyst for a major upward repricing.
While concerns over the margin trajectory are understandable, the fear of a dividend cut appears premature.
U.S. Land Demand Trend
Demand in H&P's U.S. Land segment has been strong during the quarter, whereas the International segment appears to have found a bottom and Offshore remains "stable near the bottom."
Since the last call (April 27, 2017), H&P has put 17 FlexRigs back to work, including 10 rigs in the Permian and 7 rigs in five other major producing areas. Of these 17 rigs, 9 had super-spec upgrades.
At the moment, H&P has ~190 rigs under contract. The company's position is particularly strong in the Permian, Anadarko and Eagle Ford.
In the Permian, H&P has 91 contracted rigs and 45 idle rigs, 26 of which are FlexRigs with 1,500-horsepower drawworks rating.
In the SCOOP/Cana/STACK, H&P has 31 rigs contracted, which represents the dominant market share in these plays.
In the Eagle Ford, H&P has 26 rigs contracted.
The company expects the recent oil price volatility to impact the trajectory of rig deployment going forward and warns about the possibility of a decline in activity towards the end of the current quarter:
Looking ahead at the fourth quarter of fiscal 2017, we expect a sequential increase of 3% to 5% in quarterly revenue days. Given the slowdown in activity driven by lower commodity prices, however, it would not be surprising to see our quarter exit activity level be flat to down, as compared to our activity level of 190 rigs at the beginning of the quarter.
U.S. Land Dayrate And Margin Trend
Given the increasing proportion of its active rigs priced under recent market conditions, H&P expects the adjusted average rig revenue per day to decline to roughly $21,000 in the current quarter, as compared to $21,676 in the reported quarter. However, the company expects the average spot pricing for FlexRigs to continue to increase during the current quarter. This is an important takeaway that I want to draw readers' attention to.
On the other hand, the average rig expense per day is expected to continue to decrease in the current quarter, as rig startup expenses are expected to be sequentially lower and expenses related to the remaining stacked rigs gradually decline. H&P guidance suggests a decline to roughly $13,700 per day in the current quarter from $14,256 in the reported quarter.
Based on these comments, I expect the company's daily margin per rig to decline slightly sequentially.
Concerns Over Potential Dividend Cut - An Over-Reaction?
H&P commented:
Given the strength of our balance sheet and backlog, and the company's flexibility to adjust capital expenditures as a function of market conditions, we remain well-positioned to sustain regular dividend levels during the foreseeable future. Although it may be choppy, we do expect a continued recovery in the business during the next few years. Nevertheless, if market conditions were to deteriorate toward an expectation of a prolonged down-cycle, we will do our best to describe potential changes to our approach to the dividend before implementing such changes.

As mentioned in the past, it is unlikely that the company would issue additional debt with the sole purpose of sustaining or increasing current dividend levels. To be clear, that is not to say that the company would not take advantage of its balance sheet strength in the future, as it has in the past, to potentially issue additional debt for the purpose of pursuing attractive business opportunities.
I am not rushing to interpret the comment as a warning regarding the sustainability of the current dividend payout. Moreover, based on my model and taking into consideration H&P's comments during the conference call, I do not view the dividend as being in any imminent danger.
In the current quarter, I estimate the company's cash flow before changes in working capital and asset sales to be sequentially flattish or slightly lower.
In the reported third fiscal quarter, H&P posted cash flow from operating activity of $90 million. Adding back changes in assets and liabilities and asset sales, discretionary cash flow during the quarter was ~$130 million.
Given H&P's dividend requirement of ~$305 million per year and assuming a capital spending required to maintain the fleet of $200 million, the current cash flow generation rate is sufficient to cover dividends and maintenance capex.
However, in the event industry activity continues to expand, H&P would face additional requirements for working capital and rig upgrades. In addition, the company has shown appetite for visionary investments into the competitiveness of its business, as illustrated by the company's recent acquisition of MOTIVE.
At the moment, H&P's balance sheet is exceptionally strong and liquidity is ample. At the end of the third fiscal quarter, H&P had ~$613 million in cash and short-term investments and $493 million in long-term debt.
Even if H&P undertakes 40 additional rig upgrades per year at an average investment of $5 per rig, the company has sufficient cash on hand to fund its upgrading program for several years without running out of cash.
Therefore, barring a significant, sustained downward correction in oil prices – to levels below $45 per barrel on a sustained basis – I do not see a reason to anticipate a change in the company's dividend anytime soon.
In this regard, to the degree the stock's recent weakness has been driven by dividend concerns, such reaction appears exaggerated.
About OIL ANALYTICS
This week, OIL ANALYTICS will provide for its subscribers a detailed discussion of the U.S. Land Contract Drilling sector fundamentals and outlook for contract drilling stocks.
OIL ANALYTICS remains one of the most active offerings on Seeking Alpha's Marketplace, with 300+ exclusive materials posted for its members since the beginning of this year alone (a total of over 1,000 non-public materials available to members).
To illustrate some of the aspects of our work, through our analyses, OIL ANALYTICS accurately anticipated the recent correction in natural gas and recent correction in crude oil, as well as the "bounces" that followed.
Our macro and company-specific views are continuously illustrated in our Model Portfolios and Best Stock Ideas modules.
Disclaimer: Opinions expressed by the author in materials included in Zeits OIL ANALYTICS subscription service, PRO subscription service or posted on Seeking Alpha's public site are not an investment recommendation and are not meant to be relied upon in investment decisions. The author is not acting in an investment, tax, legal or any other advisory capacity. The author's opinions expressed herein address only select aspects of potential investment in securities of the companies or commodities mentioned and cannot be a substitute for comprehensive investment analysis. Any analysis presented herein is illustrative in nature, limited in scope, based on an incomplete set of information, and has limitations to its accuracy. The author recommends that potential and existing investors conduct thorough investment research of their own, including detailed review of the companies' SEC filings, and consult a qualified investment advisor. The information upon which this material is based was obtained from sources believed to be reliable but has not been independently verified. Therefore, the author cannot guarantee its accuracy. Any opinions or estimates constitute the author's best judgment as of the date of publication, and are subject to change without notice. The author explicitly disclaims any liability that may arise from the use of this material.
Disclosure: I/we have no positions in any stocks mentioned, and no plans to initiate any positions within the next 72 hours. I wrote this article myself, and it expresses my own opinions. I am not receiving compensation for it (other than from Seeking Alpha). I have no business relationship with any company whose stock is mentioned in this article.