Investment Thesis
This story basically is about how an efficacious and safe antibiotic (Iclaprim) was in the right place at the wrong time under its previous owner, Arpida. A similar drug already on the market was later found to cause severe liver issues and resulted in a regulatory environment that made it all but impossible for related drugs to get the green light from the FDA.
For new owner Motif Bio (MTFB) (MTFBW), they now have a de-risked drug with a high probability of gaining FDA approval near the end of 2018 but the market is currently valuing the stock at a fraction of their competitors. Iclaprim recently completed the first of two Phase III trials named Revive I and Revive II. In April, the Company announced successful Revive 1 results meeting all their primary endpoints against their comparator drug Vancomycin for treating Acute Bacterial Skin and Skin Structure Infections ((ABSSSI)).
The Company will release the results from the Revive II study likely in the Fall. There is no difference in the two trials other than the location so the data from Revive II is highly likely to mirror the results from Revive I. While it is a binary event, I believe the probability of favorable Revive II results to be very high.
The Company also has plans to begin a Phase III trial using Iclaprim in the treatment of Hospital Acquired Bacterial Pneumonia (HABP) although firm plans have not been announced.
The Company had their U.K. IPO in April of 2015 followed by a U.S. listing in November of 2016.
History
Motif Bio's history dates back to 2009 as a company once centered on population genetics before shifting gears in 2013 to focus exclusively on antibiotics. Iclaprim has had a long and somewhat complex journey from its original discovery by Pharmaceutical giant Hoffman-La Roche. The drug was later spun off to Arpida, which took the drug through Phase I, II, and III trials before getting "rejected" by the FDA.
This, however, deserves a longer explanation because while Iclaprim did not meet their primary endpoint against the comparator drug Linezolid in 2008, circumstances outside Arpida's control led the FDA to perhaps be overly critical of Iclaprim and three other drugs at around the same time due to an antibiotic used to treat pneumonia called Ketek.
Ketek debacle creates incredibly difficult regulatory environment
Between 2004-2006, cases of severe liver issues began surfacing as a result of using a drug called Ketek in the treatment of pneumonia. This later led the FDA to remove two of the three previously approved indications for the drug as well as giving it a "black box warning." This is the strongest warning label the FDA can assign a drug and ultimately led owner Sanofi-Aventis to stop selling the drug in the U.S.
To make things worse, it later came to light that some of the safety data used to approve the drug was fraudulent. The FDA not only had a black eye from approving a drug that was causing severe liver issues in people, now they had egg on their face from learning that some of that original safety data was cooked.
Given the great responsibility the FDA has to the general public, they cannot be seen as endangering lives or taking weak action in a situation such as this. The response the FDA took was to remove the leadership from the anti-infectives division involved in assessing Ketek as well as created an environment that seemed to have made it all but impossible for any antibiotics similar to Ketek to be approved for a period of time.
Not long after the Ketek debacle, Iclaprim ran their first Phase III trial under previous owner Arpida. Iclaprim was one of four antibiotics (the others being Omadacycline, Oritavancin, and Dalbavancin) that were all rejected by regulators and basically told to go back and run more trials. Dalbavancin and Oritavancin carried out more trials and were later approved. Paratek's Omadacycline looks highly likely to gain approval along with Iclaprim.
The first "failed" Phase III trial deserves an in-depth look as it explains just how overly difficult it was to get any antibiotic passed during that period of time. There were three things the FDA did that made it incredibly difficult for Iclaprim to pass the trial. In an investor presentation from 2015 here, Motif Bio CEO Graham Lumsden was asked by an audience member why Iclaprim was not approved after its previous Phase III trial when Arpida owned the drug. He gave the following three reasons:
The FDA redefined Iclaprim's indication from treating Complicated Skin and Skin Structure Infections to Acute Bacterial Skin and Skin Structure Infections.
The clinical test of cure time frame was changed.
The non-inferiority target was changed from -12.5% to -10% against the comparator drug Linezolid AFTER the trial had been conducted even though Arpida had a written agreement from the FDA on the -12.5% target.
The entire presentation is well worth listening to, but below is his full response. I have paraphrased portions of what he said but this is the gist of it:
The original trial was defined as Complicated skin and skin structure infections. However, during the trial the FDA decided to redefine the disease as Acute Bacterial Skin and Skin Structure Infections. So, they moved the goalposts in the definition of the disease. The next thing they did was move the primary endpoint of Iclaprim against its comparator drug Linezolid. It used to be the clinical test of cure where you treat patients for 10 to 14 days then you wait another week and you measure how many patients are totally cured. That is still what the European regulator requires as their primary endpoint. The FDA said no, we want to see these antibiotics working quickly, we want to see lesion reduction size of at least 20% 48 to 72 hours after beginning treatment. The third thing was that Arpida had a written agreement with the FDA that their non-inferiority trial versus Linezolid should show non-inferiority of -12.5% to which Iclaprim successfully met. When Arpida sent the new drug application to the FDA, they were convinced that they were going to get approved. The FDA then changed their mind about the non-inferiority target from -12.5% to -10%. The trials however had already been conducted at the previously agreed upon 12.5% figure. The trials pooled together met the new -10% figure. One of the trials met the negative 10% with the other falling outside the 10% figure. This was the excuse used by the FDA to tell Arpida to go back and do more studies.

Arpida was told to go back and run another trial to which they were unable to raise funds for and were later bought out by a privately owned Swiss company called Evolva.
Successful Revive I Phase III trial gives high probability for Revive II success.
This leads us to where we are today as Iclaprim is in the process of completing its second Phase III trial for treating ABSSSI. The trial is divided into two parts (Revive 1 and Revive 2). In April of this year, the data from Revive 1 was released with Iclaprim meeting its primary endpoints and ahead of schedule. Revive II is likely to see its data released in September or October of this year based on the timing of last-patient-out from Revive 1.
The fact that Iclaprim already had a Phase III trial under Arpida made what we were likely to see against the new comparator drug Vancomycin a bit of a foregone conclusion. We already knew that the drug worked and is safe and those results were reflected in Revive I. In fact, the FDA allowed the safety data from the Phase III trial run under Arpida to be used for Revive 1 and II.
Given this information, we can assign a high probability that Revive II will mirror the results in Revive I. Until both trials are completed however the Company cannot release all the data. We do however know the most important bits of information that the trial met its primary endpoints and is safe.
I think it wouldn't be crazy to say that there is a 90% to 95% chance that Revive II will meet its primary endpoints. From there, the Company plans to submit an NDA in the first half of 2018. Having said that though, occasionally, a drug will meet its primary endpoint in the first part of a Phase III trial but not in the second. These are odds I'm happily willing to bet on though.
A unique molecule
What makes Iclaprim different is that it is what's called a DHFR double-headed inhibitor. It is a novel antibiotic structurally unlike any other current drug out there. While there are other compounds similar in nature (brodimoprim, tetroxprim, and trimethoprim of which Iclaprim was derived), none function in the exact same way. The drug works by attacking the bacteria itself rather than traditional antibiotics, which attack the bacteria cell wall and essentially stop the bacteria from multiplying.
Drugs like Iclaprim that kill the actual bacteria are Bactericidel whereas drugs that stop the bacteria from multiplying are Bacteriostatic. Bactericidel drugs are also less likely to experience resistance than traditional antibiotics. Currently, Trimethoprim is the only DHFR drug on the market. Iclaprim has been found to be 16 times more potent than Trimethoprim as well as far less likely to experience resistance. Put simply, there are currently no DHFR inhibitor drugs on the market that function in the precise way Iclaprim does.
Iclaprim has four main points of differentiation versus its comparator drug Vancomyvin:
No dosage adjustment for renal impaired patients
Speed with which it works
Safety profile
Low propensity for resistance
Mechanism in how it kills bacteria
How Iclaprim stacks up in comparison to the standard of care drugs for folks unfortunate enough to end up with ABSSSI:
Standard of care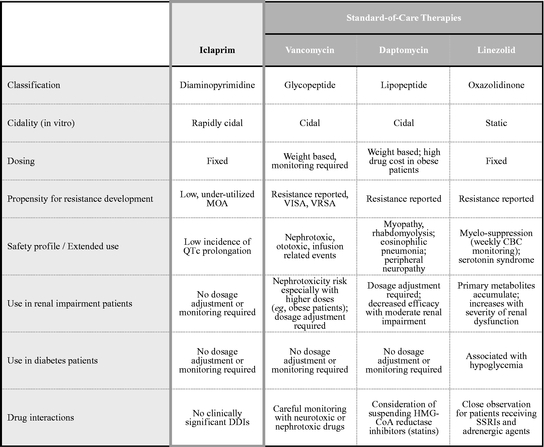 (Source:Motif Bio F-1)
Iclaprim kills 99.9% of MRSA in 4-6 hours against 8-10 hours for Vancomycin.
Why would a physician choose Iclaprim over Vancomycin/Linezolid?
With respect to ABSSSI, Vancomycin has been the standard of care for some time with an estimated 74% market share of days of therapy for treatment. Linezolid and others account for the remaining 26%. This is the principal reason why it was chosen as the comparator drug. The biggest selling points with Iclaprim are that it is safe for use in people with renal impairment and requires no dosage adjustment. If patients have renal impairment and they undergo a round of Vancomycin, they have to be weighed, their blood has to be checked, monitoring is required etc. to reduce the risks of nephrotoxicity.
As noted above, the speed with which it works is another important factor. Clinicians were asked to predict how they would treat their next 20 patients with MRSA skin infections if iclaprim was on their formulary. On average, respondents would use Iclaprim in:
40% of patients with moderate to severe renal impairment
30% of patients with mild renal impairment
20% of patients without renal impairment
Revive I top line efficacy results
| | | | | |
| --- | --- | --- | --- | --- |
| Time point | Endpoint | Iclaprim N=298 | Vancomycin N=300 | % Difference (95% CI) |
| Early time point | Early clinical response | 241 (80.9%) | 243 (81%) | -0.13, -6.42, 6.17 |
| Test of cure | Clinical cure | 251 (84.2%) | 261 (87%) | -2.77, -8.39, 2.85 |
(Source: Motif Bio Revive I data presentation)
Iclaprim achieved its primary endpoints of non-inferiority (10% margin) compared to Vancomycin as well as established non-inferiority (10% margin) at the test of cure (TOC) endpoint 7 to 14 days after study drug discontinuation.
Revive I top line safety results in ITT population
| | | |
| --- | --- | --- |
| Drug | Iclaprim N=293 | Vancomycin N=297 |
| TEAEs (Treatment Emergent Adverse Events) | 151 (51.5%) | 128 (43.1%) |
| Study drug related TEAEs | 57 (19.5%) | 53 (17.8%) |
| TEAEs leading to discontinuation of study drug | 8 (2.7%) | 13 (4.4%) |
| TEAE related SAEs (Serious Aes) | 8 (2.7%) | 12 (4%) |
| Deaths | 0 (0.0) | 1 (0.3%) |
(Source: Motif Bio Revive I data presentation)
Vancomycin receives a facelift and hair plugs
Approaching its seventh decade in its fight against super bugs, Vancomycin was recently given a facelift of sorts as the drug was modified making it much more potent against antibiotic resistant bacteria. It now has three independent "mechanisms of action" to kill bacteria as stated in the article here. While this might make it appear Iclaprim is doomed, the modified Vancomycin will still have to go through clinical trials to prove all of the above holds true taking many years. Despite its greatly increased potency, it potentially could still cause issues in people with renal impairment making Iclaprim's biggest selling point still valid.
Iclaprim's target markets
As mentioned earlier, Motif Bio is targeting patients who have ABSSSI or HABP as well as renal insufficiency. Treating ABSSSI is closest to market and only this indication will be included in the New Drug Application (NDA) with Phase III trials for HABP yet to receive funding.
ABSSSI-Revive I and Revive II trials
Hospital Acquired Bacterial Pneumonia-Inspire trial
In the U.S. alone, there are around 3.6 million ABSSSI patients hospitalized annually 26% or 936,000 of which also have kidney disease. This is Iclaprim's specific target market with the goal of becoming the first-line of treatment for these people. The estimated treatment costs work out to about $3,000 based on a hospital stay of ten days at $300 per day.
If a patient does have kidney issues however, using Vancomycin to treat the infection will see costs escalate from there (bed/room, staff, equipment, blood work, monitoring, etc.) Generally, the cost of an antibiotic is only about 10% of the total expenses incurred so when all these other costs are factored in, Iclaprim certainly doesn't look like a far more expensive alternative.
Assumptions and more assumptions
The market for treating ABSSSI patients in the U.S. who also have renal impairment is around $2.8 billion (and growing) of which Motif Bio believes they can garner several hundred million dollars or so in peak revenue by the mid 2020's. Certainly this revenue figure includes patients without renal impairment as well. A lot of things have to go right in order for Motif to hit that revenue estimate so take those figures with a big grain of salt. These numbers, however, only look at the U.S. market and exclude the 2.2 million ABSSSI patients in Europe as well as the giant potential in Asia.
With respect to the ABSSSI indication, the timeline is as follows:
June 2017-Funding completed to file NDA in 2018
Fall 2017-Revive II readout (September-October likely)
1H 2018-Submit NDA for ABSSSI
Q4 2018-Estimated approval
Approval for second indication highly likely
A Phase II trial was run under Arpida using Iclaprim in the treatment of Hospital Acquired Bacterial Pneumonia to which highly favorable results were achieved. Motif Bio has every intention of seeking approval for this indication but has yet to secure funding for a Phase III trial. It could very well be that potential backers/partners are simple waiting for Revive II data to be released before they sign on to fund a Phase III trial for HABP.
In 2015, there were around 1.4 million people hospitalized in the U.S. for HABP with around 40% or 560,000 having gram positive bacteria. Like people affected with ABSSSI, the standard of care is Vancomycin. The estimated market for treating HABP with gram positive pathogens is about $1.7 billion. I have not seen any estimates as to how much of the market Motif Bio believes they can get for its HABP indication but given the efficacy and safety data we have on Iclaprim, there is certainly potential value here if approved for this indication.
Iclaprim effective in Phase 2 clinical trial in patients with HABP/VABP
Iclaprim
0.8 mg/kg q12h
(n = 23)

Iclaprim
1.2 mg/kg q8h
(n = 24)
Vancomycin
1 g q12h
(n = 23)
Clinical cure
73.9%
62.5%
52.2%
Day 28 mortality
8.7%
12.5%
21.7%
(Source: Motif Bio Corporate overview June 2017)
Iclaprim lung tissue penetration in healthy volunteers
A powerful selling point in treating HABP is that when Iclaprim is administered intravenously, it concentrates heavily in the lung tissue. Over a 7-hour sample period, Iclaprim concentrated 20 to 30 times the serum concentration in the lung tissue.
Antibiotic Concentrations in Epithelial Lining Fluid (NYSE:ELF) and Alveolar Macrophages (NYSE:AM) Compared with Serum Levels
Antibiotic

Dose

Epithelial Lining fluid
(mg/L)
Alveolar
macrophages
(mg/L)
Serum
(mg/L)

ELF/
serum
concentration

AM/
serum concentration

Iclaprim

1.6mg/kg IV, single dose

40.9
67.7
1.8
22.7
37.6
Linezolid
600mg q12h PO, 5 doses
622.8
27.7
190
3.3
0.14
Vancomycin
1g q12 IV, 9 doses
92
926
367
0.25
2.5
(Source: Motif Bio Corporate overview June 2017)
QIDP status
In 2015, Iclaprim was granted Qualified Infectious Disease Product status (QIDP) for ABSSI and HABP giving the Company fast track designation, which typically will result with the antibiotic receiving priority review given the high need for such drugs. Iclaprim will also have market exclusivity for ten years in the U.S. if it is ultimately approved.
In Europe, if given the green light by regulators, Motif expects Iclaprim will qualify for eight years of data exclusivity and an additional two years of market exclusivity in the EU. If approved by the Pharmaceuticals and Medical Devices Agency in Japan, the antibiotic will be granted 8 years of data exclusivity (which may be extended to 10 years for orphan or pediatric indications) and an additional two years of market exclusivity in Japan.
Bear Case
There are quite a few antibiotics out there treating ABSSSI and HABP/CABP of which Vancomycin and Linezolid are the two largest by market share. Paratek's Omadacycline has yet to be approved but stands a high probability of being so and potentially could disrupt the market along with Motif Bio (albeit to a lesser extent.)
Paratek's Omadacycline is a pill/IV formulation that can be used in the treatment of ABSSSI and CABP. The Company is a few months ahead of Motif Bio and expected to file an NDA in the first quarter of 2018 while Motif is shooting for the first half of the year. Recently, an oral only formulation for Omadacycline in the treatment of ABSSSI released good Phase III results meeting their primary endpoints. A powerful selling point is that like Iclaprim, Omadacycline is a fixed dose and does not have to be adjusted for patients with renal impairment. It's an excellent antibiotic in its own right with much written about it on SA here and here among others.
What happens when two new drugs come to the market each of which can potentially disrupt existing treatment yet cost quite a bit more than the current standard of care? At this point, there are way too many unknown variables to try and quantify market share, how exactly they will compete against each other, pricing, etc. We end up using a forecast to project a forecast of another forecast. The big takeaway from Iclaprim and Paratek's Omadacycline is that they are both good antibiotics and highly likely to be approved.
Does this mean Iclaprim is doomed?
I'd argue definitely not. The reason why is that the world needs many new antibiotics and Iclaprim fits nicely given it's a DHFR and not a modified compound of an existing drug. Iclaprim is a safe and effaceable drug as well as needed. Just as there is a place for drugs with a Black Box Warning like Baxdela, there is certainly a place for effective and safe antibiotics like Iclaprim. The key perhaps is tempering ones expectation as to its value and not thinking that it should be trading at its estimated peak revenue figure or valued the same as Paratek.
Motif's success rests entirely on Iclaprim
Like many biotechs, Motif is a binary event placing virtually all their chips on Iclaprim. While the Revive I Phase III trial was a success meeting all their primary endpoints, there is still a small possibility that Revive II might fail to do so. I'd put it at a single-digit percentage but it still is a possibility. If for whatever reason Iclaprim failed to meet their primary endpoints, it goes without saying what would happen to the stock given the whole viability of the company is resting on Iclaprim being a success. Having said that, the Company is well funded for 2018 if Revive II results are favorable.
Beefed up balance sheet provides funding for NDA in 2018 but further share raises are possible
The Company had $22 million in cash at year-end 2016 (most recent balance sheet) before raising an additional $25 million in early June of this year at a share price of £30 Pence, all of which was raised in a single day. The funding will provide enough liquidity to take Motif through 2018 enabling them to put forward a New Drug Application and begin marketing Iclaprim if approved.
There is however the threat that if no partner is found to fund the Phase III trial for HABP and get commercialization going, another share raise could be in order. While this certainly wouldn't be ideal, if a re-rate in the stock does happen from favorable Revive II results, they would be in a good place to issue more shares in perhaps in late 2018 or 2019.
In 2015, the company raised £25 million ($30 million) at a price of £50 Pence. Despite all this however, the share price continues to languish at £28.50 Pence and $7.30 for the ADRs a share or a current market cap of just over $100 million once the new shares and warrants are counted.
Warrants offer large potential upside
The warrants are currently trading at a premium fetching $1.80 as the exercise price of the common is $8.03 and shares are at $7.30. The warrants are not callable and don't expire until 2021. They are also exchangeable on a 1 to 1 basis with the ADRs. The volume is very low making it hard to build up a sizable position for any big investor.
If, however, Revive II results are favorable, we could see a re-rate in the share price and warrants as well as volume significantly picking up resulting in larger players possibly getting into the game. Even a modest run up in the common stock could result in asymmetric returns for warrant holders. This is where I have positioned myself and portfolios I manage.
Significant Shareholders
Shares Percentage
Invesco 82,000,000 25.2%
Amphion Group 43,240,645 16.4%
Aviva 11,246,007 4.3%
(Source: Motif Bio Placing Circular June 2nd)
Largest shareholder Invesco subscribed to more than 16 million shares in the most recent offering.
How much would an acquirer pay?
It is certainly a big assumption to think they will hit their peak revenue target of several hundred million dollars sometime in the mid 2020s if Iclaprim becomes the first line of choice for ABSSSI in patients with renal impairment. The competitive landscape is just too hard to figure out considering the impact that Omadacycline could have on the market. Perhaps the Company's peak revenue targets are possible if we include Europe and Asia as well as revenue from the HABP indication if it gets approval, which I'd argue is a high probability.
If we play it conservatively and kick a wide revenue range of $200-$500 million worldwide, what would a potential acquirer be willingly to pay? In the spit-balling world of "valuing" biotechs, maybe a reasonable estimate is somewhere in the range of 1-2x sales. I think a discount to Paratek is certainly warranted but Motif's $100 million market cap seems simply too small relative to Paratek's $550 million. You can model it plenty of ways but I believe a potential acquirer would pay quite a bit more than the current market cap.
The long game
Lastly, if we take the 35,000 foot view, an important part in all this is that there will be many new antibiotics needed to fight future super bugs. The more weapons we have in our arsenal, the better off we will all be. Regulators want and need these drugs. While there is no such thing as a silver bullet in this fight, Iclaprim is a highly efficacious and safe drug that stands a high probability of gaining approval in late 2018.
Disclosure: I am/we are long MTFB & MTFBW.
I wrote this article myself, and it expresses my own opinions. I am not receiving compensation for it (other than from Seeking Alpha). I have no business relationship with any company whose stock is mentioned in this article.
Additional disclosure: I am long MTFBW and portfolios I manage are long both MTFB and MTFBW.