The Unemployment Rate does not actually tell us how many people are unemployed or the true conditions of the labor market. It does not take into account the Labor Force Participation Rate, and it weights part-time and full-time jobs the same, even if the part-time job is for one hour per week. The Unemployment Rate is a pretty terrible metric if you are looking for anything informative on the true employment situation. However, its time-series reveals a great way to anticipate recessions and major market selloffs.
Even though the Unemployment Rate is terrible at its designed purpose, it presents one of the clearest pictures of the business cycle. It falls slowly and consistently when the economy is expanding, and it rises sharply when the economy shrinks.
Right before a recession, the Unemployment Rate finds a bottom and the trend slowly begins to reverse. When the recession occurs, the uptrend that was established months before turns into a rapid increase. The Unemployment Rate bottoms an average of 8 months before a recession. The maximum number of months between an Unemployment Rate bottom and a recession was 18 months, and the minimum number of months between an Unemployment Rate bottom and a recession was 2 months.
Because recessions are usually accompanied by market selloffs, an Unemployment Rate bottom is a great signal for telling us when to be more cautious with our equity investments. Below is a chart of the Unemployment Rate vs the S&P 500 (SPY).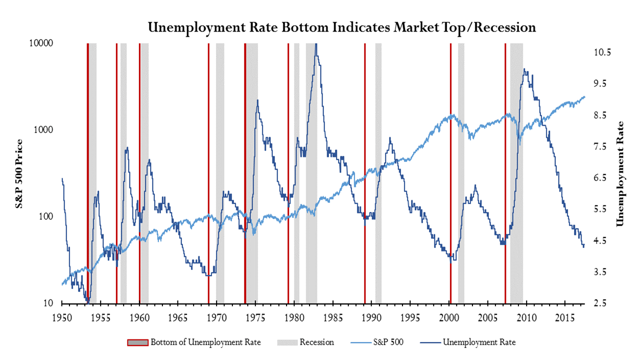 You can see that a cyclical bottom in the Unemployment Rate usually closely coincides with a market top. However, like most market timing metrics, this metric is not perfect. When the Unemployment Rate bottomed in 1979, the market continued to go up until the second of the double recession in the early 1980's. The market most likely rose through this recession due to the inflationary economic conditions of that time. Also, the Unemployment Rate bottomed much earlier than the small market selloff in 1990. In both of these cases, using the Unemployment Rate as a market timer was not sufficient because you could have held your equity positions after the Unemployment Rate bottom without much of a loss. It is also important to note that not all major market selloffs are preceded by a bottom in the Unemployment Rate. The crash of 1987 is the perfect example of this.
With the Unemployment Rate at its lowest point in about 17 years, it is very likely that we are near another cyclical bottom. In my honest opinion, the Unemployment Rate bottomed in May at 4.3%. We should see it drift a bit higher until the next recession forces it sharply higher some time over the next several months. If my hypothesis is correct, (SPY), (DIA) and (QQQ) should be very close to their respective tops. Should we get a lower Unemployment Rate than May's in this cycle, your expectation for a market selloff should be pushed into the future by a few months.
Not all market selloffs are created equal. However, I believe the next major selloff will be one of the most significant in modern history. This belief comes from the fact that the world's central banks have pushed up most asset valuations to absurd levels. Most valuation metrics are showing that we are near 1929 valuations, with 2000 being the only time stock market valuations were higher. A very low Unemployment Rate, coupled with very high valuations, makes it a good time to reduce equity exposure. I have only 10% of my portfolio in stocks at the moment.
The Unemployment Rate is a bad metric for judging actual unemployment. Although, it's time-series has been a good warning sign for near future market turmoil. Because the Unemployment Rate is not a perfect market timing metric, use it along with many others to get a clearer picture of equity market conditions. The Unemployment Rate is one of the many reasons I am recommending that you be extremely cautious with long positions in equity markets.
Disclosure: I/we have no positions in any stocks mentioned, and no plans to initiate any positions within the next 72 hours. I wrote this article myself, and it expresses my own opinions. I am not receiving compensation for it (other than from Seeking Alpha). I have no business relationship with any company whose stock is mentioned in this article.