Valeant Pharmaceuticals (NYSE:VRX), a multinational specialty pharmaceutical company specializing in numerous disease areas, announced the company's official drug launch for SILIQ, a drug treating plaque psoriasis. SILIQ was officially approved in February 2017 and will be facing some tough competition in this crowded space. This article will outline a few details between SILIQ and its competitors, and why the drug is unlikely to establish itself as the clear favorite.
Valeant's SILIQ was officially launched just a few days ago after being approved over five months ago in February. This could be seen as a relatively slow drug launch, as Synergy Pharmaceuticals' (NASDAQ:SGYP) Trulance drug was launched less than two months after approval. SILIQ is used to treat plaque psoriasis, which is a condition that affects 2-3% of Americans. Valeant is facing some very tough competition from the likes of TREMFYA, a drug that was also just approved. In 2016, the approval of TALTZ arrived, and in 2015, COSENTYX. All drugs are administered as an injection, and all operate generally the same way. This article doesn't even cover the number of other drugs, not administered as injections, that patients can use for plaque psoriasis. In the end, the space is very crowded and I believe it would be difficult to distinguish SILIQ as the clear favorite.
I'll be comparing SILIQ with these other recently approved drugs. First, Valeant's SILIQ does contain a boxed warning, as is seen below: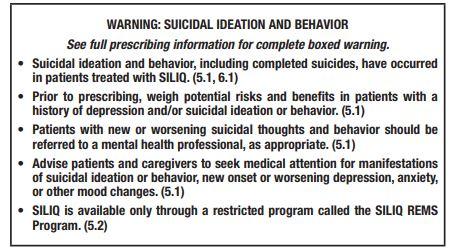 Depending on the condition, black box warnings could be present on all drugs. For example, Synergy's Trulance contains a boxed warning for severe dehydration, which is also seen on all other drugs in that particular disease area (chronic constipation). Therefore, the boxed warning isn't really as damaging. The problem arises when the drug contains a boxed warning, while its competitors do not. TREMFYA, TALTZ and COSENTYX all do not contain such labels. Since plaque psoriasis is an overly crowded market, Valeant's boxed warning is widely unfavorable, and it would make marketing the drug that much more difficult.
ADVANTAGE: TREMFYA, TALTZ, COSENTYX
Another area to compare is drug administration. All three competitor drugs treat plaque psoriasis as a subcutaneous injection, and all are for patients who are candidates for systemic therapy or phototherapy. Patients are to inject 210mg of SILIQ in weeks 0, 1, 2 and then every two weeks after that. TREMFYA users are to inject 100mg in weeks 0, 4 and then every eight weeks after that. For TALTZ patients, they are to inject 160mg in week 0, 80mg in weeks 2, 4, 6, 8, 10, 12 and then every four weeks after that. Lastly, COSENTYX patients are to inject 300mg in weeks 0, 1, 2, 3, 4 and then every four weeks after that. TREMFYA seems to have the clear advantage in terms of drug administration, as patients will have to inject themselves every eight weeks. Valeant's SILIQ is towards the bottom of the list in terms of advantages with drug administration.
ADVANTAGE: TREMFYA
Another important area is of course the side effect profiles of these drugs. To make it simpler, I'll be comparing the top four side effects for each of these drugs. A full listing of side effects can be found in the links I provided earlier of the full drug labels for all mentioned drugs.
The top four side effects experienced in SILIQ are arthralgia (4.7%), headache (4.3%), fatigue (2.6%) and diarrhea (2.2%).
The top four side effects experienced in TREMFYA are upper respiratory tract infections (14.3%), headache (4.6%), injection site reactions (4.5%) and arthraglia (2.7%).
The top four side effects experienced in TALTZ are injection site reactions (17%), upper respiratory tract infections (14%), nausea (2%) and tinea infections (2%).
The top four side effects experienced in COSENTYX are nasopharyngitis (11.4%), diarrhea (4.1%), upper respiratory tract infections (2.5%) and rhinitis (1.4%).
The most important factors in this area seem to revolve around both upper respiratory tract infections and injection site reactions. It would be important to note that SILIQ had just 1.5% of injection site reactions and almost no reports of upper respiratory tract infections, which bodes well for it and the competition. I would certainly give SILIQ the advantage in terms of side effects.
ADVANTAGE: SILIQ
The last bit that can be used for comparisons is the actual clinical trial results of these drugs. Of course, clinical trial designs, primary endpoints and other items make it very difficult to perform a proper comparison in this area; however, it is still important to be aware of the results. For this area, I'll be analyzing a key primary endpoint, which is used in all of the clinical trials for these respective drugs. The endpoint I'm evaluating is the PASI score. The PASI is a composite score that takes into consideration both the percentage of body surface area affected and the nature and severity of psoriatic changes within affected regions.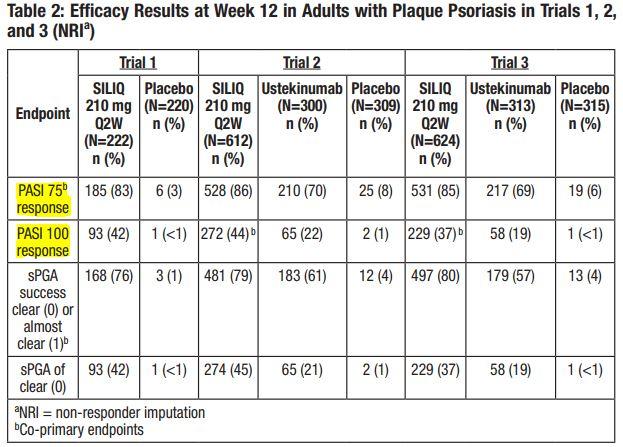 The PASI 75 response showed 83-86% in the first two trials for SILIQ, and 42-44% for PASI 100. TREMFYA used PASI 90 response and achieved 70-73% response rate. It would be difficult to compare the two drugs.

Located above are the trial results for TALTZ. PASI 75 response showed between 89-90%, compared to the 83-86% in SILIQ. PASI 90 response showed 71%, and PASI 100 response at 35-40%, compared to 37-44% in SILIQ. For COSENTYX, only PASI 75 response was evaluated, which showed rates as low as 75% and as high as 87%.
Obviously, it is difficult to compare the clinical results properly; however, enough can be seen here that there isn't really one clear cut solution that is miles ahead of the other competition.
ADVANTAGE: Even
In conclusion, Valeant has just launched a new drug for plaque psoriasis that will provide patients with yet another solution. Like the company's drug VENEO, used for glaucoma, the drug fails to really offer a better solution to what is out there. It would be difficult to convince patients to leave their current treatments for another treatment that offers little to no (sometimes worse) advantages over previous treatments. NOTE: Valeant has since rebranded its VESNEO drug as VYZULTA. These competing drugs will likely grow the plaque psoriasis market, but with so many competitors out there, they will all be fighting for the same revenues, which would likely even out among all the players. Valeant has obviously experienced some turbulence throughout the years, but SILIQ is an important approval for the company that will bring meaningful revenues that will contribute to the company's goals of lowering its debt.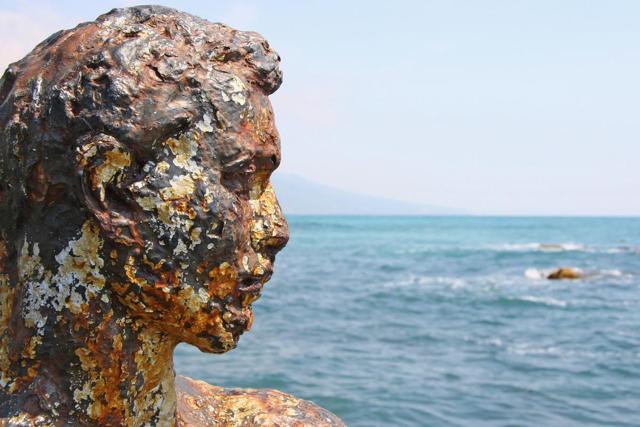 Disclosure: I/we have no positions in any stocks mentioned, and no plans to initiate any positions within the next 72 hours. I wrote this article myself, and it expresses my own opinions. I am not receiving compensation for it (other than from Seeking Alpha). I have no business relationship with any company whose stock is mentioned in this article.