Like most companies, commodity producers are subject to the market forces of supply and demand. Because commodity price changes generally flow straight to the bottom line of producers, projecting commodity prices is often more important than finding the best producer. Legendary value investor Benjamin Graham made the case for the highest cost producers outperforming in an increasing price environment, which further drives home the point.
Sell-side banks make projections for sand demand to help facilitate their equity research coverage of frac sand companies like Emerge Energy Services (EMES), Fairmount Santrol Holdings, Inc. (FMSA), Hi-Crush Partners (HCLP), and U.S. Silica Holdings Inc (SLCA). The goal of this article is to investigate how realistic banks' demand projections are, as well as introduce my new metric to define and predict sand demand. (For this article sand will be defined as "sand" used in hydraulic fracturing, also referred to as proppant. This is not a discussion on industrial sand.)
Figure 1: Fairmount Santrol - Bullish Estimates in December 2014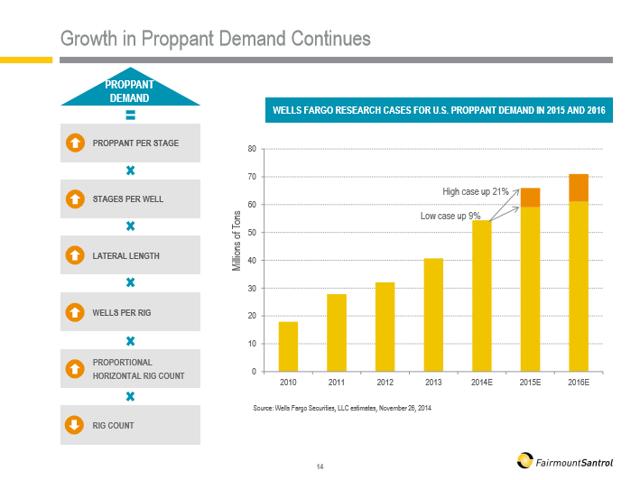 Source: Fairmount Santrol December 2014 Investor Presentation
The Case for Increased Frac Sand Demand
The high decline rates of shale wells have increased sand demand as more drilling needs to occur to maintain production. Operators are experimenting with completion designs, seemingly racing to see who can use the highest amount of sand per foot of horizontal well lateral. Sand per well has increased to the point where entire unit trains (75-125 railcars) are used to complete a single well. Higher sand intensity, longer laterals, more stages, increasing rig counts, and fewer drilling days per well create a seemingly endless demand for frac sand.
Sell Side's Long Bias
This has been the recent reality in the world of well completions. These conditions should be advantageous to frac sand companies. Simple economics tells us when demand for a good or service exceeds supply, prices increase. With the huge demand projections from sell-side firms (based on the demand model later described) and an estimated nine- to 12-month lag for supply additions, sand pricing should increase and frac sand companies may even be able to resume distributions/dividends.
Sell-side banks have been selling the near-exponential sand demand growth story to investors ever since crude oil prices crashed in 2014 at the same time banks were helping sand producers raise money to expand capacity and "meet projected demand." Figure 2 shows the amount of money "Tier-1" sand companies have raised through Wall Street to fund their operations since oil's downturn and peak historical sand demand. I believe the money made from these capital raises helps explain why sell-side banks have been blindly optimistic regarding future sand demand.
Back in April, I took "consensus" sand demand as truth, and believed Hi-Crush was the most likely to profit in the environment I believed to be fact. After seeing share prices continually decline, I dug deeper into the scarce data of the sand market to research "consensus" demand and find the disconnect between exponential sand demand expectations and share prices.
Figure 2: Capital Raises for "Tier-1" Sand Companies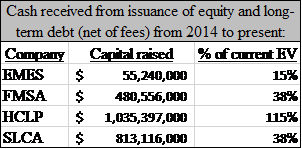 Source: Various Company SEC Filings
Figure 3: Emerge Energy Services - Stating Wall Street Demand Estimates for Sand Demand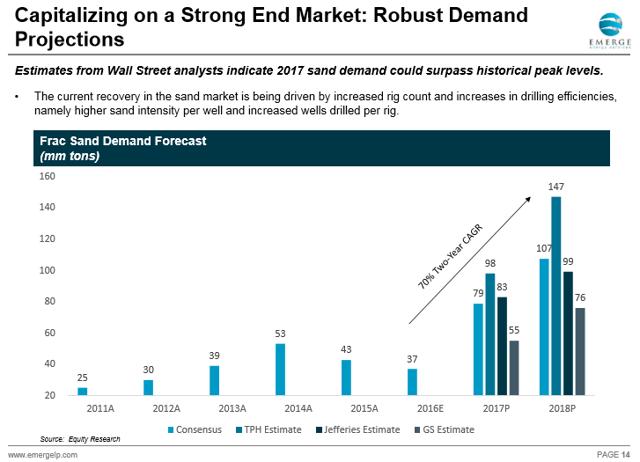 Source: Investor Presentation, Emerge Energy Services June 2017
The Problem With the Current Demand Models
The calculation in Figure 1 is used by most sand companies and some equity research teams as the definition of sand demand. Demand is depicted as a function of proppant per stage x stages per well x lateral length x wells per rig x horizontal rig count. While the resulting demand outcome is correct in the literal sense, it doesn't help when projecting aggregate demand since the formula leaves out the sand paradox. A paradox is formed by the interdependence between sand demand and oil production: higher sand demand increases oil production, which decreases the price of oil and lowers the incentive to drill, which in turn lowers sand demand. This paradox defines the relative maximum and minimum limit in aggregate sand demand which guides the commodity's cycle. Current demand models aren't accounting for the price of oil (incentive to drill) and production from the frac sand estimates.
This is the disconnect in the sand market that leads me to believe sell-side firms continue overestimating sand demand.
In Figure 1, the Wells Fargo model from 2014 showed continuing growth in sand demand despite oil prices falling over 25% prior to publication. I believe the model didn't have inputs for oil price, which drives the incentive to drill and purchase more sand. Producers aren't pumping increasing amounts of sand into wells for fun, they're doing it to recover more hydrocarbons and make a profit.
So, while most analysts and management teams are looking at sand demand per rig, per well, or even per lateral foot which are increasing substantially, the associated production from carrying these trends forward isn't considered. If analysts stopped to consider the resulting production, the inputs would have to be adjusted since production grows out of control, as I will point out.
When sand demand models don't recognize the incremental production implied or well economics involved, it's easy to underestimate the impact of the projections on global oil market prices. RBC Capital Markets released a research report earlier this month (7/13/17) saying the bear case for sand in 2018 is 95 million tons in a sub-$40 oil environment. Once again, this is more proof the models being used to predict sand demand are not giving sufficient weight to the impact of the production they're implying on the rate of drilling in the U.S.
Introducing the "Merva Metric"
Sand demand must be tied to oil and gas production because production impacts oil prices. My new metric, the Merva Metric, determines sand demand by using sand per incremental BOE (or barrel of oil equivalent which includes oil and marketed natural gas production) and yields some very interesting results. Let me walk you through my thought process as well as what the results mean for the future of the sand market.
Incremental BOE production is the key to my metric because it separates new and legacy BOE production and allocates sand demand by E&Ps to the respective BOE production. BOE production must be used instead of oil production to account for the sand used in shale gas wells. I started the search for incremental BOE production by looking at the Energy Information Agency (EIA) Drilling Productivity Report data set. I went through each production region in the data set and used the decline in legacy BOE production divided by prior-month BOE production to find the decline rate per month. For example, if the change of legacy production in the Permian decreased 150,000 BOE and the prior-month production was 3,750,000 BOE, the decline rate would be 4% (48% annualized).
Then, I multiplied the monthly decline rate by current month BOE production and added the sequential difference in same-region BOE production to find incremental BOE production per month. This is the amount of new output from wells in a given area and time frame. It's important to note the relationship between incremental BOE production and total BOE production from 2014 to 2015. Total BOE production increases despite falling frac sand usage (demand). Incremental BOE production fell with frac sand demand because the incremental production is a result of the frac sand demand figures. This also shows how sand demand relative to aggregate oil and gas production data is a messy metric and most likely not useful.
Once I calculated incremental BOE production for each region, I compiled the sum for all regions for each month. Since these regions accounted for 92% of the country's production growth (stated in the report), I divided the incremental production number by .92 and now I have the incremental BOE production of the US. After compiling the incremental BOE production data into annual data, I divided the annual sand demand by the incremental BOE production, which is how I calculated my metric.
My metric shows me the average amount of sand used is relatively flat per incremental BOE, as seen in Figure 5. The tons of sand needed to produce one incremental BOE came out to 5.11 in 2012 to 5.7 in 2016 slowly increasing each year as seen in Figure 4.
The beauty of the metric is its consistency through the sand commodity cycle. Analysts creating models appreciate a constant relationship in data to depend on, and this relationship is visible in Figure 6. Sand demand from 2012 to 2014 increased 77%, but tons of sand used per BOE only increased 8.4% in the same span. From 2014 to 2016, sand demand dropped more than 30%, yet sand used per BOE increased 2.9%. The data suggests a decreasing efficiency in sand through the last five years, albeit at only a 3% compound annual growth rate (CAGR). I believe this CAGR is accurate as E&Ps are still discovering the optimal amount of sand for maximum recovery in shale wells.
Figure 4: Relationships Between Sand, Production, and Rig Counts

Source: EIA Drilling Productivity Report, Author calculations
Figure 4 shows some of the data behind my calculations. Incremental BOE production per year and annual sand demand are the inputs to the Merva Metric. It's important to note the total U.S. BOE production includes marketed natural gas and oil production from every well in the U.S., while incremental BOE production is only from new wells. The 2017 and 2018 frac sand demand figures in red are consensus and not my prediction.
Figure 5 shows proppant (sand) per rig (blue line) against my metric, tons of sand per BOE (red line). The proppant per rig has increased exponentially, which is one of the ratios used to support the sand demand story. I believe this is more an effect of increasingly efficient rigs and drilling than a sign of aggregate sand demand increasing rapidly. My metric, on the same scale (divided by 10,000), is almost flat over the full sand commodity cycle and the red dotted lines are my estimates of my metric going into 2017 and 2018.
Figure 5: Merva Metric Over Time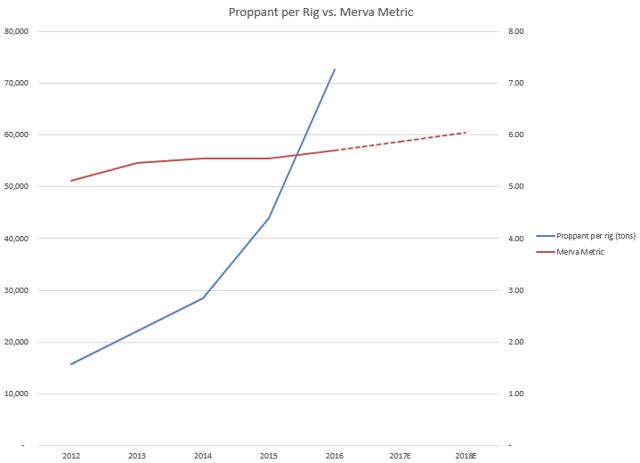 Source: EIA reports, Baker Hughes, Author calculation
Why Sand Companies Should Be Nervous
Since the Merva Metric has been so flat over the past five years, it is reasonable to assume it will not divert drastically in the next two years. If sand per incremental BOE is a constant, then plugging in "consensus" estimates will give the incremental BOE production. After projecting what percentage of each BOE is oil and natural gas and accounting for their respective production declines, 2017 and 2018 production can be predicted from the "consensus" estimates of sand demand.
My model shows U.S. oil production in 2018 would have to be 15.99 mln. barrels per day for consensus to be correct about sand demand. 2018 total marketed natural gas production would have to be 112.4 bcf/d!
Anyone that follows energy markets would laugh me out of the room if I brought them these forecasts. For comparison purposes, the July Short-Term Energy Outlook from the EIA, estimates U.S. production to average 9.3 mln. and 9.9 mln. barrels of oil per day in 2017 and 2018, respectively. Total marketed natural gas production is estimated to be 78.7 and 82.29 bcf/d in 2017 and 2018, respectively. I believe my metric confirms current sand demand models lack production and oil price inputs, and without these inputs, the models lose track of reality.
Since I believe U.S. oil production per day is significantly less volatile than the sand demand, I will use the EIA estimates of oil production of 9.3 mln. and 9.9 mln. barrels of oil per day for 2017 and 2018 respectively. With oil production, decline rate, incremental percentage oil trends and the Merva Metric, the last variable is sand. I predict 2017 and 2018 sand demand will be 52 and 57 mln. tons, respectively, which is significantly less than consensus sand demand.
For more detail on how I calculated future oil and natural gas production, I used my incremental BOE production data earlier, then subtracted the change in total U.S. BOE production to find the incremental BOE production needed to maintain legacy production year over year. I divided the new BOE production needed to replace declining legacy production over the actual production to give me an aggregate decline rate for U.S. BOE production.
Then, I used the decline rate from 2014 because of the high growth in oil production to see how much U.S. BOE production would increase if the sand per BOE had remained growing at a modest CAGR of 3% using consensus demand. This is the same CAGR from 2012 to 2016. To find barrels of oil produced from the new production, I calculated the incremental % oil produced and used 54% across 2017 and 2018 due to the high amount of drilling implied by the sand demand, and percent oil trends with higher BOE production. Natural gas production followed the same process except 46% of the incremental BOE and converting into bcf/d which is the metric most commonly used for natural gas production.
Other Headwinds Against Consensus Forecasts
The Merva Metric grew at a 3% CAGR from 2012 until 2016, so I carried that rate out until 2018 to continue the trend of decreasing sand efficiency. But, Halliburton's (HAL) Q2 earnings call has me thinking the trend of decreased sand efficiency may be coming to an end: "For the first time in years, in the second quarter, we experienced our first decline in average sand pump per well. Let me repeat that because I think this is important. We saw a decline in the average sand pump per well."
Other reasons for the data point to be off could be due to lags in the supply chain or funny math, but I believe the Halliburton team was confident or they wouldn't have repeated themselves in the prepared opening statement. My model doesn't account for the optimization of well completion designs. If the average well produces 5-10% more output in 2018, these headline production numbers will be even higher from "consensus" demand estimates. Or, conversely, sand demand will be lower than I'm projecting to reach EIA estimates.
Are Sand Companies Expanding Prematurely?
Sand companies have been expanding capacity rapidly, especially in the Permian Basin. Regional sand in Western Texas has a cheaper delivered cost than the delivery charges alone for Northern White sand, so some E&Ps would prefer to save on well costs ($1.50 - 1.75 per barrel of oil lower breakeven prices) than have the higher crush strength of Northern White sand. Figure 5 shows a few of the larger acquisitions and expansion plans occurring in the last five months to add sand capacity. If sand companies are making capacity investment decisions based on "consensus" demand expectations (which may be coming from the sand companies), they, and their investors, should be very nervous. There are at least 18.7 mln. tons per year of capacity being added between now and mid-2018 and I've seen estimates of over 30 mln. tons.
U.S. Silica said on the Q1 2017 earnings call the current supply is 95 mln. tons, but 20% (or 19 mln. tons) of the supply isn't relevant. Then they went on to say there is 25 mln. tons of sand coming online within the next 12-18 months which supports the mid-range between capacity expansions from "Tier-1" showed in Figure 5 and the estimates of 30 mln. tons. If this holds true, the relevant supply in the industry would be 101 mln. tons somewhere in mid-2018. Consensus' estimates of 107 mln. tons of demand in 2018 means the market would still be undersupplied. But, using the Merva Matric, the relevant supply will outstrip demand by ~40 mln. tons. Said another way, a substantial portion of the sand facilities in the US would have to be idled. I suspect larger sand companies will idle less efficient facilities and begin capitalizing costs instead of expensing. Idled facilities may drag on cash flows and keep balance sheets inflated since these facilities will be hard to sell in an oversupplied market. Equipment from less efficient plants will most likely be moved to more efficient plants to save on capital expenditures.
Figure 6 shows 18.7 mln tons of capacity expansion and these companies who represented 41 mln. tons of US supply in 2016. Although SLCA said relevant capacity is 80% of total supply, the producers listed in Figure 6 are most likely closer to 90-95%. If they're increasing capacity almost 50%, it's reasonable to assume another 15 mln. tons (45% growth x 37 mln. tons of other capacity) of capacity expansions from other producers totaling almost 35 mln. tons of expansion.
Figure 6: New Additions to Sand Capacity in the Permian Basin

Source: Press Releases, Investor Presentations
What does this mean for pricing?
According to the Bureau of Labor Statistics (BLS), the frac sand pricing index started in December 2012 at 100 and has only increased in two periods. In the peak sand utilization rates of 2014, demand outstripped relevant supply and pricing represents this. The other time pricing increased was from December 2016 until March 2017. Rigs came back online in the US as oil prices hovered around $50 when sand facilities had been idled because of the trough in early 2016 for rig count and oil price. Since most Northern White facilities undergo winter maintenance to their wet plants, there was a small stretch of increasing sand pricing before spring.
Now, the facilities are back online and producing at or near capacity, so pricing has been flat. But, rig counts are still rising, so sand pricing could have an uptick before new capacity expansions launch. If drilling slows as sand supply comes online, the impact to pricing will be ugly. With five drillers already revising capital plans lower by a total of $850 mln. in the back half of 2017, the rig count may already be plateauing, signaling a decline in sand demand.
Figure 7: Sand Pricing Data per BLS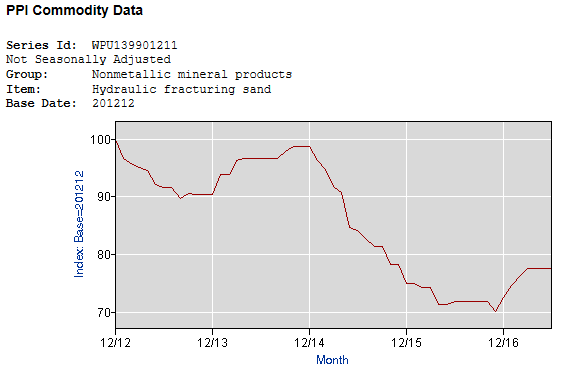 Source: Bureau of Labor Statistics
Investment Conclusion
The Merva Metric is a macro thesis, and isn't being published to predict Q2 earnings. However, without getting into valuations, an over-supplied sand market forces lower pricing for sand. Sand producers rely heavily on pricing to generate substantial net income, as seen by the net loss taken by all "Tier-1" sand producers in 2016. I believe sand producers will have to sell their sand at a discount to avoid bottlenecks in their supply chains since each of the "Tier-1" sand companies are expanding their operations and preparing for "strong" upcoming demand.
To match the EIA's prediction of averaging 9.9 million barrels of oil per day in the US in 2018, I believe the 2017 and 2018 sand demand will be 52 and 57 mln. tons, respectively. To further illustrate, 2018 sand demand is just less than half of "consensus" expectations of 107 million tons and only a few million tons more than the 2014 peak sand demand. This is a very bad outlook for sand producers.
Disclosure: I am/we are short FMSA.
I wrote this article myself, and it expresses my own opinions. I am not receiving compensation for it (other than from Seeking Alpha). I have no business relationship with any company whose stock is mentioned in this article.