Iguazio raises $33 million in the second round from Verizon (NYSE: VZ), CME Group (NASDAQ: CME) and Bosch. Existing investors such as Dell Technologies (NYSE: DVMT) also participated in this round. Iguazio has created a unified data model that allows for multiple types of access to the data. You can access data from the Iguazio data store as streams, files, tables or objects using any API. This type of approach would eliminate the challenge of integrating multiple different data stores each with their own data access protocol.
Exhibit: Iguazio's Continuous Analytics Platform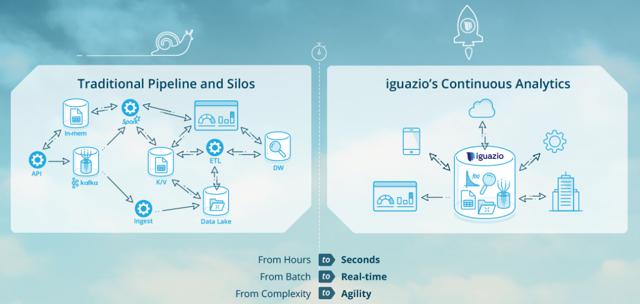 (Source: Iguazio.com)
Iguazio has reimagined the way data is stored and accessed. Access to low-level compute elements such as memory, flash and network can be very fast but in a typical application there are OS, middleware and apps on top of those low-level elements. When an application tries to access data through all the layers, the access becomes slow and unpredictable. Iguazio has tried to eliminate the multiple layers and deliver as close to bare-metal application performance as possible.
There has been lot of innovation and successful companies in business intelligence in the front-end of analytics. That's where data is accessed to create insightful reports. Companies such as a Tableau, Domo, Qlik, and Microsoft Power BI worked with existing silos of data and integrated data with the sole purpose of running queries and presenting results to the end user. In essence they took silos for granted and they focused on bringing data from the multiple silos into a common workspace to access it. Those companies provided a batch-oriented approach to business intelligence. That approach works for use cases where you can wait several minutes, hours or even days to view the results, infer insights, make, and act on decisions. In the highly automated world of real-time decision-making where algorithms make the decisions, those delays are not acceptable.
Exhibit: Eliminating Layers In Traditional Stack To Increase Performance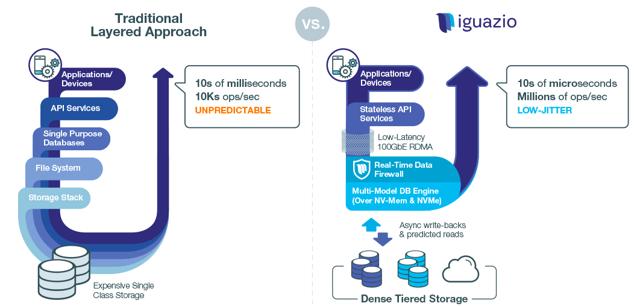 (Source: Iguazio.com)
It is telling that one of the largest mobile communications company (Verizon), the largest futures and options exchange (CME Group) and a large automotive OEM (Bosch) have taken part in this round of funding. The analytics product offered by Iguazio may have vast applications in all their end markets. In autonomous driving, the ability to combine data from multiple vehicles in real-time with sub-millisecond latency would be a necessary to ensure safety. In internet-of-things applications such as in wind power generation, the ability to make quick decisions in the edge of the network may mean the difference between optimal power generation and sub-par output. In trading, the ability to combine immense number of data from streams, file and tables in milliseconds may be crucial to profitability in those applications. Iguazio also envisions a Devops style agile analytics environment where decision algorithms within applications can be continuously updated based on the results provided by the data.
Gartner has named Iguazio as one of the cool vendors in data management in 2017. It turns out that existence of data silos need not be taken for granted any more. As urgent needs in various end-markets arise, innovators like Iguazio may be successfully creating new approaches to an analytics system that can store various type of data without compromising performance.
Disclosure: I am employed by Dell Technologies.
Disclosure: I/we have no positions in any stocks mentioned, and no plans to initiate any positions within the next 72 hours.
I wrote this article myself, and it expresses my own opinions. I am not receiving compensation for it (other than from Seeking Alpha). I have no business relationship with any company whose stock is mentioned in this article.