Bordering Venezuela and Brazil, Guyana is just a few years away from its oil boom, with Suriname possibly joining the party a bit later. Exploration activity led by ExxonMobil Corporation (NYSE:NYSE:XOM) has uncovered several major oil prospects. The question used to be "does Guyana really hold a billion barrels of recoverable oil?" Now that target has changed to ten billion. Let's dig in.
Background
The most important part of Guyana's nascent oil industry lays in the 6.6 million acre Stabroek Block. Situated 120 miles off the coast of Guyana, this is where Exxon first struck liquid gold back in 2015. Exxon, Hess Corporation (NYSE:HES), and CNOOC (NYSE:CEO) each own 45%, 30%, and 25% of that venture, respectively, with Exxon taking lead as operator.
Most of Guyana's known recoverable oil resources stem from the Liza Field, which the partnership is set to bring online by 2020 through an FPSO (floating production storage offloading) vessel. The FPSO vessel for the Liza 1 project is being designed to produce 120,000 barrels of oil per day but the development is targeting a 100,000 bo/d rate. Exxon aims to recover 450 million barrels of oil through the first Liza phase after sanctioning development over a month ago.
During Exxon's Q2 conference call management commented;
"This development is expected to cost $4.4 billion, resulting in a unit development cost of less than $10 per barrel and a projected double-digit return, even in a flat $40 per barrel price environment. The combination of high resource quality and proven execution capabilities applied in today's lower-cost environment positions Liza for success."
What really stands out is the double-digit return guidance in a flat $40 Brent world. If Guyana oil makes economical sense at $40-45 Brent then this is truly a top tier discovery, especially when considering the vast growth runway Guyana offers the venture.
Exploration updates
No longer is Guyana just a one hit wonder with the Liza Field. Success at the Payara-2 well proved the prospect was commercially viable and home to 500 million barrels of oil. It isn't entirely clear, but it doesn't appear that is all recoverable. Before this latest update Exxon guided the Stabroek Block housed 2-2.5 BBoe (mostly oil) in gross recoverable resources (which did include expected resources from the Payara-1 well).
Afterwards that was revised up to 2.25-2.75 BBoe, which includes the Liza Field, the deeper portion of the Liza Field, the Snoek prospect, and the Payara find. The upward revision is due to success at both the Liza-4 and Payara-2 wells in Q2 and early-Q3, leading Exxon to believe another 250 MMBoe will be recovered from the block.
In Exxon's conference call management noted the Payara-2 "brings the total Payara discovery to about 500 million oil equivalent barrels." Total discovery and gross recoverable resources are different beasts. Future appraisal activity could easily push that higher as the Payara-2 encountered oil deeper down than at the Payara-1 well.
There are two new prospects Exxon plans to target next, starting with the Turbot then moving on to the Ranger prospect, which will be drilled by the Stena Carron drillship. Should be fun to watch, but keep in mind that success isn't guaranteed. The SkipJack well came up empty late last year.
While the Payara-2 well hit 59 feet of "high-quality, oil-bearing sandstone reservoirs", the Liza-4 well hit 197 feet of net pay. A big enough find to support a second phase of development at the ever growing Liza Field, which at this point looks very likely. Existing infrastructure built out by the first project combined with knowledge gained from development should bolster the Liza 2 project's ROR. Considering the Liza 1 project is supposedly profitable in a $40 Brent world, this potential development should be very economical.
Other opportunities
Exxon has more than just the Stabroek Block to look forward to. 3D seismic activity is underway at the nearby Kaieteur Block, which Exxon is the operator of with a 50% stake in.
The venture at the Stabroek Block, Exxon, Hess, and CNOOC, decided to sign a production sharing agreement with the government of Suriname to acquire Block 59. This is another offshore block and one that covers 2.8 million acres. Exxon, like at all these endeavors, is the operator.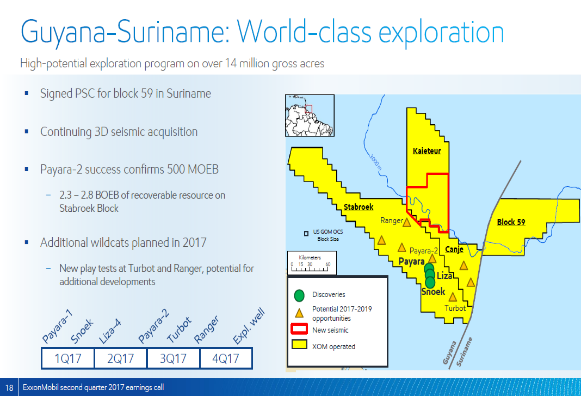 Source: ExxonMobil Corporation
Final thoughts
ExxonMobil Corporation needs growth avenues to offset declines at mature fields. Last quarter, its upstream production base slipped below 4 million BOE/d, the low end of its 4-4.4 million BOE/d guidance through 2020. While Guyanese oil won't come into play until the turn of the decade, it's massive discoveries like these that truly have a chance of turning ExxonMobil Corporation's production trajectory around.
The first phase of Liza Field development is really about setting the stage for future growth now that it is abundantly clear Guyana's oil resources are abundant. Future projects will add hundreds of thousands of barrels of oil production to ExxonMobil Corporation's asset base, aided by success at its ongoing exploration & appraisal program. Assuming the venture continues to be successful.
Moving into Suriname and launching another 3D seismic program in Guyana makes perfect sense, ExxonMobil Corporation is betting it can keep the momentum going. It's easiest to find oil where you found it before, and as a relatively under-explored region, the Guyana-Suriname basin offers a lot of upside. Not enough to offset low oil prices now, but enough to make a material difference in the future.
Investors looking to see where ExxonMobil Corporation is generating growth before then should check out its Papua New Guinea LNG footprint and its Canadian operations (non-oil sands edition).