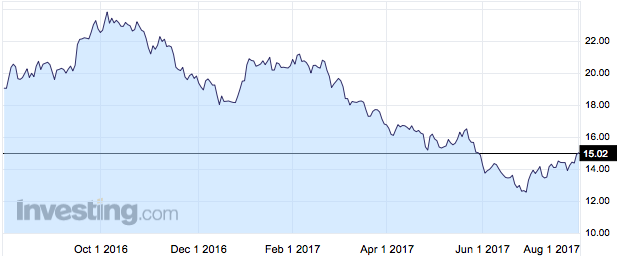 Sugar Futures Prices (Source: Investing.com)
Investment Thesis
Sugar prices have been on a decline for most of the year as a result of increased global production to make up for the deficit left from the constant increase in consumption for sugar globally. Sugar prices are likely to rise globally due to major macro trends such as rising energy prices, a resurgent Brazilian real and eminent global sugar deficit.
Rising Oil/Gas Prices Will Lead to Rising Ethanol Prices
Crude Oil Prices (July 2017)- Bloomberg Markets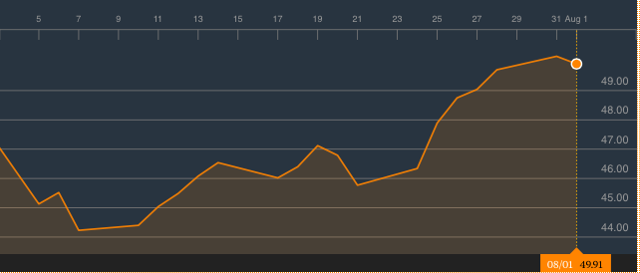 Crude oil has gone up in the past month. This is a strong indication that ethanol, a complementary product of gasoline, is likely to also go up. As the price for ethanol goes up, that will also lead to the price for sugar, a key ingredient of ethanol, to also go up. Investors, however, must beware that with the massive long term price fluctuations for crude oil, the price of sugar will not immediately fluctuate as closely as it would to products like ethanol or gasoline. However, rising crude prices are an indicator to be bullish on rising ethanol prices.
The Brazilian Real May Be Picking Up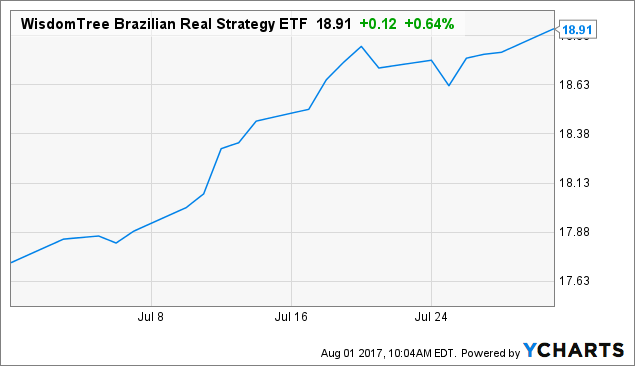 BZF data by YCharts
If we closely examine Wisdom Tree Brazilian Real Strategy ETF (NYSE: BZF), a fund that trades and correlates with the Brazilian real, the value of the Brazilian real has gone up over the past month. There is a positive correlation between the value of the Brazilian Real and sugar prices, as Brazil is the largest producer of sugar cane in the world. A rise in the Brazilian real will lead to rising sugar prices because a stronger real increases the cost of labor domestically and domestic prices to fall, which leads to higher domestic demand. Rising domestic demand for sugar would lead to lower global exports for sugar, which will rise prices globally.
The Relationship Between Consumption and Production
While rising ethanol prices and stronger Brazilian real provide the case for a upside in the future from sugar prices, investors must be concerned about the affect rising global production could have on sugar prices. The demand for sugar consumption continues to rise globally, mainly from emerging economies. In the short-run, decreased Brazilian exports could cause prices to rise globally. However, rising production from other countries have been the reason for why prices went down for most of 2017. As the global sugar deficit continues to decrease, the question investors must take into account is whether global consumption will outpace the production of sugar, which will could lead to rising prices. Rising production from emerging economies would lead to lower domestic prices, which could lead to lower global exports and higher global prices. In the next couple of months, investors must keep a close eye on how fast the market could correct itself on the likelihood for another global deficit.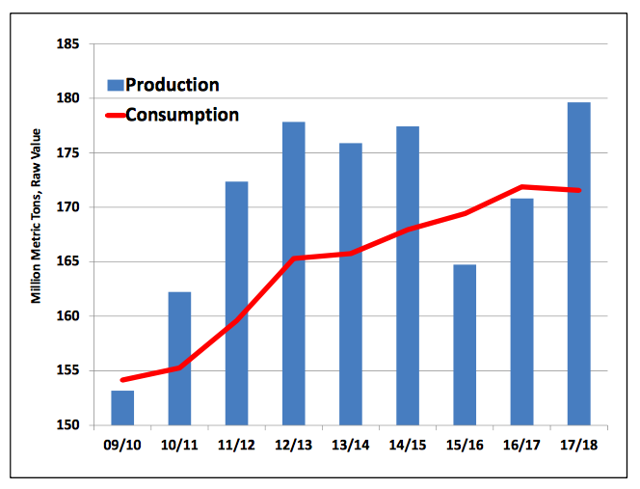 (Source: USDA)
What Investors Should Look For?
I personally think that investors should keep a close eye on the trading behavior of major oil and ethanol commodities to be able to identify a positive upside in the future prices of sugar. Investors should also be aware of the threat that the prices for corn, a product for corn-syrup (major sugar substitute) could have on the prices of sugar. I personally can affirm that investors should be bullish on the price of sugar and affirm a long position on sugar related ETFs or options.