Over the past several years, emerging markets stocks have substantially underperformed U.S. equities, and this has produced a considerable valuation gap: Emerging markets are materially undervalued in comparison to stocks in the U.S. at current prices.
Interestingly, the tables have turned in 2017, with emerging markets outperforming the U.S. on the back of improving economic growth. Is now a good time to bet on emerging markets?

The rise and fall of emerging markets
The following chart compares cumulative performance for two widely followed ETFs: Vanguard FTSE Emerging Markets (VWO) and Vanguard S&P 500 (VOO) from January 2011 to December 2016.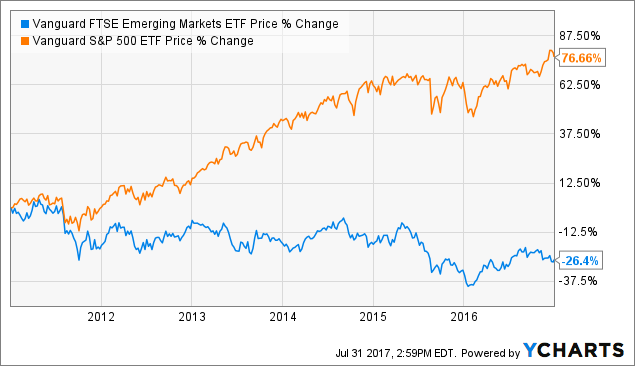 VWO
data by
YCharts
The difference is quite staggering, with U.S. stocks delivering a gain of almost 77% and emerging markets stocks losing more than 26% of their value in the same period.
This kind of market dynamic is quite unusual. Emerging markets stocks are clearly riskier than companies in the U.S., but they tend to move in the same direction over the long term. In times when U.S. stocks are rising sharply, increasing risk appetite is typically a bullish driver for emerging market stocks too.
To understand this massive difference in performance, we need to consider that some emerging markets were priced for excessive optimism during the commodities bull market that ended with the financial crisis in 2008.
After the crisis, many emerging countries struggled in their attempts to adapt to a new economic environment offering slower global growth and subdued commodities prices. This new scenario exposed many of the economic weaknesses and political risks in emerging markets.
Rampant optimism on emerging market stocks before the crisis was followed by generalized disappointment, and then inconsolable pessimism when emerging markets failed to deliver in accordance to expectations during the global economic recovery.
The following magazine covers from The Economist about Brazil are from 2009, 2013 and 2016, respectively. The headlines clearly show how investor sentiment on Brazil has abruptly changed over the past several years.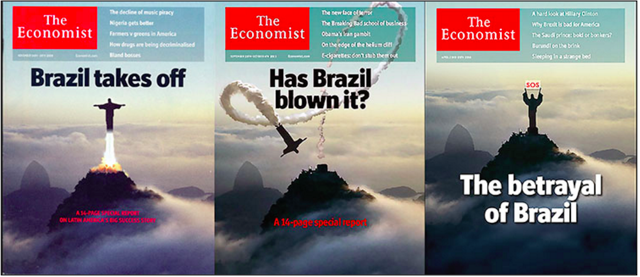 Source: The Economist
This happens quite often in the markets, general market sentiment tends to exaggerate, both to the upside and to the downside. Just like booming economic performance from emerging markets during 2003-2007 led to excessive optimism on these countries, the bear market that followed may have produced an excess of negativity on their long-term potential.
Quoting the legendary phrase from Warren Buffett: "Investors should try to be fearful when others are greedy and greedy only when others are fearful."
You don't want to bet on these sentiment shifts too early, since these trends can last longer than reasonably expected. On the other hand, if you wait for another optimistic magazine cover on Brazil, it will most probably be already too late to buy Brazilian stocks at attractive prices.
Speaking of which, Brazil is in the midst of an horrendous political scandal and a never-ending institutional crisis. However, after several years of disappointing data, some key economic indicators are pointing toward a recovery in economic growth. As an example, retail sales in Brazil grew 2.4% in June, well above the 1.05% expected on average by analysts.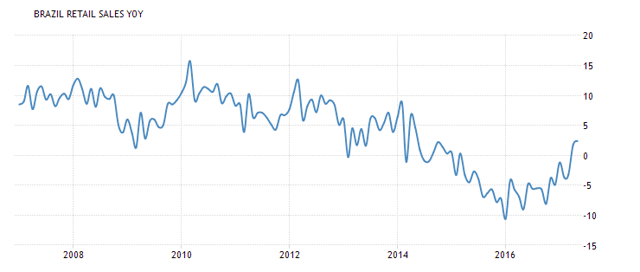 Source: Trading Economics
With all the negative press currently weighting on investor sentiment towards Brazilian stocks, and economic indicators starting to move in the right direction, Brazil is looking like an attractive market for contrarian investors looking to bet on a recovery.
Emerging markets look undervalued
According to data from WisdomTree, emerging markets are historically cheap in comparison to U.S. stocks: The MSCI Emerging Markets Index trades at a price to earnings ratio of 14.6 versus a price to earnings ratio of 21.9 for companies in the S&P 500. This valuation gap of 33.5% is quite big by historical standards.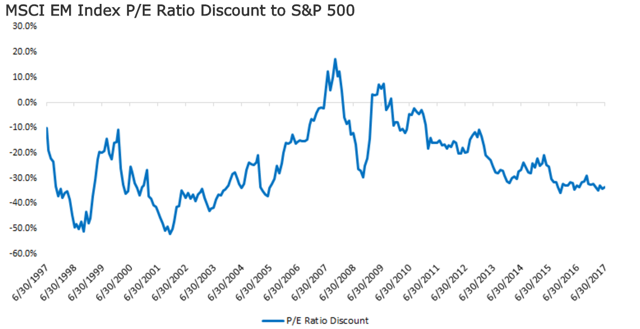 Source: WisdomTree.
Based on historical performance, emerging markets tend to deliver attractive returns when the valuation gap reaches current levels. On a monthly basis over the last 20 years, there have been 61 instances where the valuation gap between the MSCI Emerging Markets Index and the S&P 500 has been as large as it currently is.
In past occasions when the valuation gap reached current levels, emerging markets have crushed U.S. stocks over the next five years. According to the analysts at WisdomTree, emerging markets delivered an average five-year annual return of 18.7% versus a much smaller average annual return of 3.9% for the S&P 500.
In times of historically low interest rates around the world, many investors are hungry for income. Dividend stocks paying yields above 3% are far more abundant in emerging markets than in other regions, and this could drive yield-hunting investors to emerging markets in search for dividend opportunities.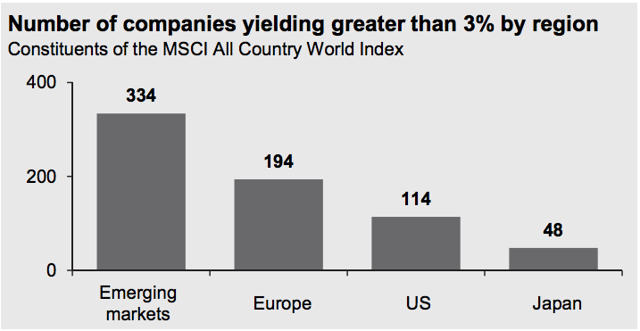 Source: JPM Morgan
Importantly, investors in emerging markets are not only being exposed to equity prices, fluctuations in currency rates can have a huge impact on overall returns when investing on a global scale. According to estimates from JPMorgan, emerging markets currencies are historically undervalued in comparison to the U.S. dollar, which could be an additional return driver for investors in emerging markets going forward.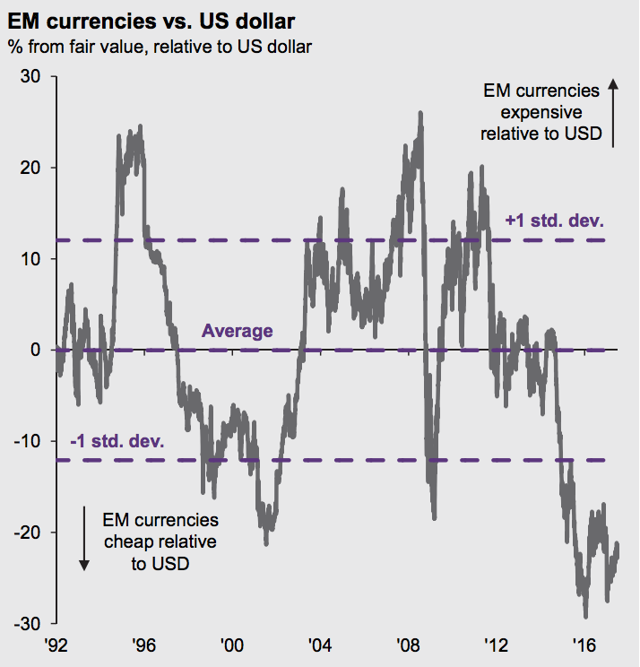 Source: JPMorgan.
Valuation is only part of the equation you also need to consider triggers such as the outlook for economic growth and corporate earnings trends.
Based on data from Bloomberg, economic growth in emerging markets is picking up strength in comparison to developed nations. This has important implications in terms money flow and expected equity returns.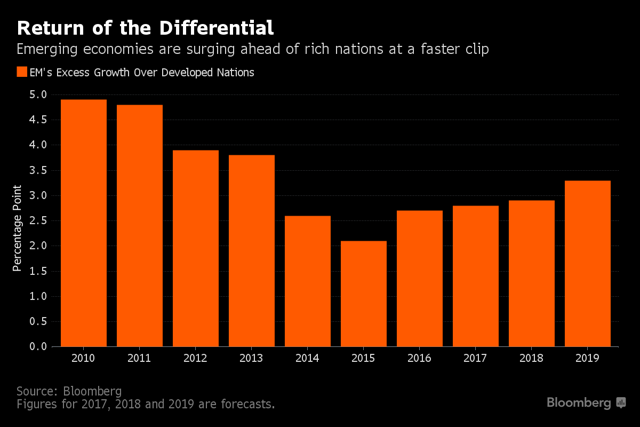 Source: Bloomberg.
The following chart from JPMorgan shows how corporate earnings expectations for different emerging markets regions are clearly improving. Not only are emerging markets stocks comparatively undervalued, but improving earnings expectations could be a powerful catalyst for these markets over the coming months.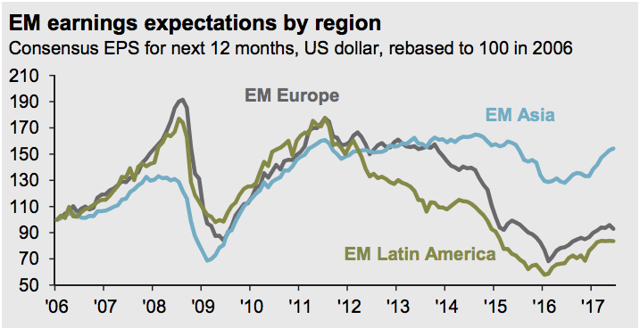 In fact, stock prices already are reflecting these trends, since the Vanguard FTSE Emerging Markets is crushing the Vanguard S&P 500 in the first seven months of 2017. Judging by recent price action, global investors seem to be more eager to invest in emerging markets than in the U.S. lately.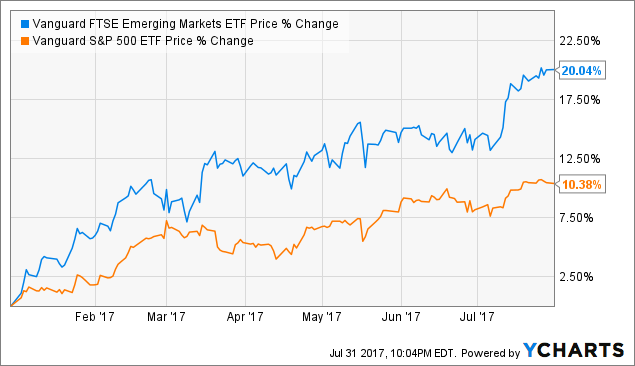 VWO
data by
YCharts
Emerging market stocks are more volatile and risky than U.S. stocks. However, risk needs to be considered on a total-portfolio context, not in isolation. For investors who are heavily exposed to the U.S. or other developed countries, a healthy dose of emerging markets stocks could offer substantial upside potential as well as the much important benefits of increased global diversification.
Bottom line
Emerging markets are materially undervalued in comparison to U.S. markets, this goes for both equity valuations and currencies. The outlook for economic growth and corporate earnings in emerging markets is improving, and this is being reflected in outperforming returns from emerging market stocks lately. Considering both the potential for higher returns and diversification benefits, it makes a lot of sense to consider adding some exposure to emerging markets.
Disclosure: I am/we are long VWO, DGS, BRF. I wrote this article myself, and it expresses my own opinions. I am not receiving compensation for it (other than from Seeking Alpha). I have no business relationship with any company whose stock is mentioned in this article.