Although crude oil has bounced since last week, the bearish trend is still in tact. However, there are increasing signs that demand is picking up.
This week, the EIA reported that inventories fell 7.2M for the week ending July 21st and now makes six straight weeks of declines since the 1.7M decline for the week ending on Jun 9th. The table below shows the declines in inventory levels over the past six weeks.
Crude oil inventory weekly declines:
| | | | | | |
| --- | --- | --- | --- | --- | --- |
| -4.7M | -7.6M | -6.3M | -.1M | -2.5M | -1.7M |
Data in the table above from EIA.
In my article on July 25th, we analyzed the signs of demand for oil picking up from the exports from Norway, the fall in crude stocks, and the weekly declines in oil inventories.
Rig counts are on the rise again, and U.S. oil production has remained stable and yet crude oil has bounced off its lows in June. Although crude is still technically in a bearish trend, we'll analyze some additional signs that demand could be firming up.
The roller coaster ride in crude oil prices has impacted investors who are long crude via The United States Oil ETF, LP (USO), the Vanguard Energy ETF (VDE) and stocks like Exxon Mobil Corporation (XOM), Devon Energy Corporation (DVN), Chevron Corporation (CVX), and ConocoPhillips (COP) to name a few.
Why crude oil demand is likely to increase in the second half of this year:
Economic data:
Q2 growth for the U.S. came in at 2.6% which is much better than the 1.2% growth rate in Q1.
China growth was 6.9% in Q2 and beat out expectations for the quarter. As a result, it looks like China will surpass its annual target of 6.5% growth. If China puts up a growth number with a 7% handle on it in Q3 or Q4, the psychological aspect of the number will be bullish for the global economy, commodities, and crude oil.
U.S. durable goods orders jumped 6.5% in June and was the biggest increase since 2014. The number also reversed two straight months of declines. The solid durable goods orders number shows that business are planning on making capital purchases which are typically more medium-term investments. The result is typically higher GDP growth in the coming months. Of course, one report doesn't make a trend, but the 6.5% growth figure is a good sign for growth in the second half of this year.
Also, upward revisions to Q2 U.S. economic growth will likely occur as a result of the solid durable goods number.
And if you're looking for more evidence that GDP could be revised higher, look no further than the Fed. The GDPNow forecast model from The Federal Reserve Bank of Atlanta currently stands at 2.8% for Q2 which I believe is very bullish since it shows that the Fed is expecting an upward revision to Q2 GDP growth in the coming weeks.
A look at the charts:
Crude oil's recent bounce can be seen on the chart below as momentum has surged since the lows in late June.
RSI or Relative Strength Index is a great momentum indicator, and we can see that momentum has broken the trend line (green line at the bottom of chart) connecting the highs in the bearish downtrend for crude. A break of this magnitude on the daily chart is a bullish signal.
Although the price of crude has not gotten back to previous levels, momentum is building and typically signifies that more investors are initiating long positions.
If you follow my articles on SeekingAlpha.com, you know that I've written many times that the charts don't drive the price, but rather fundamentals drive the charts.
Having said that, the fundamentals for global economic growth are building, and that growth could translate into oil breaking the key level of $52 and perhaps propel it back to the $56 levels last seen at the start of this year.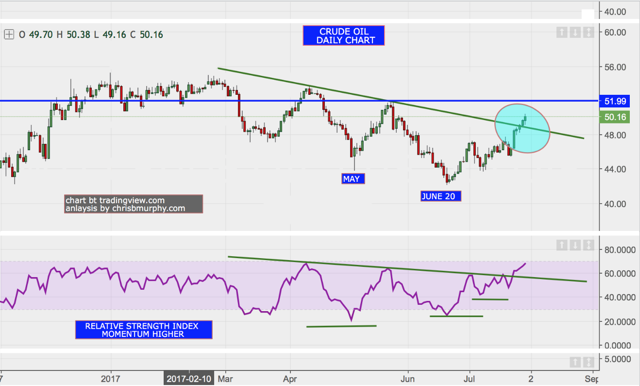 A word of caution on the upcoming volatility:
The $52 level is likely to contain sell orders for investors that were long crude at the start of the year and held onto their trades as their position went underwater. At $52, some of these investors will likely unwind from their long positions, thankful that they cut their losses.
As a result, we're likely to see increased volatility at the key levels of $52, $54 and the $55 levels. These levels also coincide with the touch points of the green trendline connecting the highs in crude prices during the downtrend.
Going forward:
Any revisions to GDP growth will be heavily watched for signs that the economic outlook for the third and fourth quarter are to improve.
A good indicator for the market's expectations for growth in the U.S. economy, watch the 10-year Treasury yield. We need to see the 10-year get back above 2.5% for investors to feel optimistic about growth in the coming months. A higher 10-year yield signals an expectation of an increase in economic growth and that bodes well for crude oil.
Of course, watching OPEC, oil inventory levels, and rig counts will be important the coming weeks.
However, it's this author's opinion that OPEC may have less of an impact since the market appears tired of manipulation and now starves for fundamentals.
Good luck out there.
If you like this article and would like to receive email alerts stay up to date on crude oil, commodities, and macro events, please click my profile page, and click the "follow" button next to my name, and check the "get email alerts" to receive these articles sent via email to your inbox.
You can also find the "follow" button at the top of this article next to my name.And, of course, feel free to comment below if you have any questions or send me a private message by clicking the "send a message" link on my profile page.
Disclosure: I/we have no positions in any stocks mentioned, and no plans to initiate any positions within the next 72 hours.
I wrote this article myself, and it expresses my own opinions. I am not receiving compensation for it (other than from Seeking Alpha). I have no business relationship with any company whose stock is mentioned in this article.