The Retail Bubble
The distress in retail has been duly noted. There is an excess supply of retailers, which needs to be cleared out and that bubble is finally bursting. Share prices of many retailers have tanked, as revenue growth and profitability remain elusive. However, fears about the dominance of Amazon (NASDAQ: AMZN), and e-commerce more generally, are overblown. While some retailers will inevitably cease operations, particularly department stores, companies operating in niche retail sectors are poised to do well. However, indiscriminate selling across the whole industry has created a decoupling of price and fundamental value. The recent sell-off has spilled over to discount retailers, which appeal to consumers who are relatively inelastic to e-commerce. Ross Stores Inc. (NASDAQ: ROST), an "off-price" retailer with 1,533 stores across 36 states (all data throughout article can be found through ROST SEC Filings), has seen their price decline from $69 to a current level of $54, a 22% decline. Meanwhile, the company achieved revenue growth of 8% in 2016 while department stores experienced revenue declines of 6%. ROST is continuing its trend of outperformance in 2017 by delivering 7% revenue growth and 3% comparable sales growth during Q1'17. With shares currently trading at ~$54, the implied upside is ~21% with a current intrinsic value of $69.36.
Investment Thesis
There is a great divergence between retailers operating in niche segments and retailers that offer a more commoditized product, which can be easily competed with online. An excess supply of retailers has caused an inefficient glut in our economy that has essentially caused a retail bubble. CEO Richard Hayne of Urban Outfitters (URBN) recently noted, "Retail square feet per capita in the United States is more than six times that of Europe or Japan".
The retail bubble ultimately comes down to basic economics. The chart below shows the growth in consumer buying power versus growth of new retail development.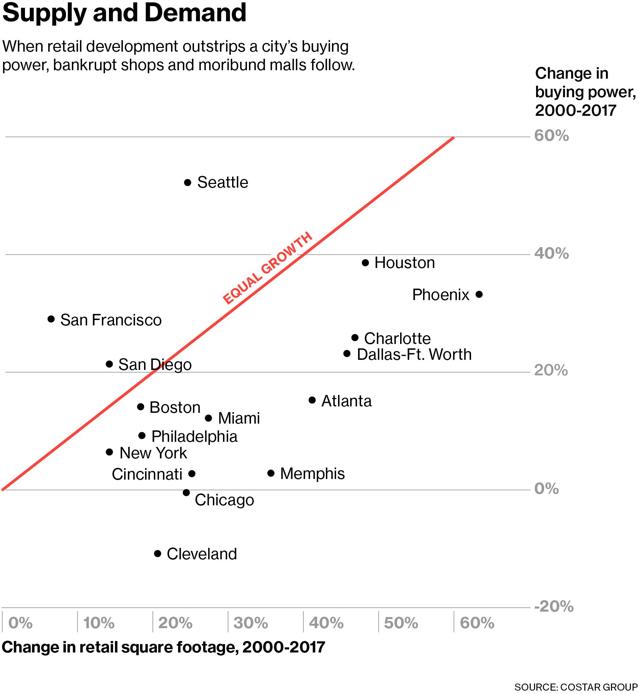 Source: Finance & Commerce and Costar Group
The three cities above the line have increased buying power (demand) at a faster rate than retail development (supply). This imbalance across the retail landscape has lead to a wave of store closures. In the chart below shows how many stores are set to close this year.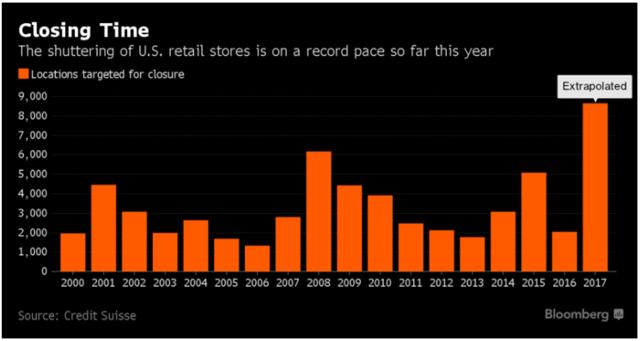 Source: Bloomberg
The CoStar Group estimates that nearly 1 billion square feet, or roughly 10% of U.S. retail space, needs to be cleared-out of the system. Until excess supply meets the demand, the struggle in retail may continue.
However, not all retailers are the same. While the industry continues to struggle, there are clear differences between traditional retailers and companies that offer unique products or offer niche services. Companies that continue to offer value to their customers are actually doing quite well in this tough environment. Discount retailers in particular, such as Ross Stores Inc. (NASDAQ: ROST), offers compelling value as the company's share price has sold-off along with other retailers. The company has two business lines, Ross Dress for Less and dd's DISCOUNTS. Both segments are "off-price" retail chains, which aims to offer discounts on brand name products and apparel anywhere between 20%-70% off regular prices. The economics of the discount retail business shields the company from online competitors. See chart below.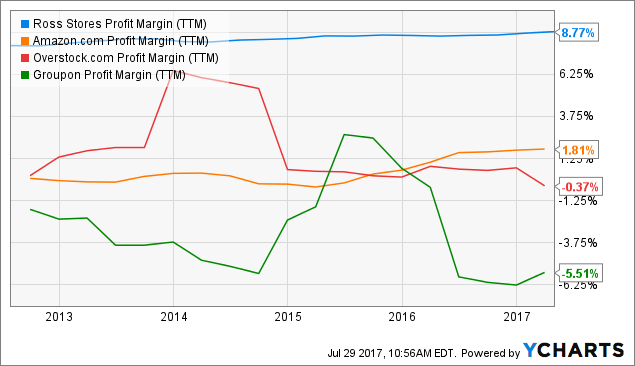 ROST Profit Margin (TTM) data by YCharts
As you can see in the chart above, pure-play online retailers are struggling to maintain a profit as-is while ROST is consistently profitable. In an online marketplace shoppers are very price sensitive and it's easy to shop around on multiple websites for a good deal. The cost of returning items is also an issue with online orders. ROST has been able to buck this trend by offering similar products in-store, but at steep discounts that offer much more value to their customers. The company is able to acquire its merchandise at steep discounts due to manufacturer overruns and canceled orders, referred to as "close-out" and "packaway" purchases, respectively. These discounted purchases allow ROST to maintain attractive margins while still providing value to its customer base. This business model has allowed the company to generate consistent profits, see below.

ROST can outperform throughout all phases of an economic cycle, whether recessionary or an economic expansion. Since 2012, ROST has been able to grow revenue at 7.26% CAGR, net income at 9.17% CAGR, free cash flow at 22.77% CAGR and book value per share at 15.34% CAGR. That's quite impressive for a $20 billion market cap company.
Potential Growth Catalysts
The company currently operates in only 36 states, which creates substantial growth opportunity. The company is targeting for 70 Ross Stores and 20 dd's DISCOUNT stores to be opened during FY2017. The current store portfolio is underpenetrated and provides the company with substantial runway for growth. With comparable sales growth steady at 3% and new store growth at ~5%, ROST can reasonably continue growing revenue at ~7% CAGR over the next few years, in-line with current growth trend.
The list below highlights retailers that are undergoing an expansion phase in their store counts. There is plenty of opportunity in retail for companies that create value. ROST still has extensive growth opportunities ahead as the company targets up to 2,500 total stores.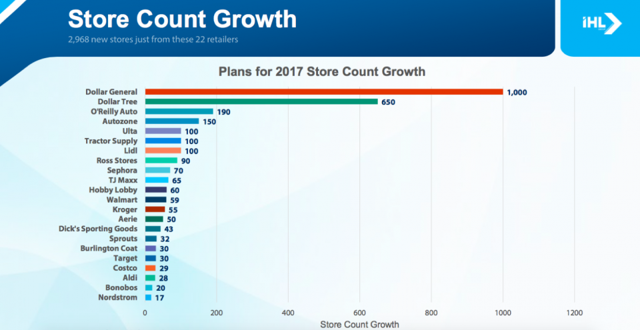 Source: IHL Services
Economic Moat
ROST's economic moat is centered on cost advantage and scale. The company has a network of over 760 merchants that manage a portfolio of more than 8,000 vendors. With seven warehouse facilities, the company can take advantage of deep discounts on brand name products at the end of each season, which can then be stored for the following season. Additionally, ROST has an efficient distribution system that has lead to inventory turnover of 60 days versus department stores, which average above 100 days. The cost and scale advantages have allowed the company to generate economic profits in excess of its cost of capital. The company has a 5-year average ROIC of 43.07% versus an estimated WACC (weighted-average cost of capital) of 9.1%, see below.

The high returns are supported by strong and consistent cash flow metrics. CROIC has averaged 35.63% over the past 5-years and FCFO/Net Income has averaged 1.33 over the same period. Note that FCF/Net Income is consistently below one, but that's due to Capex being allocated into new stores. With ROIC averaging over 40% over the last 5-years, this is the best use of capital for the business.

Potential Risks
Retail is a low barrier to entry business, which increases the risk of competitors entering the space and reducing economic profits. In particular, ROST currently purchases inventory at large discounts, which can become a challenge if more competitors enter the space. As the company continues to grow, its need for inventory will also grow. These challenges are slightly offset by scale and cost advantages, which can keep competitors at bay. Building a large network of vendors and a distribution channel to get discounted goods at the right place and right time is difficult to replicate. The inventory risk is also insulated from the company's seven warehouses, which are used to store inventory for future seasons. There is also a risk that customers move-up to full-price products during an economic expansion; however, this doesn't seem to be the case as ROST has done quite well as the economy has steadily improved.
Valuation
Every investment decision ultimately comes down to valuation and determining a price. To understand the intrinsic value of the company, it's important to utilize multiple methodologies to determine a value. The first, and arguably the most popular, is a discounted cash flow analysis.
DCF Methodology
The cash flows were projected utilizing a conservative 6.0% long-term FCF growth rate, well below the 5-year FCF CAGR of 22.8%.
Discount Rate
The methodology utilized includes the current 10-Year Treasury rate as of 7/28/17, an assumed equity risk premium of 7%. The weighted-average cost of debt of 4.8% was calculated utilizing interest expense divided by interest bearing debt on the balance sheet.

Discounting the cash flows using a 9.1% weighted-average cost of capital provides a value of $72.39 per share. At current prices, the implied upside would be ~24%.

In conjunction with the DCF valuation, a multiples analysis will also be analyzed. With a current book value of $7.19 per share, the current P/B ratio is 7.6x. The stock can realistically trade closer to 9.5x book value. This would imply an intrinsic value of $68.31 per share, which provides ~20% upside from current prices.
On a P/E basis, ROST is trading at 18.5x. The stock should be able to trade closer to a 23x multiple, slightly higher than its 5-year average. With an EPS of $2.93, a 23x multiple would imply a $67.39 valuation. This would imply ~20% upside from current prices.
A blended average of the three valuation methods provides an aggregate value of $69.36 per share. This would imply ~21% upside from current prices.
Conclusion
ROST continues to deliver value to its customers, which ultimately leads to the company's consistent profitability. The risk to the downside is minimal, as the company has proven it can succeed in both recessionary and economic expansion environments. There are still substantial growth opportunities ahead as the company aims to expand its store base to all 50 states. The company also has a clean balance sheet with minimal debt and offers a stable dividend yield of 1.18%. With an intrinsic value estimate of $69.36, ROST offers compelling upside of ~21% from current levels. ROST is a strong and stable retailer that can be picked up at a bargain price.
Disclosure: I/we have no positions in any stocks mentioned, and no plans to initiate any positions within the next 72 hours.
I wrote this article myself, and it expresses my own opinions. I am not receiving compensation for it (other than from Seeking Alpha). I have no business relationship with any company whose stock is mentioned in this article.