Welcome to the investor lag edition of Oil Markets Daily!
Energy stocks (XOP, XLE) finished the month of July in the positives for the first time since November 2016. For energy investors, 2017 has proven to be a very difficult year so far. The market's hysteria with tech and financials have largely shunned this neglected sector, and even despite recovering commodity prices, energy stocks continue to lag.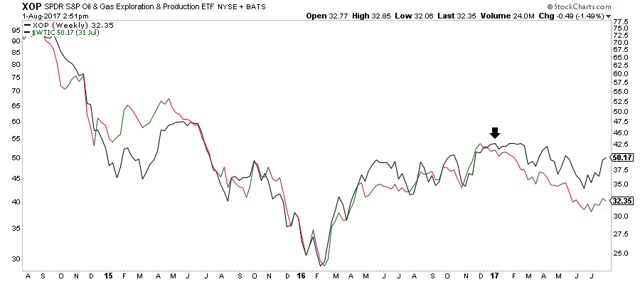 This lag has been the largest observed over the last 3-years as you can see in the chart above.
Lower capex is telling us something...
We have written repeatedly that the physical oil markets point to oil prices in the mid-$50s currently, but the market continues to be plagued by the narrative that "US shale will push the market into oversupply."
Over the last two weeks, we have seen company after company report lower capex spend for the rest of 2017 as a result of the drop in oil prices. Oil servicing firms like Schlumberger (SLB) and Halliburton (HAL) are already seeing signs of slowdown taking place, and sand providers like Silica (SLCA) reported lower volumes than previously expected.
All the meanwhile, US shale producers continue to face bottlenecks at the completion stage. DUCs have now risen to all-time highs.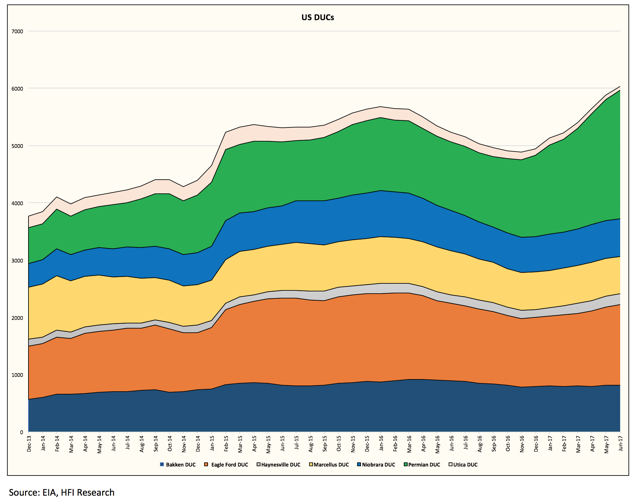 In a recent article written by Rystad Energy's Robin Helander, oil and gas analyst. He illustrated a chart that breaks down what Rystad believes to be structural improvements versus cyclical cost reduction...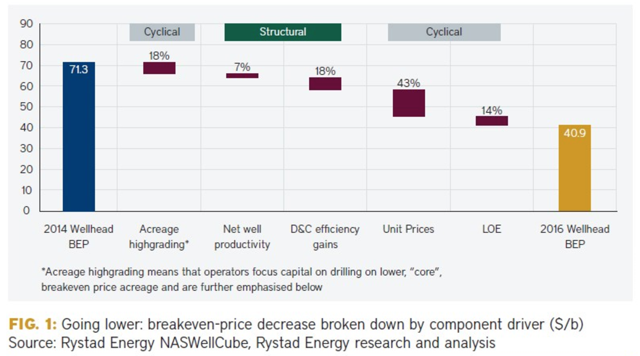 As you can see, approximately 75% of the cost reduction came from cyclical costs versus a 25% structural cost reduction. This is important to highlight because this puts the "US shale will push market into oversupply" narrative in check.
In addition, many sellside analysts and commentators we've seen say that a rising DUC illustrates potential supply headwinds. On the contrary, we believe that rising DUCs translate into higher servicing cost inflation as it illustrates how producers are drilling faster than they are completing the wells. Once servicing firms are forced to hire more workers, the pricing will reflect this higher activity, and translate into higher breakevens and lower cash flow.
Now you might read the above paragraph as something of a headwind for producers, but we believe that it reflects the reality that oil prices need to rise higher from here in order for the global oil fundamentals to balance (e.g. help shale produce as well).
Energy producers earn high return on invested capital only if...
In our weekend flagship report, we highlighted the power of long-term thinking and how it even helps energy producers. We have written in the past that even for US shale producers, earning a high return on invested capital only comes when the underlying commodity prices are rising. The energy sector goes through periods of substantially higher ROIC than most industries and periods of substantially lower ROIC.
Buying producers today offers investors the "optionality" of capturing the potential tailwind from higher oil prices, which then translates into higher ROIC.
But picking the right producers matter. For most Permian producers like Pioneer Natural Resources (PXD) and Diamondback (FANG), the implied oil price paid is closer to $60/bbl versus some producers we own that have an imbedded oil price assumption in the mid $40s.
For investors, we think continuing to own producers that can grow production while focusing capex plans that spend within cash flow will be the most important. It could also be potentially rewarding to own a few high cost producers like California Resources (CRC) with low decline rates but overburdened with debt. The allocation in the portfolio reflects the higher risk, but if WTI does reach $75/bbl before 2019, CRC has the potential to reach $100 per share... Something most investors have not priced into the stock price.
Bottom-line: Investors and consensus are very much backward looking when analyzing oil and gas producers. They see years of low profitability and outspending of cash flow and extrapolate the past into the future. Our analysis indicates that disciplined producers can generate high rate of returns on invested capital, and riding those good years out will prove to be a very profitable venture.
Lastly, we think if you are an energy investor, you should give our premium service, HFI Research, a try. We have over 200+ members and a very active live chat function that allows you to receive feedback immediately from our community. For more info, please click here.