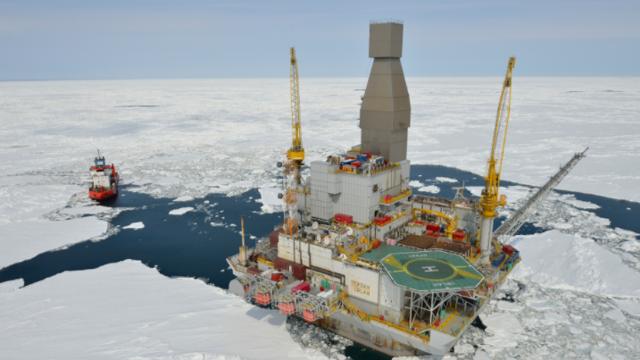 Exxon Mobil (NYSE:XOM), heading into its Q2 report last Friday, had experienced a ridiculously low amount of volatility for most of 2017. The stock has been in a range of just a few dollars, and I said during my preview that when this sort of narrow consolidation happens, the breakout tends to be pretty sizable. Of course, the breakout can come in either direction and judging by the reaction to the Q2 report, it seems that the break of the channel is more likely to be lower than higher. That's a problem for the bulls.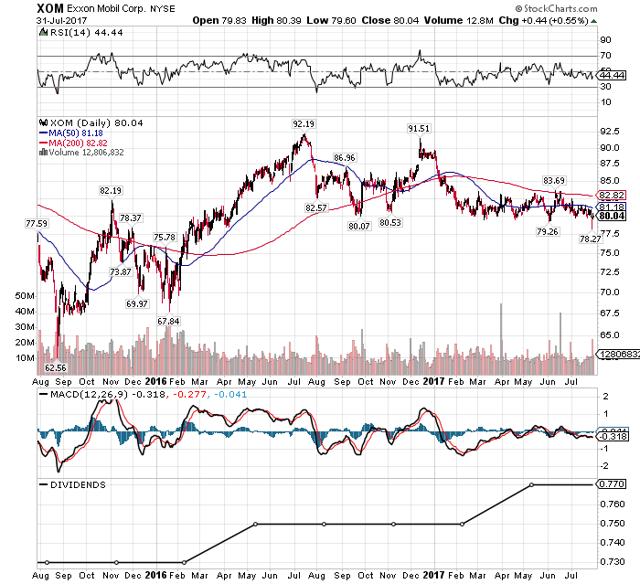 I've been saying since oil collapsed back in 2014 that XOM is the best of the group; that's pretty difficult to dispute. It has the ability to continue to pay its dividend without loading up with debt to do so, which is something Chevron (CVX) cannot say. The stock has behaved the best as well during downturns. XOM's diversification away from oil helps a lot, but it is also very well-run. That has helped it immensely during the past three years when things were tougher than management would have liked.
And to an extent, that is probably still true, but does it matter any longer? That's the question that must be asked following Q2 results, in which XOM's revenue beat expectations and rose nicely in concert with earnings, basically doubling YoY. That all sounds terrific and it is, but given that XOM never fell as far as its competitors, they have the gift of leverage to grow their earnings at better rates than XOM. And that's a problem for the stock.
This happens whenever an industry experiences a downturn like energy did in 2014; the leader of the pack takes some damage but generally remains OK, and that's what XOM experienced. Others, like Shell (RDS.A) or Chevron, take significant beatings while things are ugly, but can see enormous leverage to the upside when things improve. We're in the recovery stage for energy as capex levels have been low for years now, and any recovery in volume and pricing is very high-margin revenue. XOM is seeing that, but certainly not to the extent of the firms that were more beat up.
XOM's Q2 report was good -- lots of strength in the upstream and downstream businesses -- but I'm afraid it isn't good enough anymore. The bulls are back in the energy trade and that means the stocks with the most to gain from a recovery will be bid up more than those that don't. XOM falls firmly into the latter category. That means that buying interest that was on board with XOM might jump ship and find a more growth-oriented player, even if that means buying Chevron (gasp!).
That brings us to something I think is very important for XOM right now, and that is its chart. If indeed buying interest does shift -- or is already shifting -- over to the other oil majors, that means the buying power XOM needs to get out of its diminutive channel is probably going as well. That says to me that the natural course of the stock is down because a quarterly report where earnings almost doubled wasn't good enough for anyone to care. Given that, one wonders what it would take for the stock to actually move higher. At this point, it appears to me that investors have moved on from XOM to potentially higher leverage players in the space. And I'm not entirely sure it really matters what XOM does for the rest of the year outside of something outlandishly good or bad.
If you agree with my premise, the odds of an upside breakout are low. We have already seen the channel gradually drift down over time, and the reaction to the Q2 release was bearish to me. Nobody seemed to care about the good work XOM did with controlling expenses or growing revenue 9%, so, again, I have no idea what would actually spur investors to move this stock up. We're still below the 200-day moving average, and the stock made a new relative low off of the earnings report -- although it did recover back to $80. But when you add all of this up, it looks pretty bearish to me.
I'm not saying XOM is going to $50 or something, but I do see a downside break of the channel as a distinct possibility. That would likely put at least the high $60s in play. That would make XOM cheap enough that value seekers could jump back in. Let's not forget that the yield is almost 4% right here; a high $60s price would probably be too good for yield seekers to pass up as well.
The point is that if you own XOM for capital appreciation, you should move on; everyone else has. If you own it for the dividend, that's fine, but understand that bulls are no longer on your side and you might experience some painful price action while you await your distributions. If that's OK with you, go for it. But I think you can probably wait until the channel breaks and buy it back at a lower price and higher yield in the not-too-distant future.