Earlier this week I revealed my newly created "FANG for REITs". As I explained,
I'm sure that you are familiar with the acronym FANG created by CNBC's Jim Cramer a few years ago. It's representative of four of the most popular and best-performing tech stocks in recent memory - Facebook (NASDAQ:FB), Amazon (NASDAQ:AMZN), Netflix (NASDAQ:NFLX), and Google (NASDAQ:GOOG) (NASDAQ:GOOGL)…

FANG has become a household name. And I thought to myself, wouldn't it be cool to create my very own REIT version of FANG? Not just to showcase some flashy acronym like SWAN (yes, I wanted to use it but there are no perfect combination of REITs that work), but to create a benchmark of the best REIT performers in one easy-to-use phrase.
I challenged my readers and followers to guess the name of my version of "FANG for REITs" and I explained that I would provide hints along the way.
The first hint was related to Ventas, Inc. (VTR) and I thought that nobody would be able to guess the 5-letter word "REIT Fang" word, since my first hint was the letter "V". I also provided a picture of a mountain, in an effort to tease others, thinking that nobody would be able to guess the first letter of the 5 REITs.
The Winner Is…
In the late 1920s, Albert Einstein was a regular visitor to Davos, leading discussions with French, German and Swiss academics in an annual summer school, the Davoser Hochschulkurse. In 1928, he gave a lecture on relativity, and began by telling his audience:
This enterprise is admirably suited to establish relations between individuals of different nationalities, relations that help to strengthen the idea of a European community.
Davos is the highest city in Europe – 1,560 metres (5,100 feet) above sea level. The dry air and high altitude made it a refuge for tuberculosis sufferers in the 19C, and led to Davos developing as a sanatorium, and centre for medical conferences.
CO2 levels in the city of Davos fall on average up to 30% during the Annual Meeting, thanks to controls on vehicle emissions and the use of electric transport.
Davos also has a rich cultural history. Robert Louis Stevenson wrote the final chapters of Treasure Island in Davos in the early 1880s. Sir Arthur Conan Doyle wrote short stories and articles here in the early 1890s, helping to popularise skiing and tobogganing. Thomas Mann's influential novel The Magic Mountain was set in Davos, just before WW1. After the war, the expressionist painter Ernst Ludwig Kirchner lived in Davos from 1918 until his death in 1938.
The World Economic Forum hosts a parallel event to its Annual Meeting, the Open Forum. Anyone can take part in it, and it attracts visitors from all over Switzerland and from neighbouring countries – especially school students.
In my previous article, a number of readers guessed DAVOS and they were right and now you know two of the REITs that make up the top-performing stronghold: Ventas and Realty Income (O).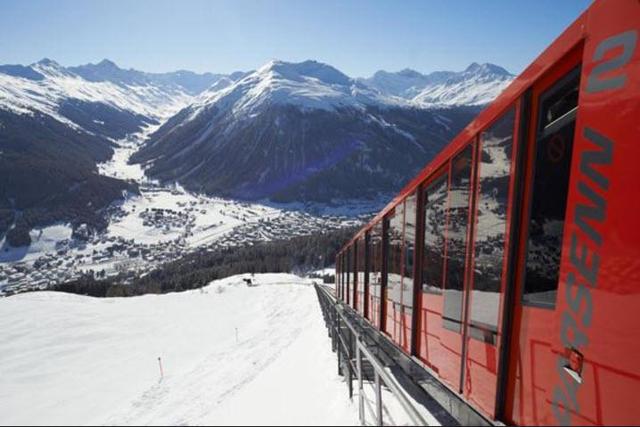 The Basic Net Lease REIT Overview
Before I start on the discussion of Realty Income, I want to remind you that I created DAVOS by hand-picking 5 of the best-in-class REITs that are known for their powerful forms of differentiation. These 5 REITs invest in different property sectors and the common ingredient is that they all have strong dividend growth records.
I wanted to include a Net Lease REIT because they are different from Shopping Center REITs because their (Net) lease structure and growth drivers support a predictable revenue stream relative to other forms of retail real estate. This snapshot below compares Realty Income (and Net Lease REITs) with Shopping Center/Mall REITs: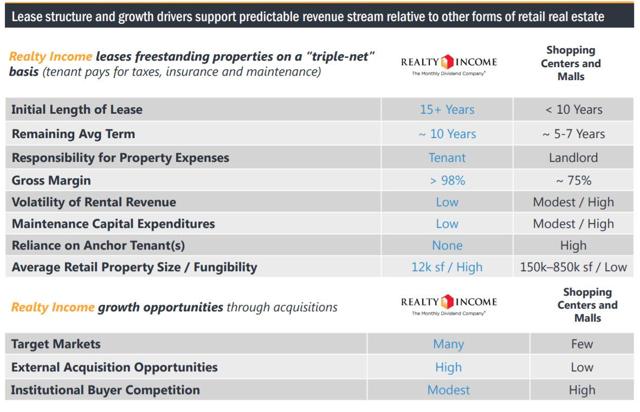 One of the most important differentiators for Net Lease REITs is that they drive growth through acquisitions. When is the last time you saw a Mall REIT acquire a Mall? Net Lease REITs like Realty Income have a large pool to fish in – the sector is highly fragmented and there are opportunities to invest in practically every state in the U.S. (Realty Income owns properties in 49 states).
Over the years, Realty Income has evolved into a massive Net Lease REIT with 4,980 properties located in 49 states and Puerto Rico. As you can see below, the company has a highly diversified portfolio spanning 49 states (not in HI):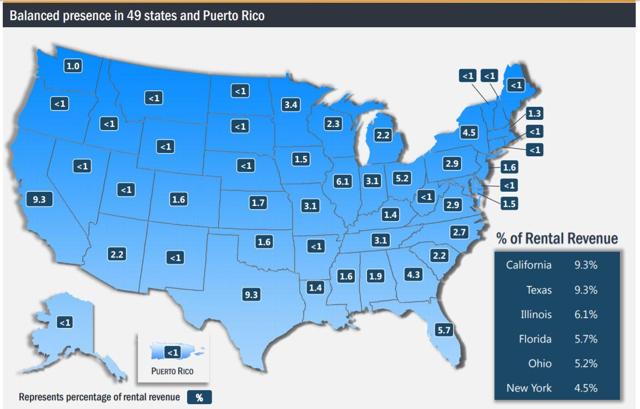 It's hard to fathom how much Realty Income has grown over the years, from one Taco Bell site to over 4,900 properties. The company now has incredible scale, well diversified by tenant, industry, geography, and to a certain extent, property type.
No tenant represents more than 6.8% of revenue as Realty Income has 250 commercial tenants, 45% are investment-grade rated (including 9 of the top 20 tenants):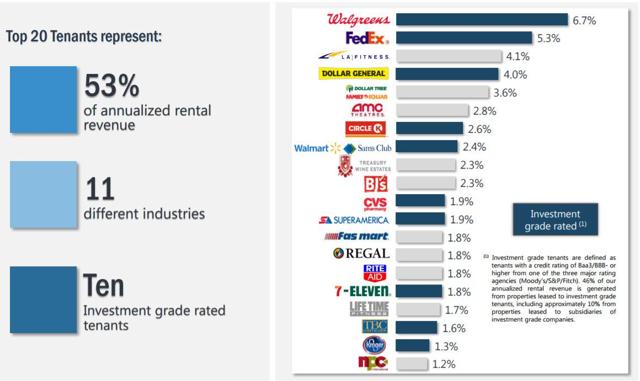 During the first quarter, Realty Income added Kroger (NYSE:KR) to its top 20 tenants, representing 1.2% of annualized rental revenue. But more importantly, the top 15 tenants represent higher quality credit, less cyclical industries and greater diversification vs. 2009: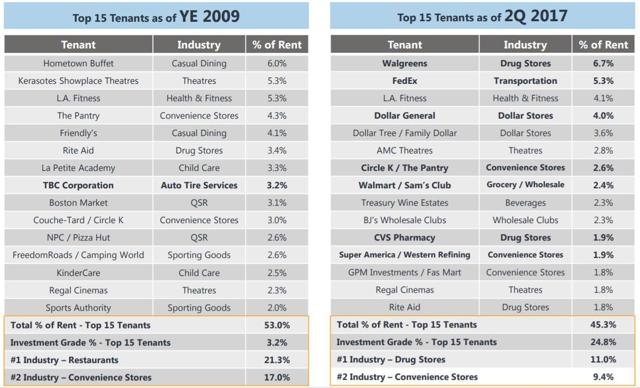 No industry represents more than 11.1% of rent and the company has considerable exposure to defensive industries: Top 10 industries represent strong diversification, significant exposure to non-discretionary, low price point, service-oriented industries: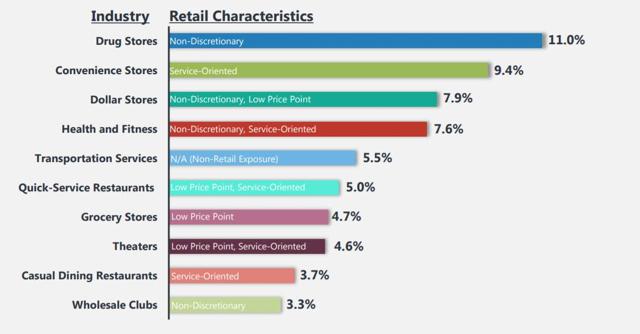 Realty Income's roots are in retail with growing exposure to mission-critical industrial properties: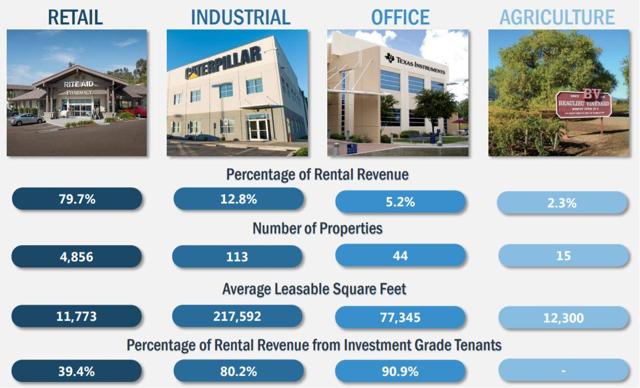 Realty Income's management team is highly experienced at sourcing deals and when the company invests in retail, it seeks strong unit-level cash flow coverage (specific to each industry). The company seeks tenants with service, non-discretionary and/or low price point components to their business with favorable sales and demographic trends.
Keep in mind, there were 14 out of 15 retailer bankruptcies in 2017 associated with companies lacking a nondiscretionary, low price point, and/or service-oriented component to their business. Realty Income has little exposure to these categories: 5 apparel BKs and O has only 1.2% of ABR in apparel, sporting goods, electronics, and general merchandise. Realty Income's portfolio is designed to perform in virtually any economic environment.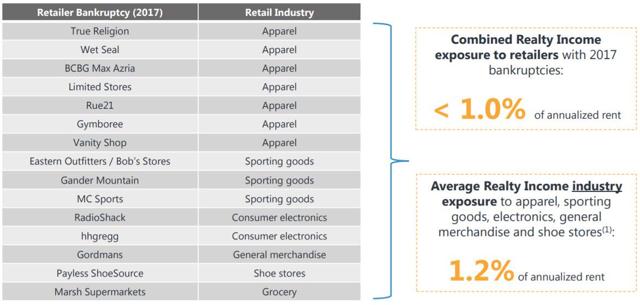 Historical tenant bankruptcies have been in industries that Realty Income has minimal exposure to today: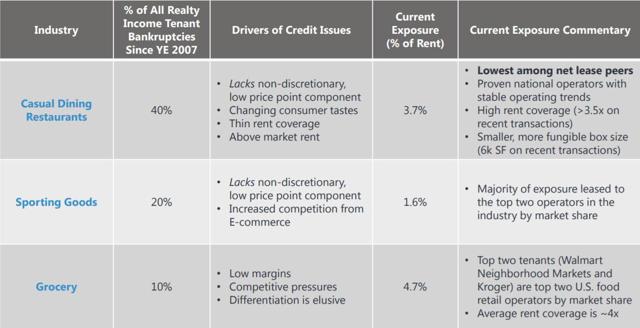 Realty Income has 4.7% exposure (based on ABR) to the grocery sector. The company has Wal-Mart (NYSE:WMT) and Kroger (NYSE:KR) as Top 10 tenants. As I said earlier, it's critical to invest in quality retail and that means avoid REITs that have exposure to weaker chains like Shopko (i.e. SRC) and Bi-Lo (i.e. WHLR).
Realty Income remains comfortable with the momentum in the drugstore industry and continues to view the exposure favorably given the industry's attractive demographic tailwinds, non-discretionary nature and continued growth from in-store pharmacy pickup.
Additionally, Walgreens (NASDAQ:WBA) and CVS (NYSE:CVS) (the top two drugstore tenants) have generated 15 consecutive quarters of positive same-store pharmacy sales growth.
Most importantly, over 90% of Realty Income's retail portfolio has service, non-discretionary and/or low price point components. The Non-Retail-focused investments are Fortune 1000, primarily investment-grade rated companies.

The Magic Starts Right Here
All triple-net REITs grow earnings by utilizing spread investing; this simple formula is described as follows:
Cap Rate - Cost of Capital = Spread
By using this example, assume a triple-net REIT acquires standalone buildings at a 7% cap rate, and then, after subtracting the cost of capital (~5%), arrives at a spread (that's the profit margin) of ~2% (or 200 bps).
Over the years, I have been reading many articles on Seeking Alpha and other investing websites, and I'm amazed that most analysts miss the "most important thing" when it comes to net lease investing: The Low Cost of Capital Advantage.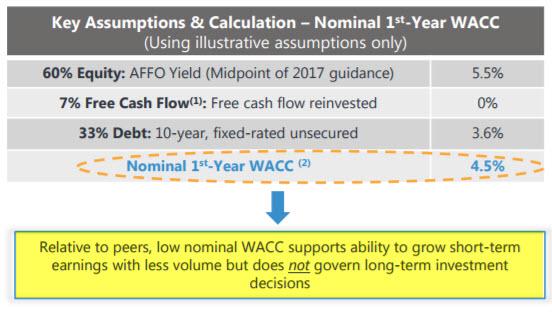 Realty Income's investment spreads relative to its weighted average cost of capital remained healthy in the first quarter, averaging 170 bps, which were well above the historical averages. Realty Income defined investment spreads as initial cash yield less the nominal first year weighted average cost of capital.
As illustrated below, the low cost of capital (high equity multiple) is the most important competitive advantage in the net lease industry: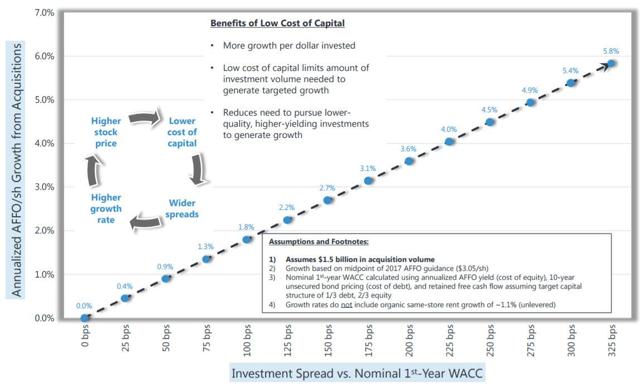 Low cost of capital allows Realty Income to acquire the highest quality assets and leases in the net lease industry: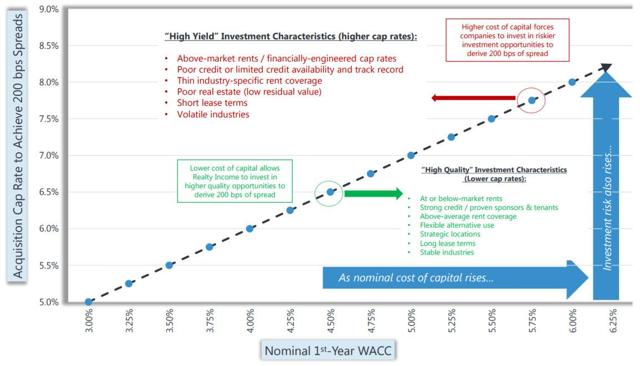 Given the confidence in Realty Income's business model, the company announced it is increasing 2017 acquisitions guidance from $1 billion to $1.5 billion. The company completed $321 million in acquisitions during Q2-17 at attractive investment spreads.
The company's low cost of capital allows it to simultaneously acquire the highest quality properties that provide favorable long-term returns, while also creating meaningful near-term earnings growth. Investment spreads relative to the weighted average cost of capital remained healthy, averaging 221 bps in Q2-17, well above historical average spreads.
A Fortress Balance Sheet
Realty Income maintains a conservative capital structure. During the quarter, the company raised $55.1 million in equity, primarily through its ATM program. The company's senior unsecured bonds have a weighted average remaining maturity of 7.9 years and the fixed charge coverage ratio is 4.4x.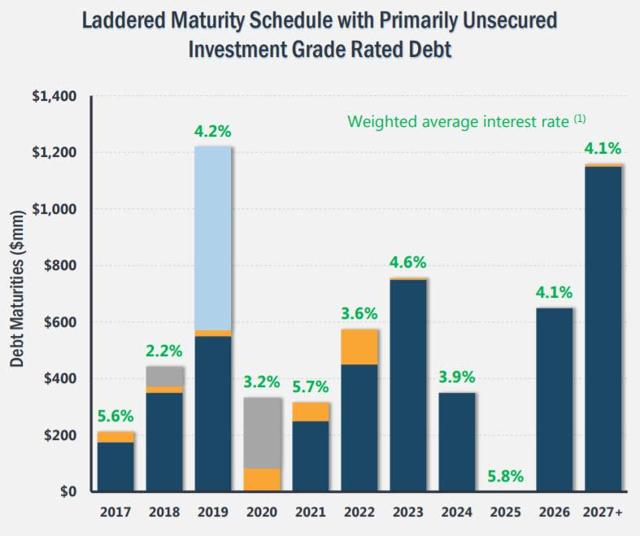 Other than the credit facility, the only variable rate debt exposure is just $23 million of mortgage debt. The overall debt maturity schedule remains in very good shape, with only $213 million of debt coming due to the remainder of this year.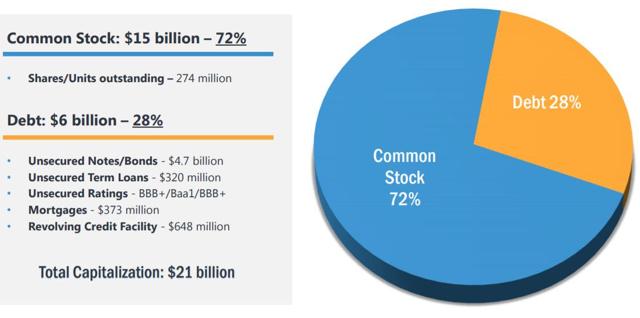 Realty Income's overall leverage remains modest with the debt-to-EBITDA ratio standing at approximately 5.6x. The company is rated BBB+ by all three major rating agencies (Moody's, S&P, and Fitch), and is likely to become an A- rated REIT soon (only 7 other REITs have an A rating).
Also, keep in mind that Prologis (NYSE: PLD) was rated A- by Moody's and O had a positive outlook in June (BBB+), and the company is eight months in (June-March), suggesting that a credit upgrade (to A-) is a clear catalyst in 2017.
The Latest Earnings Results
IN Q2-17, Realty Income's Funds from operations (or FFO) per share, was $0.75 versus $0.70 a year ago. The company revised its 2017 FFO guidance to a range of $2.96 to $3.01 per share.
Adjusted funds from operations (or AFFO) - the actual cash available for distribution was $0.76 per share for the quarter, representing a 7% increase over the year ago period. As viewed below, Realty Income has enjoyed an attractive earnings growth profile: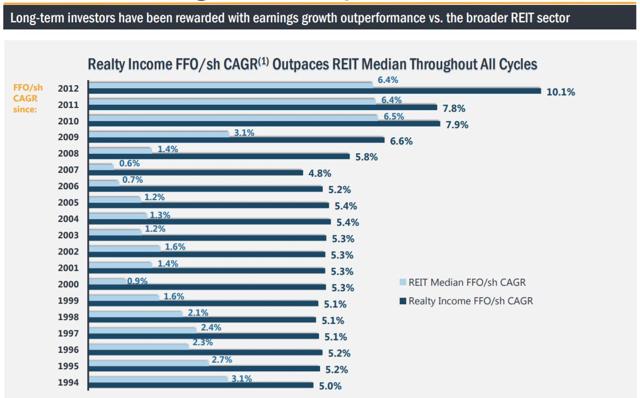 Now compare the AFFO growth since 1996: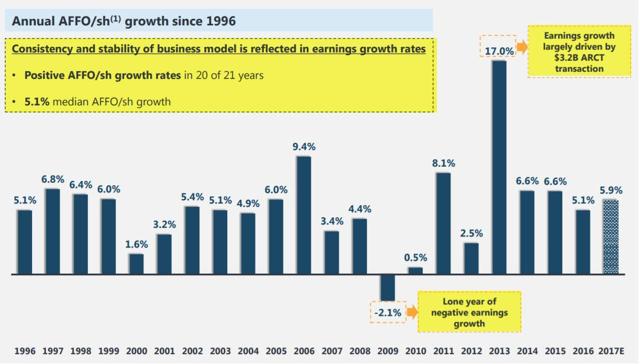 Realty Income earnings growth outperformed other REITs during the last rising rate era: During the prior cycle era of rising rates (Q2 2003 trough through Q2 2006 peak), Realty Income's earnings grew faster than most REITs:

Acquisition cap rates adjust to rising interest rates, preserving attractive investment spreads. Acquisition spreads vs. WACC did moderately (from ~250bps in 2003 to ~150bps in 2006), but less than the increase in interest rates (~170bps in comparable time period). Nominal cost of equity declined despite rising interest rates, offsetting the increase in debt costs. Dividend CAGR during this period was 5.9%.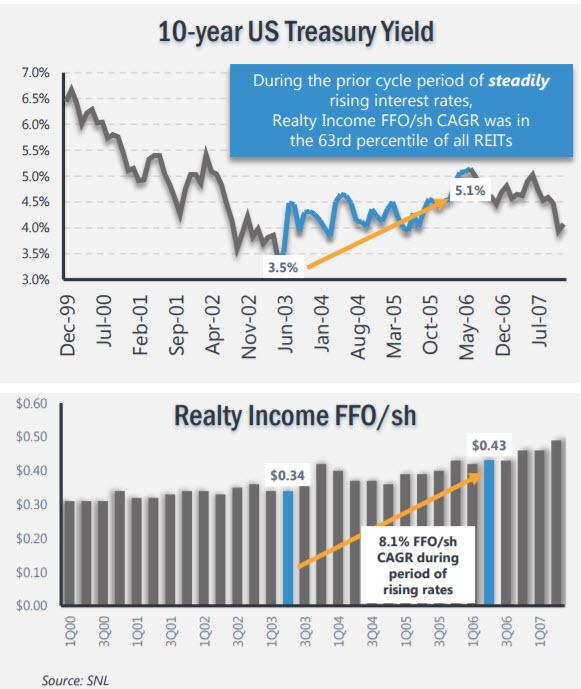 Realty Income's occupancy (based on the number of properties) was 98.5% in Q2-17, the highest occupancy achieved in 10 years. The company continues to expect occupancy to be approximately 98% in 2017.

During the quarter, Realty Income re-leased 53 properties to existing and new tenants, recapturing approximately 113% of expiring rent, which is well above the long-term average. This quarter was the fourth consecutive quarter of leasing recapture rates above 100%.
For the first half of 2017, the company has re-leased 102 properties to existing and new tenants recapturing approximately 109% of expiring rent. Since listing in 1994, the company has re-leased or sold over 2,400 properties with leases expiring, recapturing over 99% of rent on those properties that were re-leased.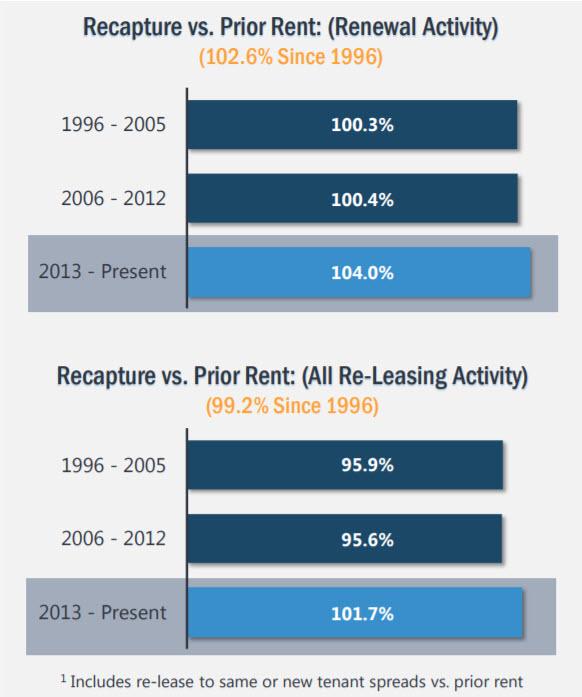 Don't Judge Each Day By The Harvest You Reap But By The Seeds That You Plant
I thought this quote is appropriate, given the fact that Robert Stephenson spent so much time in Davos.
Let's compare Realty Income to other S&P 500 companies. The chart illustrates that Realty Income has higher returns and lower volatility than the majority of S&P 500 companies since the 1994 NYSE listing: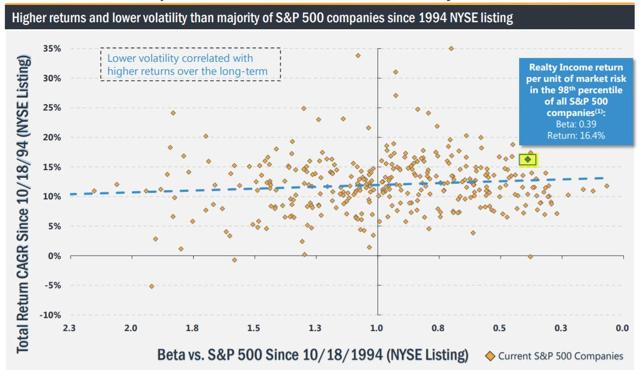 Now let's compare Realty Income with other "blue chip" companies.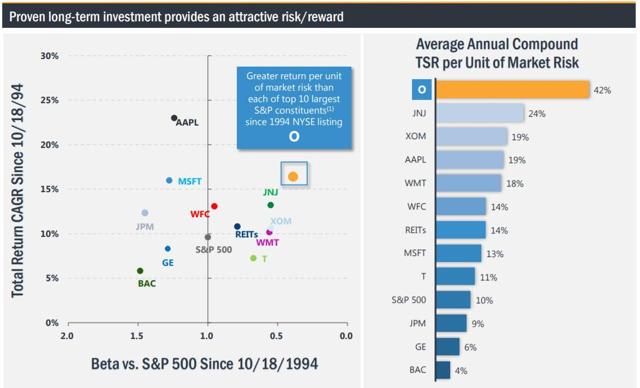 Now you can see that Realty Income is a proven long-term investment vs. Blue Chip S&P 500 REITs: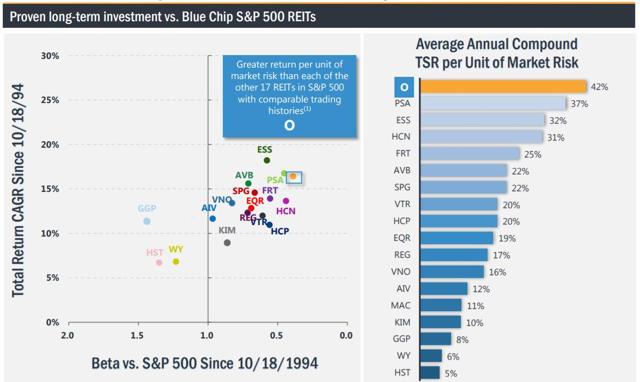 Now let's drill down to the Net Lease REIT peers to see how Realty Income's growth compares (AFFO/share):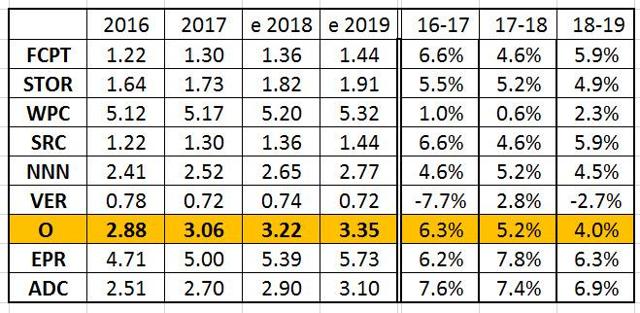 Now let's compare Realty Income's dividend yield with the peers: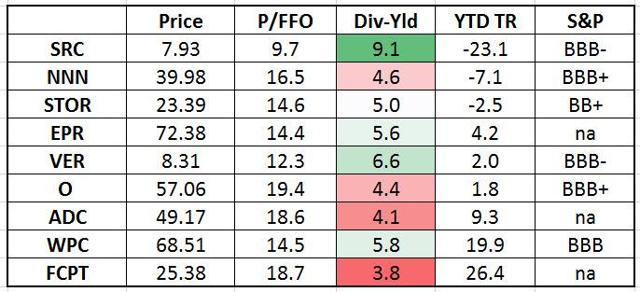 As you can see, Realty Income's dividend yield is 4.4%. Last month, the company increased the dividend for the 92nd time in the company's history. The current annualized dividend represents a 6% increase over the year ago.
Realty Income has increased the dividend every year since the company's listing in 1994, growing the dividend at a compound average annual rate of just under 5%. The dividend represents an AFFO payout ratio of approximately 83% based on the midpoint of 2017 guidance.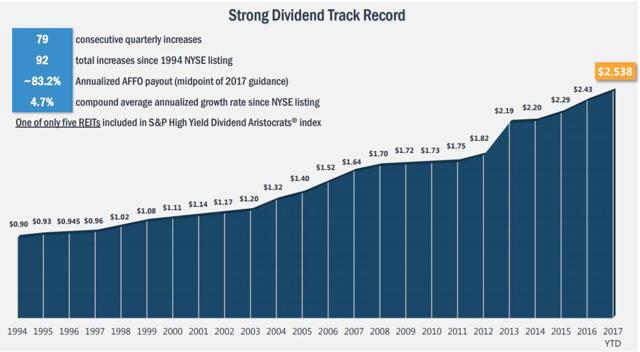 The chart below illustrates Realty Income's growth through a variety of economic cycles. Zero dividend cuts in 22 years as a public company.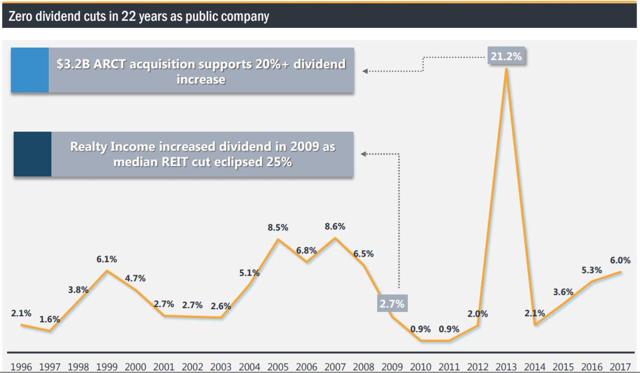 The Bottom Line: I picked Realty Income (ticker "O") as part of my "DAVOS" model because of the predictability of performance. The purpose for my DAVOS model is not to generate extraordinary returns, but simply to produce sustainable dividend growth through multiple economic cycles.
There are potential benefits to investing long term in a company that regularly increases its dividend. The longer you hold your shares, the higher the yield you will receive on your original investment, assuming dividends increase over time. Additionally, the compounding of reinvested dividends could generate increased investment returns over time. Investors who have elected to reinvest their dividends have enjoyed the following returns over time (as of 6/30/2017):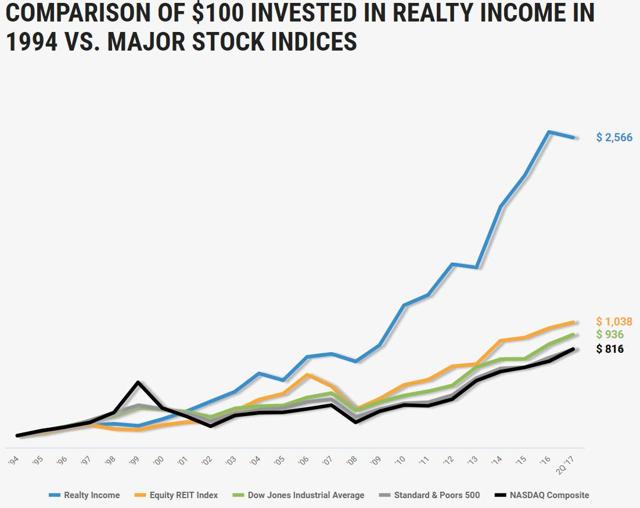 I am maintaining a BUY on Realty Income, an easy DAVOS pick and one of the reasons that I "sleep well at night."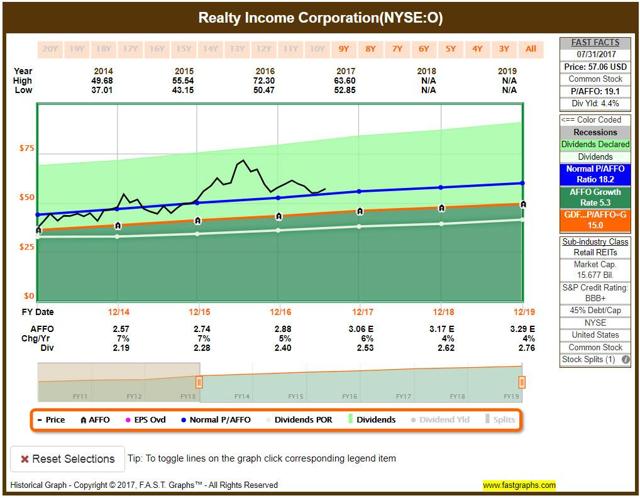 To learn more about my REIT Beat service, click here.
For a limited time, I am providing new subscribers with an autographed copy of The Intelligent REIT Investor. This is a limited offer, so don't miss out!
Note: Brad Thomas is a Wall Street writer, and that means he is not always right with his predictions or recommendations. That also applies to his grammar. Please excuse any typos, and be assured that he will do his best to correct any errors, if they are overlooked.
Finally, this article is free, and the sole purpose for writing it is to assist with research while also providing a forum for second-level thinking. If you have not followed him, please take five seconds and click his name above (top of the page).
Sources: F.A.S.T. Graphs and O Investor Presentation.
REITs mentioned: (NNN), (STOR), (ADC), (SRC), (FCPT), (WPC), (EPR), and (VER).
Disclosure: I am on the Advisory Board of NY Residential REIT, and I am also a shareholder and publisher on theMaven.
Disclosure: I am/we are long APTS, ARI, BRX, BXMT, CCI, CHCT, CLDT, CONE, CORR, CUBE, DLR, DOC, EXR, FPI, GMRE, GPT, HASI, HTA, IRM, JCAP, KIM, LADR, LTC, LXP, O, OHI, OUT, PEB, PK, QTS, ROIC, SKT, SNR, SPG, STAG, STOR, STWD, TCO, UBA, UNIT, VER, VTR, WPC. I wrote this article myself, and it expresses my own opinions. I am not receiving compensation for it (other than from Seeking Alpha). I have no business relationship with any company whose stock is mentioned in this article.