Capital Product Partners (CPLP), a diversified shipping master limited partnership, announced its earnings on Friday. And the market was none too thrilled with the results.
While the firm announced the terms of its new credit facility, which brings some much-needed clarity to its finances, the lack of positive guidance saw the stock pull back from its recent high of $4.00 to test support around $3.65 per share.
CPLP is one of those stocks where you are either satisfied with its generous payout at current prices or you are looking for an easy 50% gain on good news. I'm in the former camp and am more than willing to wait for higher stock prices given the current macroeconomic environment.
So, without announcement of new charters, a one-year extension for one product tanker, and a capex plan that involves aggressive debt repayment, the firm signaled strongly that the plan for the next five years is survival, not growth.
That is what, I think, has the market in a bad mood about the stock. It was hoping for more from management.
And, if growth opportunities are priced right, then the firm is happy to take on more debt. But, in reading the earnings transcript with CEO Jerry Kalogiratos, it is clear that maintaining a strong balance sheet was the firm's top priority until the shipping market improves.
The Financing Deal
The new financing deal rolls nearly all of CPLP's debt into one credit facility to be drawn against two tranches of collateral. The collateral is the firm's fleet, split up by age. The whole credit facility spreads out repayment until 2023 and completely replaces the firm's current repayment schedule.
Slide 12 from the firm's earnings presentation has all the relevant information.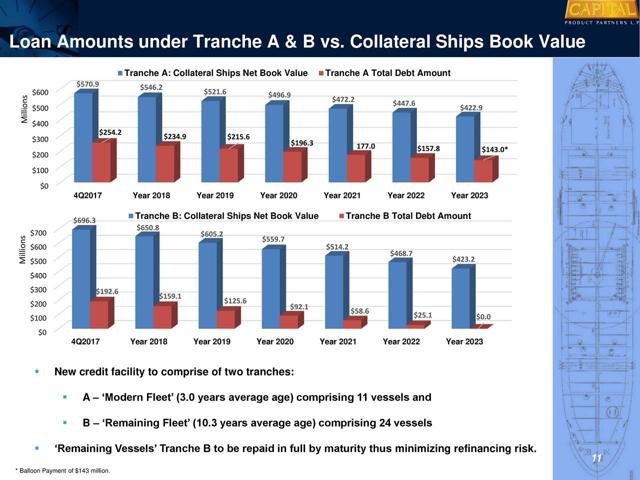 By 2023, CPLP's existing fleet will carry a debt of just $143 million versus a projected book value of $868.8 million. All of the firm's older ships will be paid for and free cash flow generators.
But, what is important is that in order to pull this off, CPLP has to use nearly all ($120 million versus cash equivalent reserves of $147.4 million) of its current capital reserve it had set aside. It leaves the firm with very little cash to effect drop downs from its parent Capital Martime Ltd. For near-term growth.
Mr. Kalogiratos was pressed during the earnings call on this point and his response was important:
… we've intend to complete the transaction over the coming months and of course, we will build up some additional cash cushion. That should leave us anywhere between $40 million to $50 million.

But having done that, you will find that not only can we service our debt amortization very, very comfortably, but also the common unit coverage will increase on the back of the potentially lower capital reserve and that's to be decided. But also because of the interest cost savings that are not insubstantial. I mean they are north of $5 million, just because of that repayment.
In other words, CPLP is willing to take on new debt once the deal is done and there is a significant cash reserve, which should occur. But, at the same time, there is little wiggle room because of the low share price.
But to this point, as you know, and as always been in the past, accretion is the main criterion when it comes to drop downs and that's what is going to determine what additional capital if any we are going to raise. We are of course mindful that the unit price is not what it used to be and it makes more – accretive drop downs more difficult. But that's the criterion. [emphasis mine]
Moreover, with only 53% of the fleet under charter for 2018 and no news forthcoming in the earnings call of negotiations for new charters mentioned, the message here is quite clear.
Don't expect a lot of growth in the next six to twelve months.
Cautious Guidance
I get the feeling that CPLP would rather re-charter ships that are currently trading in the spot market before thinking about raising the distribution or accepting more drop downs onto its balance sheet.
As investors, the take away here is that the current distribution is safe as the firm is covering at 1.3 times operational surplus, which it expects to rise slowly as this deal gets underway.
So, we may see incremental improvements to the distribution over the next few quarters even absent much good news.
It looks like management continues to be wary of both the product tanker and Suezmax crude tanker markets and this is dominating their thinking. And I agree with them on this.
It may be that the product tanker market improves significantly over the rest of the year, and if it does, this will let new charters on ships whose debt is shrinking rapidly provide the foundation for growth.
I'm happy to continue waiting and collect an 8.5% yield. It's not sexy. It's not fun. But it provides a steady income against a strong balance sheet that should improve with every quarter that goes by.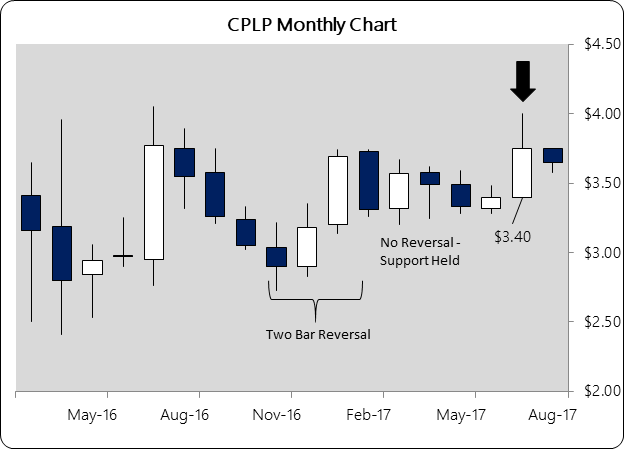 Lastly, closing at $3.75 in July puts off a potential medium-term breakout from consolidation. The stock looks like it's under accumulation. With the ex-dividend date as August 3rd, I would expect weakness for a few days after that and an opportunity to pick up shares nearer to support at $3.40.
Disclosure: I am/we are long CPLP.
I wrote this article myself, and it expresses my own opinions. I am not receiving compensation for it (other than from Seeking Alpha). I have no business relationship with any company whose stock is mentioned in this article.