While the Dow and the S&P 500 continue to advance to all time highs, healthcare is experiencing unusual volatility in light of the political tension surrounding the repeal of the affordable care act. As the administration advances towards other policy debates, where is the strength in healthcare amidst relative current weakness?
Based on the surprise of about 5 million barrels of extra drawdown in the EIA petroleum status report, energy (NYSEARCA:XLE) clearly was the frontrunner last week while the yield curve mostly stayed stagnant, but grew a bit flatter towards the end of the week as the NASDAQ (NASDAQ:QQQ) experienced some volatility. The S&P 500 did finish 0.2% higher, but earnings results (positive or negative) vs. price action seemingly differed at times by wide margins, particularly in airlines.
The S&P 500 5-day performance is outlined as follows: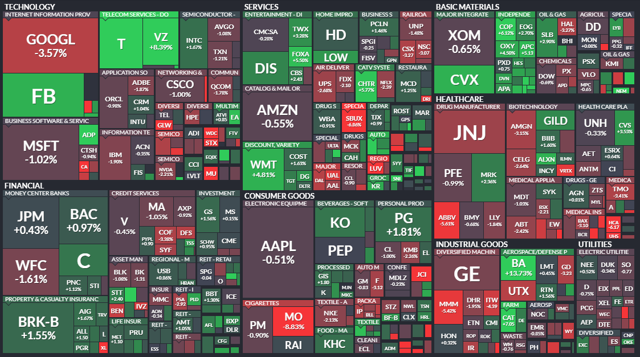 Credit: Finviz.com
We see cigarettes, major food producers, machinery, drug manufacturers, specialty drinks, and railroads suffered. Conversely, home improvement property and casualty insurance, telecom, discount variety, and independent oil and gas performed the best.
Since we want to specifically look for the healthcare sector, as volatility appears greatest there, we organize by performance the healthcare sector within the S&P.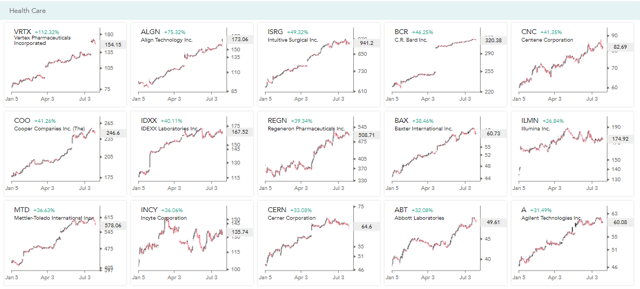 Credit: Koyfin
The top 15 are outlined here for YTD performance. Vertex (VRTX) also happens to be the top performing stock in the S&P 500.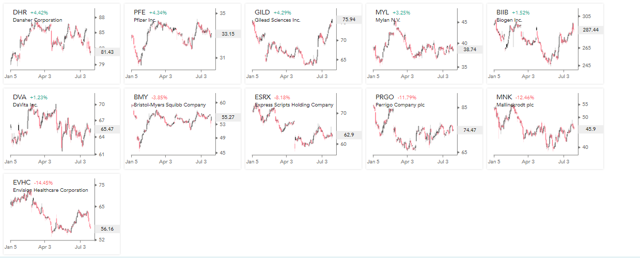 Credit: Koyfin
Conversely, these are the worst-performing names in the healthcare sector YTD. Envision (NYSE:EVHC) has been subjugated to pending litigation from Lundin Law PC, a shareholder's rights practice, which has recently sent the stock spiraling.
Put all of healthcare in a scatter chart, and we get the following: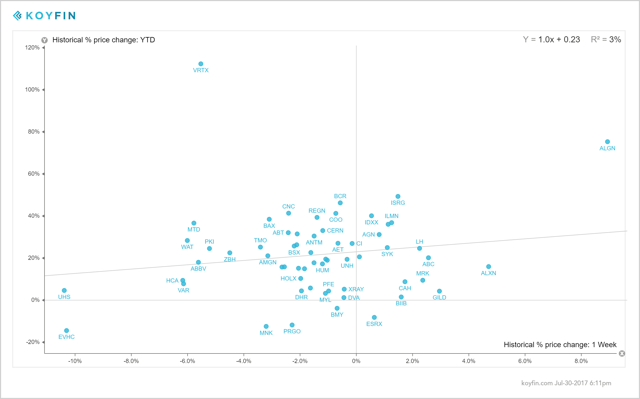 Credit: Koyfin
The purpose of this exercise is to identify stocks within healthcare that both perform well in terms of YTD price action (general out performance) and 5-day price action (performing well even in an overall negative environment). If the stock also has great outlook in terms of revenue, margins, and consequently valuation, then it forms the framework for narrowing a selection of stocks to invest in within that specific sector.
Selecting the data points in the 1st quadrant above the regression line, we narrow down the list to seven names.

Interesting enough, Align Technology (ALGN) changed 10% on Friday alone on beating earnings forecasts and raising its outlook. The company specializes in dental products. Sell-side analysts Richard Newitter and Ravi Misra commented the following:
There was a lot to like within ALGN's 2Q rev/EPS beat and above consensus 3Q guidance. We think upward revisions to estimates are likely, as several initiatives appear to be paying off. In the key teen segment, case start growth stepped up again, lending more credence to our thesis that this segment could be on the cusp of a growth inflection. We come away from the quarter with increased confidence that both teen and adult Invisalign utilization can continue to accelerate within a large & underpenetrated North America (NA) aligner market, helping ALGN sustain 19-20% rev & 20%+ EPS growth over next several years at least. Reiterate OP, PT to $199 from $194 based on higher estimates.
First, we look at price to sales and YTD performance and identify those with an attractive P/S. The healthcare average P/S currently stands at 3.08.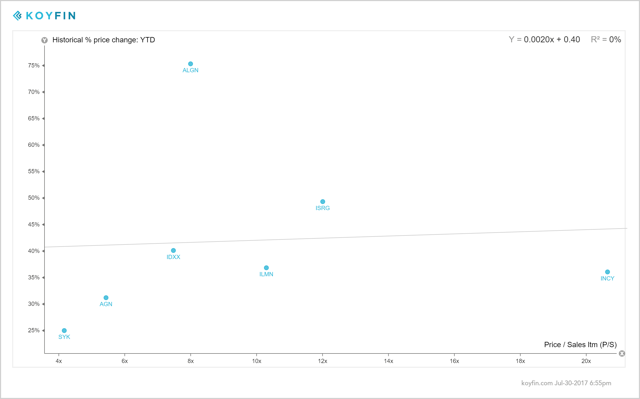 Credit: Koyfin
We see that Incyte Corporation (INCY) stands in excess of 20x P/S. Although none of these stocks lie below 4x, we see ALGN, Allergen (NYSE:AGN), Stryker (SYK), and Idexx Laboratories (NASDAQ:IDXX) remain below 8x.
Cross referencing our list with P/S and EBITDA margin, we see a clear negative relationship. The average EBITDA margin in healthcare is 17.49%, according to CSI market. All stocks in our list surpass that benchmark, save for INCY. However, AGN is the clear outlier.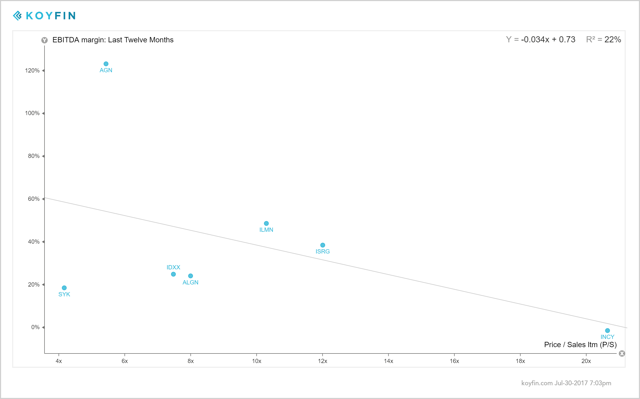 Credit: Koyfin
Finally, we look at price to earnings vs. cash flow generation from operations. We see that not only do AGN and Intuitive Surgical (NASDAQ:ISRG) top the lists in CFO, but also are the only stocks under a 40x PE ratio.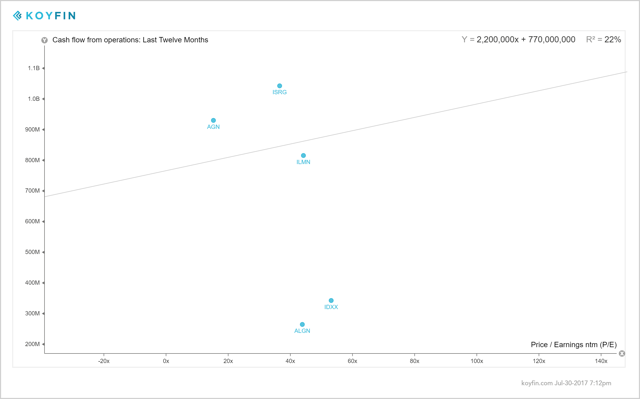 Again, this exercise is best used to start further research in the realms of discounted cash flow and analysis of segment revenues and their outlook. However, cross referencing ratios and momentum with one another can help estimate a means for where to start that further analysis. Using long term technical analysis, we will look closer at AGN and ISRG.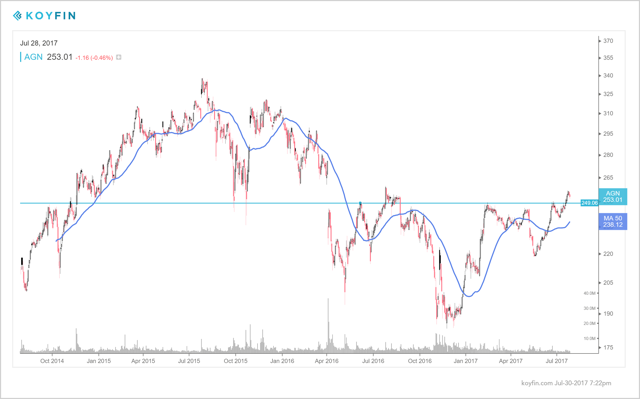 Credit: Koyfin
We see that AGN is actually in a very interesting spot from a technical analysis standpoint on the 3 year chart. It has recently breached a key significant resistance point at $243. There is still some resistance to break through from mid 2016, yet AGN is still in an interesting position to move higher and move through the gap down established in April 2016.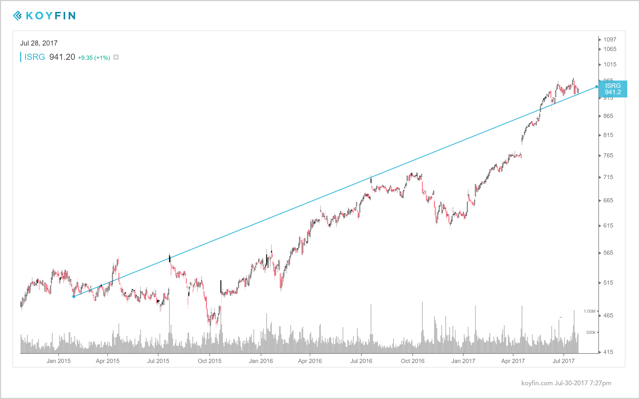 Meanwhile, ISRG over the last three years has consistently ventured in a clear uptrend. The most recent three months of momentum and gap-ups have led to the stock to move above its long term resistance pattern, but is now leaning on it as support.
On February 23, 2017. Baillie Gifford and Co. disclosed nearly a $1B stake in Intuitive Surgical. That investment since has yielded a 27% return.
ISRG, AGN, and ALGN all present differing yet strong signs of value and relative strength against an overall climate of current decline.
Disclosure: I/we have no positions in any stocks mentioned, and no plans to initiate any positions within the next 72 hours.
I wrote this article myself, and it expresses my own opinions. I am not receiving compensation for it (other than from Seeking Alpha). I have no business relationship with any company whose stock is mentioned in this article.
Additional disclosure: Currently interning for Koyfin, and use a number of figures and functions from Koyfin in order to illustrate ideas in this article. All investment ideas should be carefully considered and additional research should be done before investing. This piece is merely written to spark ideas, not induce recommendations.