Canada's GDP seemingly topped estimates in news last week coming in at 4.6%, the numbers representing the fiscal year of May 2016 until May 2017. The strong growth for the fiscal year was maintained through multiple sectors but especially oil, which has seen a rebound from its low back in early 2016. The growth posted by Canada further raises the IMF's forecast for 2017's GDP for 2.5%, while the Bank of Canada's (BOC) forecast is 2.8%. The numbers presented late last week for Canada should not be interpreted as the numbers projected for the fiscal year of 2017, which media headlines seem to portray. Because there are other important factors for these numbers for the BOC moving forward, as more rate hikes will need to occur and could change the state of this growth. Markets have already priced in a 73% chance of a rate hike for October, and 38% for a September rate adjustment. The recent rally in the Canadian dollar (CAD) vs. the USD has made Canadian goods more expensive for their biggest trading partner and increased interest rates will increase the CAD further. Low rates and a cheaper CAD helped bolster GDP growth so as the CAD further appreciates, growth could stall. So, it will be important to understand what policies will happen in the short term that may put pressure on growth in the future.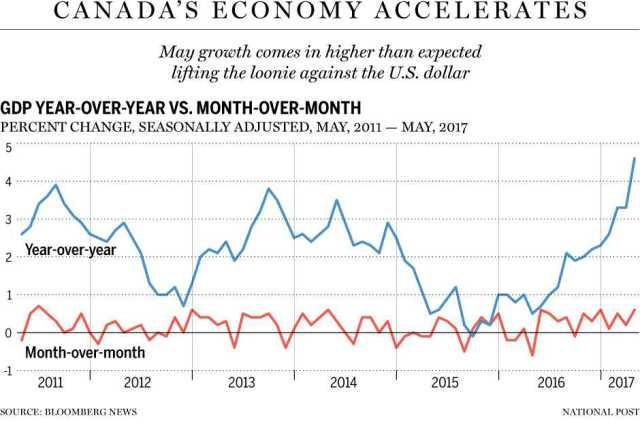 WTI Crude Oil Prices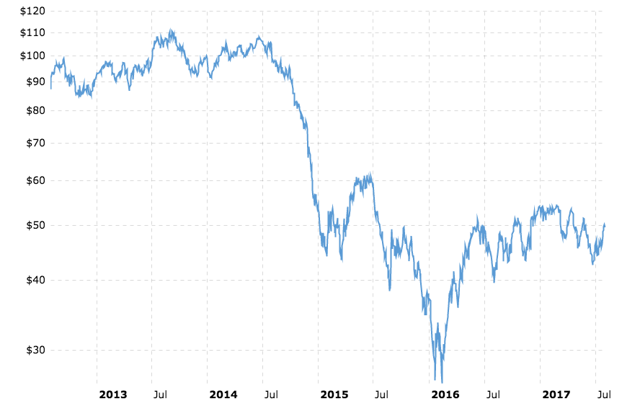 The growth fueled in May as seen below was the biggest portion of the monthly growth. In the chart above you can see the spike in year-over-year growth from almost mid-2016 to 2017, and you can see the slow growth over the beginning of 2016. The growth over the last quarter as stated above and shown below was mainly due to mining, oil, and gas extraction. Although other factors in GDP could be examined, the importance lies in the most positive sector as oil and gas are a significant industry to Canada's economy. This further can be deceiving as the price of oil had been increasing from its early 2016 lows, and the growth in the sector is generally reflective of higher oil prices. The graph above shows the slowdown in early 2016 and the increase from mid-2016 to present. The data helps show the rebound from the oil price slump and how it helped Canada's economy show positive growth numbers. The increase in this sector is more geographically concentrated in Canada and even though, it is included in GDP it affects Alberta the most directly on an economic basis.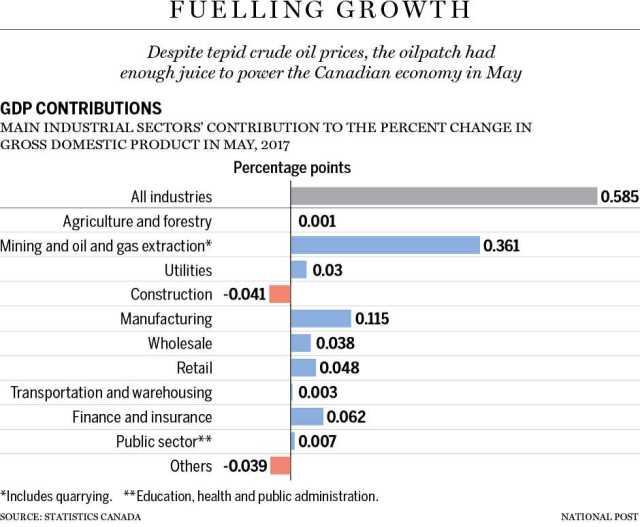 Alberta, the province in Canada that is most exposed to oil saw economic activity fall 3% year over year in 2015 and another -4.4% in 2016 (Alberta economic indicators). This makes it almost certain that when prices rebound they will show what appears to be explosive growth but in relevance to a few years ago when operating a higher capacity, the economy is still lagging. A further look into Alberta labor statistics shows a labor market that has improved year over year but only slightly (Alberta labor force stats). Employment growth in Alberta was negative for all of 2016 but has begun to turn positive in recent months. Even though oil prices have rebounded from their 2016 low's, Alberta has not achieved the same economic capacity and is still lower than their past highs. This helps illustrate the fact that although it looks like the oil and gas sector had high growth, the total numbers are actually lower than their previous highs. The importance of Alberta shows that the numbers are should be examined accordingly, and on a relative basis, the economy is not at the same capacity to prior years.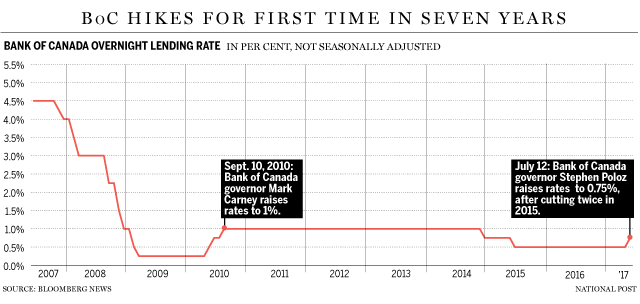 Canada, after topping estimates and raising the IMF's forecast has some major variables that may affect this growths viability moving forward. The first and most important is sustaining the growth as interest rates rise. Not only will there be less consumption in theory as servicing debt costs more and savings become more attractive, but also Canada's export sector will be offering less of a discount than before. The energy sector has been helped greatly by a lower CAD as well as the manufacturing sector but as the CAD begins to strengthen, it is not unlikely that these sales will drop off a bit.
Although Canada's GDP grew from May 2016 to May 2017, it was growing from the mid-2016 lows. The numbers reported look inflated in comparison to reality and further growth will be harder to generate. The BOC should proceed with interest rates slowly, to allow the Canadian economy to evolve with plenty of time and no shocks to the market. But high consumer debt and housing market valuations push policy-makers to seek higher interest rates to change sentiment and control these increases. With multiple pressures in the economy for higher interest rates, the GDP numbers show that low rates have done their economic tasks but other risks have arisen in that time.
Investors should understand these points above about the economy moving forward and whom are considering in/or investing in Canada/Canadian equities.
Disclosure: I/we have no positions in any stocks mentioned, and no plans to initiate any positions within the next 72 hours.
I wrote this article myself, and it expresses my own opinions. I am not receiving compensation for it (other than from Seeking Alpha). I have no business relationship with any company whose stock is mentioned in this article.