Following a few years of aggressive expansion, bank credit growth in the U.S. is tanking and the money supply growth rate is feeling the pinch. Stock markets are at all time record highs, both in terms of price and on a range of valuation multiples (these charts look even worse today). The Fed is hiking interest rates and Yellen has already, in good Federal Reserve chair tradition, reassured us all that there is no financial disaster in sight (which I interpret as the bull market top has again been officially announced by the Fed). In other words, a perfect cocktail for another stock market crash, financial crisis and a long overdue GDP recession.
To add to the misery, the Federal Reserve plans to start offloading parts of its balance sheet. U.S. banks are expected to pick up the tab. As bank reserves decline when they do, banks may have to curtail lending more than otherwise.
Though seemingly largely forgotten long ago by many, the money supply growth rate is of tremendous importance to asset prices and interest rates. To sum up in crude terms, an expansion makes more money available for stock market speculation while it also helps push the level of interest rates down and valuations up. A contraction of the growth rate has the opposite effect (I provide a comprehensive account of this subject including the direct and indirect effects of the money supply on stock market prices and valuations here).
For most of this year, the money supply growth rate has been falling sharply, a major warning sign for investors, especially those concerned with the stock market and high yield bonds, but also real estate.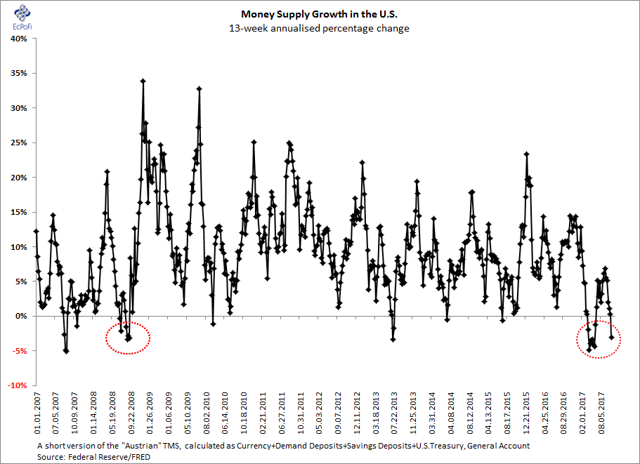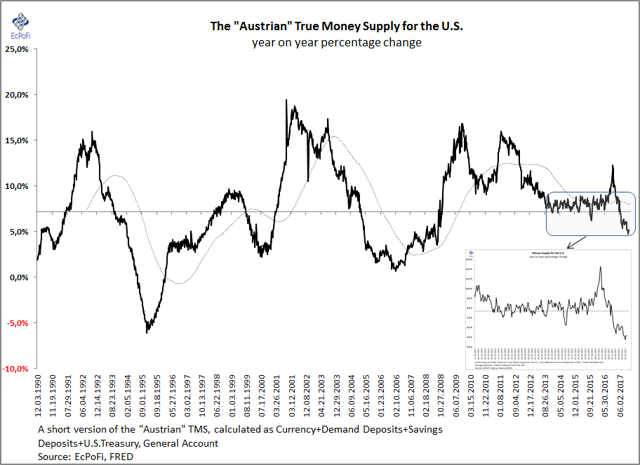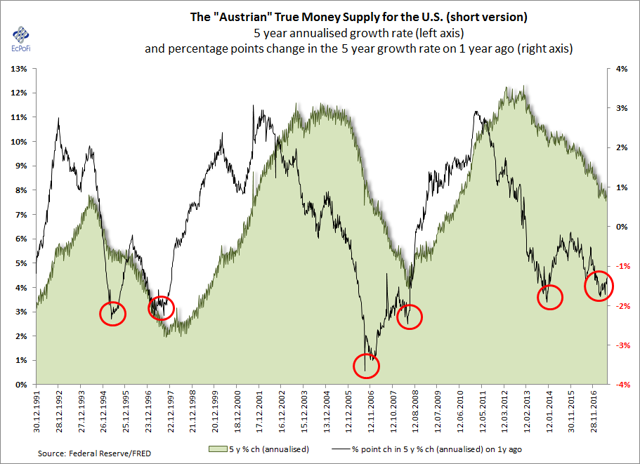 Absent Fed money printing, the bulk of new money is generated by commercial banks granting credit through the issuance of loans. Since I first highlighted on SA back in January this year that lending growth was decreasing rapidly, the growth rate has not only continued to drop, but also done so at an escalating pace. As a result, the year on year growth rate has now tanked 54.8 % (460 basis points) from the January 2015 to October 2017 average.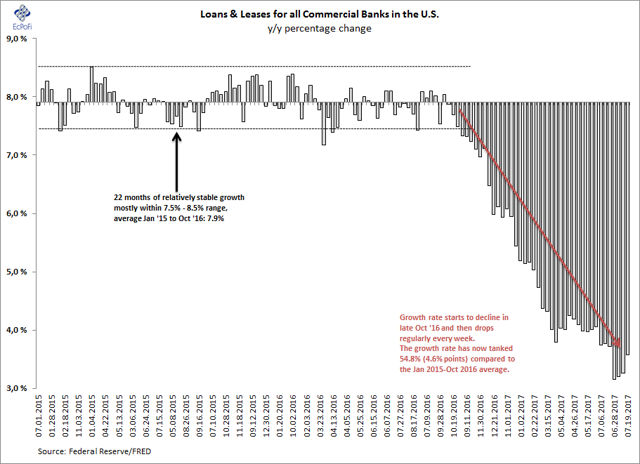 The last time such rapid declines in bank lending growth occurred was towards the end of the previous banking crisis (March 2009). This time around the decline is driven by commercial and industrial lending whose year on year growth rate is fast now approaching zero.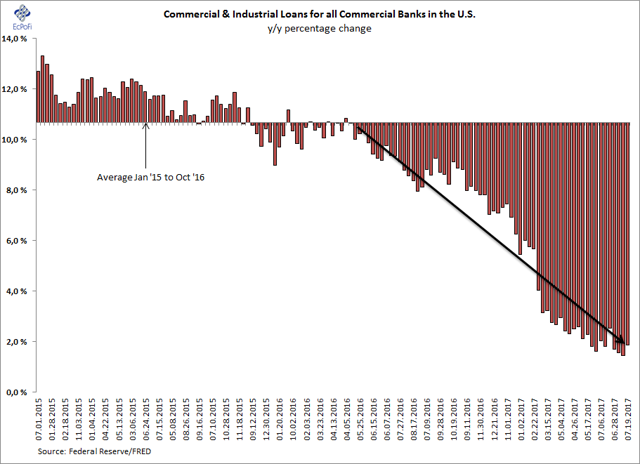 On a five year annualised basis, commercial and industrial lending growth is once again resembling the major boom-bust cycles preceding the previous two stock market collapses and GDP recessions.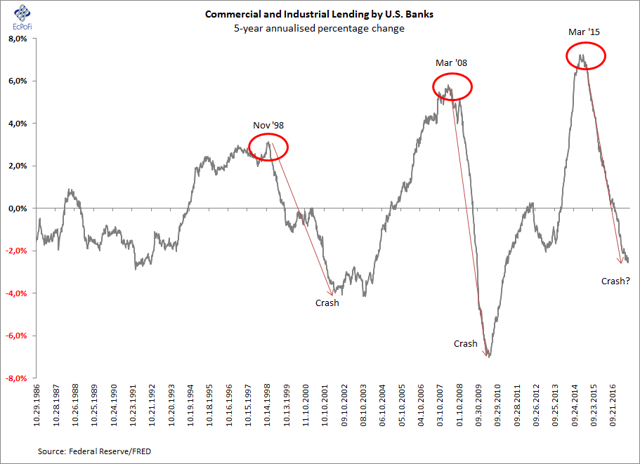 These declines in bank credit- and money supply growth combined with rising interest rates means that both economic activity and the stock market are running increasingly short of what pushed them up in the first place. This is of great importance as there are simply no other factors capable of exerting the same upward pressure on stock market prices as an increased money supply growth rate and falling interest rates.
Also, last Friday something extraordinary happened as well which paint an even bleaker picture for bullish investors: stock market prices relative to the money supply and estimates of future economic activity are now even exceeding the exuberant dotcom bubble highs. The previous three peaks in the ratio shown below, especially 2000 and 2007, indicate that such valuations should be treated as optimistic at best, ludicrous at worst. In either case, returns cannot reasonably be expected to be adequate relative to the down-side risk given current valuations.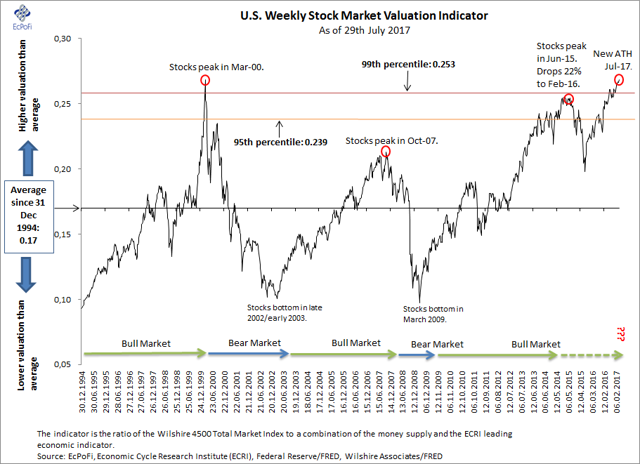 With the U.S. stock market priced for further rapid increases in both economic activity and money supply, this is a development that cannot sustain itself much further absent speculators willingness to commit an ever increasing share of their funds to the stock market at the same time interest rates are increasing. Absent a Federal Reserve that stops the downward spiral in the money supply growth rate, it is becoming increasingly difficult to see how this cocktail of slowing credit- and money supply growth, rising interest rates, and lavish stock market valuations will not bring about the next major stock market correction soon.

Disclosure: I/we have no positions in any stocks mentioned, and no plans to initiate any positions within the next 72 hours. I wrote this article myself, and it expresses my own opinions. I am not receiving compensation for it (other than from Seeking Alpha). I have no business relationship with any company whose stock is mentioned in this article.