Boeing Puts The Dow On Its Shoulders
In sports, it's common for good teams to have a clutch player they can count on at big moments to take the team to the next level. For the DJIA, Boeing (NYSE:BA) has been that player. Boeing has accounted for more than a quarter of the DJIA's 10%+ return this year, and in July alone, BA was responsible for more than half of the index's 2.5% gain. Because the DJIA is price-weighted and BA has the highest share price in the index, it is also the stock with the largest weighting, but even taking that into account, BA has out-pulled its weight by several orders of magnitude.
Along with BA, other DJIA components that had a hot hand in July were UnitedHealth (NYSE:UNH) and Caterpillar (NYSE:CAT), which each accounted for more than 8% of the gain in July. Verizon (NYSE:VZ) was also impressive. Although its weight in the index is only 1.5%, VZ accounted for 4.7% of July's gain.
While these stocks did well in July, a number of stocks are in a slump. 3M (NYSE:MMM), which has been a big contributor the DJIA's gain this year, had a horrendous July. The same can also be said of Home Depot (NYSE:HD). The biggest drag on the year, though, has been IBM. Both this year and in July, IBM has been the biggest downside drag to the DJIA. In years past, IBM had been a reliable stock, but in recent years, it's more of an automatic out.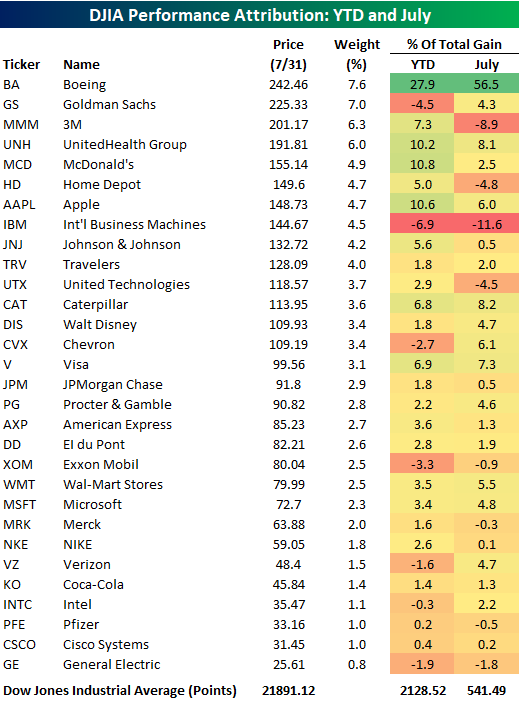 Thanks for reading the article. Follow our account to get our articles as soon as they're posted to Seeking Alpha. To get our full newsletter, sign up for Bespoke Newsletter PRO. Subscribers to that service get access to Bespoke's model stock portfolios, actionable data-driven insights, and in-depth analysis of everything that drives the markets, among other things.