Introduction
Hello and welcome! This article series documents my journey as a young father of two towards my eventual retirement. The goal of my portfolio is to generate a growing income stream for my wife and me during our golden years. In an ideal world, this will not require selling of assets to fund our desired lifestyle.
For anyone interested in seeing changes in real time, I have my portfolio and dividends tracked on Dividend Derek. I also have a trimmed version that you can freely take for yourself if you wish, found here.
July was a two-faced month - the beginning of the month had me adding to several of my higher yielding positions. The end of the month saw me close out of two holdings and adding a third. Subsequently the cash position has increased - always waiting for more opportunities. With that said, let's look at some summary statistics.
Portfolio Summary
Current Total Balance: $231,172.67 (up from $220,945)
Current Cash: $5,767.48 (up from $3,686 )
Cash Ratio: 2.5%

2017 Goals
I want my holdings to have a weighted 1-year dividend growth rate of at least 5%. (CURRENTLY 9.45%)
By the end of 2017, I want to have a projected dividend income of at least $5,800. (Adjusted to $6,000 to reflect employer matching contributions) (COMPLETE IN JUNE)
I aim to suffer no dividend cuts. (0 so far)
To recap, here's how I came to $6,000:
| | |
| --- | --- |
| Starting Income | $5,000 |
| 5% Organic Dividend Growth | $250 |
| Maxing 401k New Money | $540 |
| Employer Match | $140 |
| End of 2017 Income | $5,930 |
I started by rounding my starting income to $5,000 ($4,993 is close enough for me). From there, I added 5% average organic dividend growth.
Next is the money coming from maxing my 401k contributions. The cap was not changed for 2017, so I can contribute a maximum of $18,000. I have roughly added an additional layer of income that will be generated by employer matching contributions. I am also assuming the money buys an average of a current 3% yield.
That brings us to the $5,930 figure, which I am then rounding up to $6,000.
Portfolio Strategy
Buying Criteria
These are the general guidelines I will review to see if something is worthy of adding to my portfolio or whether I will add to an existing position.
Being a member of David Fish's Dividend Champion, Challenger and Contender list - obviously a longer streak is preferred.
No one individual holding should be weighted >7% of the portfolio's total cost or weighted >7% of the portfolio's total dividend income. ETFs are excluded from this.
Investment grade holdings >BBB+ should generate 95% of the portfolio's dividend income.
I want to see steady earnings growth over time; this will generally remove commodity-based companies.
I like cash cows. Good profit margins (> 10%) are appreciated, though not required, if the company has a wide moat due to its business.
I like to see shareholder-friendly management, a healthy and rising dividend and willingness to buy back shares, though in practice, the buybacks aren't always done at opportune times.
Though a small part of my portfolio, I do have some non-dividend-paying stocks like Facebook (FB), Google (GOOG) (NASDAQ:GOOGL) and Amazon (AMZN). These are the long tail ideas that may continue to generate significant alpha over time.
Perhaps most importantly, the valuation needs to be right per F.A.S.T. Graphs. The stock should be trading at fair value or better for an appropriate timeline (12+ years if possible). With a longer time frame I can see how shares fared during the Great Recession, and this also removes some of the recency bias that can come from only analyzing valuation during this extended bull market.
I will also use Simply Safe Dividends and the information provided by Brian on his site. Among a plethora of information available, he has a dividend scorecard where companies are ranked in terms of dividend safety, growth and yield. I aim to pick companies that are in the 80+ safety range, though not always.

A lot of times, I will start to find candidates either through articles here or on a simple screener from Finviz. Basically, start with large dividend-paying companies, sort them by how close they are to a 52-week low and then start diving into some of the names left.
I've received questions about why stocks near their low - anecdotally I've had names that have had very strong moves to the upside after reaching their lows. This is not a perfect science of course as there is the risk of catching a falling knife, as they say.
I also try to be very cognizant about whether the stock in question is a damaged story or may be going through a temporary shock. Especially in this environment I am worried about the Amazon effect on several industries.
By definition it also gives me the best purchase price that anyone has had over the year and the highest initial dividend yield. It's about margin of safety!
Selling Criteria
There are only a few reasons I'll sell a stock, though any of these events is not a guarantee I'll do so.
Dividend cut.
Company degradation - This could be things like deteriorating balance sheets, loss of competitive advantage, loss of credit ratings.
Wild overvaluation - This becomes a bigger factor if there is something at a fair valuation that I wish to purchase with the proceeds.
Position size wildly outgrows the rest of the portfolio.
Sale proceeds may be better indexed or in another name.
I just don't want to own it.
Portfolio Changes
New Positions
Tanger Factory Outlets (SKT)
I have to give a shout out to a couple of good articles (both Editor's Picks) on Tanger recently. Their research was invaluable in deciding to start a position.
Dividend Aristocrat On Sale, Yield 5.1%, Never Missed A Dividend Hike Since 1994
Tanger's Moat Is Wide And So Is The Discount
The general thesis for the retail space is that its death is being greatly exaggerated, namely by Amazon. Tanger is even more specialized than a mall REIT as they own large outdoor centers. In fact I've been to several both in Lancaster, PA and Rehoboth Beach, DE.
I must say, they are always packed. Also, anecdotally, all of the women in my life absolutely love outlet shopping. It's a day outing, with some time away from the kids and a chance to find some good shopping bargains, so it's a win all around.
The company has raised its dividend for 24 years per the CCC list and maintains an investment grade BBB+ rating from S&P. Shares have been incredibly beaten down this year and seen from the FAST Graph below. This is partly also what makes them intriguing at these levels.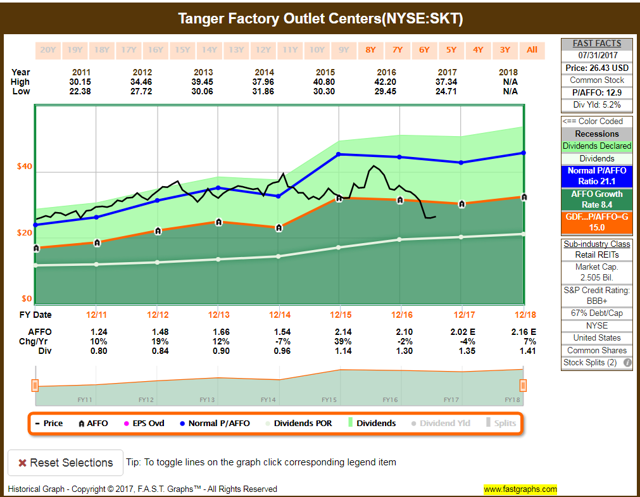 The market has typically paid up for shares of the REIT but due to the Amazon effect this is one company that has been tossed out with the bath water. Shares were recently seen trading around 13x P/AFFO (the equivalent of the P/E ratio for REITs) granting a juicy initial 5.2% dividend yield.
Existing Positions
Verizon (VZ)
I bought another 30 shares of Verizon early in the month, before their blowout Q2 results. Shares are trading at a deep discount to the market and it's not surprising given some of the headwinds facing them and the industry. At the time of purchase ($43.65 by the way) it gave this batch of shares a 5.3% yield. Shares are now up over 10% with a much lower yield. Can you see why I like 52 week low stocks?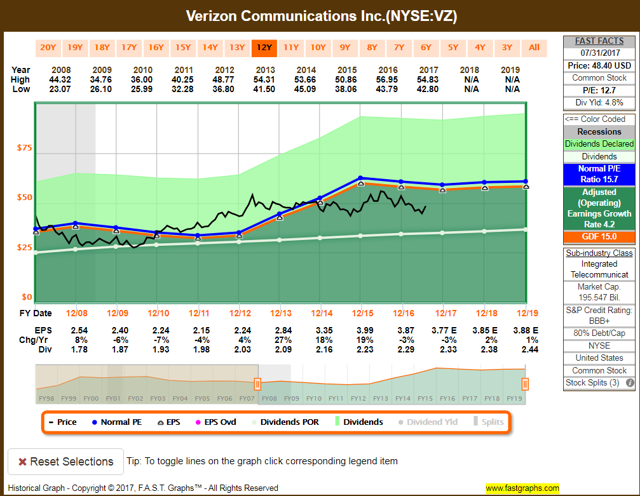 AT&T (T)
AT&T was a similar story to Verizon; in fact I purchased them on the same day. Shares had been falling since hitting their yearly high over $40 and they appeared to represent a decent value yielding over 5%. The company then reported a better than expected Q2.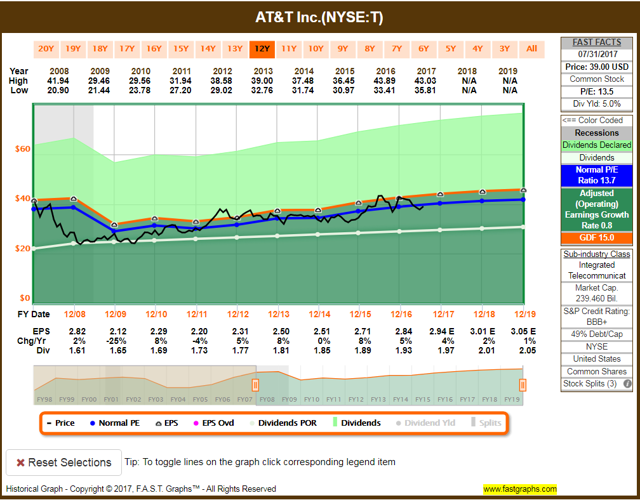 With a slow grower, the initial purchase is the most important to ensure a margin of safety. Trading too far north of a historical valuation sets the stage for poor future returns. I purchased another 50 shares at $37.34 which brought an initial yield nearly matching Verizon's at 5.25%.
Public Storage (PSA)
Now after two good company reports it's only natural to have one that did not go quite as expected. Public Storage's results were a tad lower than expected though revenue was still up 5% year over year. It's possible that Public Storage is facing some headwinds with a lot of new supply coming on the market which will limit their ability to raise rents. On the flip side, storage facilities require low capital outlay. I'm content with storing some more money here for the near 4% yield.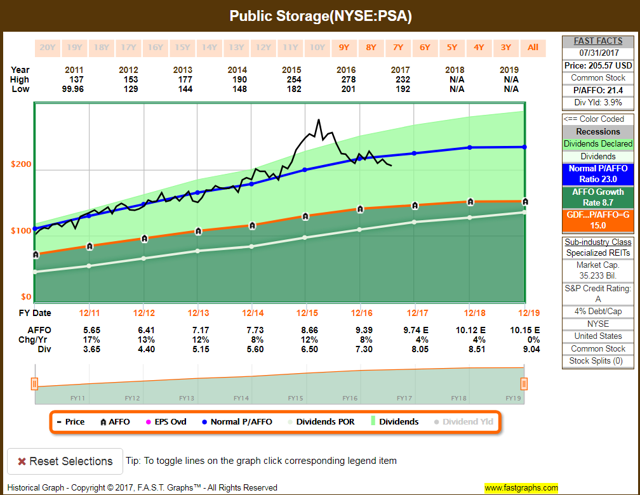 Realty Income (O)
I added another 40 shares of Realty Income in the month, bringing my total to 110. For the diverse triple net lease player, shares seem to offer a fair value and sport a nice 4.66% yield (at time of purchase). Earnings came in line with expectations and with some recent earnings news for other triple net lease players, shares have bumped up some.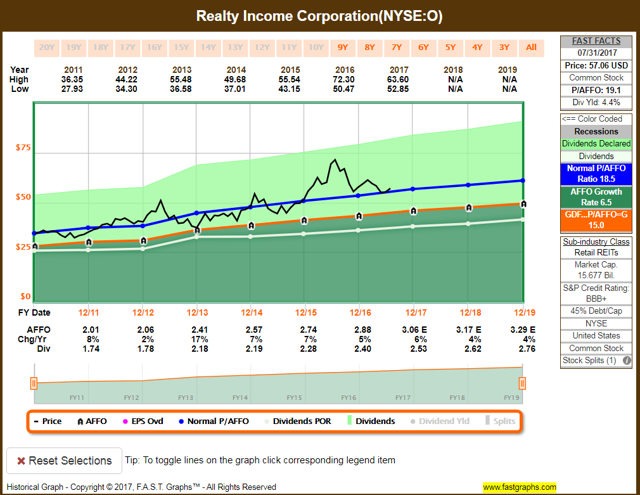 STAG Industrial (STAG)
Lastly, STAG was my final purchase of the month. I had initially started a small position after some compelling research by Brad Thomas about a year ago. In a recent article, Brad again covered why STAG is a great REIT with a long runway of growth ahead of it.
I purchased another 90 shares at $27.15 of this monthly dividend payer. Per their own history the price was a slight premium to how they have traded but if their runway is as long as it appears, it won't matter. The 5.1% yield doesn't hurt either.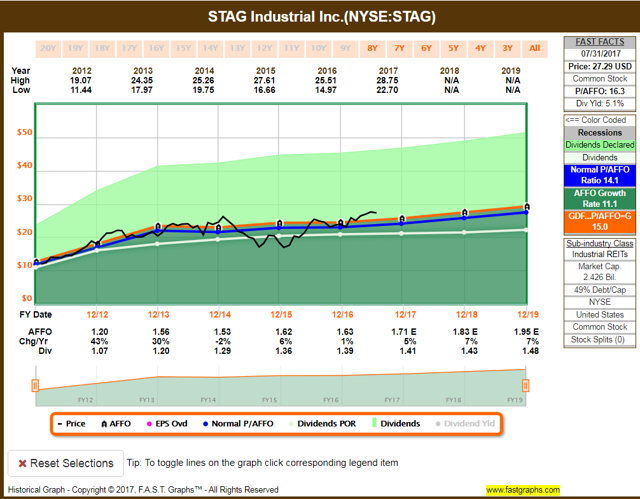 Sells
International Business Machines (IBM)
Ah, IBM, everyone has an opinion on which way the firm is headed. The thought of selling my shares has been on my mind for a while, in particular quarter after quarter with declining revenues. I'm just not seeing the turnaround working and frankly, I needed some capital to invest in the purchases I just highlighted.
Shares don't represent a bad shake here based on my past logic of liking companies at a 52 week low. This is one though that I see the story is damaged, I have the impression they have missed many of the tech "boats" that are sailing through profitable waters. I don't perceive them to be in any real trouble yet and I suspect they will finally get the ship turned but I believe I found more compelling opportunities.
This is one company that I see Amazon has stolen the show from with regards to the cloud. Between Amazon and Microsoft (NASDAQ:MSFT), they are running that show and IBM is just another player fighting for the scraps.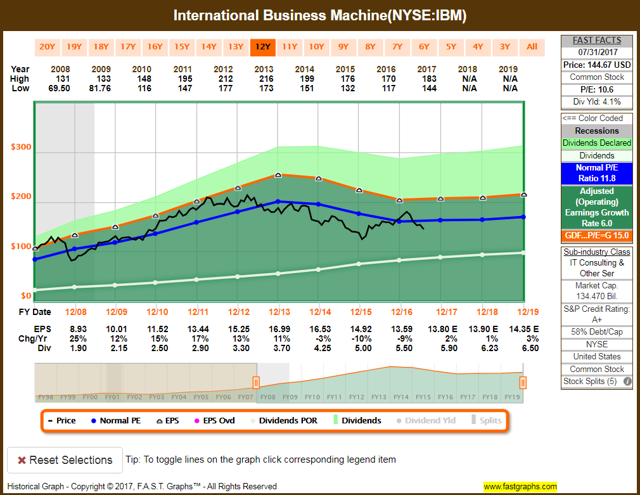 W.W. Grainger (GWW)
Grainger is another interesting stock. In fact, I distinctly remember starting at the $260 share price considering pulling the trigger. I did not then but I did after the $100 drop. Why, you may ask? One word: Amazon.
After reading through the commentary on the earnings release and seeing news about Amazon Business hitting 1,000,000 customers, this is not where I want to be fighting. Margins are falling at Grainger as they try to maintain competitiveness against Amazon's pricing.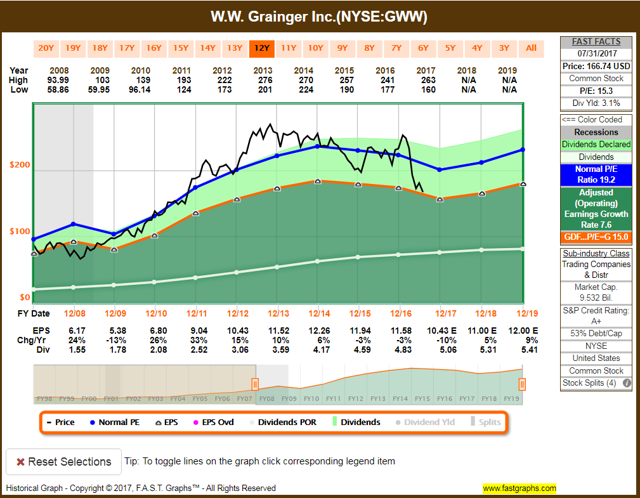 Here's a picture of what could be a permanent trend in falling profit margins from FUN Graphs.

Their two softest quarters have come within the past three quarters when looking at a quarterly view. You may say this only goes back two years and you would be right. So let's pull back to the 30,000-foot view, and it appears this trend may be forming. The most recent full year profit margin hasn't been this low since 2004. Fluke? Perhaps, but management has acknowledged they've had to cut prices to stay competitive.

Unfortunately shares still trade around 15x full year estimates so they aren't necessarily screaming buy me now. Target has been trading in the 11-12x range recently which I don't think is unobtainable for Grainger shares.
I don't feel comfortable betting against Amazon in anything - even with a company that has a 46 year history of raising its dividend. On the surface there is lots to like about the company but that's also looking in the rear view mirror and not on the road ahead. I want to watch this story more from the sidelines and see where these profit margins settle.
Dividend Increases
Omega Healthcare Investors (NYSE:OHI) declares $0.64/share quarterly dividend, 1.6% increase from prior dividend of $0.63.
This is their second increase this year, both an increase of a cent.
Stanley Black & Decker (NYSE:SWK) declares $0.63/share quarterly dividend, 8.6% increase from prior dividend of $0.58.
Cummins (NYSE:CMI) declares $1.08/share quarterly dividend, 5.4% increase from prior dividend of $1.025.
Wells Fargo (NYSE:WFC) declares $0.39/share quarterly dividend, 2.6% increase from prior dividend of $0.38.
Dividend Cuts
None!
New Rules
None.
Charts and Graphs
2017 Dividends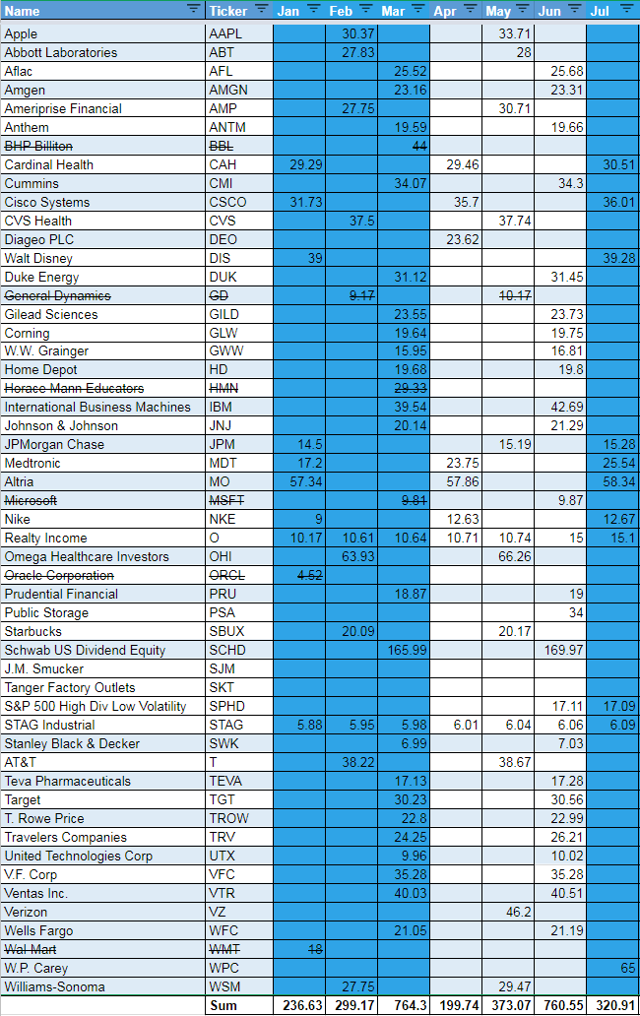 So July brought a new high water mark for a first month in a quarter. $320 was received, bolstered by new payments by W.P. Carey and the S&P 500 High Dividend Low Volatility ETF and its monthly payments.
Growth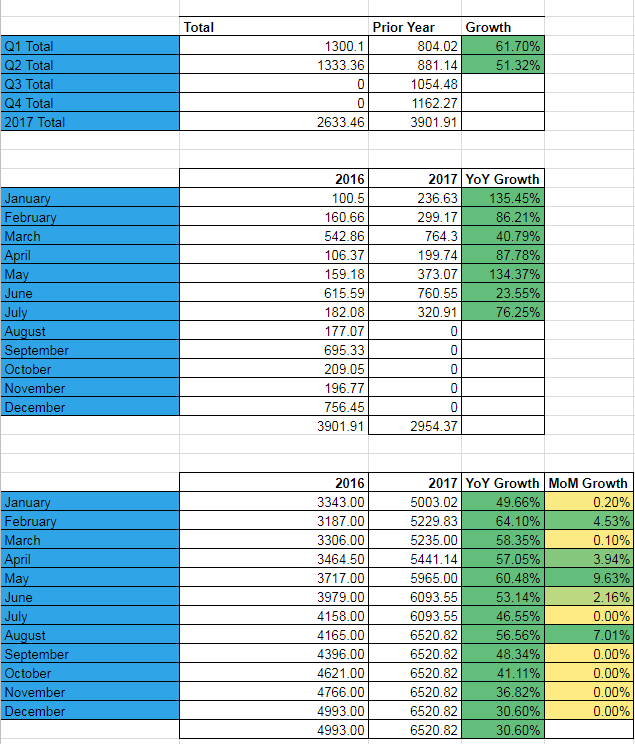 The $320 was 76% higher than the $182 I received in July 2016. Due to purchasing so many high yielding stocks this month my expected income jumped a whopping 7%! If you'll recall from my goals, even my raised goal of $6,250 has been crushed by the current $6,520 of forward looking dividends I'm expecting. If the year were to end today, I'd be looking at 30% year over year growth in my expected income.
The Portfolio
| | | | | | | |
| --- | --- | --- | --- | --- | --- | --- |
| Ticker | Shares Total | Percent of Cost | Percent of Income | Sector | CCC Status | S&P Credit Rating |
| AAPL | 53.72 | 3.15% | 2.08% | Technology | Challenger | AA+ |
| ABT | 106.28 | 2.12% | 1.73% | Healthcare | None | A+ |
| AFL | 60.06 | 1.89% | 1.58% | Financials | Champion | A- |
| AMGN | 20.41 | 1.59% | 1.44% | Healthcare | Challenger | A |
| AMP | 37.24 | 1.88% | 1.90% | Financials | Challenger | A |
| AMZN | 4.00 | 1.38% | 0.00% | Technology | | AA- |
| ANTM | 30.35 | 2.10% | 1.21% | Healthcare | Challenger | A |
| BRK.B | 11.00 | 0.75% | 0.00% | Financials | | AA |
| CAH | 66.38 | 2.62% | 1.88% | Healthcare | Contender | A- |
| CMI | 33.69 | 1.68% | 2.23% | Industrials | Contender | A+ |
| CSCO | 125.32 | 1.74% | 2.23% | Technology | Challenger | AA- |
| CVS | 75.95 | 3.22% | 2.33% | Healthcare | Contender | BBB+ |
| DEO | 20.20 | 1.05% | 0.94% | Consumer Discretionary | Challenger | A- |
| DIS | 50.73 | 2.58% | 1.21% | Consumer Discretionary | Challenger | A |
| DUK | 37.15 | 1.25% | 2.03% | Utilities | Contender | A- |
| FB | 12.00 | 0.70% | 0.00% | Technology | | |
| GILD | 45.97 | 2.11% | 1.47% | Healthcare | None | A |
| GLW | 128.06 | 1.13% | 1.22% | Technology | Contender | BBB+ |
| GOOG | 4.00 | 1.47% | 0.00% | Technology | | AA+ |
| HD | 22.37 | 1.55% | 1.22% | Consumer Discretionary | Challenger | A |
| JNJ | 25.50 | 1.34% | 1.31% | Healthcare | Champion | AAA |
| JPM | 30.71 | 1.01% | 0.94% | Financials | Challenger | A- |
| KORS | 40.00 | 1.00% | 0.00% | Consumer Discretionary | | |
| MDT | 55.83 | 2.11% | 1.58% | Healthcare | Champion | A |
| MO | 96.43 | 1.66% | 3.61% | Consumer Staples | Champion | BBB+ |
| NKE | 70.64 | 2.06% | 0.78% | Consumer Discretionary | Contender | AA- |
| O | 111.67 | 3.25% | 4.35% | REIT | Contender | BBB+ |
| OHI | 107.24 | 1.70% | 4.21% | REIT | Contender | BBB- |
| PRU | 25.51 | 0.94% | 1.17% | Financials | Challenger | A |
| PSA | 27.00 | 2.96% | 3.31% | REIT | Challenger | A |
| SBUX | 81.02 | 2.43% | 1.24% | Consumer Discretionary | Challenger | A- |
| SCHD | 516.94 | 9.83% | 10.31% | ETF | | |
| SJM | 32.00 | 2.11% | 1.53% | Consumer Staples | Contender | BBB |
| SKT | 100.00 | 1.43% | 2.10% | REIT | Contender | BBB+ |
| SPHD | 175.84 | 3.72% | 4.04% | ETF | | |
| STAG | 142.42 | 1.83% | 3.08% | REIT | Challenger | N/R |
| SWK | 12.16 | 0.57% | 0.47% | Industrials | Champion | A |
| T | 171.42 | 3.12% | 5.15% | Telecom | Champion | BBB+ |
| TEVA | 51.30 | 1.22% | 1.07% | Healthcare | None | BBB |
| TGT | 51.49 | 1.81% | 1.96% | Consumer Discretionary | Champion | A |
| TROW | 40.65 | 1.39% | 1.42% | Financials | Champion | A+ |
| TRV | 36.60 | 1.73% | 1.62% | Financials | Contender | A |
| UA | 50.00 | 0.86% | 0.00% | Consumer Discretionary | | BB+ |
| UTX | 15.26 | 0.69% | 0.66% | Industrials | Contender | A- |
| VFC | 84.63 | 2.29% | 2.18% | Consumer Staples | Champion | A |
| VTR | 67.84 | 1.98% | 3.22% | REIT | Challenger | BBB+ |
| VZ | 112.00 | 2.78% | 3.97% | Telecom | Contender | BBB+ |
| WFC | 56.17 | 1.41% | 1.31% | Financials | Challenger | A |
| WPC | 65.99 | 2.15% | 4.05% | REIT | Contender | BBB |
| WSM | 111.16 | 2.68% | 2.66% | Consumer Discretionary | Contender | NR |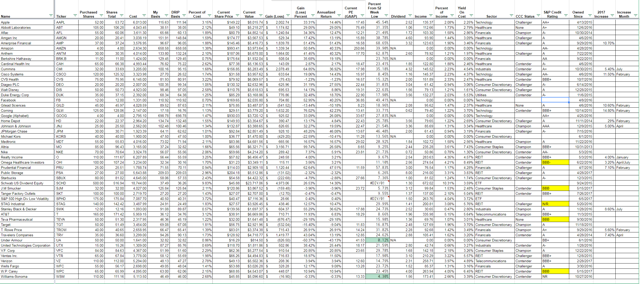 Here is the full size snapshot of my portfolio:
Purchased Shares: The shares I actually bought
Shares Total: Total shares after dividend reinvestment / splits
Cost: My transaction cost, including fees
My Basis: "Cost" / Purchased Shares
DRIP Basis: "Cost" / Shares Total
Percent of Cost: "Cost" / sum(All Costs)
Current Value: This will use Google Finance to get the price for the ticket * "Shares Total"
Gain (Loss): "Current Value" - "Cost"
Gain (Loss) Percent: "Gain (Loss)" represented as a percent
Annualized Return: If (NOW - "Owned Since" > 365, ("Gain (Loss) Percent" * 365.25) / (NOW - "Owned Since"), "Gain (Loss) Percent". It won't be perfect because each tax lot will have a different return, but its close enough. Additionally, I fixed the calculation to show only the return percent if it has been held for less than a year. Otherwise, owning a stock for one day and showing a 1% return will turn into 365% annualized return which looks wrong.
Current P/E (GAAP): This is another Google Finance call to pull the P/E. I haven't decided if I'll keep this, but it's interesting.
Percent From 52-Week Low: Using all Google Finance calls, this subtracts the 52-week low from the current price to determine the percent away. This can make a stock more interesting to me if it's been hated by the market.
Dividend: The annualized dividend - this is sourced dynamically from Yahoo Finance.
Income: Dividend * Shares Total
Percent of Income: Income / Sum(All Income)
Yield On Cost: Income / Cost
CCC Status: From David Fish's "CCC" list, what rank from the list?
The yellow indicators on the credit rating just keep me informed of the holdings I have that are below my desired threshold. Omega Healthcare Investors, STAG Industrial (STAG), Teva Pharmaceutical (TEVA) and W.P. Carey are all below. This is another field I would like to have automatically populated for when ratings change.
Visualizations
Simplywall.st provides some of my infographics. You can check out my portfolio on their site here.
Here's a look at some of my winners.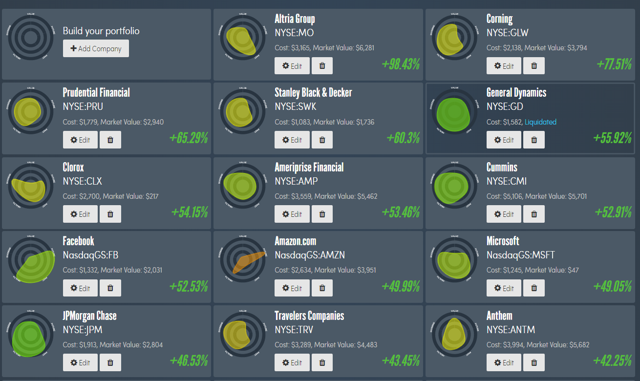 These holdings have all managed to beat my dividend ETF benchmark the Schwab US Dividend Equity ETF (SCHD) which is up 26%.
The following graphics are mine that I have compiled in Google Sheets from the various metrics that I track.
Portfolio Allocations
New for this month is a reworked view of my portfolio allocations. This charts out my cost by each sector including the allocation impacts of ETFs. ETFs make up about 13.5% of my portfolio and this puts them in their proper buckets.
After learning more about REITs and historical studies of allocations to real estate I have been tracking higher for the sector which now constitutes about 16% of my portfolio. I have room for one more holding in this space, and right now Iron Mountain (IRM) is a leading candidate.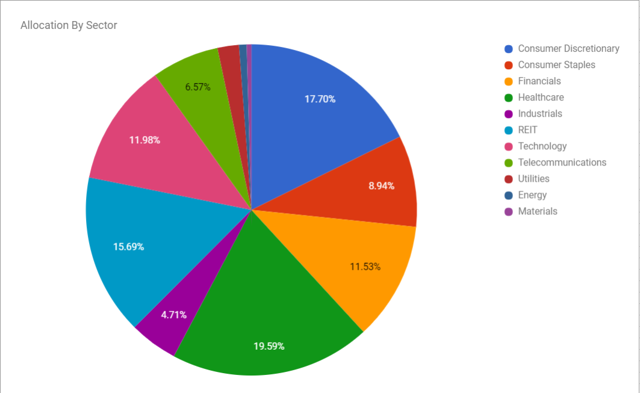 Income by Sector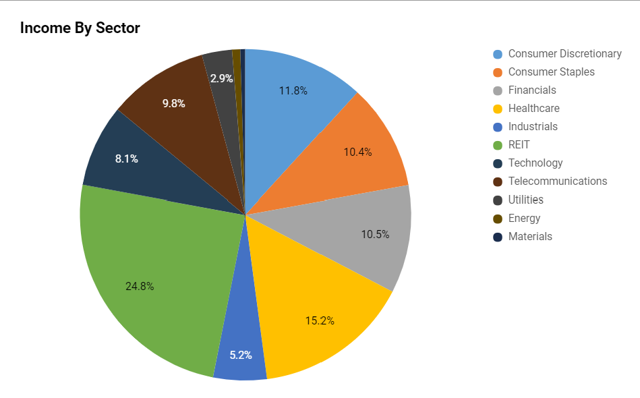 I stepped up my graphing game this month to remove the sector "ETF" that I previously had. "ETF" is not a sector so this chart properly maps the constituents of the ETFs in their respective stock market sector buckets.
I get about a quarter of my income from REITs which should be no surprise as they tend to carry some of the highest yields around. Materials and energy are two sectors I am underweight by design, only giving me about 1% of my income combined.
Champion, Contender, Challenger View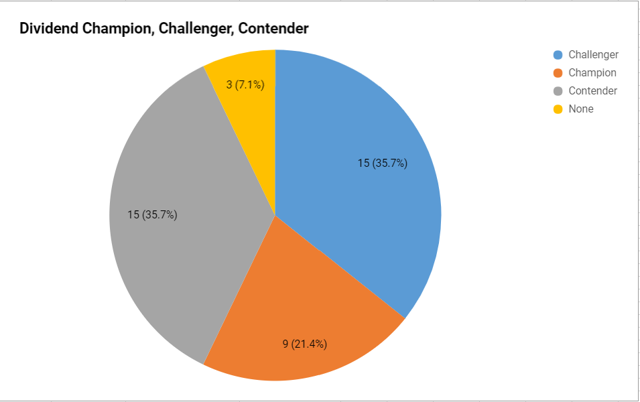 My Dividend "Champions, Contenders and Challengers" list is also about where I want it to be. Over 90% of my dividends come from companies with a history of raising their dividends at least 5 years. Only 3 dividend paying holdings don't have that prestigious history.
Custom Stock Alerts
I introduced a new tool for Custom Stock Alerts during July. The tool tracks and alerts upcoming ex-dividends for holdings you care about. Here's a sample screenshot: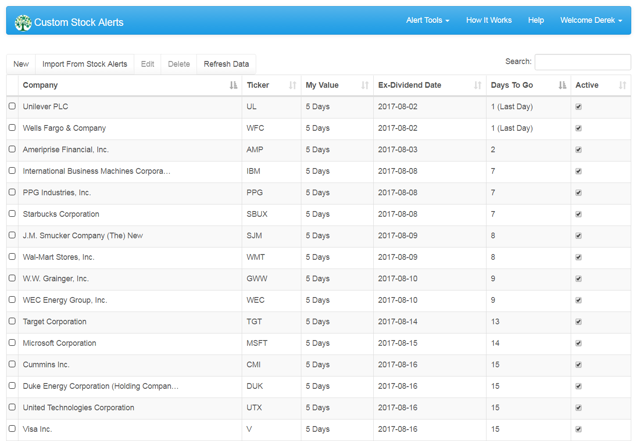 By default 5 days prior to the ex-dividend day (changeable) you'll get a text or email letting you know of that fact. This is noteworthy because this part of my rationale when buying shares of Tanger. Based on the compelling research I had decided I wanted shares it was a question of "when". Between recent poor price action and the pending ex-dividend I pulled the trigger.
Here's the actual text I received regarding Unilever and Wells Fargo.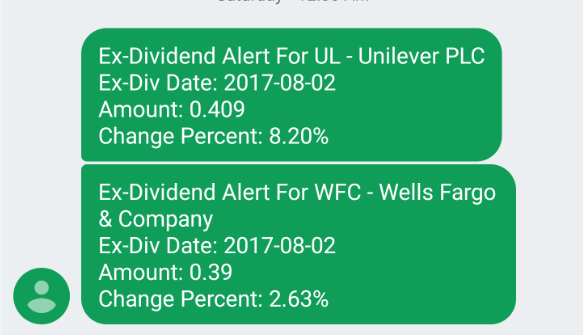 In fact I missed the news that Wells Fargo had raised their dividend and this captured that fact. If you think this information could be useful come check it out!
The Portfolio
In addition to the linked tickers above, my portfolio contains the following tickers: (AAPL),(ABT),(AFL),(AMGN),(AMP),(AMZN),(ANTM),(BRK.B),(CAH),(CMI),(CSCO),(CVS),(DEO),(DIS),(DUK),(FB),(GILD),(GLW),(GOOG),(HD),(JNJ),(JPM),(KORS),(MDT),(MO),(NKE),(O),(OHI),(PRU),(PSA),(SBUX),(SCHD),(SJM),(SKT),(SPHD),(STAG),(SWK),(T),(TEVA),(TGT),(TROW),(TRV),(UA),(UTX),(VFC),(VTR),(VZ),(WFC),(WPC),(WSM),
Conclusion
As noted above, July was an interesting month, it seems as though many higher yielding names presented themselves as worth of investment. I was not expecting to add to five high yielding names and add a sixth to the portfolio.
What I find amazing is the level and speed of disruption happening to businesses that have existed for long periods of time. It's amazing that a company like Amazon is/has been disrupting the business of companies in completely different sectors (IBM and Grainger).
Let me know your thoughts on my portfolio!
If you find this content interesting or useful please comment and/or follow me. I love writing and being a part of this great community.
Disclosure: I am/we are long AAPL,ABT,AFL,AMGN,AMP,AMZN,ANTM,BRK.B,CAH,CMI,CSCO,CVS,DEO,DIS,DUK,FB,GILD,GLW,GOOG,HD,JNJ,JPM,KORS,MDT,MO,NKE,O,OHI,PRU,PSA,SBUX,SCHD,SJM,SKT,SPHD,STAG,SWK,T,TEVA,TGT,TROW,TRV,UA,UTX,VFC,VTR,VZ,WFC,WPC,WSM.
I wrote this article myself, and it expresses my own opinions. I am not receiving compensation for it (other than from Seeking Alpha). I have no business relationship with any company whose stock is mentioned in this article.