This weekend, I sought out to determine what constitutes a fair P/E multiple for the current S&P 500, and figure out if there is any sort of correlation between the amount of currency in circulation and the above historic average P/E multiples that investors and traders are currently willing to pay for stocks. As I'm sure many of you have noticed through 2017, there seems to be a discrepancy between the optimism provided by soft data, and the negative to stagnant signals provided by hard data (to paint with a broad brush), particularly in the realm of retail markets, automobile markets, and housing markets.
Taking notice of the fact that the S&P 500 P/E ratio sat at 24.2x as of July 1, the question is whether irrational exuberance has stepped into the driver's seat, or if there is legitimacy to current market expectations. I've also come across the theory that increased levels of currency warrant higher trading multiples by devaluing how much earnings are worth to a single investor and also increasing the means to invest, rendering a value comparison to Ben Graham era P/E ratios useless.
I'd say it's safe to assume that easy credit policies and Quantitative Easing have contributed to a general price increase of real assets and consumer goods, but I want to see how this relates to the price investors are willing to pay per corporate earnings.
My first move was to collect data on the amount of M1 (funds readily available for spending), monthly closing values for the S&P 500, historical P/E for the S&P 500, historical monthly volume for the S&P 500, and monthly trailing-twelve month EPS for the S&P 500.
Initially, I compared M1 and P/E, to see if the money investors are readily able to pour into the stock market had some sort of material impact on investor demand for earnings.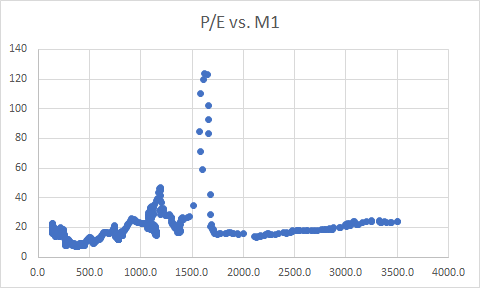 As you can see, the problem with this comparison is that M1 always increases over time (keep the printing press hot, Janet), while P/E tends to be way more volatile due to its many other input factors. When the gears of the economy stop grinding and earnings collapse, P/E ratios explode because stock prices don't fall proportionately, but high P/E ratios can also signify high expectations of growth or stability, so this graph in itself didn't tell me much.
So I took a look at the relationship between the annual change in M1 and the average annual P/E ratios and found something relatively interesting: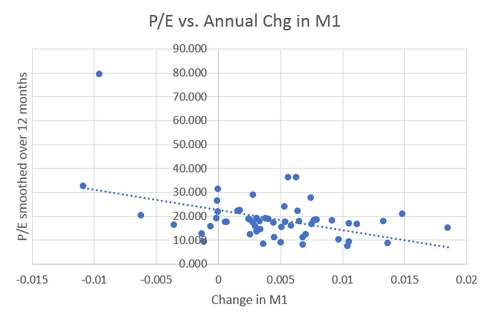 Contrary to my initial theory that increased liquidity would inflate P/E ratios, it appears that there is a slightly negative relationship between change in M1 and P/E ratios, meaning that increases in M1 were typically met by lower P/E ratios and vice versa. When I threw this data into a regression analysis, it showed that only 13.6% of the variation in P/E ratios could be explained by variation in the change in M1, but all variables were statistically significant.
My next thought was to compare trading volume to P/E ratios, thinking that an increased supply of funds could lead to an increase in the quantity demanded of earnings, naturally increasing the volume of trades taking place (an imperfect assumption, but a starting point nonetheless):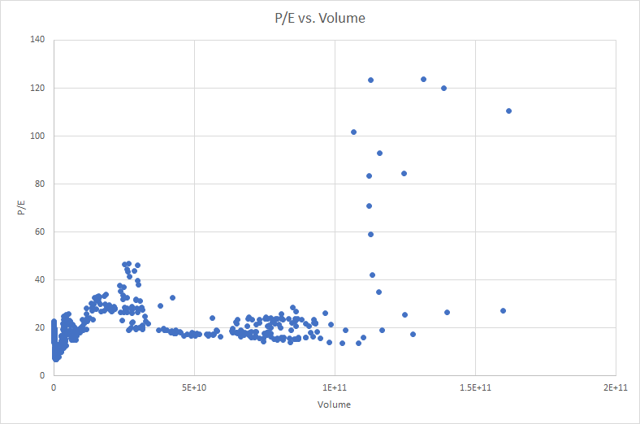 The interesting part about this graph was that as long as volume remained below 1E+11, P/E ratios tended to remain in the 10x-30x range. Beyond that level of volume, P/E ratios became much more dispersed due to either astronomical selling or buying pressure. Nonetheless, this relationship didn't do much to answer the question I was asking myself about current price levels.
From here I looked at the S&P 500 P/E ratio as of July 1, 2017, and compared it to the range of values dating back to January 1, 1959. As expected, the P/E ratio of 24.2x on July 1 is considerably higher than the average of 19.0x - in fact it is well inside of the upper quartile of monthly P/E ratios, placing it at a historically high level. As I would say about any investment opportunity, high earnings multiples can be justified by strong fundamentals, so at this point, I want to take a look at the three major factors that influence multiple levels: size, risk, and growth.
Size
In the case that the specific group of stocks that make up the S&P 500 account for a larger share of production, we would expect those stocks to command a higher multiple in the sense that those companies hold a larger "market share" of overall production. A higher proportion of revenue to U.S. GDP should recommend a higher multiple, and vice versa. So at historically high P/E ratios, I expected to find a growing proportion of corporate production to GDP. On the contrary: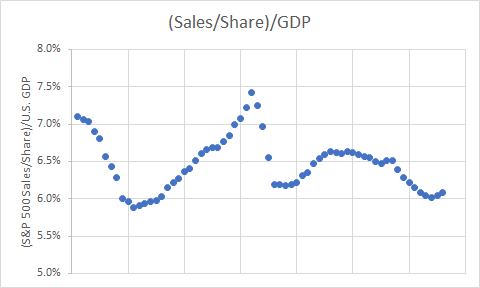 Sales per share, dating back to December 31, 2000, have been shrinking relative to GDP. In fact, sales have decreased rather steadily as a percentage of GDP (quoted in billions). This should put negative pressure on the allowable market P/E multiple.
Risk
As a proxy for risk, I looked at market profitability metrics, comparing quarterly EPS to quarterly revenue per share and finding where our net profit margin of 8.3% as of December 31, 2016 falls compared to historic levels. Turns out, it's essentially average (7.7% is average to be exact), and with maximum historic profit margins of 10.4% and minimums of 0.8%, this metric does nothing to convince me that investors should be paying much higher prices per earnings on a macro scale.
Growth
Before looking at the forward year EPS projections (provided by YCharts), it became clear to me by this point that the single driving force for market expectations rests solely on the expectation of big-time growth. While revenue per share has grown at a compound annual growth rate of 2.8% since 2000, net income has grown at about 2.5% since then. On the contrary, in the following four quarters from today, S&P 500 earnings are expected to be $126.6/share.
These projections are 25.6% higher than our current TTM EPS, and 19.3% higher than the highest EPS ever reported. That's no rounding error, that's a whopping difference. And by all means, pay 25x earnings if companies are truly expected to be this profitable over the next twelve months. That number would bring the S&P price level as of 7/30/17 down to 19.5x P/E, or 20.9x P/E when factoring in the expected annual appreciation of about 7.2% to S&P 500 price levels.
But those are, to put it lightly, monstrous projections of earnings, without considering the factors that went into projections. In essence, the math makes sense, and earnings multiples appear justified should the S&P 500 increase EPS by 25% over the next twelve months. Historically speaking, growth levels that large tend to happen following a depressed period of activity, when corporations operate much lower than desired capacity for a one to two-year period followed by a burst in activity. That isn't the case now, in the midst of the slowest but steadiest economic expansion period in American history.
I prefer to err on the side of conservatism, and will tread lightly in my stock selection with built-in margins of safety. Valuations built on such aggressive assumptions are fragile. I plan on keeping my ideal portfolio allocated at 60% equities and 40% investment grade bonds, and will most likely adjust to a 50/50 split as this bull market continues to heat up over the next two years. To be fair, I think the probability that corporate earnings will live up to expectations is greater than the probability that they don't. But is it worth the risk?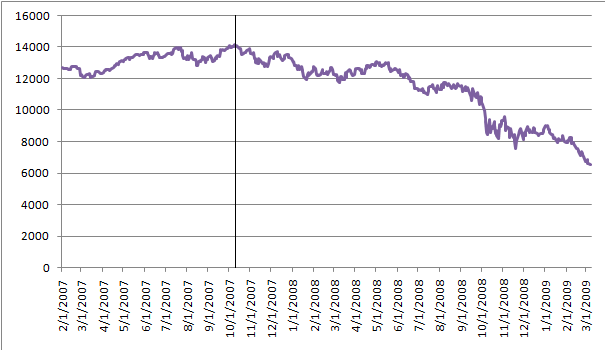 Also, something of interest I found in the course of this research:
Population growth since 1959: 1.9x
M1 growth since 1959: 25.2x
Disclosure: I/we have no positions in any stocks mentioned, and no plans to initiate any positions within the next 72 hours.
I wrote this article myself, and it expresses my own opinions. I am not receiving compensation for it (other than from Seeking Alpha). I have no business relationship with any company whose stock is mentioned in this article.