Investment Thesis
Freeport-McMoRan (NYSE:NYSE:FCX) has a strong upside for investors as a result of a rise in global copper prices because of rising oil prices and a depreciated US Dollar. Investors should feel safe that rising financial efficiency and growing cash reserves will help the company in times of loss due to depressed copper prices.
Catalyst For Growth: Copper Price Rise
Recently, I wrote a primer on the rise of copper prices globally and why they are likely to continue to go up. With rising demand from emerging economies like China and India for major infrastructure development, copper prices are likely to continue to go up and major copper mining companies like Freeport-McMoRan will continue to see a strong upside as prices are likely to rise. There are three macro trends that are going to lead to a rise in copper prices. Those factors are the decline of the U.S dollar versus the currencies of major global copper producers, rising oil prices and decreased global mining output. Investors should recognize that while copper prices are likely to experience some fluctuation which could affect earnings predictions, I can affirm that the demand for copper is likely to continue to rise. This in turn provides a long-term upside for major mining companies like Freeport.
Freeport Is A Better Trade Vs. Peers

(Source: FINVIZ)
Of the three largest copper mining companies publicly traded in the US, Freeport provides a stronger upside. Compared to Southern Copper (NYSE: SCCO) and Nevsun Resources (NYSE: NSU), Freeport is a much more undervalued with its extremely low PEG and provides a case for stronger price growth in the future with their strong earnings outlook in the next five years. Freeport is dirt cheap for what investors are likely to get in the long-run.
Growing Margins Are Indication Of
Financial Strength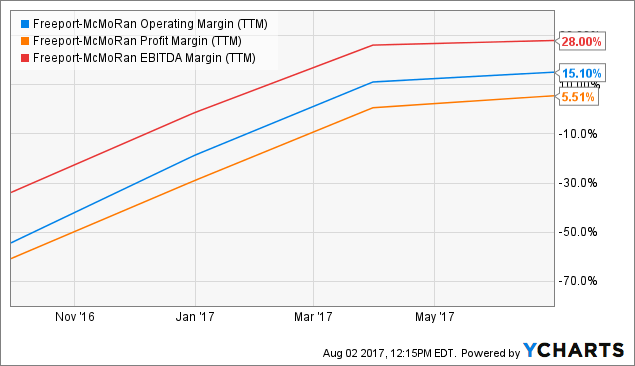 FCX Operating Margin (TTM) data by YCharts
Freeport has continued its rise to profitability as a result of stronger asset allocation and smarter investments in their growth. This in turn resulted in rising margins, which are a sign of financial efficiency. Investors should notice growing profit, EBITDA and operating margins are a sign that the company is able to generate more cash, which will help further improve asset allocation. In addition, rising margins are more likely to lead to stronger earnings, which will fuel a strong price growth for the company in the long run. Freeport is an investment to be bullish on as growing margins are likely to help the company in time of negative macro trends as the company is efficient enough to combat depressed copper prices.
Strong Cash Flow Growth Will Save Investors In Time Of Falling Prices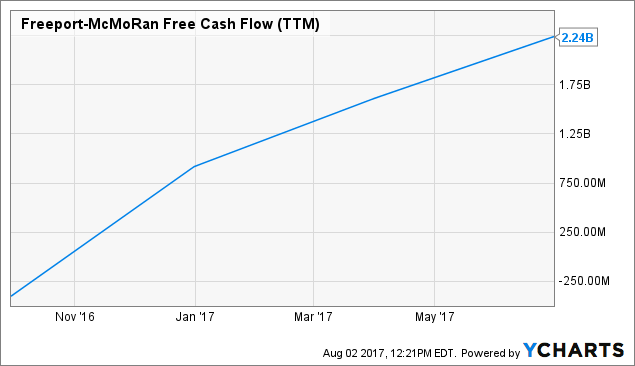 FCX Free Cash Flow (TTM) data by YCharts
Like any other commodities based equity, Freeport-McMoRan will be in danger of negative earnings if copper prices begin to fluctuate and decline to a point of where the company is likely to take losses. While rising prices have afforded the company the ability to build up their cash reserves as their free cash flow has risen, this growth will help the company in time of depressed prices. In the short-run, rising free cash flow should make investors bullish on the intrinsic value of the company. In the long-run, strong cash flow acts as an insurance policy for times of unexpected macro trends that would hurt the company.
What Should Investors Take Away?
Investors should take into account that any commodities based equity poses severe risk as a result of unpredictable macro trends that are always connecting to the share price of the equity. Investors who would like to invest in Freeport must keep their eyes on global copper prices and factors of their fluctuations as it could affect how strong an upside is for the investment. Freeport is an investment that will produce a strong upside because of their strong financial efficiency and profitability. In times of depressed profits, strong cash reserves and allocations will minimize the downside risk.