Welcome to the GOR edition of Oil Markets Daily!
For those of you that are not familiar with the acronym GOR, it means "gas-to-oil ratio."
The main bearish market narrative that continues to cap oil prices today is that the market believes US shale producers would send the global oil markets back into oversupply in 2018. Sellside analysts and investment banks are forecasting 1.2 to 1.6 million b/d of shale oil production growth.
Since the start of 2017, we have been bullish on oil prices. Our long thesis (still true today) has hinged on:
1) US shale production growth disappoints as A) increasing servicing cost inflation forces US producers to hold back and B) lack of workers forcing delays.
2) Non-OPEC ex-North America and Russia productions will continue to decline.
3) Global oil storage will continue to decline and back to the five-year average by the middle of the year.
Out of those three, the third thesis on global storage returning to the five-year storage by the middle of the year turned out to be far too bullish, and our expectations have now been revised to the end of the year instead.
However, the first two remain intact and more prominent than ever as the media starts to finally pick up on those themes.
But what we are discussing today has to do with GOR...
Gas to oil ratio as commonly known is the production mix for a producer. For example, when Pioneer Natural Resources (PXD) look at their production mix, it could be 57% in oil and liquids, while 43% in gas. If the gas-to-oil ratio is increasing, it means they are getting more gas to oil.
On the surface, companies like Pioneer can market the fact that the estimated ultimate recovery (EUR) of wells are increasing, but 1 boe/d of oil is not the same as 1 boe/d of gas.
So, here's where the problem is starting to crack for Permian and US shale producers...
We follow Pioneer Natural Resources, or commonly known or referred to as the "mother fracker", because it gives us a good gauge for the direction of the Permian. They own some of the best acreages in the Permian and are one of the best producers.
However, Q2 did not shine favorably on them.
"Operationally, we fell behind on our completions due to unforeseen drilling delays. To maintain efficient operations, we have chosen not to accelerate activity in order to catch up in the second half, especially in light of the current commodity price environment. Our current rig count remains the same, but we are deferring 30 Spraberry/Wolfcamp completions that were planned for this year into 2018. This will result in a reduction in 2017 capital spending of approximately $100 million and production growth closer to the low end of our guidance range of 15% to 18% for 2017. This decision is consistent with our longer-term objective to grow production efficiently by maintaining a steady pace of activity, spending within cash flow, maintaining a strong balance sheet and improving corporate returns."
But there's more...
producing increased gas and natural gas liquids (NGLS) from horizontal proved developed producing (PDP) wells as of year-end 2016 due to higher average gas-oil ratios (GORs) than forecasted based on current type curves; the increased gas and NGL production is expected to result in higher estimated ultimate well recoveries (EURS), positive reserve revisions and enhanced returns.
The producer can spin the message however they want, but one thing they can't spin is the fact that oil growth will be slower than previously expected: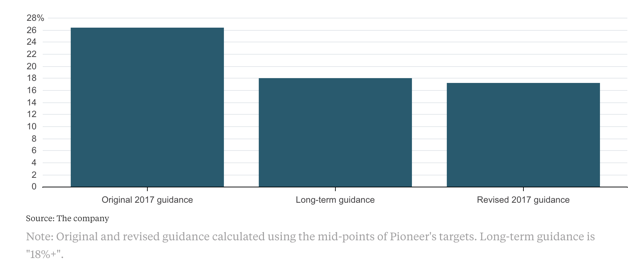 Source: Liam Denning
What does that mean for US shale oil production growth then?
If producers are increasingly seeing higher GOR across the board (more to come with more earnings release), we think the consensus's view that US shale oil production will grow by 1.2 to 1.6 million b/d will prove to be extremely optimistic.
There are many technical and geological implications from this disappointing guide down as well for investors focused on buying only Permian producers. Sellside and investment banks have continuously pushed energy investors into buying "quality", but as we all know from the famous Benjamin Graham saying, "Price is what you pay, value is what you get."
Lastly, if you are an energy investor, you should give our premium service, HFI Research, a try. We have over 200+ members and a very active live chat function that allows you to receive feedback immediately from our community. For more info, please click here.