"Either you're a contrarian, or you're a victim – it's up to you"...
These words that CEO of Sprott Resources, Rick Rule, said resonated in my head. Such a profound statement I thought.
To me this meant as either you have an independent and educated opinion contrary to the crowd's view, or you will simply follow the crowd. And following the crowd is never going to make you rich, unless you got in first.
Good contrarian investing is about finding markets that are ignored and despised. This allows you to buy quality assets for pennies on the dollar. Especially in commodities. People are still eating and consuming energy every day. The oil market has had many booms and busts, but the world is consuming more oil than ever.
Uranium prices have fallen 70% over the past 5 years. And the uranium mining industry has been in crisis. But being a contrarian, you look for when prices, perception, and value disconnect.
This creates the opportunity today in the uranium market...
Uranium is an abundant source of concentrated energy. The energy content in uranium is 3 million times greater than fossil fuels. For instance, 1/10 of an ounce of uranium holds the equivalent energy that over 6.6 million pounds of coal has.
It is clean energy. Uranium produces no greenhouse emissions. And it is relatively safe contrary to conventional wisdom.
Uranium spot price is currently $20.50 per pound.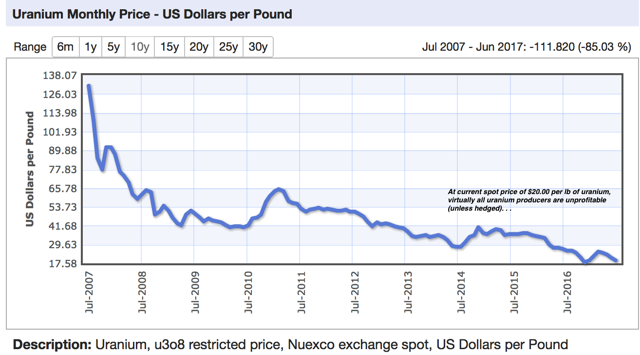 The price of uranium has been in decline since 2011...
The massive tsunami that struck Japan in March 2011 caused the Fukushima reactor to crack. From the radiation scare and fear of further problems, Japan shut down all their nuclear reactors.
Within days of the Fukushima incident, large anti-nuclear protests took the streets of Germany. On May 29, 2011, German Chancellor Angela Merkel announced that by 2022 all German nuclear power plants will be closed. So far 8 of the 17 reactors have been shut down permanently.
Japan was a big player in the uranium market.
To put this in perspective, Japan's nuclear power plants accounted for 12% of global reactors. . .
Japan and Germany reversed their uranium purchases and instead became large sellers of their stockpiles. Prices tumbled as over-supplies were met with fading demand. And Uranium stocks entered a bear market.
But - that's all about to change...
Such negative sentiment, and years of depressed prices, have been building the base for a massive price recovery in uranium.
As I was told by Rick Rule, "bear markets are the authors of bull markets, and vice versa."
Uranium supply comes from two sources: mining (86%) and decommissioned nuclear warheads + secondary sources (14%). Therefore, to determine future supplies, we need to understand uranium mining.
The uranium production industry is heavily concentrated. Four producers account for almost 2/3 of global mine production. And nine producers account for roughly 90% of annual production.
Kazakhstan mines produce 41% of the world's uranium. Canada is behind with 16%, but that's not even half of Kazakhstan's production.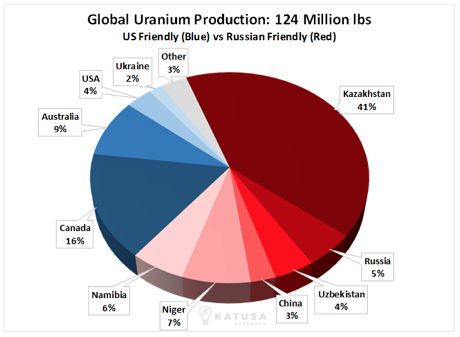 At current prices, all U.S. producers of uranium are losing money. And most Canadian miners have hedges or fixed sale agreements with an average price of $45/lb.
A hedge/fixed sale agreement is when the buyers agree to pay a fixed price for the commodity for an extended period. If the price of uranium goes up, for example, to $100/lb. and they are locked in a production hedge at $45, the producer is greatly missing out. But if the price drops to $20/lb., the producer is greatly profiting.
Almost every uranium producer has most of their production hedged. This helps generate profits during the falling prices.
But these hedge contracts are expiring soon – in the next couple years...
And at a $20/lb. spot price, producers won't be able to secure production hedges in the mid-$40s again.
This will have almost every single company depleting reserves for negative cashflow.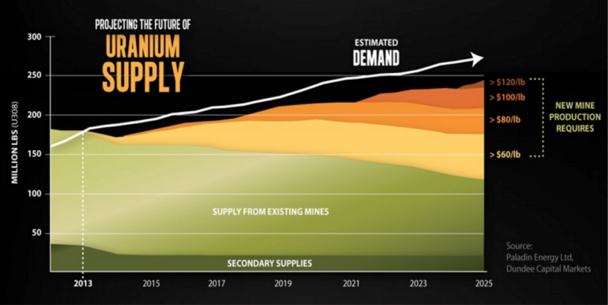 For producers to reinvest and bring on new production, they need uranium between $45 - $55 per pound minimum.
Putting this into perspective, Kazakhstan is the largest and cheapest producer of uranium in the world. But with uranium hovering around $20/lb., they can't justify exploration to replenish reserves or bring on new production.
This is why on January 10 2017, Kazakhstan cut their output by 10% (3% of global production).
"These strategic [uranium] assets are far more valuable to our shareholders and stakeholders being left in the ground for the time being, rather than adding to the current oversupply situation," Kazatomprom [state-owned uranium company] Chairman Askar Zhumagaliyev.
This is crucial for the supply-side of the uranium market...
To make up for falling prices since 2011, Kazakhstan increased production to make up on quantity. They were producing even greater amounts in an already weak uranium price market. This created a nasty feedback loop: prices fall, producers increase production to make up lost revenue, prices fall farther, repeat.
It is costly to shut down a mine and put it on care-and-maintenance. Shareholders do not want to cut production only to watch competitors benefit. Producers will simply accept the losses and hope for prices to rise sooner than later.
But if prices do stay depressed, the producers will deplete their finite reserves or go bankrupt.
Kazakhstan finally gave in. They couldn't afford to waste any more uranium at current prices.
This is text-book economics...
Oversupply crushes prices, which discourages investment and exploration and production. This is a bottoming/liquidation phase. Supply comes offline from marginal producers closing shop and low prices discourage exploration.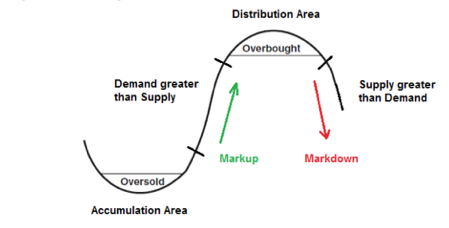 Figure: As of July 2017, the uranium is in the oversold and accumulation step
The cheap prices of uranium increases demand. Lower prices incentivize more cheap energy and attractive nuclear power plant margins. Just like cheap oil, more individuals drive bigger gas-guzzlers and take longer roads trips because a gallon of gas is cheaper.
And that is what's happening in the uranium power industry. Despite Germany and Italy moving away, the world is still moving towards uranium.
There are currently over 60 nuclear power plants under construction in 15 countries. There are 160 power reactors planned for construction and over 300 more are proposed.
To put this in context, China has 32 operating reactors on their mainland right now. There are 29 more reactors under construction currently. And 30 more proposed. China aims to more than double its nuclear capacity by 2020. India has 21 reactors in operation and 6 under construction. They also have over 18 more planned for construction. The U.S. has 5 under construction and 5 more planned by 2020. Finland is constructing their 5th and massive reactor plant – with another planned to follow it. Russia has 9 reactors under construction and 25 more planned. They hope to be a leader in the nuclear energy by 2030.
This doesn't even state the numerous power reactors being upgraded to increase power capacity.
Contrary to what the market thinks about Japan after Fukushima, they are already re-starting their reactors. They have stated they will get 2/3 of their reactors back online in the next 4 years.
This means 14 million pounds per year will be needed for Japan alone...
I don't like using future demand as my investment thesis for commodities. Analysts are always overly optimistic about the future and have "hungry eyes".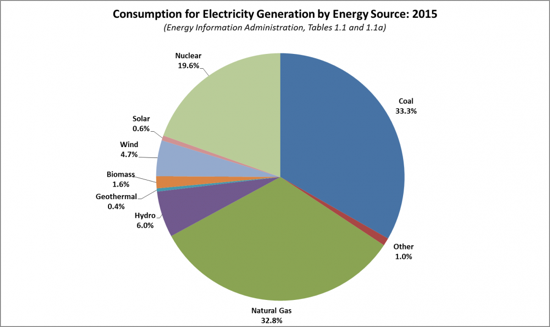 But - uranium only generates 20% of the world's electricity...
With the "War on Global Warming" by governments worldwide, uranium power has substantial room for increase.
"The recent Paris COP21 agreement, whereby 193 countries agreed in principle to move towards carbon-free sources of energy is a catalyst for cleaner sources of energy. Nuclear currently stands alone as the single scalable source of base load electricity," wrote analyst Chris Berry.
The thesis is simple: supplies are reducing and demand is increasing. When the lowest cost and largest producer of uranium, Kazakhstan, can't even make profits at current prices – that is the clear sign of a market bottom. Most producing company's long-term hedges/fixed sales are expiring in the next couple years. Unless the prices recover over 100%, producers can't stay operating.
And if they don't mine uranium, the lights will go out.
Many own shares of Uranium Participation Corp.(OTCPK:URPTF), which tracks the spot price of uranium, and the Uranium Mining ETF(URA). But as of recently, I added long dated out-of-the-money call options for Canada's largest uranium mining company, Cameco Corp.(CCJ).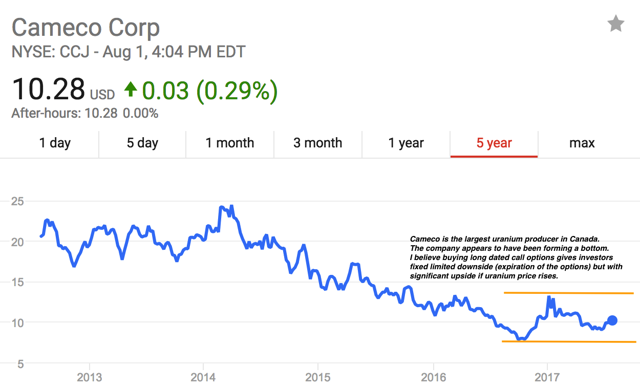 As my readers know, I love finding speculations in sectors that have been forming a bottom in their cyclical timeline. I then buy long dated out-of-the-money call options that give me a fixed risk (they expire worthless) but have massive upside if the price of uranium and Cameco increase. I outline my story about using such optionality in bottoming commodity sectors to make asymmetric returns.
With uranium price bouncing around $20, miners are cutting back supplies. The uranium producers are suffering even worse. This gives the speculator brave enough to go long Cameco call options extremely low prices since the market's sentiment for uranium is poor.
Remember gold at the end of 2015? What about zinc? Low prices are the cure for low prices. Inventories are depleted, new supplies aren't coming online to replace them, and marginal producers are shutting down production. This supply-deterioration allows excess to be used up and sets the stage for higher prices in the future.
By going long with ample time (1 year if possible) and buying low cost options, the speculator can use a small amount of capital to take advantage of a sudden boom back in uranium.
Could it happen tomorrow? Not likely. No one knows the exact time when to get in something before it takes off. How many thought Bitcoin was going to explode suddenly after years of bouncing around a bottom?
But, buying today when prices are cheap are important for future gains. Haven't we learned that by now, especially in the cyclical commodity sector?
Disclosure: I am/we are long CCJ.
I wrote this article myself, and it expresses my own opinions. I am not receiving compensation for it (other than from Seeking Alpha). I have no business relationship with any company whose stock is mentioned in this article.
Additional disclosure: I own long dated, out-of-the-money, CALL options for Cameco Corp. I do not own shares. I am prepared to lose the premium each year if they expire and purchase another year's worth. As uranium bottoms, I expect sooner than later the price will begin recovering, and Cameco has significant leverage to that happening.
Editor's Note: This article discusses one or more securities that do not trade on a major U.S. exchange. Please be aware of the risks associated with these stocks.