By Randy L. Gross
"Out of respect for the things that I was never destined to do, I have learned that my strengths are a result of my weaknesses, my success is due to my failures, and my style is directly related to my limitations."
- Billy Joel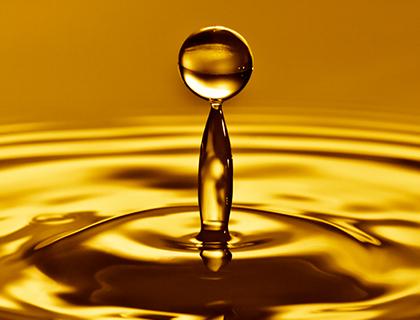 During the second quarter, we witnessed 10-year municipal AAA yields move lower by approximately 30 basis points, outperforming the comparable 10-year Treasury and ending the period at around 2%. The catalysts for this positive performance included investors' reassessment of the Republicans' ability to advance key legislation, lower inflation expectations, positive fund flows into tax-exempt mutual funds, and manageable new issue supply.
With the move lower in rates, which began in mid-March, the market once again is seeing 5% coupon bonds priced comfortably above $120 in longer maturities. Since the premium coupon is coveted for its above-market income stream and market-defensive qualities, such bonds tend to be much more liquid and less volatile than par bonds of similar maturities in a rising rate environment.
During bull markets, investors can get complacent about lower-coupon bonds and may feel they are overpaying for bonds with higher coupons. Similar to the 2013 "taper tantrum," the yield volatility for par bonds spiked following last year's presidential election as some bonds became subject to de minimis tax implications, a negative tax consequence. This makes sub-par coupon bonds less desirable in the marketplace and can cause more price erosion than for premium bonds with similar maturities. While premium bonds of high quality fully participated in the rally that began in December, the market in our opinion has not fully embraced liquidity in longer-maturity lower-coupon bonds as memories of last year's selloff remain.
And Lastly...
We continue to closely monitor the upcoming July - September redemption cycle. The market is projected to shrink during this time frame, with record-setting cash returning to investors in the form of maturities, calls and coupon payments. This could lead to a scarcity of bonds as investors compete to invest this large amount of cash. These positive summertime technicals, coupled with uncertainty around tax reform, have the potential to increase demand for municipal paper and may drive further outperformance versus Treasuries.
Market Highlights
Illinois Passes a Budget!
Stephen Cowie, Senior Credit Analyst, Municipal Fixed Income
Illinois passed its first state budget in two years on July 6. Despite Governor Rauner's veto of the $36 billion spending plan, the state legislative bodies were able to vote for an override. While the state had been facing imminent risk of a ratings downgrade to junk status by Standard & Poor's, the mere passage was enough for S&P to reaffirm the rating and move to a stable outlook. However, Moody's is more focused on the state's long-term fiscal stability, including pension funding, and after the budget passed, placed the state's general obligation rating in review for downgrade, leaving the potential for a speculative-grade rating.
Slip in New Issue Volume
New issue volume for the first half of 2017 was $196 billion, a 15% decline from the same period last year, when issuance was $226 billion. Most of the decline can be attributed to a 26% decline in refundings, while new money issuance declined 7% year-over-year.
Treasuries Saw Volatility in 2Q 2017
10-Year Treasury Yield (%)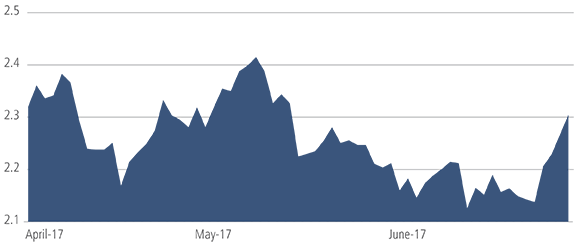 Source: Bloomberg.
Although the 10-year Treasury yield ended the quarter at 2.31%-little changed from the beginning of the quarter-there was a fair amount of intra-period volatility. The peak of 2.42% was observed on May 10, while the low of 2.13% was recorded on June 14.
This material is presented solely for informational purposes and nothing herein constitutes investment, legal, accounting or tax advice, or a recommendation to buy, sell or hold a security. No recommendation or advice is being given as to whether any investment or strategy is suitable for a particular investor. It should not be assumed that any investments in securities, companies, sectors or markets identified and described were, or will be, profitable. Information is obtained from sources deemed reliable, but there is no representation or warranty as to its accuracy, completeness or reliability. All information is current as of the date of this material and is subject to change without notice. Any views or opinions expressed may not reflect those of the firm as a whole. Publications and Web sites referenced herein are intended solely for your information and should not be construed as an endorsement by Neuberger Berman. Neuberger Berman is not responsible for the content of these publications or Web sites.
Certain products and services may not be available in all jurisdictions or to all client types. Indexes are unmanaged and are not available for direct investment. Investing entails risks, including possible loss of principal. Past performance is no guarantee of future results.
A bond's value may fluctuate based on interest rates, market conditions, credit quality and other factors. You may have a gain or a loss if you sell your bonds prior to maturity. Of course, bonds are subject to the credit risk of the issuer. If sold prior to maturity, municipal securities are subject to gain/losses based on the level of interest rates, market conditions and the credit quality of the issuer. Income may be subject to the alternative minimum tax (AMT) and/or state and local taxes, based on the investor's state of residence. High-yield bonds, also known as "junk bonds," are considered speculative and carry a greater risk of default than investment-grade bonds. Their market value tends to be more volatile than investment-grade bonds and may fluctuate based on interest rates, market conditions, credit quality, political events, currency devaluation and other factors. High-yield bonds are not suitable for all investors and the risks of these bonds should be weighed against the potential rewards. Neither Neuberger Berman nor its employees provide tax or legal advice. You should contact a tax advisor regarding the suitability of tax-exempt investments in your portfolio.
Neuberger Berman Investment Advisers LLC is a registered investment adviser. The "Neuberger Berman" name and logo are registered service marks of Neuberger Berman Group LLC.
©2017 Neuberger Berman Group LLC. All rights reserved.
© 2009-2017 Neuberger Berman Group LLC. | All rights reserved