Crude has recovered from its lows and tests $50
I wrote an article at the turn of the year, where I saw crude oil prices positioned for a run at the $60 level. Despite moving higher from the time of writing, from $49 to $54, the market couldn't sustain any follow-through and fell to test levels in the low $40s.
Crude has managed to find support at those levels and has moved strongly in the last two weeks; up 10% to close the month over the key $50 mark and this is an opportunity to position for a run to $60 per barrel.
The push higher in oil prices came after threats of U.S. sanctions against Venezuela, which would slow the country's production. Venezuela's oil production has been slowing steadily for the last two years and has added to the country's economic crisis.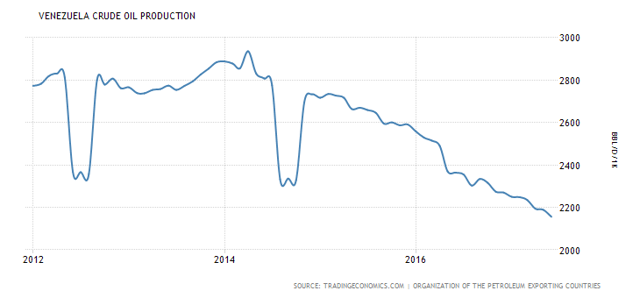 (Source: Trading Economics)
Supply concerns are still a risk
Further bullish news came in the form of another fall in U.S. inventories, relieving fears of a shale oil-driven supply glut, however I did raise concerns about the glut being exported overseas so these numbers may not be all that they seem, however it is likely that the crude price will still be inventory driven.
Oil has continued to struggle in 2017 as hopes of stronger action were also dashed by OPEC, where a decision in November to extend the current output cuts was seen as a disappointment by oil traders, who were seeking further action to curb production.
OPEC oil output has now climbed to a 2017 high of 90,000 barrels per day, led by recovery in Libya, so there is still a strong barrier to higher prices in the form of supply. Libya and Nigeria were exempt from the OPEC production cuts due to supply disruptions, so there is a possibility that these countries will brought onboard in light of the current production numbers and there is talk that Russia are particularly keen to see them join the group's efforts to cap production and see prices move higher.
Current futures positioning is still a concern as long positions are once again threatening all-time highs near the 500k mark.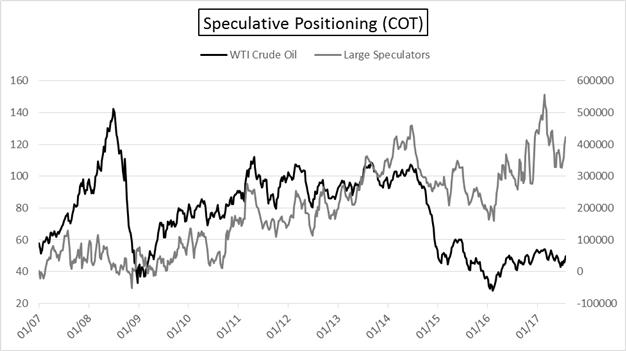 (Source: Daily FX)
The market doesn't appear to be overbought but it is likely that gains would be muted around $60 based on the long bias. It would be wise to keep this in mind as any bearish sentiment or resistance could see a fast move lower.
Is military action a bigger risk?
One price driver that is rarely talked about currently is geopolitical risk and the threat of military action around key producers or supply routes. Iran is a potential candidate for supply disruption as the U.S. continues to talk about regime change. President Trump previously threatened to tear up the nuclear agreement set by Obama and Congress has been calling for tougher action on the country, while approving the latest round of Russian sanctions.
U.S. fighter jets have been involved in some near-misses of late with Iran and also China; with the latter being criticized by the President for failing to tackle the problem with North Korean missile tests. There are reports that South Korea is planning a strike on the North, which would possibly inflame tensions with China amid the ongoing disputes in the South China Sea.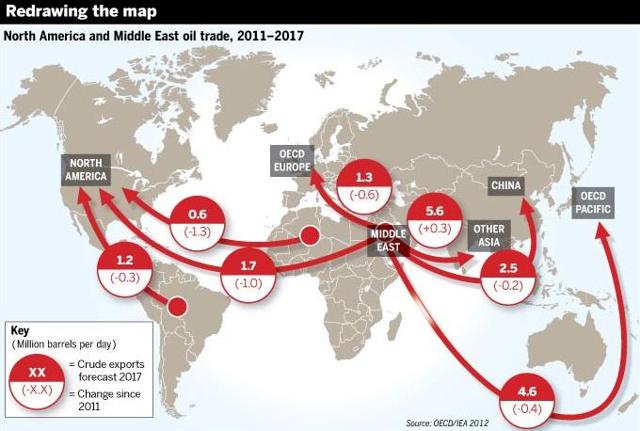 (Source: IEA/FT)
The Strait of Hormuz in the Persian Gulf, South of Iran, is a key oil delivery route, which currently sees almost 89% of daily oil trade being shipped out -- particularly to Asia and China. Any conflict with Iran could see major supply disruptions.
Conclusion
Oil has recovered from its test of the low $40 levels and has finished the month strongly above $50 so the next move appears to be higher. The $52.50 target would be next with the previous 2017 resistance of $55 being the key level needed to breach and open a run to $60. Supply and demand levels appear to be priced-in and the market will continue to focus on inventory draws, ignoring exports so it is possible that supply disruption will be the catalyst for any move higher. Libya and Nigeria joining the OPEC production cuts would be one driver of higher crude prices, while the potential for military action against North Korea is rising. This move could be played in the PowerShares DB Oil ETF (NYSE:DBO), which tracks March 2018 futures. This will bring us to the next OPEC deal window.
Disclosure: I/we have no positions in any stocks mentioned, and no plans to initiate any positions within the next 72 hours.
I wrote this article myself, and it expresses my own opinions. I am not receiving compensation for it (other than from Seeking Alpha). I have no business relationship with any company whose stock is mentioned in this article.
Additional disclosure: I am long in the futures market.