The Habit Restaurants (HABT) stock is dropping after the company reported sub-par Q2 results and cut its fiscal 2017 guide. The stock has really struggled over the past year, falling about 9.4% while the S&P 500 has rallied more than 14% in that time frame. While today's drop may entice contrarian investors to buy the dip, we believe HABT stock remains a sell even at these depressed levels. Comp growth is slowing, margins are under pressure, and the valuation remains rich.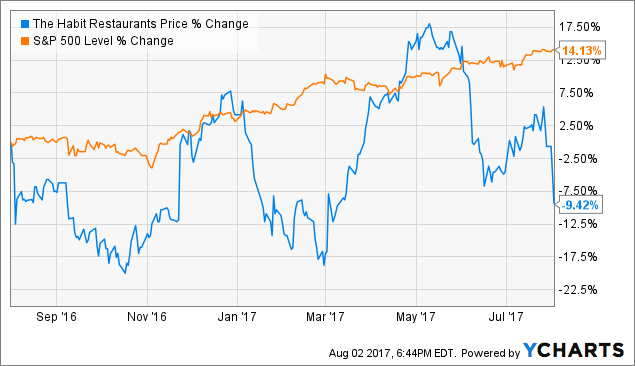 HABT data by YCharts
The bad thing about HABT is that comps rose merely 0.1% in Q2. Granted, the quarter had a tough lap, but comps have been slowing for some time now.
Comps increased 10.7% in 2014. That slowed to 6.4% growth in 2015 and 1.9% in 2016. This year, comps are expected to rise about 0.5%.
This downtrend in comps will likely continue until comp growth is either flat or down. The trend in QSR right now, especially among burger chains, is a shift back to the food giants. McDonald's (MCD) continues to post robust growth, while Burger King has been a bright spot for Restaurant Brands International (QSR). Wendy's (WEN) comps are also trending upward. Those stocks have surged over the past year.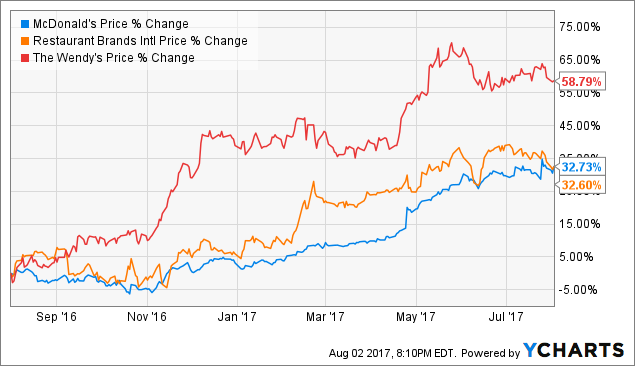 MCD data by YCharts
Meanwhile, upstart burger chains like Habit and Shake Shack (SHAK) are seeing their comp growth decelerate. Those stocks are struggling.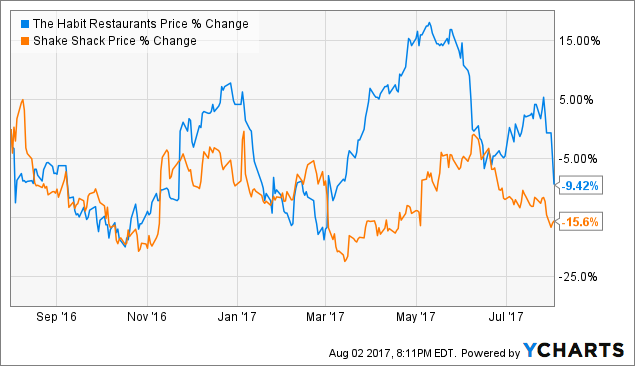 HABT data by YCharts
HABT does have great unit growth potential, and that will drive topline growth, but HABT needs positive comps to offset the margin pressure the company is feeling due to rising labor, commodity, and occupancy costs. The labor expense rate rose 30 basis points last quarter, and that will continue to rise because HABT has a lot of minimum wage-level employees. The food expense rate rose 80 basis points due to higher commodity prices, and that trend will likely also continue given dollar weakness. Meanwhile, the occupancy expense rate rose 40 basis points last quarter.
All in, HABT's operating margins compressed 210 basis points last quarter on positive comp growth. If comps go flat or negative, operating margin compression could be more severe.
Despite these headwinds, HABT stock is still extremely expensive. The stock trades at 45x FY18 earnings estimates for earnings growth of merely 10%.
Overall, HABT stock is not an investment. The stock is capped by a rich valuation, comp growth is slowing and secular trends indicate that the slowing will continue, and margins are under pressure. The combination of these factors makes HABT stock a must-avoid for investors.
But there may be an opportunity to trade HABT stock for near-term profits. We still think, however, the best thing to do right now is wait, even for traders. Over the past year, HABT stock has displayed a cyclical valuation. At roughly 55.5x trailing earnings, HABT stock's valuation is nearing a valuation bottom, but isn't quite there yet. HABT stock has developed a pattern of rallying hard once its trailing multiple dives below 52.5x. That implies another 3 "multiple points" of compression before HABT stock is a buy for short-term oriented traders.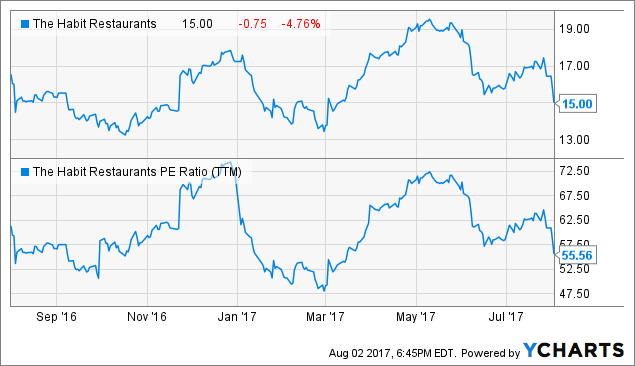 HABT data by YCharts
All in all, don't invest in HABT stock for the long-run. Its too richly valued here to generate material gains in the long-hall. Also don't trade HABT stock just yet. Valuation technicals imply there is still more room to fall.
Disclosure: I am/we are long MCD. I wrote this article myself, and it expresses my own opinions. I am not receiving compensation for it (other than from Seeking Alpha). I have no business relationship with any company whose stock is mentioned in this article.