Overview
Boeing (NYSE:BA) is a solid play in the defense sector, one of the biggest driver's of the Dow's climb to the 22,000 milestone, and is rated the maximum of 10 by research company Thomson Reuters and 7 (out of 10) by Verus (ratings as of August 1). At the current price of about $240/share and $142 billion market cap, a long position in BA is suited for momentum investors betting on an expansion of the stock's PE multiple.
The current TTM multiple of 22.7 in conjunction with current year and next year EPS analyst consensuses of $9.87 and $10.66, respectively, suggests that BA's valuation is currently at fair value and perhaps close to topping out in the short term unless the multiple expands. At a 23.7 multiple (the current TTM multiple of Lockheed Martin (LMT)), BA could justify the $252 range. Otherwise, the stock could move relatively sideways for some time.
Bull Case
It is reasonable for BA to warrant a higher multiple considering that:
1. Geopolitical tensions remain at very high levels. North Korea tested its second ICBM on Saturday (which is speculated to have a range as far as Chicago) and U.S. bombers subsequently flew over South Korea in a show of strength, while China has remained on the sidelines in the standoff against U.S. and North Korea.
2. The day after (July 30), BA announced in a staff memo that the company is creating a new avionics and electronics unit which encroaches further into Rockwell Collins (COL) territory, which is a substantially smaller company at $18 billion market cap compared to Boeing's $142 billion.
3. The defense and aviation sector is currently hot with lots of orders coming down the pipeline. As far as recent orders for Boeing, on August 1st, the U.S. Air Force was reported to be near a deal with Boeing to buy two 747-8 jumbo jets which has a list price of $387M each.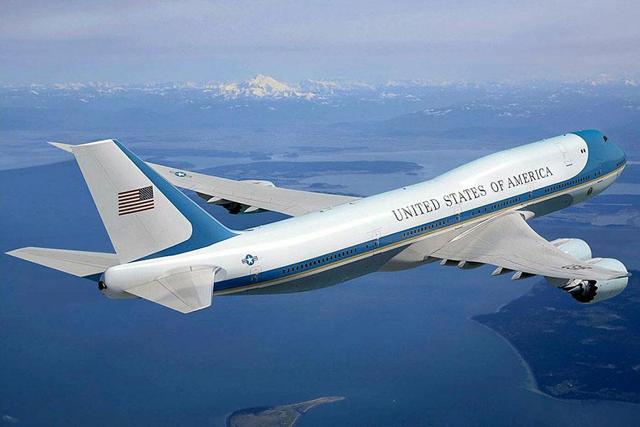 747-8 jumbo jet by Boeing
4. In May, a budget bill was passed that increased the DoD budget base for 2017 by $15 billion. Moreover, President Trump's FY 2018 budget seeks $574 billion for the DoD. This is a big increase from the ~$496 billion in 2014-2015 base budgets. And as far as the 2019 budget, a maximum 5% increase from the 2018 budget requests are being considered by the White House Office budget, which has created speculation that Budget Director Mick Mulvaney is open to higher levels of defense spending in future years.
5. Technicals for BA are bullish, having nearly doubled since the fall of 2016 and returning 55% YTD. After earnings at the end of July, the stock experienced two back-to-back gap ups at the opening, signaling a robust market for shares.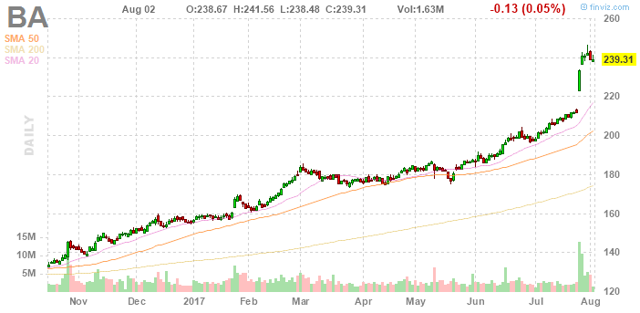 Offsets to the Bull Case
- As mentioned earlier, valuation is possibly toppy here at $240. Valuation probably won't attract value investors, and if the multiple does not expand, then BA shares are probably priced at a slight premium and the stock may be due for a small correction to the $230 range before moving sideways. But considering the gap up to $224 after earnings and the second price gap the day after to $237, the expansion of the price multiple could be underway and can be justified by the bullish points outlined above.
- I do not see a legitimate reason to short-sell BA. The market has already spoken by boosting BA's share price higher since earnings and the price has held up so far. Playing for a correction of any sort does not have substantial reward compared to the risks. The upside lies in the prospect of further PE multiple expansion, organic growth, and increased demand for the products and services of the defense industry in these uncertain times.