General Motors (GM) saw its July sales drop by double digits in the US. Due to a focus on profitability it looks like the company will be able to deliver satisfying results for the year nevertheless.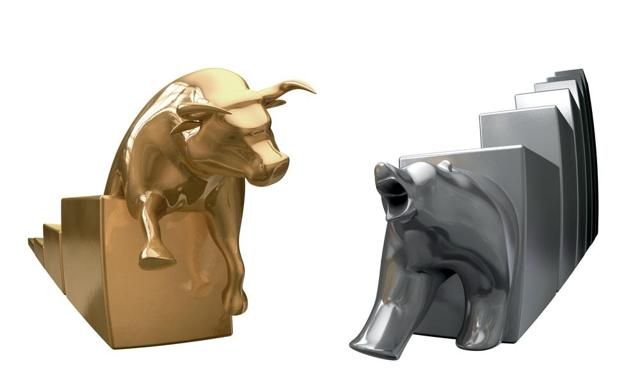 When the automobile companies reported their July sales number in the US market, General Motors' results were sticking out: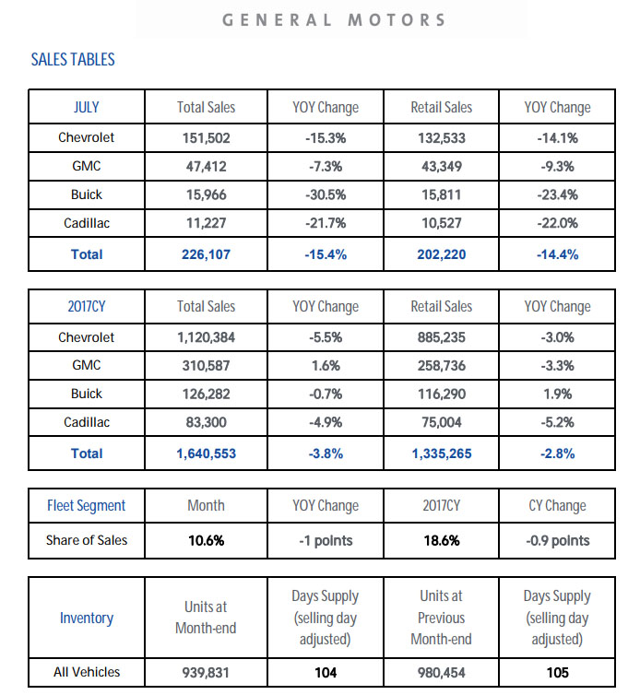 Sales dropped fifteen percent year over year, much more than at competitors such as Ford (F) and Fiat Chrysler (FCAU). General Motors' sales numbers missed estimates substantially, as analysts had forecasted a nine percent drop year over year.
All of General Motors' brands saw steep declines during July, with Buick showing the weakest performance (and GMC holding up best). GMC showing the best results is not surprising, as the brand mainly produces trucks and SUVs, which tend to perform better than passenger cars in the current environment.
In order to judge General Motors' results for the past month, we have to look at other metrics as well, though, not only at the company's sales numbers. One of those metrics is the average incentive spending, which has declined: Incentive as a percentage of the average transaction price dropped to 11.5% (down from 12 for FY 2016), and is at a lower level than the incentive spending of General Motors' peers (which, on average, lowered prices by more than 12.5%).
Lower incentive spending results in lower sales numbers, but each automobile sold is more valuable: A big amount of the cost of each vehicle is made up by material costs, production costs (such as wages), etc. -- if the company additionally lowers its selling price in order to boost its sales, this cuts the gross margin further, and results in substantially lower earnings per each vehicle sold. If, on the other hand, the company does not try to push a maximum number of vehicles into the market via incentives, the total sales number is lower, but the profit per vehicle is much higher. During July General Motors' average transaction price was $1,000 higher than in last year's July, which is the result of lower incentive spending and a shift in the product mix towards bigger, higher-priced vehicles.
The following statement highlights the company's strategy:

General Motors is not trying to increase its sales at all costs, but rather prefers to lower production rates (which means lower expenses) in order to keep margins as high as possible. I believe that is the right decision, as no manufacturer profits from price wars or producing and selling cars that are not profitable. If the market does absorb a lower amount of vehicles this year, it is opportune to cut production whilst at the same time focusing on keeping profits as high as possible.
With its second quarter results General Motors has previously shown that the company is capable to do so: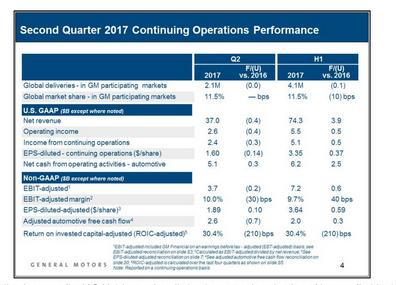 General Motors' deliveries were down so far this year, but the company still managed to increase its revenues in the first half of the year, through higher average transaction prices. The company also grew its earnings per share during both the first half of the year as well as during the second quarter, and General Motors' automotive cash flows were up in both quarters as well.
With $2.6 billion in free cash flows during the most recent quarter General Motors looks quite inexpensive right now: Even if the company's annual free cash flows come in at only twice that level, the company's shares would be trading at less than ten times free cash flows.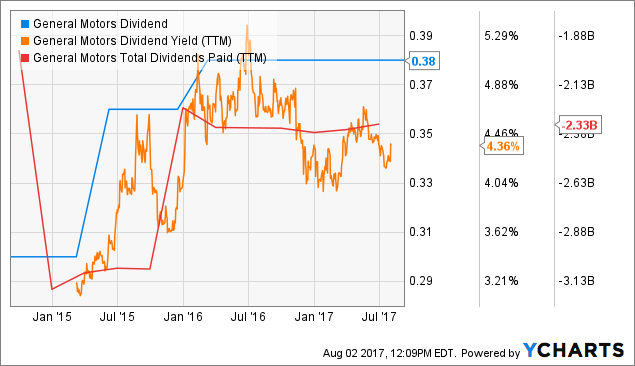 With the company's total dividend payments coming in at $2.3 billion for the last four quarters (which is less than the Q2 free cash flow number), it looks like General Motors' dividend is well protected. The dividend hasn't been raised in a while now, but shares still offer a dividend yield of 4.4%, which is more than twice the broad market's dividend yield, thus making General Motors attractive for income seekers.
Since General Motors expects this year's earnings per share to come in at $6.25 (midpoint of guidance), which would mean an increase of roughly two percent over last year's number of $6.12, shares are trading at just 5.6 times forward earnings -- this means an earnings yield of a whopping 18%.
With total shareholder returns seen coming in at up to $7 billion (which would mean a shareholder yield of 14%!), investors can count on huge stock buybacks on top of General Motors' juicy dividend.
I believe that the combination of those facts make General Motors kind of attractive, despite the company's sales declines in the US. It is doubtful that those sales will continue to decline at a double digit pace, and if that trend reverses shareholders may see some capital appreciation on top of a big dividend, as General Motors' shares are trading at a very cheap valuation, and since the buybacks create additional demand for the company's shares.
Author's note: If you enjoyed this article and would like to read more from me, you can hit the "Follow" button to get informed about new articles. I am always glad to see new followers!
Disclosure: I/we have no positions in any stocks mentioned, and no plans to initiate any positions within the next 72 hours. I wrote this article myself, and it expresses my own opinions. I am not receiving compensation for it (other than from Seeking Alpha). I have no business relationship with any company whose stock is mentioned in this article.