Dear Followers/Readers,
First of all, I would like to thank you for your continued interest in my work and I hope you are getting value of out my research!
Before delving into the usual update I just wanted to raise the following. Some of you might remember that in my OTC Bi-Weekly #11 I mentioned that I am preparing a new research effort connected to the OTC world. I will announce it this Friday afternoon through a blog post on SA so make sure that you check my profile (or your email)!
In August last year, I introduced a monthly review of all of the tickers that I am actively covering alongside my initial thoughts about the stocks. I think this can be beneficial for the following reasons:
Learning exercise – I will primarily focus on stocks where my initial thesis was wrong. I will try to understand why, how to prevent this from happening in the future and what should one do about this fact.

Increased frequency of thesis updates – This will be beneficial for people that are following specific tickers and might be interested in the latest developments that are not necessarily asking for a full-blown update.

Creating a database – It is always fun, to look back and either laugh about failures or cheer about winners.
I am doing so through the following simple table, which I publish at the end of each month.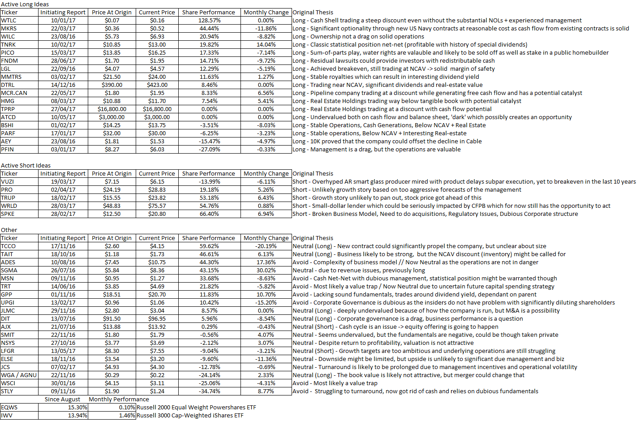 Notes: The price at the origin is the opening price on the date of the first publication and the current price is the closing price on last trading day of the month. The original thesis that is labeled Neutral (LONG) is a thesis where I have a positive view on the stock, but for whatever reason I do not believe it the right time to buy. The same goes for Neutral (Short). I do not judge neutral ratings unless the share price movement is significant and I missed an opportunity to be on the right side of the trade. This is slightly subjective. Feel free to address any neutral rating that you believe I got wrong.
I also add two indices that can be used to 'benchmark' the performance of the covered stocks. I chose Russell 2000 due to its small-cap bias and Russell 3000 in order to track the overall market.
During the reviews, I will not be talking about every stock, but rather ones that I started to cover in the past month, the ones I am wrong about, or that are undergoing significant developments.
July Highlights;
My first republished pick in July was this 'dark' company that should be on investors' watchlist if not as a small position in their portfolio due to the following points;
From the financial statements I have, it seems that the company is operating a relatively stable sterilization business while trading below NCAV (mainly cash) and generates a significant amount of cash flow.

While it is a family-owned business which makes it a long-term investment, given the relative obscurity of the stock the return on investment might be sensible.

Thus investors should benefit from initiating a small position
As you can see in my latest update, the investment thesis holds and the stock does indeed trade at bargain prices.
My second article in July was about a company that now consists of several lawsuits that could create a significant upside for shareholders due to the following points;
This company which owned the URL fund.com and several unrelated assets used to be operated by a notorious fraudster Mr. Jason Galanis.

During his time FNDM was misused and treated as a shell for the benefit of Mr. Galanis. After his conviction, Thomas Braziel became FNDM's receiver and restarted several legal processes.

These lawsuits could yield an interesting upside as there is a number of opportunities for the shareholders to start benefiting from previously owned and misused assets.

Most importantly, the company $is yet to receive roughly $2.2 million from Advisorshares, an ETF manager which FNDM used to have a stake in and which it sold several years ago.

This amount is not disputed and creates the initial upside as the current market capitalization of FNDM is around $1.5 million. At the very least it presents a margin of safety.
The stock might move slowly over a prolonged period due to the lack of news but it seems that we should see a resolution of the lawsuit regarding the URL (fund.com) before the 30th of January 2018 as per this new document. I expect that the Advisorshares dispute will also resolve before that date as it is likely that the parties are engaged in discussion.
This pet insurer released their results on the 1st of August and in my view they did not change my opinion of the business especially given the unreasonable increase in the share price. While they did continue to grow their pet base, their gross margin remained largely same as the pet acquisition cost continue to slightly increase. I believe that investors are overly focused on the revenue while forgetting what they are paying for is a growth story that is yet to meaningfully break out. TRUP is not materially closer to the managerial expectations and thus investors continue to bet that the company will continue to perform extremely well in the next 5 years which is forecast I simply cannot get behind given the unanswered fundamental questions.
I would advise against shorting the stock but having a speculative option position could still be attractive, but the position would have to be carefully measured against one's portfolio as the catalyst for the downturn is likely going to take some time to transpire. Furthermore given the current market environment holding a stock that is trading at 40x 2019 EV/EBITDA (or 15x book value) might for some seem as a good idea.
All of the other shorts are not moving much but this could change given that all of them are reporting in August. This should be especially the case of VUZI which will need to show material improvements in their sales of the new smart glasses in order not to plunge.
This semiconductor has provided me with several lessons as the stock is hitting new 52-week highs on the back of solid improvement in its backlog for 2018 (witnessed by the increase in ARs and inventory). Back in August 2016, I believed that the stock was cheap for what it was able to earn and that the downside protection was solid due to discount to tangible book.
This thesis might have worked for the whole year that I covered stock and the recent run-up might be the culmination of it, but I decided to drop SGMA out of my long ideas at the end of 2016. Why I decided to do so was because of the following.
The stock was subject to heavy trading which had little to do with the fundamental value of the business (even now one could say that the run-up was overdone) and thus I believe that people are either forced to hold SGMA for the long-run or trade it. The former is not ideal given the fact that the business is low-margin and the possibility to earn meaningful cash flow is low and mainly driven by sizable orders. The latter is not something I am interested in as it involves timing and is subject to heavy irrationality. I understood that I am more suitable to stick to OTC stocks which are mostly special situations.
ADDvantage Technologies (AEY)
While the shares of AEY kept on sliding downward throughout most of July, I believe the thesis remains intact. The last quarter was nothing that would show any new challenges for the business. This makes the investment more long-term than I thought as there is probably need for a powerful trigger to break through the usual trading range. While the waiting might be challenging, the downside protection is still reasonable. Thus I don't believe that the share price action alone can affect the thesis. We will see if there are any fundamental changes around the 9th of August when the company should report its quarterly results.

This battered down furniture manufacturer has slightly 'surprised' with positive results which prompted a share increase. They seem to put the manufacturing issues behind them and during the last quarter they did not even lose a material amount of cash. This could mean that they are on the right path to turnaround the business. Under such circumstance, the valuation might be unreasonable as they are still trading below tangible book. I would not say that investors should keep on avoiding the stock, but I am personally not confident in the company's business model. They operate without a moat and in a low-margin business which is in the 'race to zero' therefore the turnaround might be short lived if they are not able to address these points. I will continue to track the stock with interest.
As mentioned last month I believe that at around $7.5 it was time to pick up profits from the investment given the change in ownership which clouds the future outlook. The Williger brothers are not a straightforward catalyst because they are the ones who made this stock a perennial net-net. Until they showcase that their plan is to expand the already strong operations and utilize WILC's cash in an effective way I am not confident in the stock.
This niche manufacturer of battery packs have registered two trading days with substantial volume and the price shot up. I believe that this is reasonable as the company reported solid numbers in May (revenues and profitability slightly up) and thus the thesis remains intact. While the stock now trades around NCAV, the downside protection is still there given the fundamental results and the upside should also remain as the management could decide to issue another special dividend.
Macro Enterprises (MCR.CAN)
This company connected to the Canadian oil and LNG space still did not move much (next event is the release of results around mid-August), but I believe that the thesis remains unchanged. I have also recently had a chat with an investor who has done an extensive valuation of the inventory held by the company (including on-site visit) and he shared my view that this acts as a downside protection due to the fact that the value is likely overly discounted by the market.

I am not discontinuing any stocks this month.
Once again, thank you for reading my research! And as a reminder be sure to check my profile this Friday!
Best,
Jan
P.S. Please do let me know if you think that the way I present the review is missing something.
Disclosure: I am/we are long AEY, HMG, WILC. I wrote this article myself, and it expresses my own opinions. I am not receiving compensation for it (other than from Seeking Alpha). I have no business relationship with any company whose stock is mentioned in this article.
Editor's Note: This article discusses one or more securities that do not trade on a major U.S. exchange. Please be aware of the risks associated with these stocks.