Time Warner (TWX) reported its second quarter results on Wednesday morning, which allows us to take a closer look at what AT&T's (T) acquisition of the company could mean for the acquirer.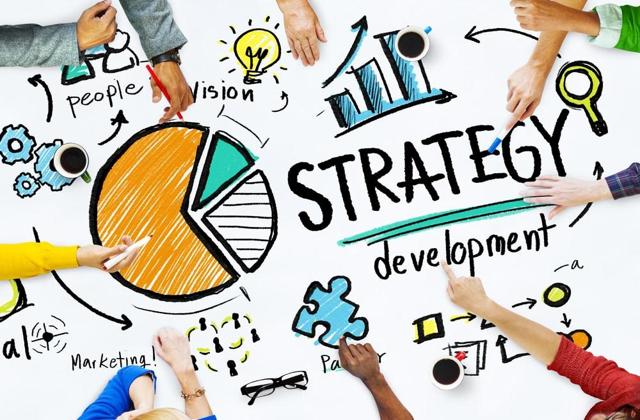 Time Warner's second quarter results beat expectations for the top line as well as for the bottom line:

Revenues came in 5.5% higher than in last year's second quarter, but earnings per share grew by a whole twelve percent year over year (GAAP numbers). Time Warner's growth during the second quarter was driven by subscription gains for both Turner as well as Home Box Office/HBO, which saw revenues increase 13% and eight percent, respectively. Warner Bros, the company's movie production and distribution division, saw its revenues grow by a whopping 12%.
Revenues are not the most relevant metric though, as investors are more interested in earnings and cash flows -- the same holds true for Time Warner's acquirer AT&T. Time Warner's operating earnings increased at HBO as well as at its Warner Bros. division, but Turner saw lower operating profits -- overall adjusted operating income did come in flat year over year.
Time Warner's operating cash flows totaled $2.5 billion for the first six months of 2017, whilst free cash flows totaled $2.3 billion for the same time frame, both were up more than twenty percent year over year.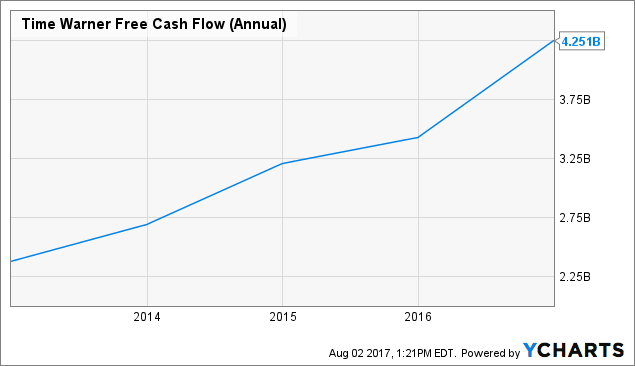 TWX Free Cash Flow (Annual) data by YCharts
Last year Time Warner's free cash flows totaled $4.3 billion, if the company can keep its free cash flow growth rate at 22% for the next two quarters, this year's free cash flow will total $5.2 billion. We can use this number in order to evaluate the impact of Time Warner's acquisition by AT&T:
AT&T is going to issue $40 billion worth of equity to finance the deal, which means that the company's dividend payments will rise by $2 billion a year (since AT&T's shares are trading at a dividend yield of 5.0% right now). The rest of the acquisition cost is paid in cash, for which AT&T has issued new notes recently. With $45 billion in cash, that comes at a cost of about 3.9% pre-tax, this means another $1.8 billion in annual costs to finance the merger. We have to adjust the cost of debt for AT&T's taxes though, since interest expenses are a pre-tax cost -- calculating with AT&T's tax rate of 32%, we get to an after-tax cost of debt of 2.7%, which means that the cost for the cash portion of the acquisition is about $1.2 billion.
This means that the combined annual cash cost for the deal is $3.2 billion, made up by additional dividend payments as well as by higher interest expenses -- AT&T receives additional free cash flows of $5.2 billion a year though (estimate for the current year), which means that the takeover positively influences AT&T's cash flow statement by $2 billion a year.
In the first couple of quarters after the merger AT&T will likely realize some one-time costs that are related to the takeover, but in the long run the takeover of Time Warner will very likely be accretive to AT&T's current shareholders -- even if we do not factor in any cost cutting/synergies yet. If AT&T manages to cut $1 billion in expenses (such as due to positions being needed only once), the positive impact to AT&T's cash flows grows to $3 billion annually -- after all acquisition costs, such as interest and higher dividends are accounted for.
When we also factor in that Time Warner's revenues, earnings and cash flows have been growing over the last couple of years, it seems likely that the earnings and cash flows from that business will continue to grow once Time Warner is owned by AT&T. That means that the benefit towards AT&T's owners will likely rise over the coming years, whereas the takeover costs do not rise (as debt has to be issued only once, interest expenses will not grow).
Takeaway
Time Warner has performed well during the most recent quarter, mainly due to subscription adds and a strong performance of its movie business. AT&T's acquisition of Time Warner thus now looks even better than before, once the acquisition has closed AT&T's annual free cash flows should be positively impacted by about $2 billion annually, even when we account for all acquisition related costs (such as higher dividend payments, higher interest expenses).
Since the management of both companies believes that the acquisition will close this year, AT&T's owners should look positively into the future.
Author's note: If you enjoyed this article and would like to read more from me, you can hit the "Follow" button to get informed about new articles. I am always glad to see new followers!
Disclosure: I/we have no positions in any stocks mentioned, and no plans to initiate any positions within the next 72 hours. I wrote this article myself, and it expresses my own opinions. I am not receiving compensation for it (other than from Seeking Alpha). I have no business relationship with any company whose stock is mentioned in this article.