Existing Home Sales
Existing home sales declined 1.8% in June to 5.52 million on a seasonally-adjusted annual basis, which was well below expectations, but in line with the earlier disappointment in pending home sales. This leaves sales up less than 1% on a year-over-year basis. The housing market has lost its momentum, which is due in part to a 6.5% year-over-year increase in median prices.
Homes are becoming too expensive for first-time buyers, as the percentage of sales to this demographic has declined from 35% to 32% over the past year. All-cash purchases have also declined to the lowest level since 2009. The lack of income growth is a major headwind for the housing market, offsetting historically low borrowing costs.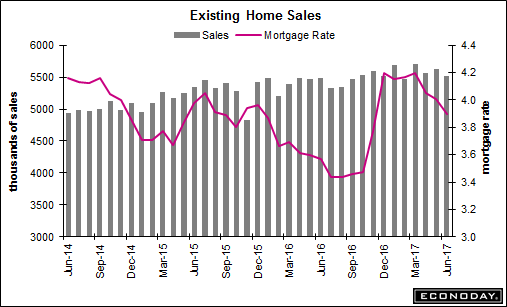 New Home Sales
Unless home builders ramp up the construction of entry-level homes, we may have seen the peak in new home sales for this cycle. Sales rose modestly in June to a 610,000-seasonally adjusted annual rate, which was up from a downwardly revised 605,000 figure in May. This results in the second quarter average of 597,000 falling below the first quarter average of 617,000. A lack of income growth combined with rising prices is the primary headwind to new home sales growth.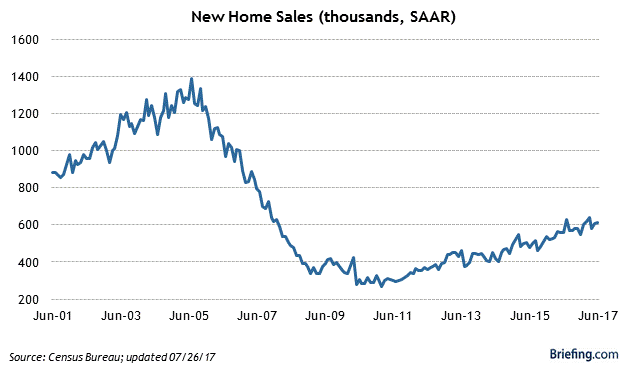 Flash Composite PMI
The initial read from Markit's survey of the manufacturing and service sectors for July shows an uptick in economic activity as we begin the third quarter. The Composite Index rose to 54.2 in July from 53.0 in June with contributions from both services and manufacturing. Leading the improvement was strength in new orders for the services sector. This is clearly good news, yet the July reading is still below the first quarter average of 54.3. This report is consistent with an annualized rate of economic growth of 2%.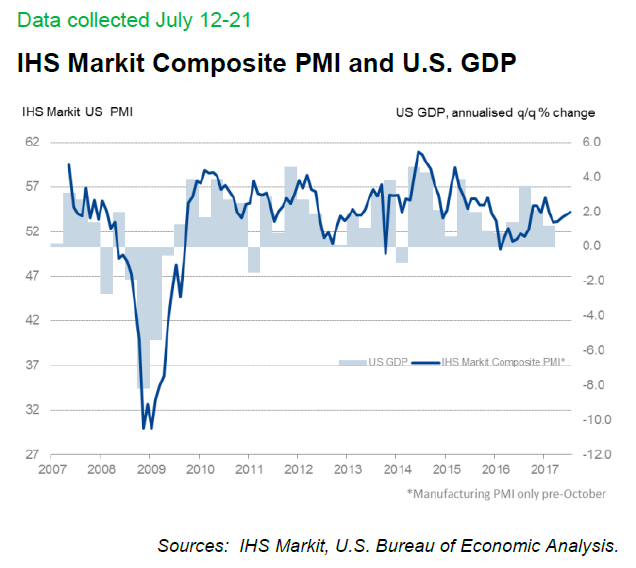 Durable Goods
Orders for durable goods surged 6.5% in June, but this was entirely due to aircraft orders. When we exclude the volatile transportation sector, orders rose just 0.2%.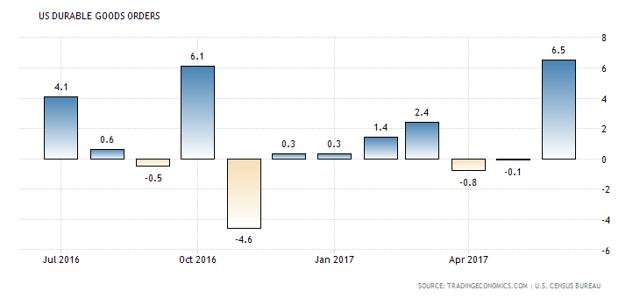 Orders for non-defense capital goods excluding aircraft, otherwise known as capital expenditures or business investment, declined 0.1%. The shipment of these goods, which is used to calculate GDP, rose 0.2%. On a positive note, the previous month's decline of 0.2% for these orders was revised to an increase of 0.7%, which bodes well for growth in the second quarter.
Q2 GDP Report
The initial estimate for the rate of economic growth in the second quarter was 2.6%, while the estimate for the first quarter was revised down from 1.4% to 1.2%. This results in an average of approximately 1.9% for the first half of the year. The primary engine of growth in the second quarter was the consumer, contributing 1.93% to the overall rate, which is why it is so important to focus on the health of the consumer moving forward. The most important vital sign on this front is the growth in real income, which has been weakening over the past two years.
Last month I shared my concern with the decline in federal income tax receipts, which provides a different perspective on income growth and the strength of the labor market. It is not a pretty picture.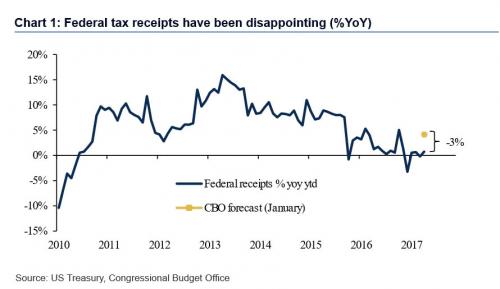 Another reason to be concerned about consumer health is the increase in credit card losses, which has now reversed to a six-year downtrend. In what was the fifth consecutive quarter of year-over-year increases, the average net charge-off rate for the eight largest credit card issuers rose to 3.29%, which was the highest rate in four years. The absolute loss rate may not be a concern, but the change in trend is alarming. Again, this does not suggest a strengthening economy or a healthy consumer. We are moving in the wrong direction.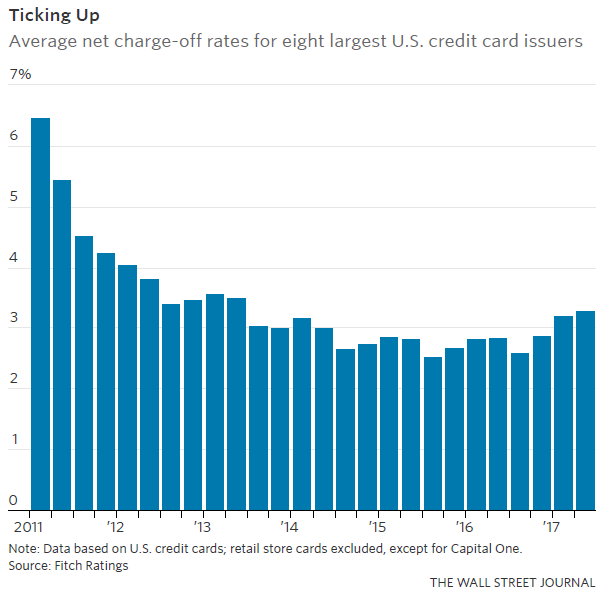 Disclosure: I/we have no positions in any stocks mentioned, and no plans to initiate any positions within the next 72 hours.
I wrote this article myself, and it expresses my own opinions. I am not receiving compensation for it (other than from Seeking Alpha). I have no business relationship with any company whose stock is mentioned in this article.